Along with handcrafted leather covers, cute cases have long been one of my favorites. Times when style wants to be at the forefront leaving everything behind, they seem to become an automatic choice for me. By giving an eye-catching look to the smartphone, they kind of shrug off the stale feeling that tends to crop up after using a simple case for a while. So, having just lined up the top cute cases for iPhone 12/12 Pro, I thought rounding up the 10 best cute cases for iPhone 12 Pro Max would be great considering how much love they have received.
Best Cute Cases for iPhone 12 Pro Max in 2020
So, what sort of cases are you after? An attractive case with a marble pattern or a clear case with diamond rhinestones or a sleek cover with a beautiful floral pattern. Having explored a variety of designer cases readied to fit iPhone 12 Pro Max, I have chosen the cases that not only make a stunning match with the all-new phablet but also offer the essential safeguard against impact and scuff.
Therefore, when you wish to make your iPhone look elegant, you won't have to sacrifice protection. What's more, most of these cases also support wireless charging and provide a much-improved grip to ward off slip-offs. That all being said, let's dive right in!
1. Sonix
If you want to have the best of both worlds (elegant design and uncompromised protection), Sonix is the one you shouldn't miss out on. The case flaunts an attractive design and comes in a variety of color variants. For all having a sleek look, it has got the shock-absorbing cushion that enables it to endure up to 10 feet drops.
Moreover, it also features raised lips to guard the triple cameras and the 6.7″ screen against scratches. And with the UV coating, it is able to retain the charming design for a long time. What's more, Sonix case also works with MagSafe and a wireless charger to ensure you can charge your iPhone 12 Pro Max without any issues.
Buy from Amazon: $45
2. JAHOLAN
If you are looking for a cute iPhone 12 Pro Max case with a beautiful floral pattern, I would recommend you to check out JAHOLAN. With the hybrid construction (TPU and hard plastic), the case has a slim yet protective design. So, you can count on this case to not only amp up the fashion quotient of your iPhone 12 Pro Max but also offer it the needed protection.
Another notable feature of this case is the long-lasting printing created by in-mold-decoration technology. Thus, it won't fade away or lose the famed shine easily. That's not all, JAHOLAN case comes in two nice-looking colors like red and rose to let you pick the right fit for your all-new phablet.
Buy from Amazon: $11.99
3. Coolwee
First things first, there is a lot to like about Coolwee. Exhibiting a gorgeous marble pattern with sparkling bling up top, the case has got the looks to be termed a showstopper.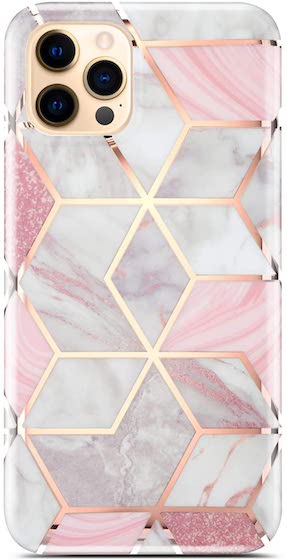 Courtesy of the TPU material, the case has a pretty smooth finish that provides better grip. Though protection is not its main purpose, you can bank on it to fight out low-volume drops with ease.
Besides, the presence of the elevated edges makes sure the triple camera setup and the 6.7″ OLED have the necessary defense against scratches. Keeping in mind these notable features, the $10 price seems to be reasonable for this cover.
Buy from Amazon: $9.99
4. niufoey
Showcasing a glowing design, niufoey iPhone 12 Pro Max is designed to steal attention. The case features diamond rhinestones around the edges and flows freely up and down. Made of soft TPU and hard plastic, it also has fortified corners for additional protection from drops.
With the anti-slip silicone bumper, the case provides a better grip. As a result, you can comfortably hold this case. Moreover, the pronounced buttons are easy to press, while the cutouts are precise for convenient access to ports. Overall, niufoey is one of the best designer cases for iPhone 12 Pro Max.
Buy from Amazon: $13.88
5. DISNEY COLLECTION
For the folks hunting for a cute case with a fun-loving design, DISNEY COLLECTION could be a downright winner. Apart from the funny profile, the case features a three-layers of construction that can fight out even nasty impact.
Another feature worth taking note of is the phone holder that can play a vital role in letting you hold your smartphone comfortably. Apart from offering a secure grip, it also doubles as a super handy stand to let you prop up your iPhone 12 Pro Max for an enhanced hands-free video calling or media watching experience.
That's not all,  it also comes with a lanyard to let you carry your smartphone securely. Taking everything into account, DISNEY COLLECTION is one of the most loved accessories for iPhone 12 Pro Max right now.
Buy from Amazon: $19.99
6.
WUMAY
Flaunting an elegant profile, WUMAY makes for a strong case should you decide to opt for both impressive design and the necessary shield against accidental drops. Probably the biggest highlight of this case is the embedded magnetic sheet that helps it work with magnetic car mounts.
Made of durable TPU material, the case has an impact-resistant construction. And with the built-in ring holder, it provides a secure grip to let you hold your device conveniently. Besides, the ring holder also dons the role of a useful kickstand when you want to enjoy videos or chat with friends with complete peace of mind. Considering these features, the $13 price tag makes it one of the cheapest cute cases for iPhone 12 Pro Max.
Buy from Amazon: $12.99
7. Yxiuexur
A good looking case like this one from Yxiuexur deserves a mention in this roundup. Boasting gradient clear design, the case looks pleasing to the eyes. The soft TPU material makes it incredibly smooth and flexible. Therefore, installing or removing the cover remains a painless task.
Due mainly to the fortified corners, the clear case can survive even nasty shock with ease. And with the rubberized sides ready to offer improved hold, there is less chance of your smartphone slipping out of your hands. Notably, it also has the raised lips on the front and the back to guard the expensive OLED display and triple camera setup against scuffs.
Buy from Amazon: $8.99
8. KINGXBAR
Frankly speaking, KINGXBAR has caught my attention at the very first glance. What has made me go for this cute iPhone 12 Pro Max is the holographic floral design that seems to shoot attention with consummate ease. And with the glittering bling on top, it is fully equipped to amp up the fashion quotient.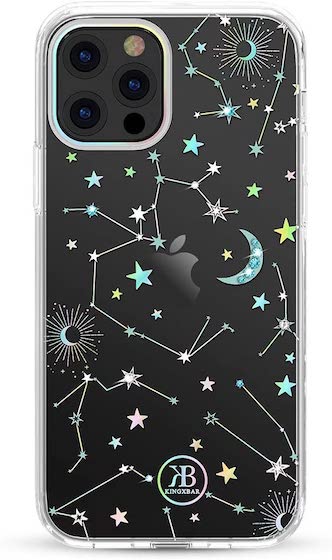 Crafted with the hard PC and soft TPU material, the case looks more durable than what meets the eyes. Whether it's fighting out the impact or keeping scratches away, it can live up to the task. That's not all, it also features 0.4mm raised bezels to further safeguard the camera and the big screen against scuffs.
Buy from Amazon: $12.99
9. Cutebe
Should you wish to go for a clear case with an impressive design on top, Cutebe would be worth giving a shot. Made of shocking absorbing TPU and hard PC material, the case features the much-needed cushion to withstand impact. Besides, it also has elevated edges to shield the camera and the 6.7″ OLED display against scuffs.
Despite having a dural layer of the construction, it has a slim appearance that wraps around the iPhone 12 Pro Max snuggly. Furthermore, the pronounced are clicky, while the cutouts are precise allowing hassle-free access to ports. At $14, it's also in the affordable category.
Buy from Amazon: $13.99
10. NZND
Last but not least, NZND has ticked off all the boxes to warrant a safe spot in your collection of cute cases. For starters, the case has a sparkling design that wins attention right away.
But just in case you think that NZND case could be too fragile to resist impact, I would like to tell you that it has got the essential shield to endure shock. Thanks to the shock-absorbing TPU construction, it can withstand minor drops. And with the rubberized sides, it also provides a secure hold.
Notably, the company also offers a tempered glass screen protector to keep the 6.7″ touchscreen protected from scratches. What's more, NZND comes in several nice-looking color variants to let you pick the right pair for your phablet.
Buy from Amazon: $9.88
Top iPhone 12 Pro Max Cute Cases Lined Up for You
That's pretty much it! So, these are my top iPhone 12 Pro Max cute cases which I guess you have loved exploring. They are able to ramp up the style factor without putting protection on the backburner. And that's what separates them from other fragile covers that look eye-catching but fail to live up to the mark when it comes to durability.
By the way, which one of these cases is going to make a match with your all-new 6.7″ iPhone? Is it the one that sports a glittering profile or a beautiful floral pattern? I would be glad to know the name of the cases that have caught your attention.