Cricket is regarded as the second religion in India and that's for a good reason. You will be hard pressed to find a person here who hasn't played this sport when they were a child and don't actively or passively follow the sport till now. And while not all of us can continue playing cricket as we grow up, it doesn't mean we have to give up the sport once and for all. In fact, there are so many good games for cricket lovers out there that you will enjoy playing on your smartphone almost as much as you used to in real life. In this article, we will be exploring those games as we bring you the 12 best cricket games for Android:
Best Cricket Games for Android in 2020
1. World Cricket Championship 2
World Cricket Championship 2 is one of the most popular and beautifully designed games that you can find on the Play Store. The game brings a plethora of features including versatile shot selection including the less traditional ones like Helicopter shot, upper-cut, paddle sweep and more. The game also offers 14 different bowling actions with a lot of control over your deliveries making bowling as enjoyable as batting.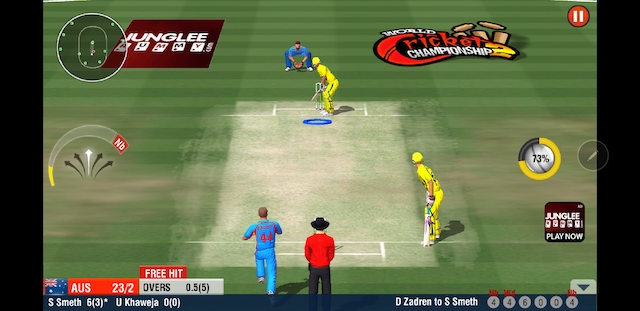 One of the big things about this game is that it brings all the advanced features found in the modern cricket including the review system based on ultra-edge, hawk-eye, hot-spot, and more. Finally, the game brings a selection of 24 national teams, 10 domestic teams, and 32 different stadiums. You will enjoy playing cricket here. Just note that the game is a little heavy on resources and graphics so you will need a good phone to enjoy the game in all its glory.
Install: (Free, in-app purchases)
2. World of Cricket : World Cup 2019
Another well-designed game for cricket fans is the World of Cricket which brings a realistic playing experience thanks to its amazing realistic batting and balling physics. There are more than 25 shots that you can play, that too, with flair. Bowling is pretty good too with different actions and bowling options. I also love the incredible fielding displayed in this game. AI controlled fielders take some awe-inspiring diving catches which make the game extra enjoyable.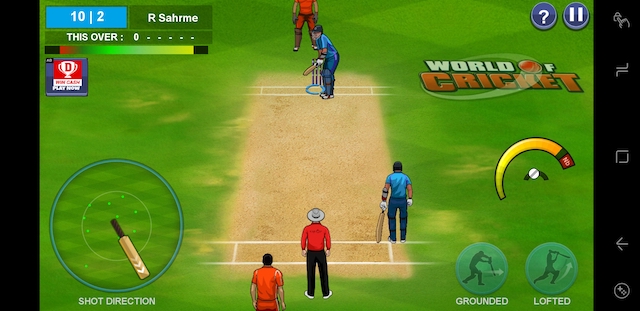 That said, the graphics here are a little more cartoony and some of you might not find it to your taste. Also, since the game is not affiliated with any team, the players' names are not the same. The game is brilliant and you will enjoy playing it, however, if you care about the little details, you might want to skip this one.
Install: (Free, in-app purchases)
3. Real Cricket 20
Real Cricket 20 is one of the best options for players who care about all those little details. The game is as close to real-life cricket as you can get. Each game starts with a small pre-match presentation followed by toss which is followed by the game itself. Don't worry you can easily skip the parts you are not interested in. The game offers tight control to players. You can choose where to hit the shot, whether you want to hit from back-foot or front-foot, do you want to leave, play a grounded shot or a lofted shot, and more.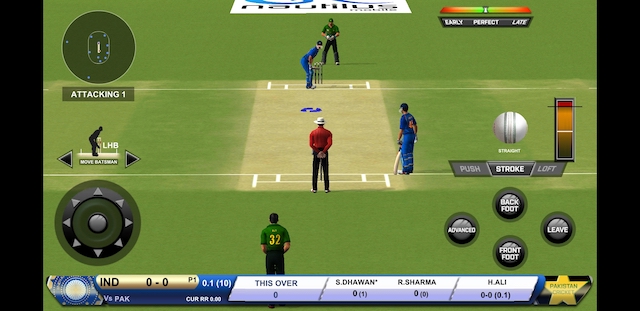 At the end of every over, the game shows you the trajectory of all the balls you faced and an action replay whenever a wicket falls or you hit a boundary. I mean, there's even DRS system here. Mobile cricket doesn't get more authentic than this. It also offers different gaming modes including a multiplayer gaming mode that lets you test your skill against friends and random players on the internet. The game might seem a little tough at the start but it's fairly easy to learn and get used to. I have enjoyed playing this game a lot and highly recommend this to all the cricket lovers out there.
Install: (Free, in-app purchases)
4. Cricket Captain 2018
If money is no concern for you then you can get one of the best and most accurate cricket game you can hope for on Android device. The Cricket Captain 2018 is a real-time strategy game for cricket enthusiasts who follow each and every detail of the game. The game allows you to select the country that you want to start your career from and then rise in the ranks as you play and win games. You will hire players, manage their contracts and trade them to build your team. The game gives you records of every player including the records of all international player whether current or past.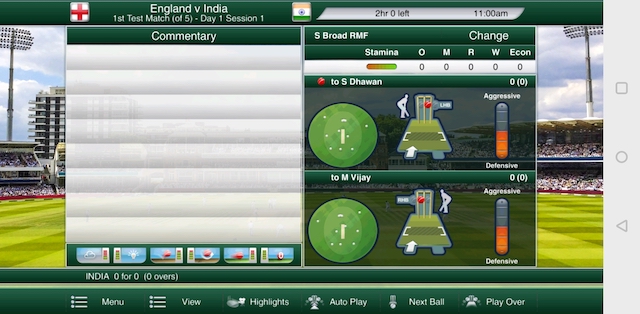 This game is very vast and not for someone who is just looking to pass time. You will have to invest quite a lot of time and effort here if you want to build the best team, win games, and then rise in the ranks. Apart from the county or domestic cricket, the game also offers test cricket tournaments, World Cup tournament, and more. The game features more than 6500 players with regular updates enhancing their capabilities based on their performance. If you are someone who lives and dies by cricket and wants the extreme cricket experience on your smartphone, buy Cricket Captain 2018.
Install: (₹450)

5. Big Bash Cricket
If you are a fan of T-20 cricket you are going to love this game. The Big Bash Cricket is based on the Big Bash League in Australia which is a similar to IPL in India. You start the game by selecting your favorite club and then progressing through the league to win the title. The best part about this game is that since this is an official game, the team roaster is always up-to-date allowing you to use your favorite players.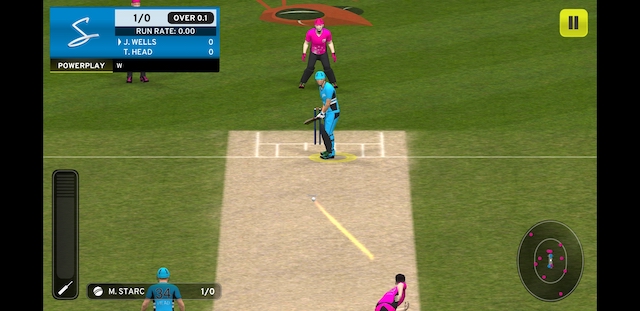 The game is also really fun to play. The graphics are great and there are no elaborate controls to hamper your play. The play is fast and batsman hit interesting shots which are only possible in T-20 cricket. Of all the games on this list, this is the one I have enjoyed playing the most and recommend to everyone who is looking for a quick, fast, and easy game of cricket on their phone.
Install: (Free with ads)

6. Stick Cricket Super League
Talking about easy and fun to play cricket games, Stick Cricket Super League is one of the best ones you will find. Stick Cricket has been popular on Play Store for quite a long time and the Super League is the new T-20 version of the game. While the title is changed and the graphics are improved, the gameplay itself is same as previous stick games. That means you will enjoy a fast-paced game with easy controls. This game is best for passing time when you don't want to think too much about the game and just want to hit some sixes and relax. And you can play this game with one hand which makes it great for passing time while eating or drinking.  It is one of the most fun-filled cricket games for Android users.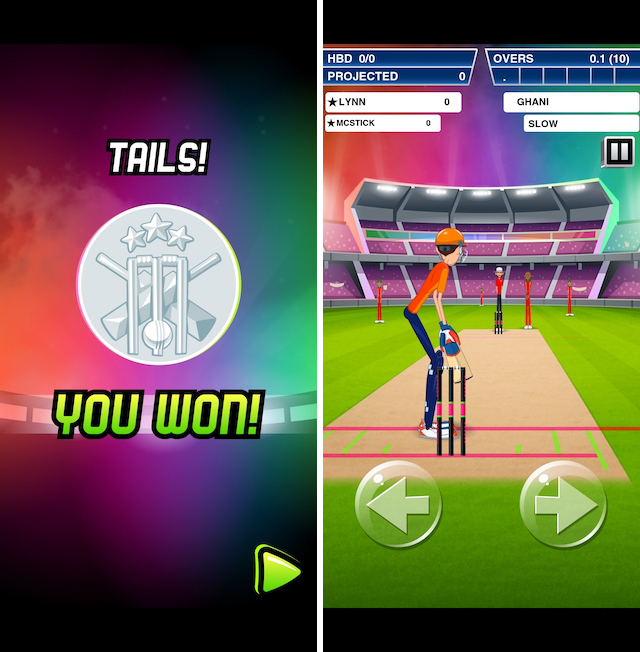 Install: (Free, in-app purchases)
7. MSD: World Cricket Bash
The game is based on the story of MS Dhoni: The Untold Story movie which is in turn based on the real-life story of MS Dhoni. You play as Sushant Sing Rajput (who plays the role of Dhoni in the movie) and progress while playing through all the important phases of Dhoni's cricketing career. Unlike other games which focus on the team, this game is based on the life story of one player. It's quite addictive once you get into the storyline. The graphics are also good with easy controls making the game more enjoyable. You also get to play Dhoni style shots including Helicopter Shot, Reverse Sweep, Square Cut, Paddle Shot and many more. Overall, I quite like this game and recommend that you try it out, especially if you are a die-hard fan of Dhoni.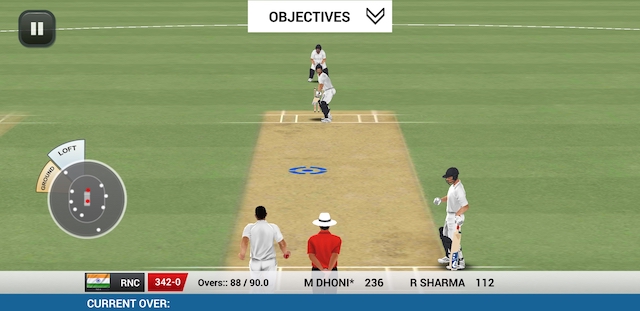 Install: (Free, in-app purchases)
8. Sachin Saga Cricket Champions
Sachin Saga Cricket Champions lets you play as Sachin Tendulkar. Just like MS Dhoni: The Official Cricket Game, this one focuses on the life story of the player. You will start your journey as a young 16-year-old Sachin and live through his glorious cricketing career of 24 years. Sachin's avatar in the game uses all the special shots he is known for making it more real. In the game, you can build your own dream team as you compete with other teams around the world to win the cup. I really like the PvP gameplay of this game as it gives you an incentive to enhance your team so you can win games. The game is more challenging than the MS Dhoni Game and is more suitable for players who can afford to spend the time to learn its mechanics and make a strong team to compete with players from around the world.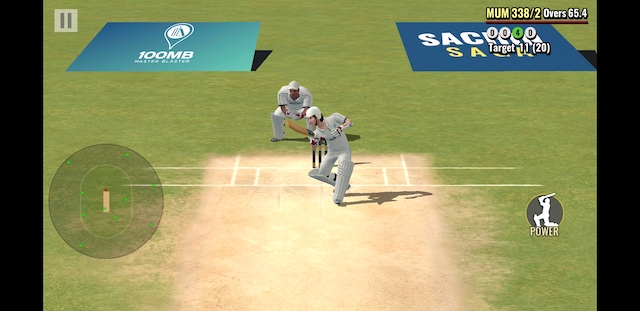 Install: (Free, in-app purchases)
9. Beach Cricket
Remember the time when you used to play cricket on any piece of ground that you could find. Well, Beach Cricket is the same, the difference is that you play on a beach. The game is pretty simple and uses simple swiping gestures to create shots. There are no big-name players here rather you will find unknown cricketers just like you and me. The game is played using the normal Cosco ball just like you used to in the past. This game is nothing special however it is quite nostalgic both in its simple gameplay mechanics and looks. If you want to just pass your time playing cricket, this is a fun one.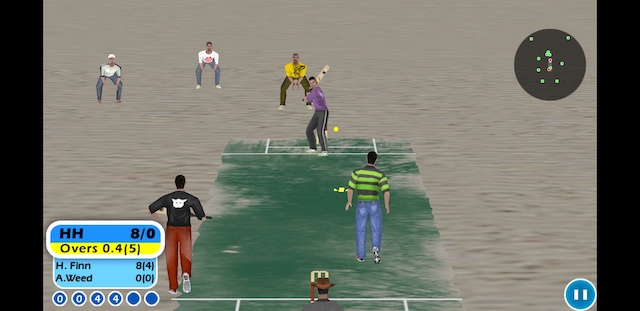 Install: (Free)

10. Epic Cricket – Big League Game
For showcasing your amazing batting skill, you can't go wrong with Epic Cricket. This cricket game comes with all the bells and whistles to let you enjoy gaming to the fullest. To get going, pick out the most talented players to build the most dominating team. And then lead your team to convincing victories through the superb display of batting. But keep in mind, the sudden counterattacks from the opposition as they can turn the table within the span of a few overs. As you go ahead, make sure to plan killer strategies to win knockout matches. And when your team reaches the much-awaited final, go your all out to decimate the rival team to bring home the coveted cup!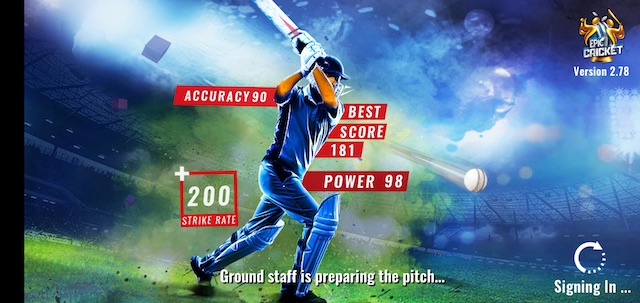 Install: (Free)
11. Doodle Cricket
The last game on this list is called Doodle Cricket which is inspired by the Google Doodle Hidden Cricket game. The game is fairly simple with no controls. There's only one button to tap to score which you need to hit on the right time to score. There's no opponent team and you compete only with yourself. Your scores are counted till you are out (there's only one wicket) and you try to beat your own score in subsequent games. This game is not for 99% of you. However, if there's someone with an old phone who needs a low MB game that is not taxing on phone's resources or a simple game for his child, this is the one to get.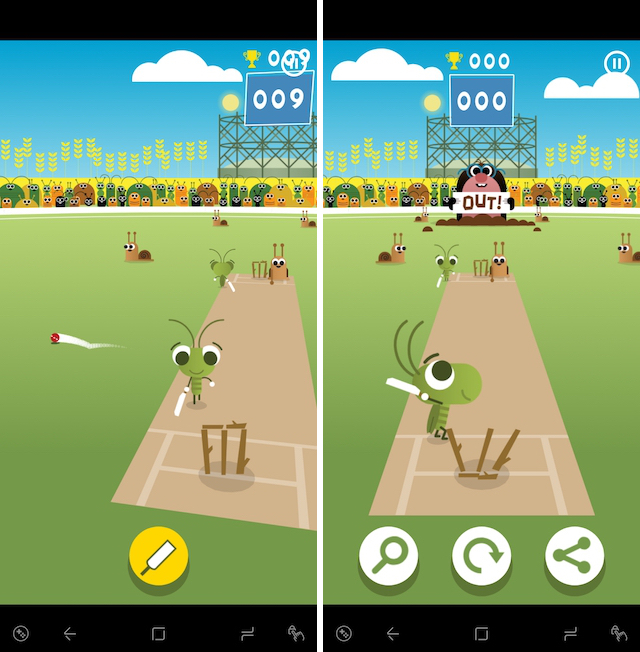 Install: (Free)
12. Smashing Cricket
Smashing Cricket is the sort of cricket game that you will love to play tirelessly. So, what makes this game app so fun-loving? Well, the game boasts stunning motion-captured animations and realistic graphics that make you feel like you are playing cricket in real life. Add to that the luxury to showcase your batting prowess by smashing tons of fours and sixes and it's got everything covered to keep your adrenaline on the charge. One of my favorite features of this game is the full-on customization that allows you to make your team look stand out. Moreover, you also get a chance to pick and choose the matches you'd like to play. Overall, Smashing Cricket is an exciting cricket game for Android and I bet you would love to take it on for hours of gaming.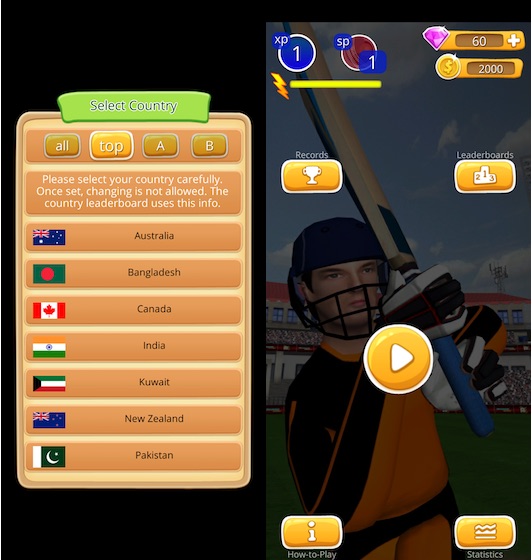 Install: (Free)
Enjoy Cricket with These Best Cricket Games for Android
That ends our list of the best Android games for cricket lovers you can find on the Play Store. Of course, there are tons of other options out there, however, in our testing, we found these 12 be the best among them all. Do check the list out and let us know your thoughts. Also, if you want to share a game with us, write its name down in the comments section below.