Mobile games are very popular. Everybody plays games on their mobile device be it Android or iOS. However, most people prefer playing mobile games with just one hand because they want to keep the other hand free while commuting or for whatever reasons. If you're one of those people then you've come to the right place because we've got the perfect android games for you that you can enjoy with a single-hand, some even with just a finger. Check out the list below for the 15 best Android games you can play with one hand.
1. Clumsy Bird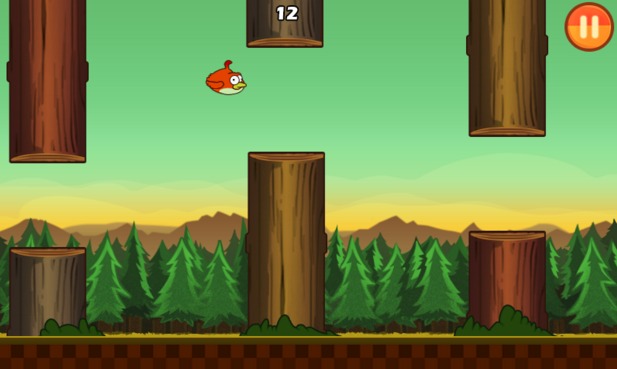 What is it? Arcade.
Why you should try it: The game that rose to the top in a single night was none other than the original Flappy Bird for Android. It quickly became a sensation even though it was one of the most difficult and frustrating games to play. The developer quickly pulled the game from the Google Play store because he received a lot of frustrated messages from some gamers. However, many other developers took advantage of this opportunity and released clones of Flappy Bird to fill the void. Clumsy Bird is a direct clone of the game and it plays similar to the original. Now you can also customize your bird with amazing accessories and clothing. The gameplay is still the same so all you need is a single hand to tap and keep the birds flying. Avoid the objects and score as high as possible in this simple yet highly challenging game.
Install: Google Play Store
2. Canabalt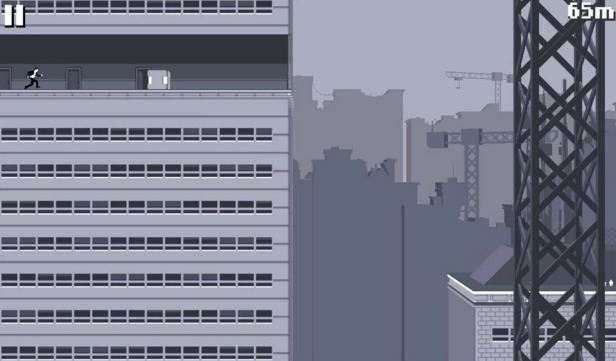 What is it? Arcade, Endless runner.
Why you should try it: Single-handed games can't get any easier than a simple endless running game. If you want to enjoy a game on your Android phone with just one hand then Canabalt HD is definitely one of the top games that you should play. This game is available on almost all platforms because it's one of the best running games out there. The whole world is falling apart and you have to jump from rooftop to rooftop avoiding obstacles along the way. Run as far as you can and achieve the highest score. The game starts off a bit slow and easy but it gets faster and harder the longer you keep running. Keep your eyes out for the falling satellites because those can ruin your entire score in a single moment.
Install: Google Play Store
3. Temple Run 2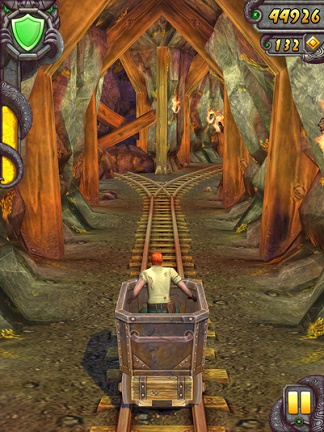 What is it? Action, Endless runner.
Why you should try it: One of the most downloaded running games on Android that single-handedly changed the endless running genre on mobiles. Temple Run 2 brings the amazing run and jump action to your android phone. You get to play the game with amazing graphics and a plethora of new characters to choose from. Hundreds of new achievements and power-ups make the game more interesting. New terrains are being added to the game with each new update to keep it exciting and fun for everyone. Get ready to steal the artifact from the temple and start your running because if you stop, the monster will catch up to you and devour your flesh.
Install: Google Play Store
4. Subway Surfers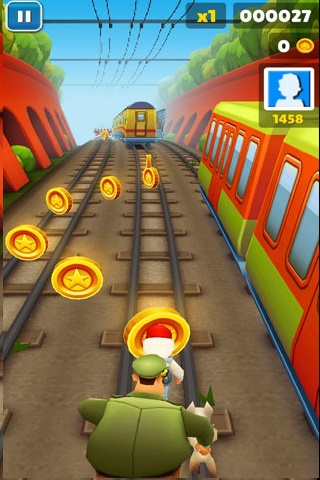 What is it? Arcade, Endless runner.
Why you should try it: Subway Surfers is another very popular running game. It gained popularity because of its simple controls and an amazing art style that keeps changing with each update. This game only requires you to control the characters with just one finger and you don't have to move the phone at all. Changing lanes requires a swipe to the left/right depending on where you want to go. Just avoid the incoming trains and keep running before the grumpy police officer and his dog catches up to you. Collect power ups and coins along the way to boost your runner and score as high as possible to show off.
Install: Google Play Store
5. Cut The Rope 2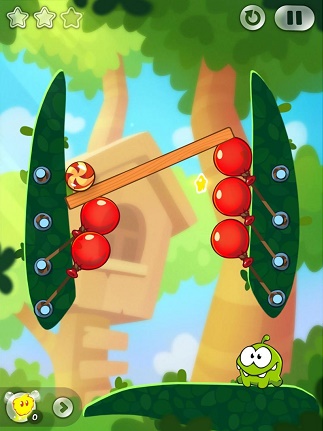 What is it? Puzzle.
Why you should try it: The cutest little hungry monster is back and he wants to eat candy all the time. Get ready for a fun adventure with little Om nom and help him get his daily dose of candy on each level. Meet new friends and ask them for help. Solve exciting puzzles and figure out a way to get the candy safely to the little hungry monster. Experience completely new levels and a set of new characters to meet in this sequel to the hit original game. Cut the Rope 2 is back with an immense amount of fun and exciting new gameplay style. Use a finger and slice the ropes to release the delicious candy right into Om nom's belly. He's counting on you.
Install: Google Play Store
6. Can Knockdown 3
What is it? Arcade.
Why you should try it: Get ready to test your throwing and aiming skills in this amazing can knocking game. If you have tried your aim in real life by knocking down some cans and bottles with a ball then this game is the perfect thing for you. Enjoy beautiful graphics and knockdown some cans in an amazing 3D world of Can Knockdown 3. It may sound simple but there are some tricky levels that will require serious thinking and a killer aim. Knockdown cans by using correct angle and speed. Knock them all down and attain the highest score on each level. Compete with your friends and see who gets the highest score in this entertaining android game.
Install: Google Play Store
7. SpeedCar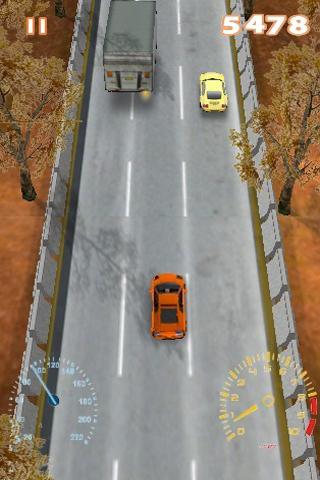 What is it? Racing, Arcade.
Why you should try it: If endless runner games are not what you prefer then you are going to love the endless racing game, SpeedCar on your android. This is a simple racing game that requires a single-hand control. Just tap the screen to accelerate your car and move your phone to steer it. Change lanes and avoid traffic to score as high as possible. Make sure that you keep your focus on the game because it starts off slow but it gets harder and faster gradually. Keep the car under your control and don't let it crash. The graphics look amazing and the entire game is rendered in 3D which makes it a delight for the eyes. Get, set, ready go in this fast-paced racing game.
Install: Google Play Store
8. Doodle Jump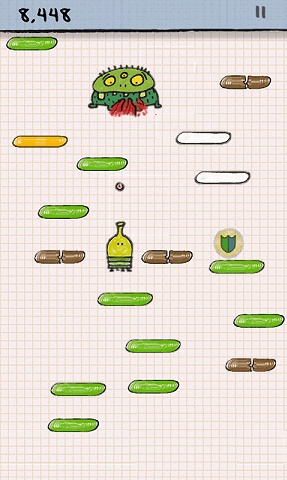 What is it? Arcade.
Why you should try it: The popular game that is famous for its simple gameplay and doodle-ish graphics. Doodle Jump is a very simple game where you keep jumping up and up using different platforms and items. Keep going up without falling or hitting a monster. Beat other people's high score. You will see score markers of other people when you beat them. There are different themes in the game that include but not limited to snow, Halloween, pirates, and much more. Play in any of these levels and try not to get hooked because this game is really addictive.
Install: Google Play Store
9. 2048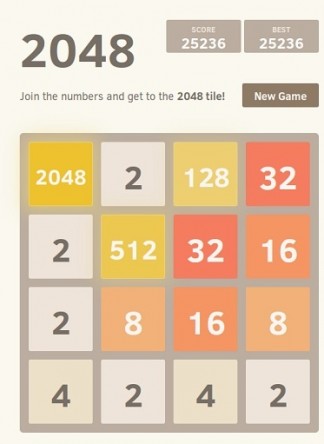 What is it? Puzzle.
Why you should try it: This simple yet highly challenging puzzle game has become one of the best games in the recent times. It's simple, fun, and addictive. Everything you need from a puzzle game is offered in 2048. The main objective of the players is to mix all the tiles together and create one 2048 tile. It sounds simple, right? But it's far from simple and it get very complex with each merger of tiles.
Install: Google Play Store
10. Pixel Dungeon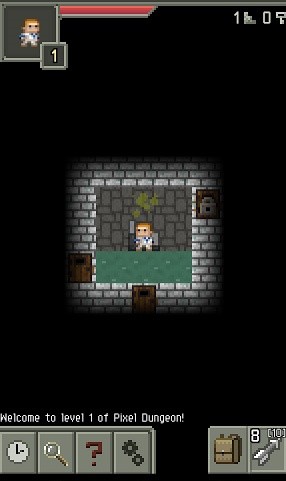 What is it? RPG.
Why you should try it: Yes, it may look weird to see an RPG among this list but let me clear this one up for you. This is one of the simplest RPGs out there for Android. It's a roguelike game where you get random levels each time you play and you die a lot. Every death is permanent so make sure that you play it correctly otherwise your characters will be punished severely. Control your hero with simple taps and fight the evil monsters in the dungeons. Get ready to explore amazing randomly generated dungeons and fight off powerful monsters with your fighting skills or magical powers.
Install: Google Play Store
11. One Tap Hero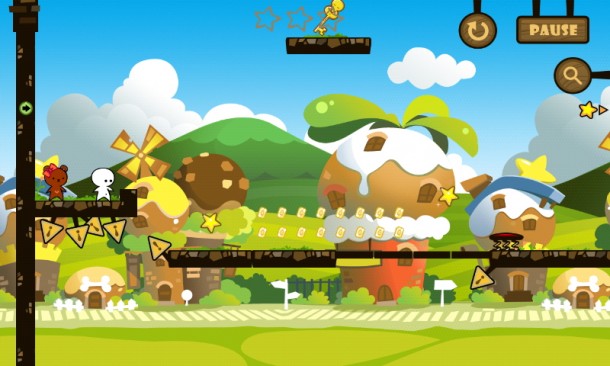 What is it? Action, Puzzle.
Why you should try it: As the name clearly states this game is all about tapping. You don't get complex controls, fishy motion sensing gimmicks, etc all you need to do is tap on the screen to control your hero. Tap to move, tap to jump, tap to do basically everything in this game. One Tap Hero follows the adventure of a young hero who wants to help get his lover back who's been transformed into a teddy bear by an evil wizard. Jump into this amazing journey and solve some fun puzzles to get the love of your life back in this amazing game. Explore four amazing worlds and fight the evil minions of the wizard. Get ready for an addicting adventure in this game.
Install: Google Play Store
12. Vector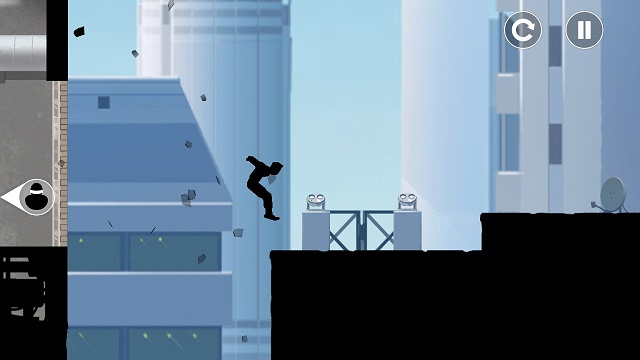 What is it? Arcade, Runner.
Why you should try it: Vector is more like a Canabalt game with a lot of different stunts and moves included. This game lets you perform insane stunts and moves that you will find really cool. Get ready to defy the laws of the big brother and break out of control. Get your freedom and run for it as far as you can in this amazing game with an exciting story. Get ready for the best 20 levels you have ever played and perform the most amazing parkour moves that you've always wanted to perform in real life. Control it simply with just one finger and slide it in directions to perform different moves. Simple, intuitive, and challenging, it's Vector.
Install: Google Play Store
13. Badland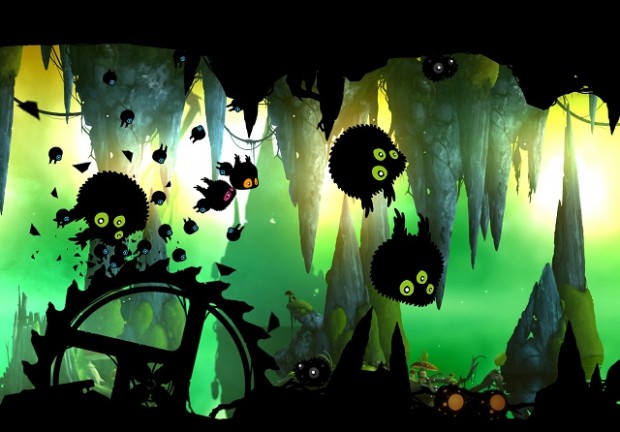 What is it? Adventure.
Why you should try it: You can now enjoy this amazing adventure game on your android device. The unique graphics style and simple controls make it one of the best for your Android. If you want simple control scheme with just one tap system and a unique art style along with fascinating gameplay then Badland is the perfect game for you. The physics-based gameplay lets you enjoy the dark environment in the game and keeps you hooked for a long time. Over 100 unique levels are enough to keep you coming back for more and more. Give this game a try if you want to play something unique and simple on your android.
Install: Google Play Store
14. Color Switch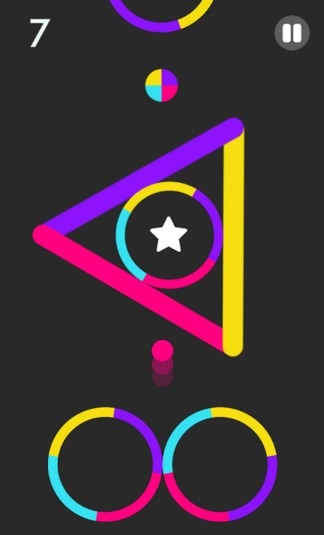 What is it? Arcade.
Why you should try it: Single tap controls, colorful environment, and a high replay value is all included in Color Switch. This is a unique game that you have never played before. You control a ball and take it to the top but there are colored obstacles along the way that can only be passed through if your ball is the same color as the obstacle. So keep switching the colors and passing the obstacles. The gameplay is simple and all you need to do is tap to keep the ball jumping. It's like a vertical Flappy Bird with a lot of colors thrown in the mix. Follow the color pattern and you're good to go.
Install: Google Play Store
15. Stick Hero
What is it? Arcade.
Why you should try it: Another game with a very simple gameplay idea. The main objective of the game is to place sticks long enough to cover two platforms so your stick hero can go from one platform to another. However, it's pretty challenging. If you make the sticks short then your hero will fall in between the platforms and if you make them longer, your hero will still fall at the end of the platform. You have to create the sticks by tapping and holding your finger for as long as you want to make the stick longer. Let go of the screen and it shall fall down between the platforms. Keep placing sticks and helping your hero pass the platforms one by one. Achieve the highest score and secure your bragging rights in this game.
Install: Google Play Store
SEE ALSO: 30 Best Multiplayer Games for Android
You can enjoy all these game on your android with just one hand. The controls are simple and the gameplay is easy enough for you to play with just one hand. If you think there are other games that are as simple then feel free to mention them in the comments below and we'll take a look.