Mobile games are very popular. Everybody plays games on their mobile device be it Android or iOS. Most of these games require the attention of both your hands. But not everyone wants intense gaming experience. Some people prefer playing mobile games with just one hand because they want to keep the other hand free for other work like drinking coffee. If you're one of those people then you've come to the right place because we've got the perfect android games for you that you can enjoy with a single-hand, some even with just a finger. Check out the list below for the 20 best Android games you can play with one hand in 2020.

Best Android Games to Play with One Hand (2020)
1. Crossy Roads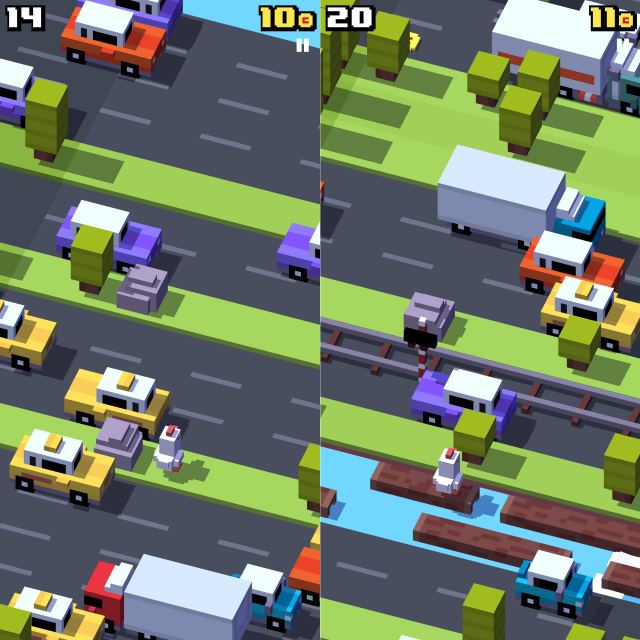 What is it? Arcade.
Why you should try it: When everybody was killing time on Flappy Birds, Crossy Roads entered the scene and won people's hearts. It's a simple Arcade game in which you, well, make your character cross the road. Yes, you just have to make sure that you're not hit by the oncoming traffic, at which point, the game will end and you'll have to start over again.
To make the game more interesting, the developers have also added train tracks and rivers to the mix. You can also choose to collect coins while crossing the road to unlock new playable characters. It's a fairly simple game that you can play with just one hand. Heck, you can play it with just one finger, so be sure to try it out if you haven't already.
Download Crossy Roads (Free)
2. Monument Valley 2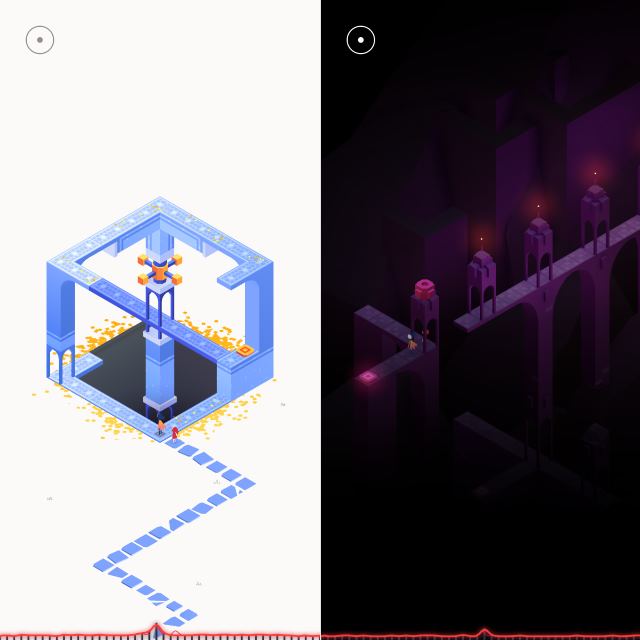 What is it? Puzzle.
Why you should try it: Monument Valley needs no introduction, does it? This award-winning 3D-puzzler is one of the best puzzle games out there. Your objective, in case you don't know, is to guide a mother and her child on their journey as they make their way through magical architecture, discovering illusionary pathways. The game also has a very interesting story, which we won't be spoiling for you, but as you can probably guess, it's all about a mother and her child on a journey through a magical, sometimes scary world, but the best part of the Monument Valley 2 is that you don't need to have previously played Monument Valley to enjoy this title.
The puzzles, which look beautiful when you first begin the game, keep getting complex as you progress through the game. The puzzles are also dynamic which forces you to interact with the geometric structures. Yes, it sounds complicated but it's a lot of fun and you can definitely play it with one hand.
Download Monument Valley 2 ($4.99)
3. Orbit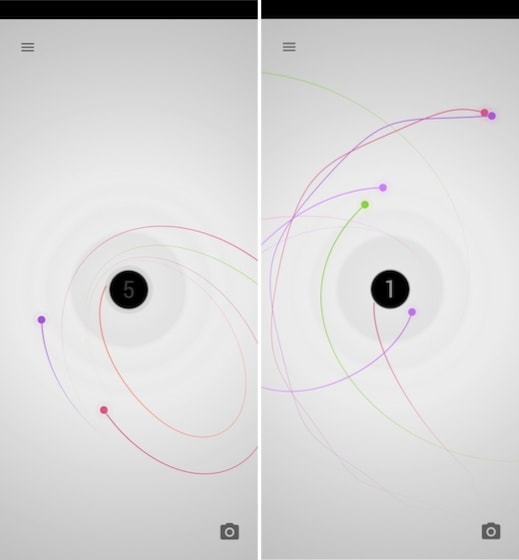 What is it? Puzzle.
Why you should try it: Orbit is a gravity simulator puzzle game that has become one of my favorite games of all time. The best thing about this game is that it is extraordinarily relaxing to play. Whenever I want to take a break for 5-10 minutes, this is the game that I open. The game mechanics are pretty simple. You get to launch planets around a black hole and your aim is to get them in a stable orbit. But that is easier said than done. If the planets collide, they fall into the black hole. Even if they come too near, they change each other's trajectory. This game is both fun and challenging. I find it to be one of the best Android games that you can play with one hand.
Download Orbit (Free)
4. One More Line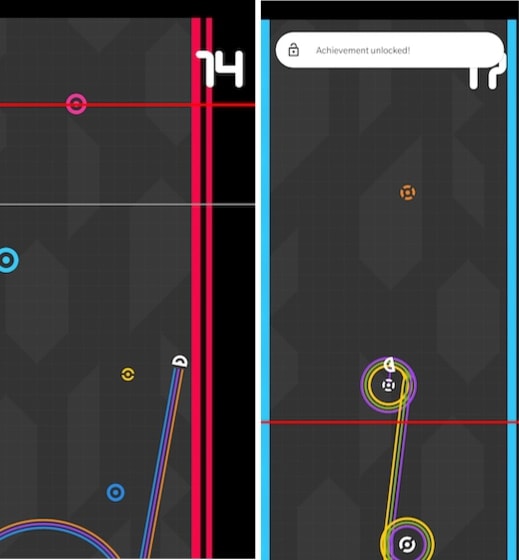 What is it? Arcade, Skill Timing.
Why you should try it: One More Line is a space disco game that you can play with just one hand. There's only one button to control so you can even play it with just one finger if your phone is on a stand. The gameplay is very simple. You have a projectile that is moving up. You can tap on the screen to link the projectile to anchors. Depending on the trajectory, the anchors will sling-shot the projectile. Your only job is to prevent the projectile from hitting the anchors and moving up. It's a fun-filled game and the music is bonkers. Remember to play this game with earbuds.
Download One More Line (Free)
5. Prune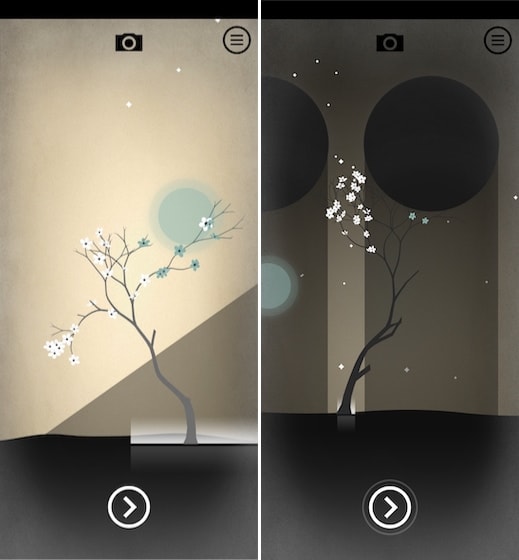 What is it? Puzzle.
Why you should try it: Prune describes itself as a love letter to trees, and what a beautiful letter it is. The game shows elegance and design prowess. The gameplay is pretty simple. All you need to do is to ensure that your tree moves towards sunlight and grows. It's a game about the joy of cultivation. It's also relaxing and perfect for someone who wants to lose that tension. If you have never played a game like this, I highly recommend that you try it.
Download Prune ($3.99)
6. Clash Royale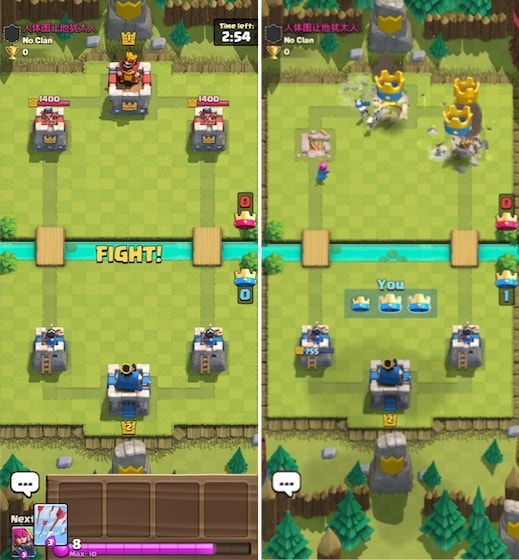 What is it? Tower Defense, Card Battle.
Why you should try it: If you prefer action instead of relaxation, then try out Clash Royale. It's a classic tower defense game where you have to blow out all three enemy towers before they do the same to you. Based on the characters of the popular game Clash of Clans, Clash Royale is full of action and enjoyment. Collect dozens of cards and upgrade them to battle against your online opponents. Collect fighters, spells, and gadgets, and lay waste to whoever who dares to come against you. It's one of the best Android games that you can play with one hand. If you love it, you should also check out Clash Royale alternatives to find similar games.
Download Clash Royale (Free)
7. Mekorama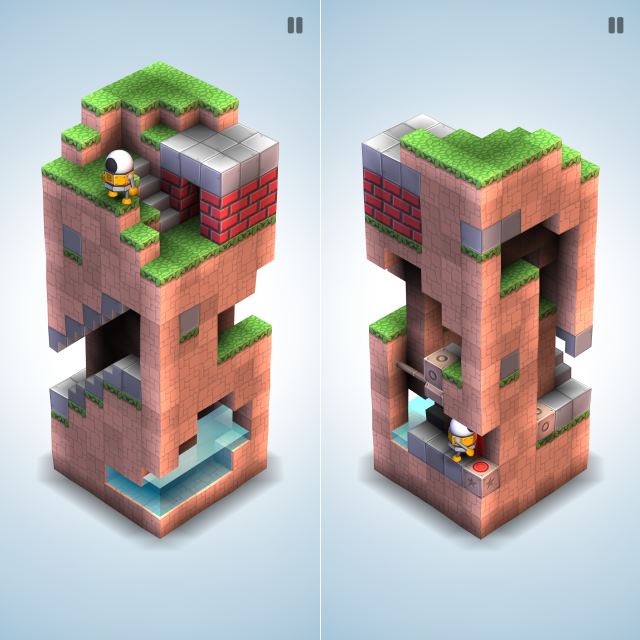 What is it? Puzzle.
Why you should try it: If you are not willing to pay big bucks for a game, then you can try Mekorama. It's also a 3D puzzler, in which you have to guide your character through geometrical structures. Unlike Monument Valley 2, you'll be guiding a cute little robot. Despite its small download size, Mekorama is a beautiful game that we think absolutely deserves a spot in your library. The levels are not overly complicated, and you can play this 3D puzzler with just one hand.
Download Mekorama (Free)
8. KAMI 2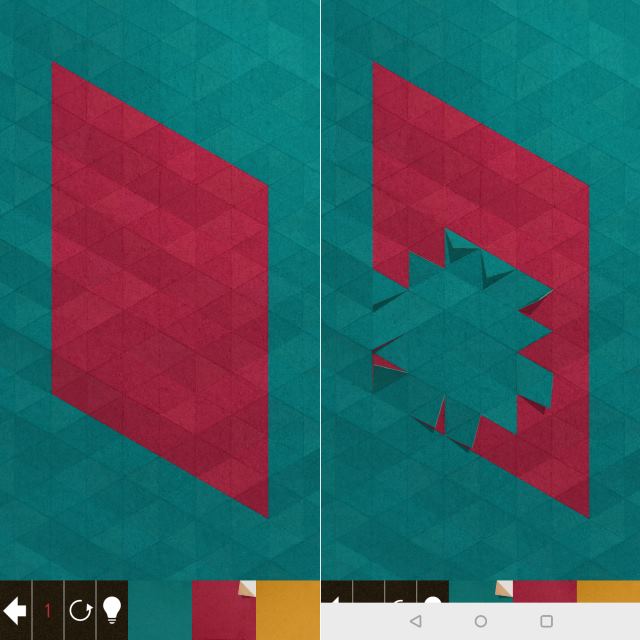 What is it? Puzzle.
Why you should try it: While we are talking about puzzle games, it is hard not to talk about KAMI 2. It's a sequel to KAMI, which shined as one of the most puzzle games out there. If you've never a played a KAMI title before, well, it's a calming and addictive puzzle game in which you have to match some colors and finish levels with a single color in the end. You have to make sure that you are finishing each puzzle in as few moves as possible to claim a 'Perfect' sticker. The game also lets you make your own KAMI puzzle using the game's Puzzle builder. Overall, it's a really addictive title that's worth checking out.
Download KAMI 2 (Free)
9. Candy Crush Friends Saga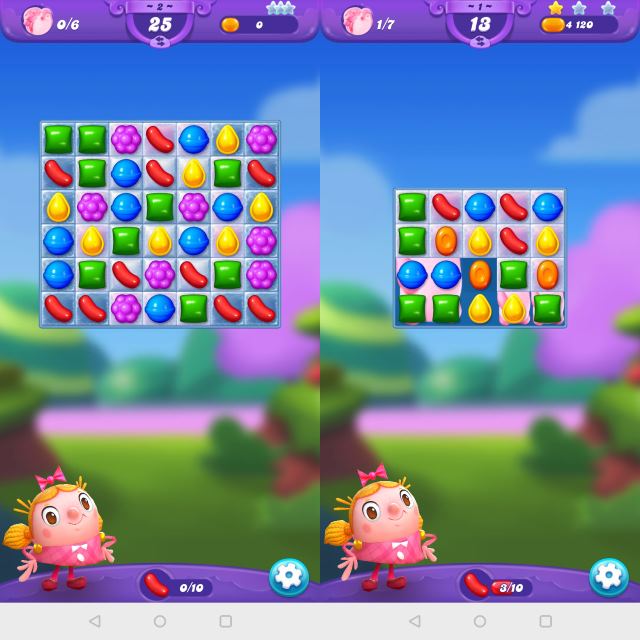 What is it? Arcade.
Why you should try it: Well, if you've ever played Candy Crush before, then you'll feel at home with the new Candy Crush Friends Saga. It's the newest game in the Candy Crush franchise, and it has updated graphics, fun new game modes, and more. Despite the new game elements, the core objective of the game is still the same. You have to switch and match candies to crush through all the levels in the game. It has hundreds of levels, and you can even play this new title with your friends, which is just awesome.
Download Candy Crush Friends Saga (Free)
10. Peach Blood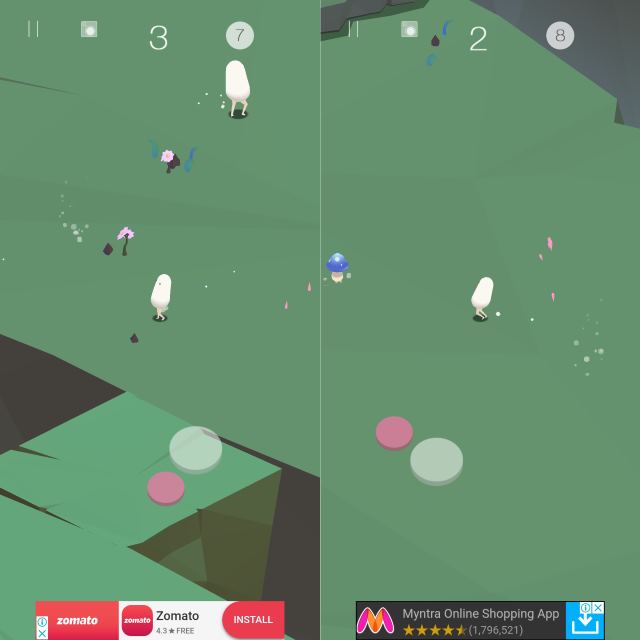 What is it? Arcade.
Why you should try it? Peach Blood is a fun arcade game in which you start off as a tiny Vember. Well, your objective is to eat other Vembers that are smaller than you, so you can grow in size and keep munching on other Vembers. Yes, you can't mess with the big guys if you don't want to get eaten up. The Vembers keep appearing endlessly and the survival gets tougher as you progress. In addition to Vembers, you'll also stumble upon a bunch of mushrooms that'll give you special powers. But beware of the things you chew because items like ice cubes, light bulbs, etc. will kill your Vember.
Download Peach Blood (Free)
11. Canabalt HD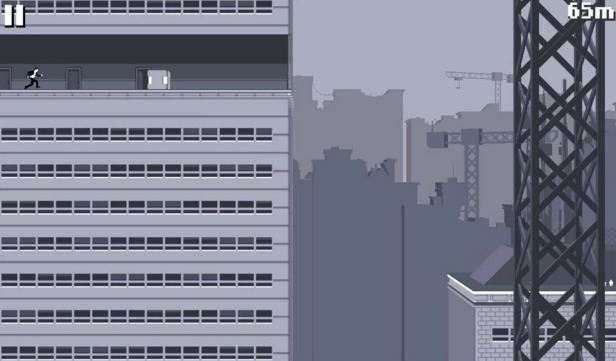 What is it? Arcade, Endless runner.
Why you should try it: Single-handed games can't get any easier than a simple endless running game. If you want to enjoy a game on your Android phone with just one hand then Canabalt HD is definitely one of the top games that you should play. This game is available on almost all platforms because it's one of the best running games out there. The whole world is falling apart and you have to jump from rooftop to rooftop avoiding obstacles along the way. Run as far as you can and achieve the highest score. The game starts off a bit slow and easy but it gets faster and harder the longer you keep running. Keep your eyes out for the falling satellites because those can ruin your entire score in a single moment.
Download Canabalt HD ($2.99)
12. Temple Run 2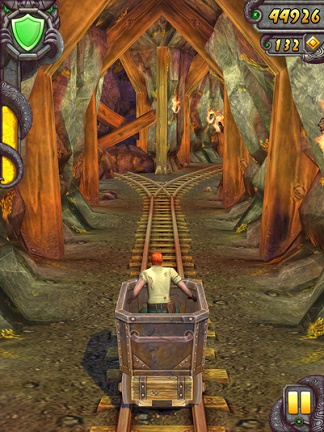 What is it? Action, Endless runner.
Why you should try it: One of the most downloaded running games on Android that single-handedly changed the endless running genre on mobiles. Temple Run 2 brings the amazing run and jump action to your android phone. You get to play the game with amazing graphics and a plethora of new characters to choose from. Hundreds of new achievements and power-ups make the game more interesting. New terrains are being added to the game with each new update to keep it exciting and fun for everyone. Get ready to steal the artifact from the temple and start your running because if you stop, the monster will catch up to you and devour your flesh.
Download Temple Run 2 (Free)
13. Subway Surfers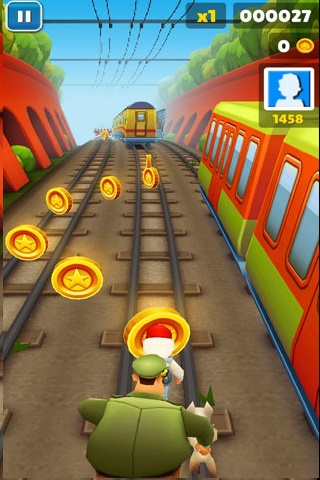 What is it? Arcade, Endless runner.
Why you should try it: Subway Surfers is another very popular running game. It gained popularity because of its simple controls and an amazing art style that keeps changing with each update. This game only requires you to control the characters with just one finger and you don't have to move the phone at all. Changing lanes requires a swipe to the left/right depending on where you want to go. Just avoid the incoming trains and keep running before the grumpy police officer and his dog catches up to you. Collect power ups and coins along the way to boost your runner and score as high as possible to show off. If you love this you should check out other endless runner games like Subway Surfer by clicking on the link.

Download Subway Surfers (Free)
14. Cut The Rope 2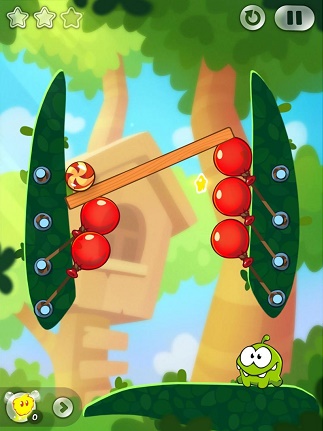 What is it? Puzzle.
Why you should try it: The cutest little hungry monster is back and he wants to eat candy all the time. Get ready for a fun adventure with little Om nom and help him get his daily dose of candy on each level. Meet new friends and ask them for help. Solve exciting puzzles and figure out a way to get the candy safely to the little hungry monster. Experience completely new levels and a set of new characters to meet in this sequel to the hit original game. Cut the Rope 2 is back with an immense amount of fun and exciting new gameplay style. Use a finger and slice the ropes to release the delicious candy right into Om nom's belly. He's counting on you.
Download Cut the Rope 2 (Free)
15. Can Knockdown 3
What is it? Arcade.
Why you should try it: Get ready to test your throwing and aiming skills in this amazing can knocking game. If you have tried your aim in real life by knocking down some cans and bottles with a ball then this game is the perfect thing for you. Enjoy beautiful graphics and knockdown some cans in an amazing 3D world of Can Knockdown 3. It may sound simple but there are some tricky levels that will require serious thinking and a killer aim. Knockdown cans by using correct angle and speed. Knock them all down and attain the highest score on each level. Compete with your friends and see who gets the highest score in this entertaining android game.
Download Can Knockdown 3 (Free)
16. Doodle Jump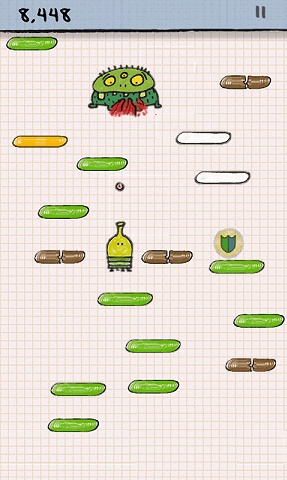 What is it? Arcade.
Why you should try it: The popular game that is famous for its simple gameplay and doodle-ish graphics. Doodle Jump is a very simple game where you keep jumping up and up using different platforms and items. Keep going up without falling or hitting a monster. Beat other people's high score. You will see score markers of other people when you beat them. There are different themes in the game that include but not limited to snow, Halloween, pirates, and much more. Play in any of these levels and try not to get hooked because this game is really addictive.
Download Doodle Jump (Free)
17. 2048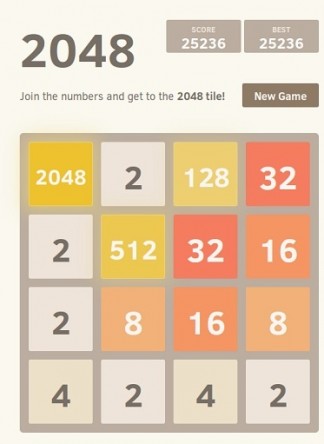 What is it? Puzzle.
Why you should try it: This simple yet highly challenging puzzle game has become one of the best games in the recent times. It's simple, fun, and addictive. Everything you need from a puzzle game is offered in 2048. The main objective of the players is to mix all the tiles together and create one 2048 tile. It sounds simple, right? But it's far from simple and it get very complex with each merger of tiles.
Download 2048 (Free)
18. Vector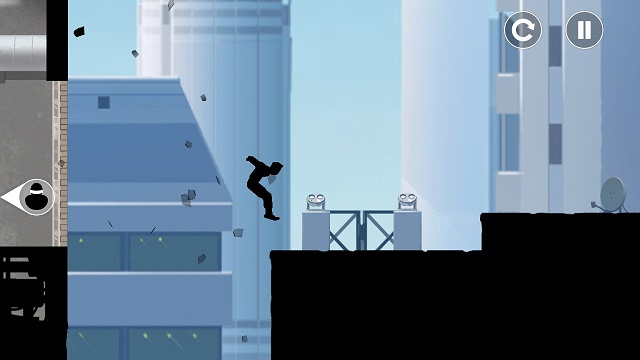 What is it? Arcade, Runner.
Why you should try it: Vector is more like a Canabalt game with a lot of different stunts and moves included. This game lets you perform insane stunts and moves that you will find really cool. Get ready to defy the laws of the big brother and break out of control. Get your freedom and run for it as far as you can in this amazing game with an exciting story. You will get to enjoy the best 20 levels you have ever played and perform the most amazing parkour moves that you've always wanted to perform in real life. Control it simply with just one finger and slide it in directions to perform different moves. Simple, intuitive, and challenging, it's Vector. It's one of the best Android games that you can play with one hand.

Download Vector (Free)
19. Badland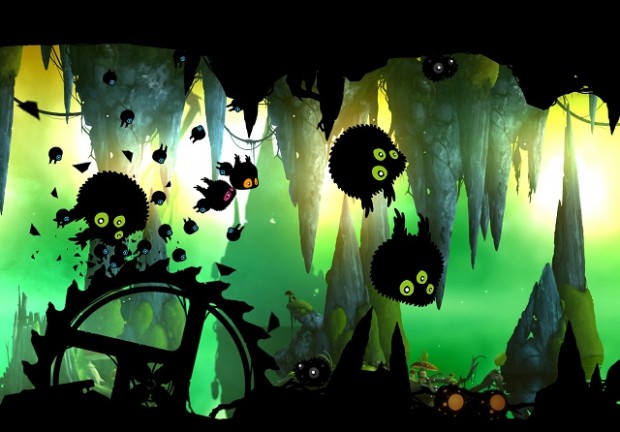 What is it? Adventure.
Why you should try it: You can now enjoy this amazing adventure action game on your android device. The unique graphics style and simple controls make it one of the best for your Android. If you want simple control scheme with just one tap system and a unique art style along with fascinating gameplay then Badland is the perfect game for you. The physics-based gameplay lets you enjoy the dark environment in the game and keeps you hooked for a long time. Over 100 unique levels are enough to keep you coming back for more and more. Give this game a try if you want to play something unique and simple on your android.
Download Badland (Free)
20. Stick Hero
What is it? Arcade.
Why you should try it: Another game with a very simple gameplay idea. The main objective of the game is to place sticks long enough to cover two platforms so your stick hero can go from one platform to another. However, it's pretty challenging. If you make the sticks short then your hero will fall in between the platforms and if you make them longer, your hero will still fall at the end of the platform. You have to create the sticks by tapping and holding your finger for as long as you want to make the stick longer.
Let go of the screen and it shall fall down between the platforms. Keep placing sticks and helping your hero pass the platforms one by one. Achieve the highest score and secure your bragging rights in this game. Also, the Developers of this game have released a lot of new games since Stick Hero so you may check out their other games too.
Download Stick Hero (Free)
Enjoy The Android Games You Can Play with One Hand
You can enjoy all these games on your Android smartphone with just one hand. The controls are simple and the gameplay is easy enough for you to play with just one hand. These games are best for relaxing and passing break time while having a coffee. If you think there are other games that are as simple then feel free to mention them in the comments below and we'll take a look.