Whether you are an Android or iOS user, mobile games are definitely the best way to kill time. However, many of them require you to use all ten fingers to play them properly. That gets in the way when you try to do other things like, let's say, have a cup of coffee, give in to your pet's back-scratching demands, or look to kill some time when traveling. For all these scenarios and a dozen more, Android games that can be played one-handed come in as a lifesaver to keep you entertained while multitasking. Especially on Android, if you are on the Google Play Store looking for such games, you may feel a tad too overwhelmed by the available collection. Instead, take a look at this list and save some time.
1. Marvel Snap
Genre: Card Game
Mode: Multiplayer
Price: Free, with in-app purchases
Support: Android, iOS
At the 2022 Game Awards, everyone was taken aback when a strategic card game mopped the floor with games like Apex Legends Mobile, Genshin Impact, and Diablo Immortal, to bag the Best Mobile Game of the Year title. Yes, I'm talking about Marvel Snap. I got to know about this game from The Game Awards itself and immediately headed over to the Play Store to download it and jump on the Snap bandwagon. Fast forward to today, I'm still playing the game and find myself hopping into these epic three-minute games now and then, whether I'm at work (Shush! Don't tell my boss) or at home.
What makes this so addictive is not just the fact that you get to use your favorite Marvel superheroes and villains, but also how each of these characters' abilities has the potential to turn the tide of a game at the very last moment. You can never predict a game of Marvel Snap and that's the beauty of it. This game offers a different kind of satisfaction, which is hard to top for any other game out there. Definitely, one of the best Android games that you can easily play with one hand.
2. Subway Surfers
Genre: Endless Runner
Mode: Single-Player
Price: Free, with in-app purchases
Support: Android, iOS
Remember when there were two Android games in particular that were being played on each and every device at one point? Subway Surfers and Temple Run 2, yes. Not going to lie, I was a bit bewildered about which of these two games I should add to this list. However, here goes nothing and I'm of the opinion that Subway Surfers has aged like fine wine and still looks good. However, Temple Run 2 feels wonky and looks dated. Moreover, Subway Surfers constantly gets aesthetically updated with new locations, and the current Tokyo 2023 location looks incredible.
Personally, this is the one game that stays on my phone, whether I play it often or not. It's just so easy to immediately get into and mindlessly swipe through. After a while of playing this, your muscle memory automatically kicks in and you won't have to struggle as much, and that police officer won't end up catching you. Even after years of playing the game, there is a certain level of challenge that it poses which I can't get enough of. Beating your own scores becomes kind of addictive. Moreover, if you connect your Facebook account and compete with your friends, that's fun too.
3. Royal Match
Genre: Match-3 Puzzle Game
Mode: Single-Player
Price: Free, with in-app purchases
Support: Android, iOS
It goes without saying that Candy Crush is, hands down, one of the most-played mobile games in the world. However, it is also a pretty old game, and was high time that there was a good Candy Crush alternative out there. That is exactly where Royal Match comes in. This game is not just the new Candy Crush, it's got additional mechanics that make it a more rewarding experience altogether. In fact, very recently, Royal Match surpassed Candy Crush in terms of revenues as well, which is nuts considering that the former is a much newer game.
Originally, I was keeping Candy Crush on this list. Thanks to a coworker of mine, I replaced Candy Crush with this game. I wasn't exactly sure about it till I gave it a try. Minutes turned to almost an hour when I realized that I had to finish penning this list down for you as well (again, don't tell my boss).
Didn't realize when and how I built a castle, planted bushes, decorated my garden, and eventually built a wonderful kingdom. If you don't know what I mean, play the game. You won't be disappointed for sure. Oh also! The haptics of this game are just way too good. Adds to the overall joy of playing it, easily making it one of the best one-handed Android matching games to play right now.
4. Mighty Doom
Genre: Top-Down Shooter
Mode: Single-Player
Price: Free, with in-app purchases
Support: Android, iOS
I can't thank Bethesda enough for having come up with this version of our beloved Doom. I grew up playing Doom and when the franchise was revived with the 2016 masterpiece, I spent hundreds of hours playing and replaying it. It indeed is one of the best shooting games I have ever played on my old-but-gold PS4 and PC. When I got to know back in 2021 that a mobile version of one of my favorite shooters was going to be released, I was super stoked. Finally, we got to see the game release in March 2023. Mighty Doom is just the best time-waster out there, and I'm saying this in the most positive way possible.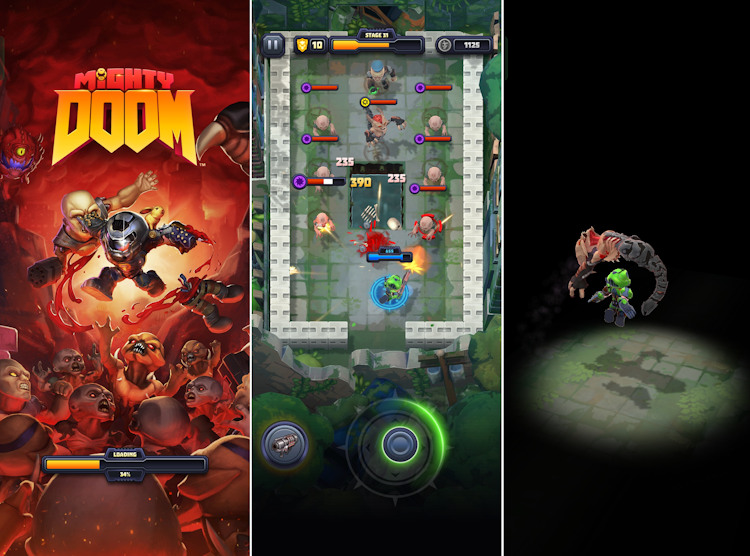 If you are looking for the best one-handed Android games, this is right there at the very top, and for valid reasons. This endless shooter also features some of the most interesting boss battles, which makes every run fun and something to look forward to. To add to the Doom flavor, it gets challenging with every stage. However, your efforts do not go to waste and you can convert all that slaying and demolishing of monsters into upgrading your weapons and getting stronger. Just a lovely shooter game that you should play, Doom fan or not.
5. Hunter Assassin
Genre: Strategic Puzzle
Mode: Single-Player
Price: Free, with in-app purchases
Support: Android, iOS
Initially, in this exact same position, I had decided to go with Super Mario Run. However, I changed my mind and went ahead with Hunter Assassin as it did not hit you with a paywall after a couple of levels. Yep, Super Mario Run does that and it is definitely not fun, Nintendo. Hit us with a couple of ads here and a couple there, but this paywall to play the remaining 80% of the game is just not fair. The good thing is, Hunter Assassin is completely free to play with in-app purchases. You will be coming across ads. However, nothing too annoying.
Coming to the gameplay, that is the reason why I had to add Hunter Assassin to the list. It is just such a fun, strategic puzzler. You play the role of an assassin (of course), and take down enemies in different rooms. As you progress through these levels, the enemy types and quantity are increased. Not to mention that you don't have a gun and your enemies do. So, you will have to go all stealth and rain hellfire on your enemies with just that knife. This game is addictive to say the least, and you will find yourself playing it way more than you initially planned.
6. Rush Royale
Genre: Tower Defense
Mode: Single Player & Multiplayer
Price: Free, with in-app purchases
Support: Android, iOS
Tower defense games have always been a very popular category, especially when it comes to mobile gaming. Rush Royale is one such game that makes those wheels turn and puts your quick-thinking abilities to the test. At first, it may seem like there's not a whole lot going on when it comes to the overall game mechanics. However, when you visit the Knowledge Base section of the game, you will be blown away by how many elements this game uses and how challenging it can quite possibly get.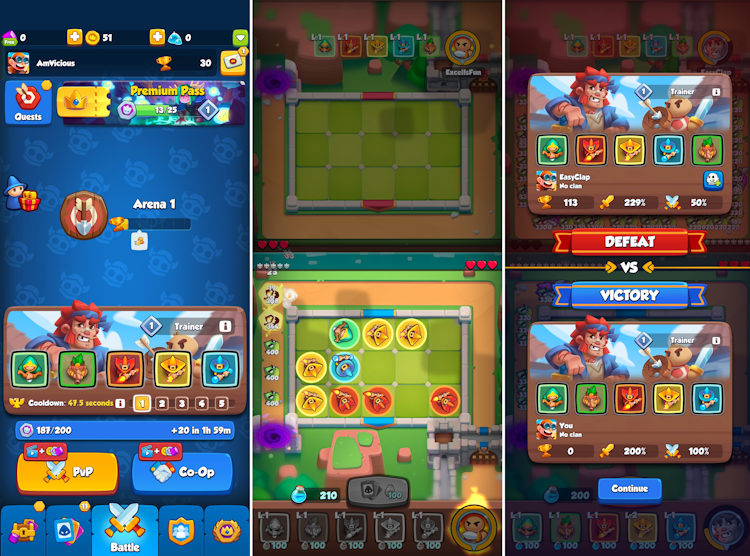 Using whatever you have, you will need to survive against hordes of enemies, longer than your opponent. Simple right? Nope. There are quirky and fun powerups that you can use to get a massive boost in battle. You also have to use the right ones at the right time and utilize your Mana in the best way possible to take home the win. This Android game can be easily played with one hand and is one of the best out there. Had to mention it, for sure.
7. Whiteout Survival
Genre: Strategy
Mode: Single-Player & Multiplayer
Price: Free, with in-app purchases
Support: Android, iOS
If you have played popular city-building games like Frostpunk or Stonehearth on PC or console, Whiteout Survival will feel right at home. It uses very similar mechanics and style and makes for an excellent Frostpunk or Stonehearth alternative on your Android device. The story is pretty straightforward. A family is trying to survive in the midst of a catastrophic global event that has brought back an ice-age-like situation on Earth. You have to build and make the right decisions to ensure that the family and the settlers that they come across make it through.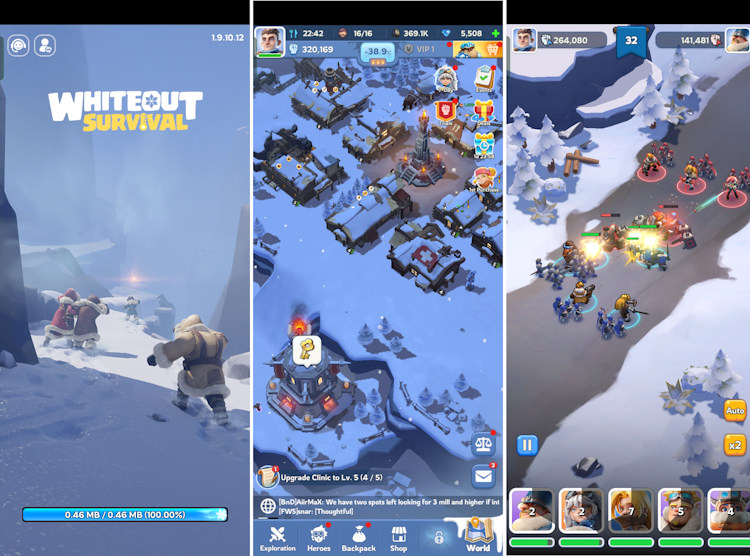 Mind you, the game is pretty addictive and will take up a lot of your time. I'm definitely saying this from experience. What makes it an even more fun game to play are the beautiful graphics and city-building elements that keep you going. Don't be fooled by the game's simple interface. There's a lot going on as you keep playing and dig deeper. The portrait format of the game comes in handy as well, making it an easy game to play with one hand, unlike games like Clash of Clans, Sims City, etc.
8. Clash Royale
Genre: Tower Defense
Mode: Multiplayer
Price: Free, with in-app purchases
Support: Android, iOS
Supercell's Clash of Clans will always be one of the best strategic games of all time. Expert CoC players can surely play the game one-handed. But, do you know which game is a better choice for one-hand playability? Clash Royale, for sure. You don't need to be an expert to play this game with one hand. Unlike CoC, Clash Royale is in portrait mode, allowing your fingers to reach every corner of the screen effortlessly. What makes it all the more fun (especially if you have been a CoC player in the past) is seeing all those familiar characters come alive and use their abilities to defend your tower.
However, Clash Royale is not easy and understanding as well as mastering each character's abilities takes time. However, the process is not tedious and you have nothing to lose but a few crowns here and there. What matters is, that it will surely provide you with a lot of fun, but keep those wheels turning as well. If you are feeling sleepy, there's nothing like a heated Clash Royale game to keep those eyelids from shutting down on you. Not to mention that coming up with the best deck in Clash Royale is not easy either.
9. Tomb of the Mask
Genre: Arcade Puzzle
Mode: Single-Player
Price: Free, with in-app purchases
Support: Android, iOS
You won't believe how I came across this masterpiece of a game. To compile this list, I had to try and plow through way too many games. In the process, as a lot of free Android games feature, I had to watch a gazillion different ads. However, from one such ad, I came across this game and I was blown away. I'm glad I tapped on that ad and installed this game. The game has a lot of ads, though. However, you can easily get them removed for a very small fee, which is great.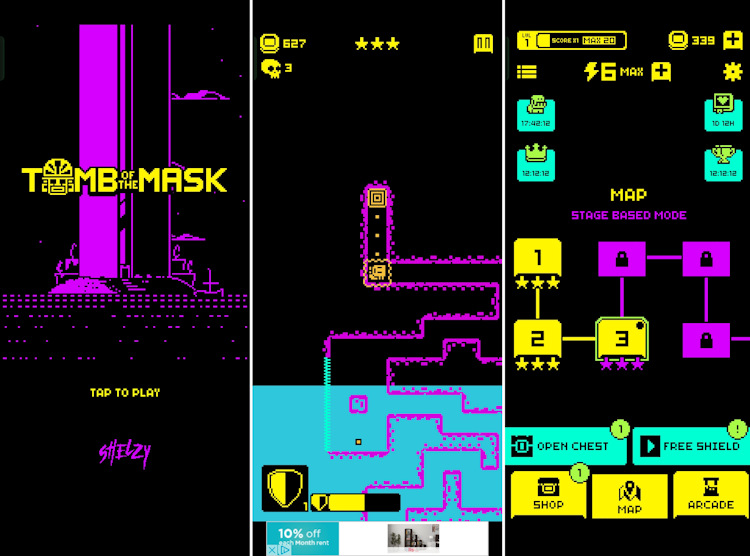 Help! Can't stop playing it! Right off the bat, what made me appreciate the game was the interface and art style. The PACMAN-like, glitchy-looking interface had my heart instantly. The satisfaction of playing this game with one hand is actually unbeatable. It is a one-of-a-kind game that will surely keep you hooked. Besides, it is also one of the most storage-efficient Android games, at just roughly around 50MB in size.
10. Tetris
Genre: Puzzle
Mode: Single-Player
Price: Free, with in-app purchases
Support: Android, iOS
I mean, it's Tetris. For your Android. Yep, that's pretty much it and that's all you need. If you haven't been introduced to the world of Tetris yet, you will have a good time with this. Thank me later, for this is the best one-handed classic experience you can get on Android. Tetris has been around for decades now, having been introduced way back in the 80's.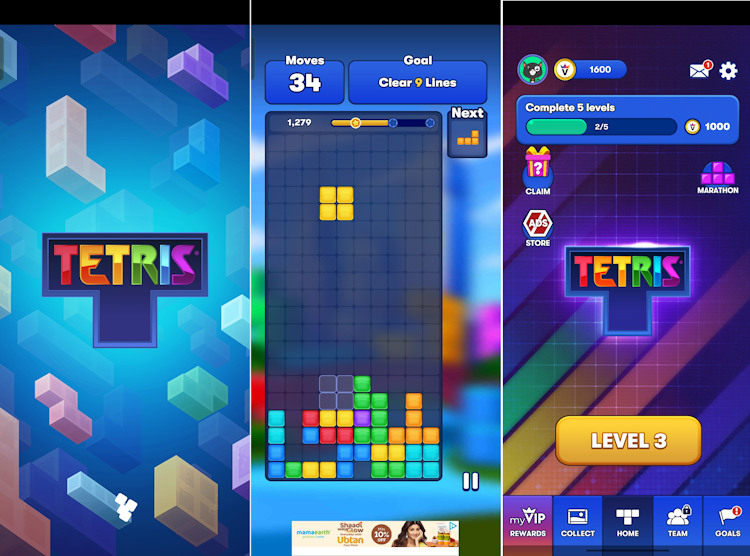 However, there is something so addictive about altering, matching blocks, and clearing rows that have given it the cult classic status and allowed it to stay evergreen for so long. Believe me when I say this, Tetris will always be one of the best puzzle games for your Android device.