Whenever style and protection have a confrontation, a protective clear case becomes my go-to option. While the shock-absorbing frame safeguards the smartphone against random drops, a clear back allows the device to catch the attention effortlessly. That's what I call; having the best of both worlds. If you often find yourself in a situation where you can't give up on style in favor of protection, pick out a durable clear case that can keep the elegance of your smartphone intact without risking defense against scratches and bumps. And for that, look no further than this extensive lineup of the best clear cases for iPhone 11 Pro Max!
Best iPhone 11 Pro Max Clear Cases in 2020
A variety of cases for iPhone 11 Pro Max have hit the market. While some flaunt cute design, others come with rugged casing for enhanced water-resistance and military-grade protection. And then, there are the all-clear suits designed to let the iPhone shine-through. But bear in mind, the transparent covers have a lot more under-the-hood than what meets the eyes.
1. Spigen Clear Case for Apple iPhone 11 Pro Max
Spigen is one of the best case makers for iPhone, and its Liquid Crystal case is one of the best clear cases that you can buy for your iPhone 11 Pro Max. The case is slim, flexible, and form-fitted. That means, it snugly fits the iPhone 11 Pro and easy to apply and remove. Thanks to its thin design, it doesn't add any noticeable bulk to the already bulky iPhone 11 Pro Max. My favorite thing about this case is that it doesn't develop yellowish tone overtime. It remains clear even after months of use. Also, despite sporting a flexible design, it features reinforced buttons that give tactile feedback. It also enhances the grip of the phone thereby minimizing the chances of you dropping the phone. Overall, it's a very good case and you should buy it.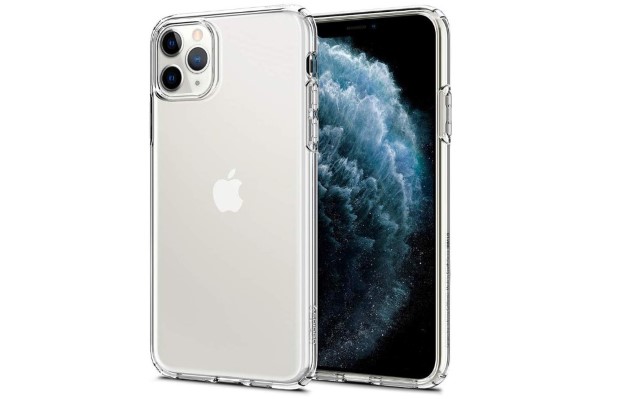 Buy from Amazon: $11.99
2. Apple iPhone 11 Pro Max Clear Case
If you don't trust any third-party brands or hate their logos on the case, you should buy the official Apple clear case for the iPhone 11 Pro. Yes, like every other Apple product, it costs a lot, however, it also brings better quality and in-hand feel. First of all, I love the case's matte texture. It looks great without dulling the phone's appearance, a feat that no other third-party matte case can claim. It is made from a blend of optically clear polycarbonate and flexible TPU materials and is durable.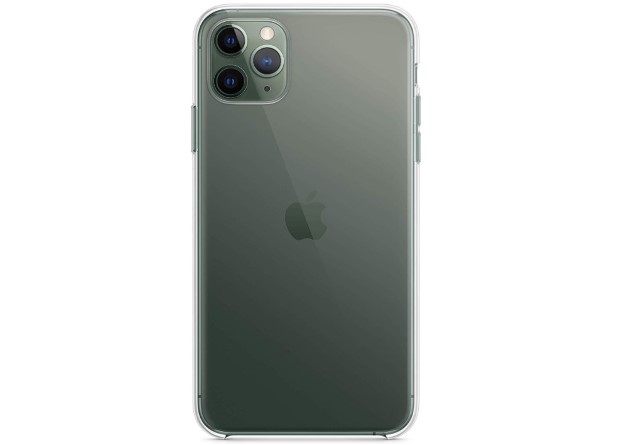 The back of the case is sturdy while the sides are flexible. This enables the case to provide extra protection to your iPhone 11 Pro Max without being hard to apply or remove. There's also a scratch-resistant coating both outside and inside of the case. Also, all materials and coatings are optimized to prevent yellowing over time. If you don't care about the price, this is the best clear case that you can buy for your iPhone 11 Pro.
Buy from Amazon: $33.99
3. Moko TPU Bumper Clear Case
Moko has always produced one of the finest protective clear cases for the iPhone. And the company hasn't missed out this time either. With the reinforced bumper and a hard PC back, the case is highly protective. Besides, the addition of air cushion has further empowered the construction. With the microdot pattern and the rubberized frame, the Moko clear cover provides enhanced hold. Unlike many other similar cases, it's able to keep the clarity intact for long. Not to mention, it comes in four nice-looking colors namely black, blue, pink, and crystal clear. As for price, it comes at just $5.99 that makes it probably the cheapest clear case for iPhone 11 Pro Max.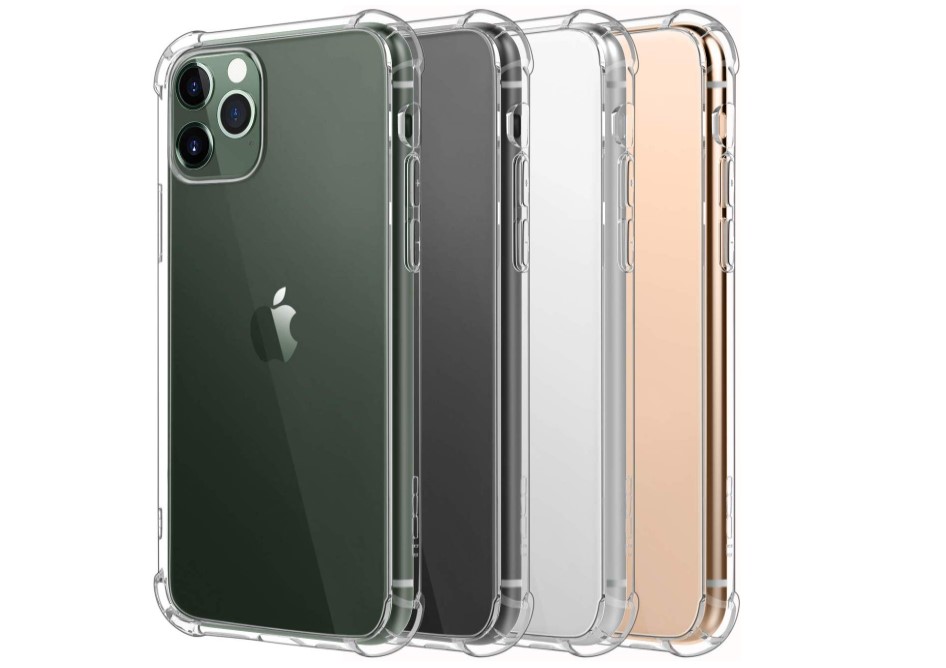 Buy from Amazon: $5.99
4. YOUMAKER Stylish Crystal Clear Case
Youmaker is the sort of clear case that looks spot-on at the very first glance. The combo of acrylic and TPU material has given it enough resistance to survive accidental drops. Moreover, all the corners have got an additional cushion to absorb impact and keep your iPhone 11 Pro Max protected.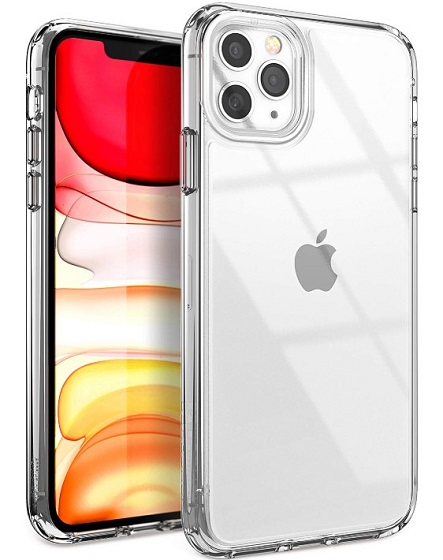 Another notable feature of this military-grade protective clear case is the raised lip that offers the needed shield to both the 6.5-inch Super Retina XDR display and the triple-lens camera setup. Besides, the TPU frame also provides better gripping so that the hands feel comfortable while holding the Pro Max. Lastly, Youmaker is priced at $9.99 which is reasonable and comes in six color variants like black, blue, purple, etc.
Buy from Amazon: $9.99
5. TiMOVO Shockproof Slim Clear Cover
When it comes to offering complete protection to iPhone 11 Pro Max without cutting down on style factor, TiMOVO is at par with the top durable clear cases in the market. While the hard PC back adds durability to the casing, the impact-resistant TPU frame provides comfortable gripping. The cover is anti-scratch and doesn't turn yellow either. That means it can continue to look impressive on the iPhone 11 Pro Max for long. Furthermore, the cutouts are to the point and the TPU buttons offer good feedback. On top of all, TiMOVO is available at a low price of $6.99 and offers a reliable lifetime replacement warranty.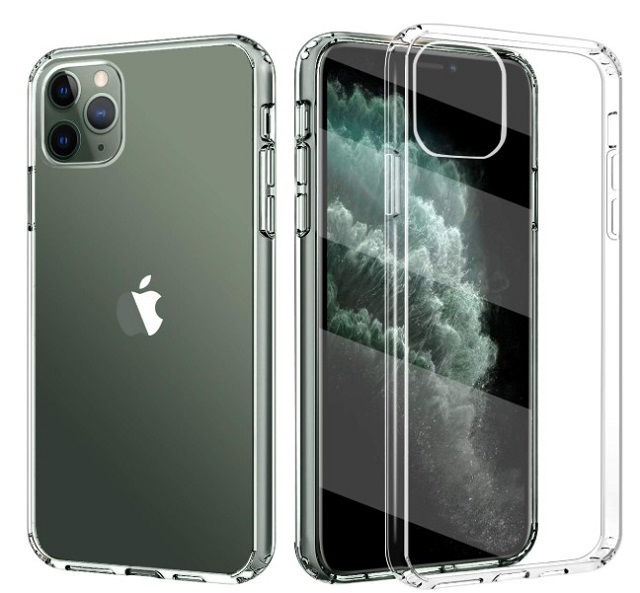 Buy from Amazon: $6.99
6. SupCase Unicorn Beetle Style Series
SupCase has been one of my favorite accessory makers that have produced top-quality clear cases for the iPhone. And the company has successfully kept the promise by introducing a top-notch transparent cover for the iPhone 11 Pro Max. Boasting hybrid construction (hard PC and impact-resistant TPU), the case excels in dispersing impact. Elevated edges guard both the large display and the expensive camera module. Despite putting more emphasis on protection, it has retained the slim form-factor. So, your Pro Max has the trusted shield without getting any unnecessary bulk.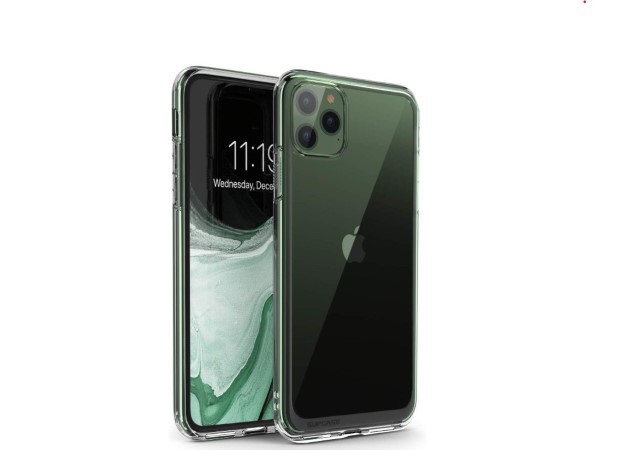 Buy from Amazon: $12.99
7. Red2Fire Clear Case with Screen Protector
It always pays to be extra cautious especially when dealing with an extravagantly priced device like iPhone 11 Pro Max. That's why Red2Fire has up come up with a pretty good two-in-one option: a highly protective clear case and a scratch-resistant screen protector. Therefore, the entire smartphone has a complete safeguard against impact and scuffs with military-grade protection (810.1-G Compliance). Aside from protection, the case also allows the Pro Max to charge wirelessly without any issue. It's a big plus for those who have embraced wireless charging technology and hate to remove the cover before they have to power up the device.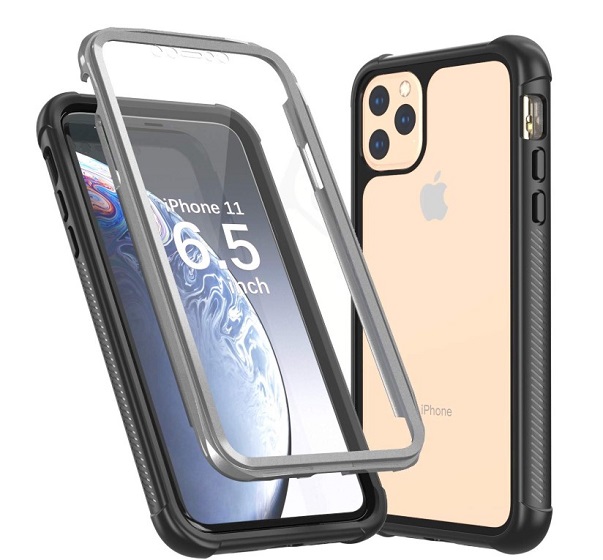 Buy from Amazon: $16.99
8. Temdan Full Body Case with Clear Back
Granted, this offering from Temdan doesn't have an elegant design. Nor does it have the sleekness to catch attention. But when it comes to durability, I think it's right up there with the very best iPhone 11 Pro Max cases. The rugged clear case has an extremely durable frame and a hard backplate. And with the fortified corners, the Temdan case can thwart even nasty impact. Couple that with the scratch-resistant screen guard and your entire device has a solid defense against accidental drops.
Buy from Amazon: $16.99
9. Aurbull Clear Case with TPU Bumper
Going by the looks, Aurbull clear case can make a stunning match with your Pro Max. So, keep this cover in mind, if you want your phablet to shout out a bit loud. Due mainly to the high-grade PC, the back panel has a tad more resistance to endure drops. Also, it can easily keep scuffs and scratches at bay. And with the flexible TPU frame, the cover snaps around the iPhone like a comfy glove. Being rubberized, the sides also feels a lot grippy in hands. Talking the reinforced buttons, they are much easier to handle.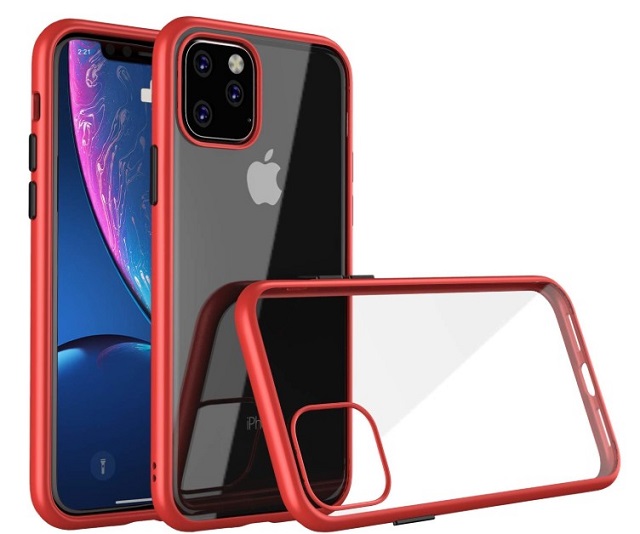 Buy from Amazon: $9.99
10. MATEPROX Extra Clear Case
Mateprox has got all the qualities to be a fine transparent case for your device. Whether it's shock-absorbing design in a compact form-factor or the additional protection for the camera and display, it has covered all the essential things to stake the claim of being one of the top clear covers for iPhone 11 Pro Max. Apart from adding air cushion, the TPE material also provides an anti-slip grip so that the phablet remains secure in your palm. If you have the unreliable butterfingers, you would appreciable the rubberized sides. Being very flexible, this protective clear case for iPhone 11 Pro Max is also pretty easy to install and remove.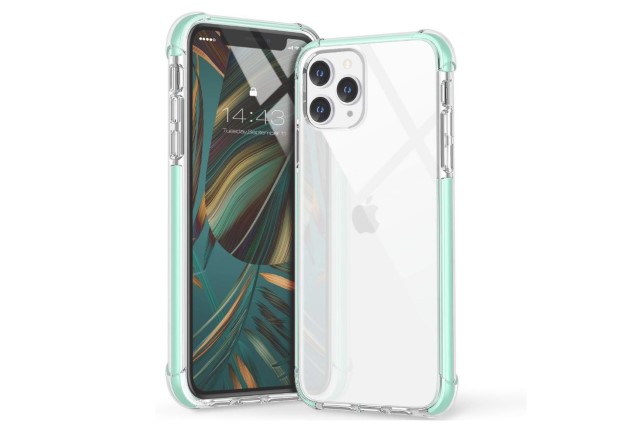 Buy from Amazon: $13.99
11. Daupin Clear Case with 360 Ring and Kickstand
Before you ask me, "Hey, it looks a little different!", let me tell you that versatility is the USP (unique selling point) of this cover. For starters, Daupin can effortlessly pass off as a clear case, a durable bumper cover, and also live up to the mark as a super handy kickstand case. And that's why I thought you would like to try it out on your iPhone 11 Pro Max. You can use the built-in ring holder to have multiple viewing angles during FaceTime video calling or movie streaming. More importantly, the bumper cover also works with magnetic car mounts so that you can securely hold your smartphone during the long drive. As for material, it has the same hybrid design (TPU and PC) for improved drop protection.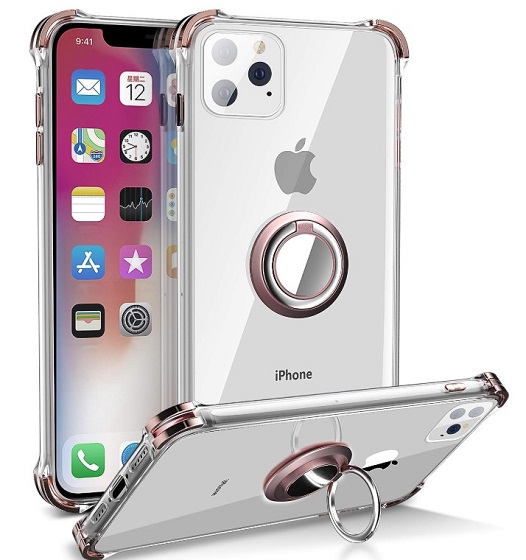 Buy from Amazon: $9.99
12. Surphy iPhone 11 Pro Max Protective Clear Case
Surphy promises to offer 360-degree protection to your iPhone 11 Pro Max. The case has a shockproof design thanks to rubberized TPU bumper and hard PC back. The hybrid casing also features reinforced cushion on all the four corners to endure an unexpected beating.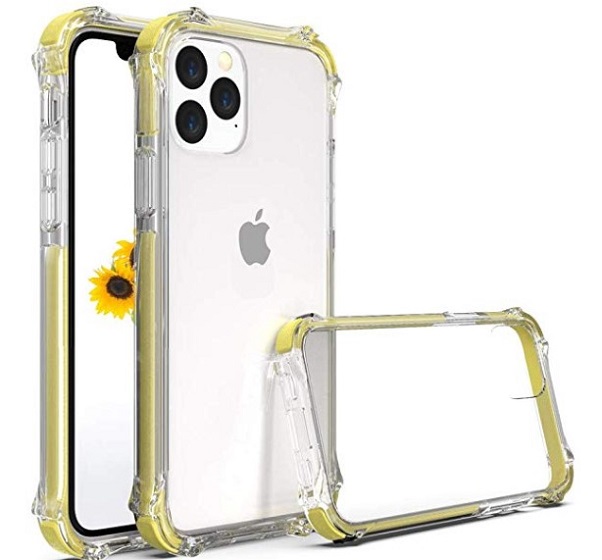 The protective clear case is dirt and scratch-resistant. Thus, it's fully equipped to not only defend your smartphone but also keep itself scratch-free. Besides, it comes with a beveled edge both on the front and back to keep the Super Retina XDR display and triple-lense camera secure. At $12.99, Surphy is a bit expensive as compared to other cases. But considering the 360-degree protection and durable material, it's worth checking out.
Buy from Amazon: $12.99
Get the Top Protective Clear Cases for iPhone 11 Pro Max
As you can see, these clear cases and covers are great both in terms of protecting your iPhone and keeping the style factor intact. That's why they are always in high demand. Apart from being so handy for everyday use, they also stand up to the task (to a fairly good extent) during adventurous times. By the way, which is your favorite clear case for iPhone 11 Pro Max? Let us know in the comments.
---
Load More