Not everyone buys smartphone covers for the same reason, do they? While some love premium leather cases with ageless texture, others adore crystal clear cases to show off the design. And then, there are those (like me) who choose a case based on what suits the mood – and of course the style quotient. If you are in the market for some elegant cases designed for iPhone 11 Pro Max, this roundup has got you fully covered. Giving more priority to funky and trendy design without putting protection in the back-seat, I've put together the best cute cases for iPhone 11 Pro Max, which you can buy in 2020.
Best iPhone 11 Pro Max Cute Cases to Buy in 2020
Whenever the term "Cute" comes to mind, we mostly associate it with delicacy and vulnerability. Contrary to this popular belief, these covers are quite protective. Oh, some of them even offer military-grade safeguard so that your smartphone has a 360-degree shield against shock and scuffs. Thus, you can amp up the style quotient of your iPhone 11 Pro Max while still keeping the defense factor intact.
1. WORLDMOM
"Gorgeous" is probably the most suitable adjective for WORLDMOM. Showcasing glitter liquid floating bling design, the case has got looks to arrest attention right away. The 3D flowing liquid with bling sequins adds more charm to its profile. But hold on a bit before making a surefire conclusion that it's all being beautiful design. With dual-layered casing and shocking absorbing TPU bumper, the cover is more than capable to withstand bumps. What's more, you can choose this glittering cover in five colors including blue, purple, red, silver and rose gold. Simply put, WORLDMOM is not just a cute case but a top-notch case for your Pro Max.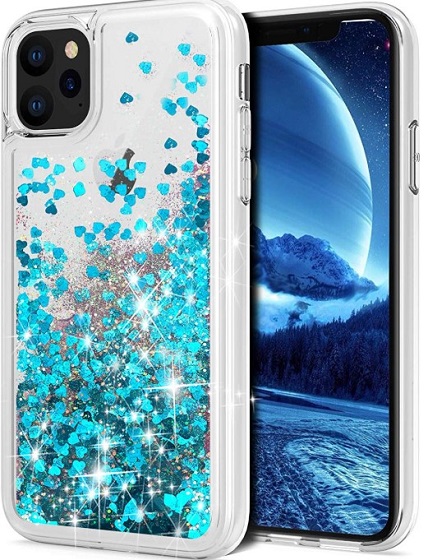 Buy from Amazon: $10.98
2. Official Kristina Kvilis
A pretty cool case like this offering from Official Kristina Kvilis deserves to get a shot on your iPhone 11 Pro Max. The cover sports a nice design and is extremely flexible thanks to the soft material. So, you can install and remove this cute case without breaking any sweat. Beyond good-looking design, the case has also got the needed cushion to absorb minor and even put scratches away. Not to mention, the additional shield in the form of beveled edge that guards both the Super Retina XDR Display and triple-lens camera. And yes, Official Kristina Kvilis covers also come in some attractive color variants.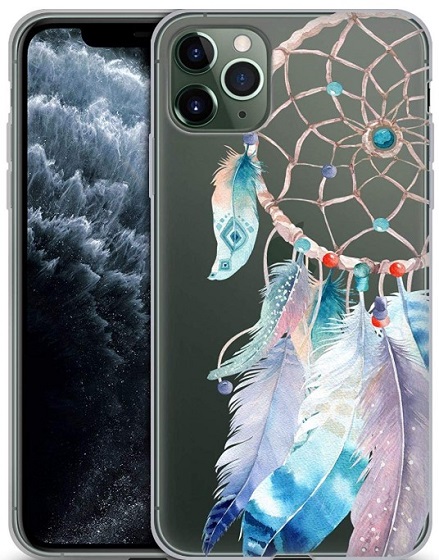 Buy from Amazon: $14.95
3. Cutebe
If you want a great mix of beautiful design and protection, Cutebe is what you should get. It not only allows you to flaunt your iPhone 11 Pro Max but also keep the smartphone protected. While the crystal lace design makes a pleasing match with the phablet, the dual-layered construction shields the device against impact. The bumper is pretty soft and comfortable to hold and the pronounced buttons are much easier to press. Overall, Cutebe has got everything covered to be one of the best cute cases for your iPhone 11 Pro Max.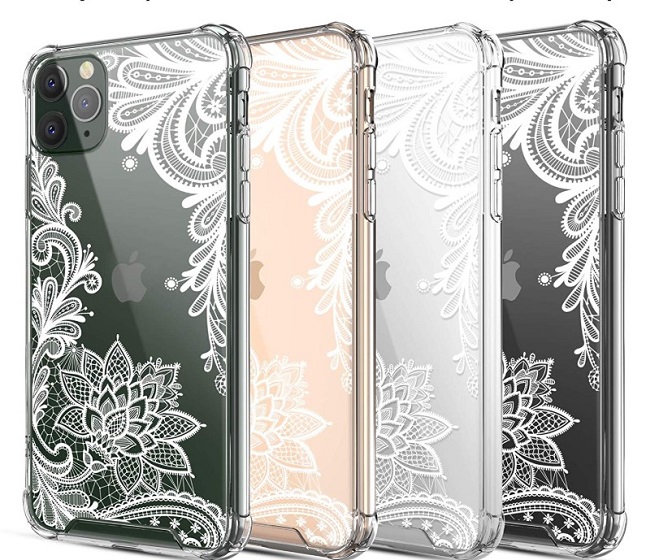 Buy from Amazon: $10.99
4. Sonix
Sonix has come up with a variety of cute cases (over 20) for iPhone 11 Pro Max. And after taking a look at them all, I must say that they look spot on for a funky outing. But what sets these elegant cases apart from the rest is the certified military-grade protection. So, your Pro Max will get a stylish cover without putting protection on the risk. Moreover, they feature UV coating to keep the charming look alive for long. Highly recommend, if you can stretch your wallet a bit!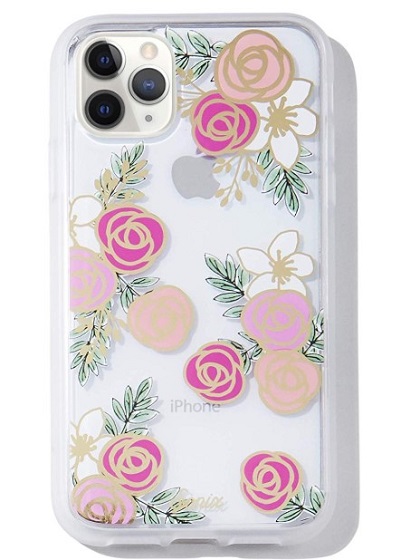 Buy from Amazon: $35
5. i-Blason Cosmo Series
What steals the show for i-Blason Cosmo Series is the stunning marble pattern. Times when you want your iPhone to win attention with ease, this would fit into the scene pretty well. Aside from having a pleasing design, Cosmo Series case is also quite good at shielding your phablet against shock and scratches (10-feet drop tested). For trusted protection for the 6.5-inch display, it also comes with a built-in screen protector that can resist impact and keep scuffs at bay. So, Cosmo Series is not just an elegant case but also a highly protective suit for your device.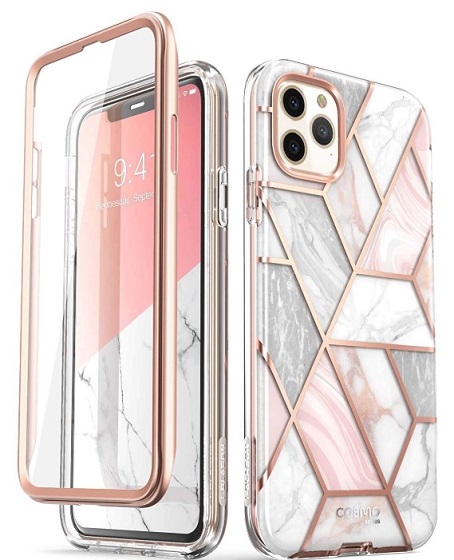 Buy from Amazon: $17.99
6. Velvet Caviar
Yet another case with an impressive marble pattern! In terms of look, Velvet Caviar is quite different from i-Blason Cosmo. However, it makes an equally adorable pair with the Pro Max. Even on the protection front, it is not behind either thanks to the reliable military-grade protection. While the hard PC exterior plays a vital role in boosting the casing, the rubberized TPU empowers the case to thwart shock and also provides improved grip. Considering all the features, Velvet Caviar is one of the cutest cases that you can buy for your iPhone 11 Pro Max.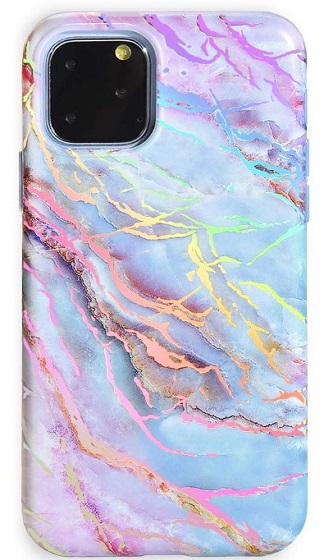 Buy from Amazon: $29.99
7. TalkingCase
Whatever could be the definition of your cute case, chances are pretty high that TalkingCase may win you over at the very first sight. The case has a lovely red heart pattern that warrants nice compliments right away. Beyond looks, the case is made of soft and flexible TPU material and comes with raised lips to safeguard both the display the triple-cameras on the back. One more thing worth noting is that TalkingCase doesn't turn yellow so you can expect it to continue to look pleasing to the eyes for long.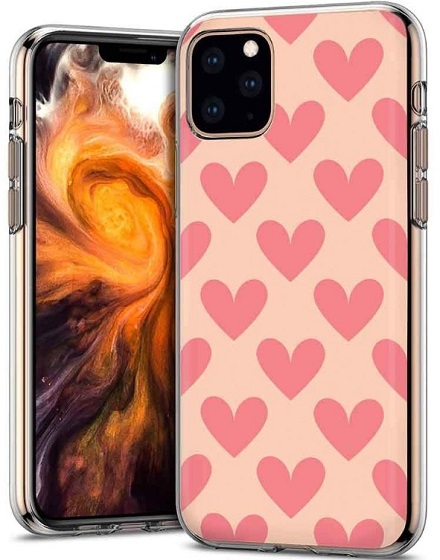 Buy from Amazon: $12.95
8. Head Case Designs
If a nice-looking floral pattern is what you are after, this case from Head Case Designs is for you. Made of the durable soft gel material, the cover fits around the edges of the smartphone. And with the cushioned corners, the cover is also up to the task when it comes to resisting minor impact. Beveled edge helps it offer additional defense for the Super Retina XDR display and rear camera. Talking about colors, the company offers this good-looking Pro Max case in multiple vibrant hues with different patterns: blue, eva, tropics, and more.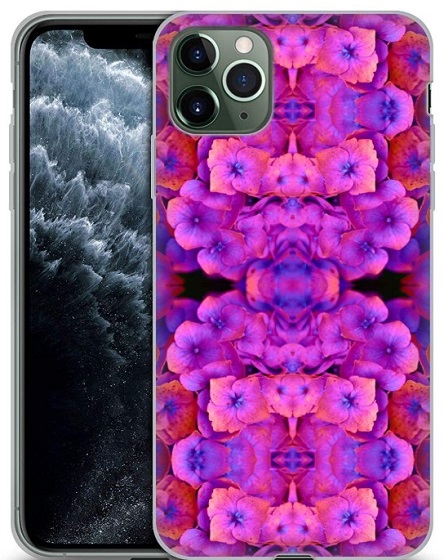 Buy from Amazon: $14.95
9. Henpone
There is a lot to like in Henpone. But what makes it a favorite for fashionistas is the dark colors with an eye-catching design. For starters, the designer case flaunts a pretty sleek design with sparkling bling that grabs attention instantly. And it comes with a super handy ring holder that works as a 360-degree rotating kickstand so that you can enjoy a more convenient hands-free media watching experience. Besides, the ring holder also allows you to hold your smartphone securely so that there is no accidental slip off. On top of all, Henpone comes in six beautiful colors including red, pink, gold so that you can get an impressive match for your device.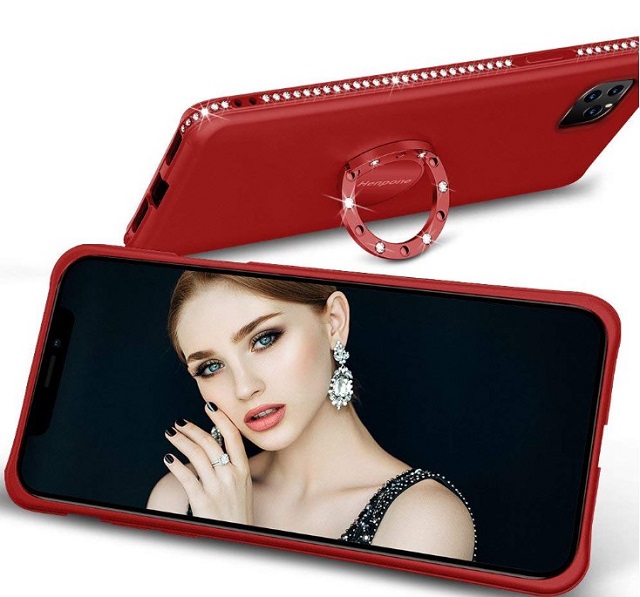 Buy from Amazon: $12.99
10. GVIEWIN
Last but not least, GIVEWIN deserves a chance on your smartphone. First and foremost, the case has a charming floral pattern that can get along perfectly with your trendy style quotient. The second, despite being so sophisticated, it's not vulnerable at all. I mean, you can rely on this cute case to absorb shock and also resist scratches. Apart from featuring fortified corners, the cover also has elevated edges to lift both the triple-lens camera and screen off the surface. Furthermore, the rubberized sides also offer anti-slip hold so that the device doesn't fall.
Buy from Amazon: $15.99
11. OtterBox SYMMETRY CLEAR SERIES
Looking at OtterBox Symmetry Clear Series, all I can say is that the nice-looking design and protection can go hand in hand. With a one-piece design, this cute case wraps around the iPhone 11 Pro Max like a comfy glove. Plus, the combo of synthetic rubber and polycarbonate material gives it a durable construction while also ensuring it continues to look sleek on the iPhone. Due largely to the front lip, it keeps the Super Retina Display lifted off the surface to ward off scratches. Priced at $50, Symmetry Clear Series may seem a bit expensive. But considering these impressive features, it's worth giving a try.
Buy from Amazon: $49.95
12. Case-Mate
What put this case from Case-Mate in the elite league is the glittering design. Couple that with the beautiful waterfall as well as the metallic buttons and it's got all the quality to amp up fashion quotient. But just in case you are thinking that it may be too delicate to endure even minor shock, let me tell you that it can survive up to 10 feet drop. Another feature that's worth taking note of is the ability to resist scratches, which play a vital role in making sure scuffs stay away. Moreover, Case-Mate cute iPhone 11 Pro Max case also works with Qi-enabled wireless chargers so that there is no need to take off the cover before charging the device.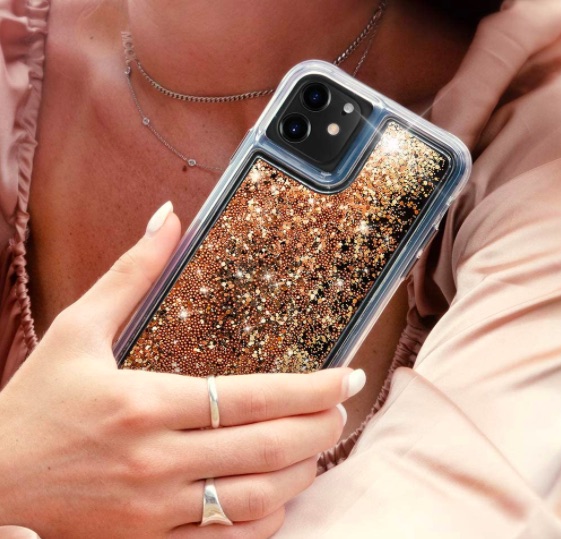 Buy from Amazon: $18.16
13. GLBYDLO
For those looking for a funky-looking case, GLBYDLO seems to be a hot pick. Sporting leopard pattern, the case has got the looks to stand out in the crowd. With the use of IMD technology, the printing remains intact for long. So, you can expect the cover to continue to catch attention for long. Beyond funky profile, the case is pretty soft, flexible and can also thwart some shock. Additionally, it features a beveled edge on either side to shield both the triple-lens camera and Super Retina Display.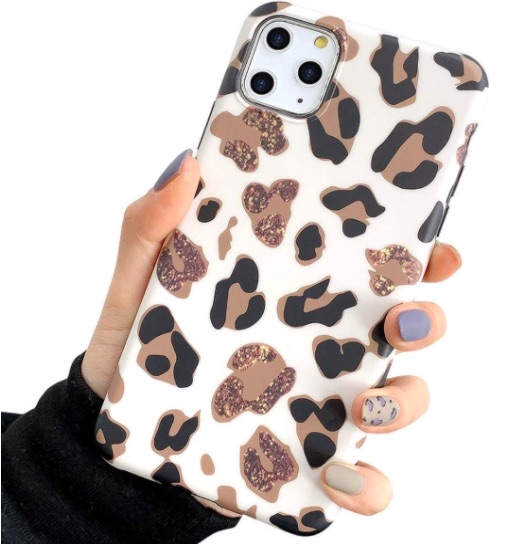 Buy from Amazon: $8.89
14. Hapitek
Featuring marble and floral pattern, Haptiek is the sort of case that seems to become a done deal at the very first impression. Yes, you got that right! The case has an incredibly svelte profile that pairs perfectly around the iPhone 11 Pro Max. And with the soft TPU material always ready to offer soft-textured gripping your palm will feel comfortable to hold the device. Though protection is not the USP of this case, you can bank on it to put scuffs at a fair distance.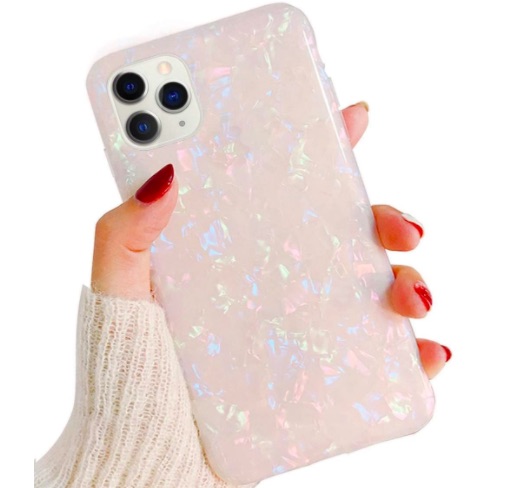 Buy from Amazon: $8.68
15. YeLoveHaw
A pleasing looking case like this one from YeLoveHaw seems right on the money for those who have a liking for a floral pattern. If that's you, I bet you'd find it a befitting match for your phablet. Apart from the beautiful appearance, the case has an ultra-slim design that fits around the edges of the smartphone. In terms of protection, YeLoveHaw could be trusted to keep fingerprints, dust, and scuffs away. Besides, the elevated edges on the rear side and front work as a reliable shield for the 6.5-inch screen and the pro-grade camera.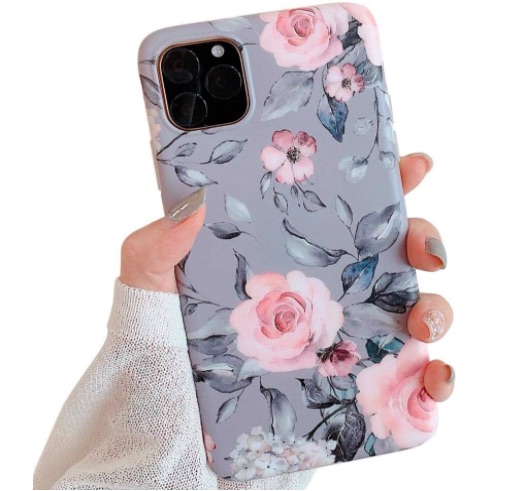 Buy from Amazon: $8.99
Choose the Cutest Cases for Your iPhone 11 Pro Max…
When you want yourself to look stunning, why should your iPhone 11 Pro Max be left behind? Present it a nice-looking cover so that it can ideally complement your style. You should also check out our list of iPhone 11 Pro Max screen protectors that will help you protect the big and beautiful screen. Enough talk from my side. Now it's your turn to share thoughts and also let me know the cute cover that is going to pair with your phablet. Besides, do not forget to spill some beans about the device as well and the things that make it stand out.