For enhanced shock-resistance, iPhone 11 Pro Max comes with much stronger glass than its predecessor – iPhone Xs Max. The single sheet of glass with an optical coating is also more capable to fight out scuffs. And instead of a glossy finish, which used to easily attract fingerprints, the glass now sports a matte finish. Couple that with stainless steel sides and you have a fairly durable smartphone. But then again, when you are dealing with a highly expensive device (starting price $1099 for 64GB) like 11 Pro Max, you've got to be cautious. Moreover, the glass – no matter how strong it is – shouldn't be trusted. So, if you don't want your all-new flagship device to find itself on the receiving end of accidental drops, go for the best iPhone 11 Pro Max cases and covers that I have lined up in this extensive roster.
Best iPhone 11 Pro Max Cases and Covers You Should Buy
Hold on for a moment before being worried about putting your style factor on the backseat! Accessory makers have gotten way smarter with time and they have come up with cases that can suit various tastes. No matter whether you appreciate minimalist look, like to have a sleek and crystal clear profile or love to have the best of both: style and protection, you can comfortably find the covers that can live up to your specific demands. One thing worth noting is that we have lined up cases for iPhone 11 and  iPhone 11 Pro separately. So, do check them out, if you need one. With that said, let's dive straight into the roundup of the top iPhone 11 Pro cases to get a nice suit for your phablet!
1. Official iPhone 11 Pro Max Cases from Apple
Should you wish to go for premium iPhone 11 Pro Max cases, give serious consideration to the official cases. Apple offers beautifully designed covers in multiple colors. Thus, choosing a more elegant suit for the Pro Max shouldn't be a big deal. If you wish to let your phablet showcase the design without any roadblock, Apple's clear cases would be ideal options.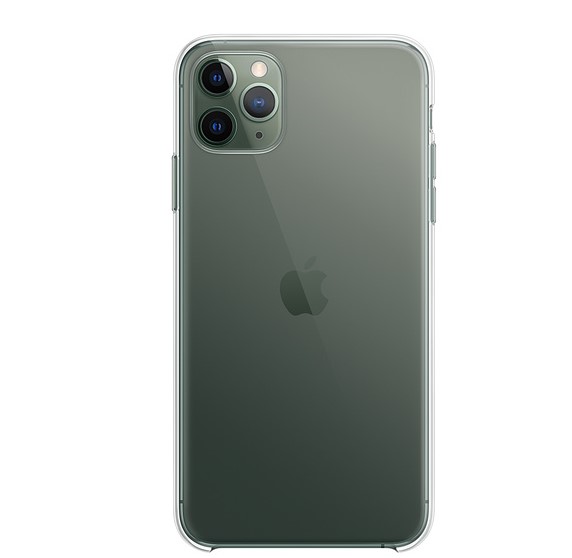 But if you would like to embrace pro-looking design, the official leather covers would be the right way to go. Moreover, the tech giant has also introduced pretty sleek silicone cases that make a stylish match with the device. As for price, Apple's offerings are very expensive as compared to most of their counterparts. But considering their elegant design and craftsmanship, they are worth taking a look at.
Buy from Apple: $39-$49
2. Otter + Pop Symmetry Series Case from OtterBox
OtterBox doesn't need any introduction, does it? The popular accessory maker is known to produce some of the finest iPhone cases. And the Otter+Pop Symmetry Series case has got all the quality to stand out. To me, the best part of this case is the ability to provide the needed protection to iPhone 11 Pro Max without cutting down on style factor.
With the grippy exterior, Otter+Pop feels pretty comfy in the hands. Thanks to the precise cutouts, the protective cover offers full access to all the ports and buttons. Just in case you like vibrant colors, you have multiple options to choose a befitting cover for your Pro Max. Talking about price, it does seem to be a little high. But given the quality you get in return, I would call it a fairly good deal.
Buy from OtterBox: $59.95
3.Totalee
When there is a desire to present the thinnest case to your iPhone 11 Pro Max, look no further than totalee. Well-known for producing incredibly slim cases and covers (that can even rival skins), the accessory maker has come up with pretty good-looking clear and leather cases for Apple's latest 6.5-inch smartphone. They are beautifully crafted and wrap about the latest phablet snuggly.
For all being so sleek, totalee cases can fight out scratches. With a smooth texture, they provide a much-improved grip. So, you shouldn't worry about accidental slip-ups. Besides, they also come in some attractive colors in order that your Pro Max has the right match to flaunt.
Buy from Totalee: $29-39
4. Nomad Rugged Case
Very few accessory makers produce as pro-looking cases as Nomad. The company has introduced a variety of rugged cases – from classy leather wallet covers to compact cases – for iPhone 11 Pro Max. They are neatly crafted and make a form-fitting match with Apple's 2019 phablet. The high-quality leather gives them a classy appearance, while rich leather texture keeps their charm alive for long.

As for protection, Nomad Rugged cases can absorb shock and keep off scratches with ease. So, your smartphone gets complete defense from bumps and scuffs. Besides, these classy covers offer enhanced gripping and are pocket-friendly.
Buy from Nomad: $49.95 – $79.95
5. Spigen Liquid Crystal
If there a race to choose a glittering profile for iPhone 11 Pro Max, you would be hard-pressed to find a more attractive alternative to Spigen Liquid Crystal. The case is made of glitter-infused TPU and pairs nicely with Apple's 2019 phablet. Being very flexible, the cover comfortably installs on the device.
With the beveled edge, it makes sure the Super Retina XDR display doesn't touch the surface. Thanks to the reinforced buttons, you get much better feedback. Lastly, you can choose Liquid Crystal in two colors: crystal quartz and rose quartz.
Buy from Amazon: $11.99
6. ESR Air Armor
A crystal clear case comes in super handy when you want to flaunt your iPhone without putting protection at the risk. And if you are toying with the idea of going for a transparent cover, ESR Air Armor would be a great pick for your iPhone 11 Pro Max. Made with the combination of rugged PC and soft TPU, the cover has a durable casing that can survive bumps and also ward off scratches.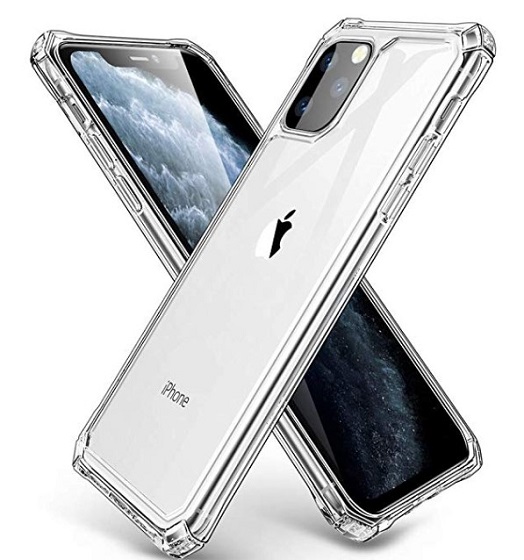 The rubberized bumper also plays a good part in offering reliable gripping so that the smartphone stays comfortably placed in the hands. Unlike most clear cases in the market, the Air Armor won't turn yellow. Lastly, this crystal clear suit comes in three colors: clear, black, and dark green.
Buy from Amazon: $12.99
7. Caseology NanoPop
Caseology's NanoPop is the sort of case that promises to deliver the best of both – impressive design and reliable protection – unlike most other counterparts. The case is made of high-quality silicone material and sports soft-textured surface that provides enhanced hold. And with the soft-lining interior, it's fully equipped to safeguard your smartphone against scratches.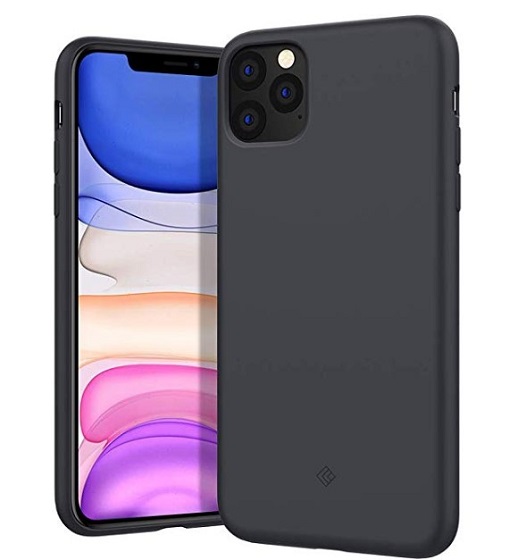 Despite featuring a slim look, it can also absorb shock. As NanoPop works with most wireless chargers, you won't have to remove the cover from your iPhone 11 Pro Max before charging the device.
Buy from Amazon: $9.99
8. Kerf
What about trying out a vintage wooden case? As someone who adores the real wooden cover, I have found Kerf's offering up to the mark. The company has come up with a range of iPhone 11 Pro Max wooden cases made of several wood species like cherry, maple, walnut, mahogany, and more.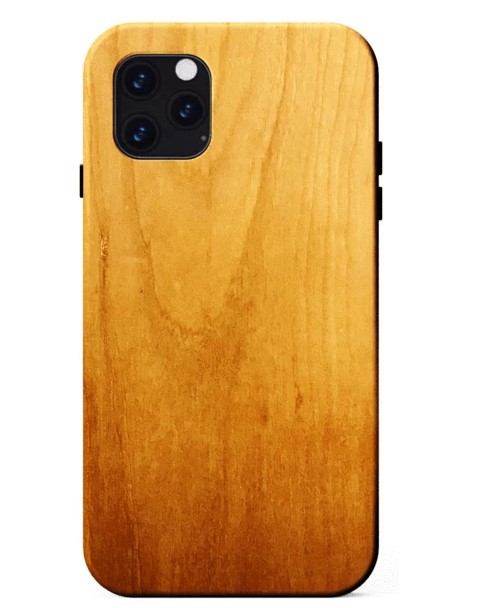 They sport form-fitting design and fit around the edges. With the polished surface, they provide much better hold. The buttons are easy to press, while the cutouts are precise. As for price, they come at $79 that may fit the billing of only the evergreen wooden case admirers.
Buy from Kerf: $79
9. TUCCH
Exhibiting an adorable handmade design, Tucch wallet case is for perennial travelers or those who want to ditch their traditional wallet in favor of an all-in-one wallet cover that can take care of most needs. The cover is made of PU leather and comes with three card slots along with a big compartment wherein you can stash some dollar bills. With the magnetic closure to boot, your iPhone 11 Pro Max along with other valuables will stay safely inside.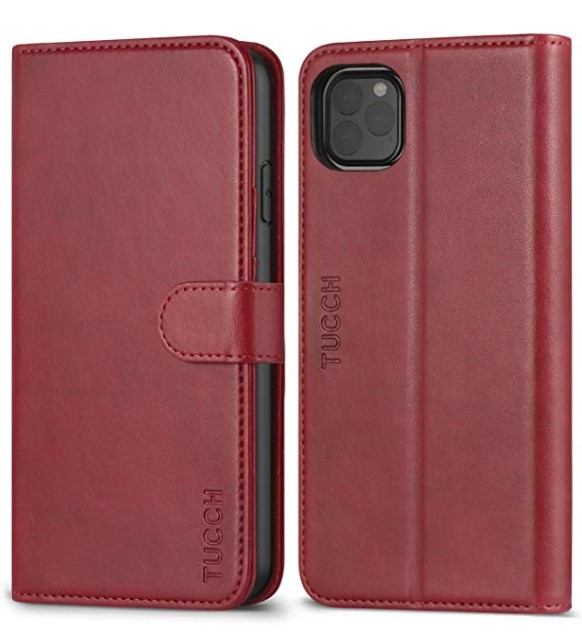 Moreover, it also comes with RFID blocking technology so that the information of your credit/debit cards remain protected. For enhanced protection, Tucch has used shock-absorbing TPU interior. The 3D textured design enables the cover to absorb impact. If you appreciate hands-on media watching or video calling, the kickstand functionality would prove to be very handy.
Buy from Amazon: $19.99
10. Spigen Tough Armor
Looking for a solid case with certified military-grade protection? If yes, I would suggest you try out Spigen's Tough Armor. Sporting hybrid design (TPU and polycarbonate), the case has got a rugged construction to withstand bumps effortlessly. With the military-grade protection (rated MIL-STD 810G-516.6), it promises to deliver 360-degree safeguard to your smartphone.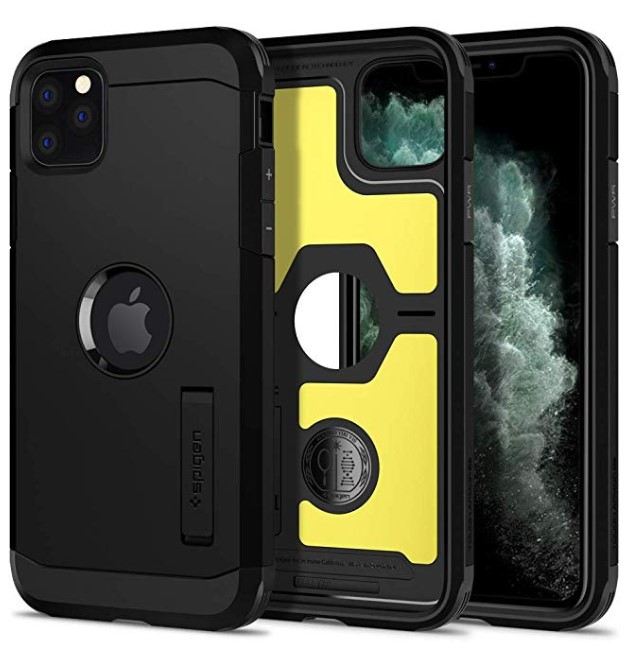 The Tough Armor also features a useful kickstand for a comfortable hands-free media streaming. Despite the rugged casing, the case doesn't look bulky at all unlike most other protective covers in the market. That's not all, you can select this durable armor in four colors: black, gunmetal, rose gold, and satin silver.
Buy from Apple: $14.99
Bonus: Vapesoon
Just when I was about to wrap up this comprehensive roundup of the finest cases for iPhone 11 Pro Max, I stumbled upon this offering from Vapesoon. And after taking a close look at what it has to deliver, I thought it would be nice to add this one as well. The prime reason why I think it can be a worthy pick for your device is the ability to offer 360-degree protection. Yeah, you heard it right. It's a two-in-one package: a case and screen protector.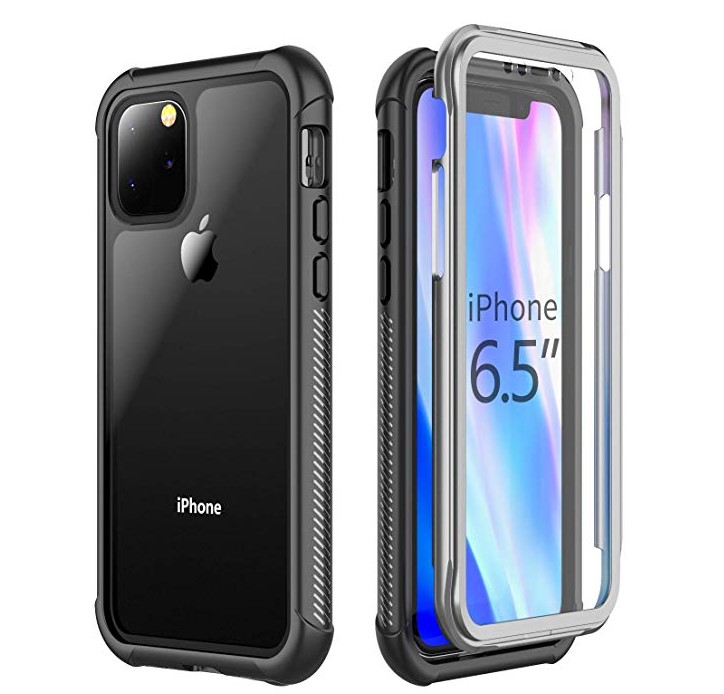 The cover has a rugged design and offers military-grade protection to offer dependable protection to the smartphone. Moreover, this protective cover also works with wireless chargers so that you can comfortably power up your device.
Buy from Amazon: $18.99
SEE ALSO: 10 Best iPhone 11 Pro Skins You Can Buy
Pick Out the Top Cases & Covers for iPhone 11 Pro Max…
If I'm not wrong, the accessory makers had long been waiting for Apple's 2019 flagship smartphones to arrive. Well, it just goes on to show that the rumor mills have once again nailed the jackpot. All the covers mentioned above are specifically designed to pair with the iPhone 11 Pro Max and offer the required shield against drops and scuffs. Though some of them may have a sleek profile, they are more than good enough to safeguard the phone. Let me know which one of the above cases is going to make a match with your new iPhone. Also, feel free to shoot the names of those that I may have missed out.
---
Load More