Aside from the DSLR-killer (sort of) triple-lens camera, what has caught my eyes in iPhone 11 Pro Max is the Super Retina XDR display that sports an upgraded OLED panel. With 1,200 nits of peak brightness and a two million to one contrast ratio, Apple's latest flagship smartphone belongs to the same ballpark as top-of-the-line HDR TVs. Moreover, Super Retina XDR display is 15% more energy efficient that makes the screen ideal for both power-packed gaming and video-streaming. Such an expensive display deserves an uncompromising shield to keep scratches and unexpected cracks at bay, doesn't it? Well, here are the best iPhone 11 Pro Max screen protectors that can provide maximum safeguard to the XDR display.
Best iPhone 11 Pro Max Screen Protectors
Looks like most accessory makers were fully geared up to launch their screen guards even before Apple could unveil its latest 6.5-inch iPhone. So, there is no dearth of screen defenders for iPhone 11 Pro Max in the market. Furthermore, many vendors offer them in multiple packs without charging any extra bucks. Just in case your budget is running a little tight, I have also picked out some two-in-one options. As the introductory talk is over, let's check out what these top screen guards for iPhone 11 Pro Max have in store!
1. JETech
Right at the top of this roundup, I would like to put JETech's screen guard. Made of high-quality tempered glass, the screen defender boasts high clarity and comes with 9H hardness to fight out scuffs and impact with ease. With 0.33 mm thickness, it's slightly more sturdy than many of its counterparts. Thanks to the rounded edges, JETech's screen protector comfortably fits around the edges of the Super Retina XDR display.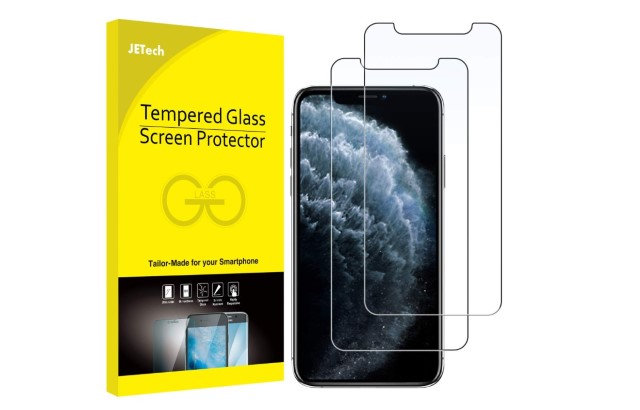 As for responsiveness, the screen guard is highly sensitive to the touch as it's fully capable of keeping fingerprints, smudge, and sweat at bay. On top of all, the screen defender is priced at just $3.98 and comes in three packs which makes it probably the cheapest iPhone 11 Pro Max tempered glass screen protector in the market.
Buy From Amazon: $3.98 (pack of 3)
2. OMOTON
Omoton has long been one of my favorite screen protector makers. What I have always appreciated in its screen guards is the durability. Besides, they are also great for offering maximum clarity and fighting out fingerprints. So, I expect Omoton screen protector for iPhone 11 Pro Max to be pretty much in line with the reputation.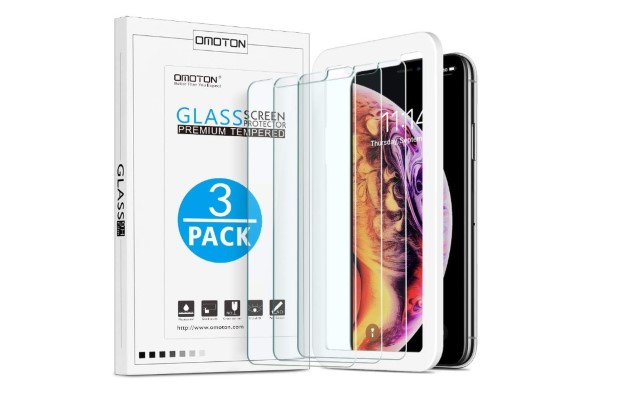 With 0.25 mm thickness, it's slightly thinner than JETech's screen guard. However, it's equally impact-resistant. Thanks to its curved edged, it provides an edge-to-edge defense to the Super Retina XDR display of the iPhone 11 Pro Max. Talking about price, it comes at $5.99 for three packs that make it highly affordable – if not the cheapest around.
Buy From Amazon: $5.99 (pack of 3)
3. ESR
ESR has introduced a shatterproof screen guard for iPhone 11 Pro Max. And if protection is what you are after, it's worth giving serious consideration. The company claims that the screen defender is 5X stronger and can withstand up to 10 kg of force.
Aside from maximum safeguard against impact, the screen guard is also case-friendly. But keep in mind, it might not be compatible with some bulky or heavy-duty cases. As for price, the ESR screen guard comes at $12.99 (two-pack) that is on a tad higher end of the spectrum but considering the shatterproof design, it's one of the better options.
Buy From Amazon: $12.99 (pack of 2)
4. TOZO
What makes Tozo screen protector a worthy defender for the iPhone 11 Pro Max is the case-friendly design. That means it can get along nicely with the cases and covers of your phablet. Beyond the case-compatible design, this screen guard is pretty thin (0.2 mm)  so you can expect it to be a touch more sensitive.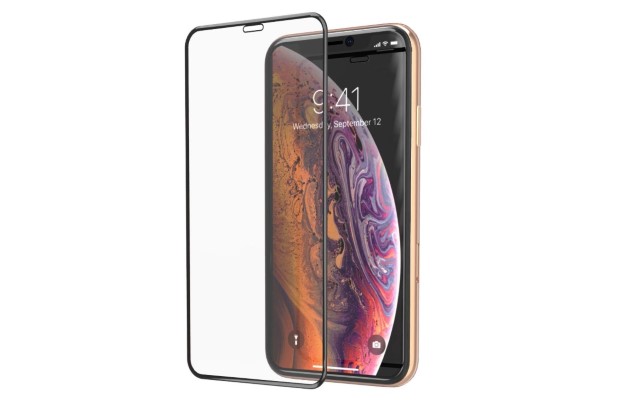 However, the thin design is not at the cost of protection. Therefore, you can trust the Tozo screen guard to shield the display of your latest phablet against scratches and bumps. Furthermore, it comes with the rounded 2.5 D edges which makes sure the screen has full coverage. Overall, Tozo screen guard is a very reliable option for your smartphone.
Buy From Amazon: $8.99 (pack of 2)
5. MANTO
Manto's tempered glass screen protector is fully equipped to safeguard the 6.5-inch Super Retina XDR display of your iPhone 11 Pro Max. Being completely bubble-free, the screen defender is pretty easy to install and also won't leave any residue behind when removed.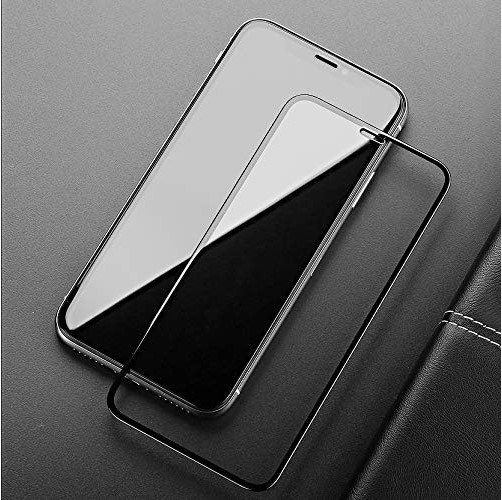 In terms of protection, it's very strong thanks to 9H hardness and capable of resisting scratches and impact. With the oleophobic coating, the screen guard doesn't allow dust, fingerprint, and sweat to build. Therefore, it's able to keep both the high-clarity and touch sensitivity intact for long.
Buy From Amazon: $9.99 (pack of 3)
6. TAURI
Both in terms of proving an uncompromising shield against impact and HD clarity, this offering from Tauri looks right on the money. The ballistic glass screen guard is extremely strong and comes with 9H surface hardness to absorb shock and also ward off even nasty scratches. Another appreciable feature is the impressive responsiveness that makes sure your long-press and quick touch don't go unnoticed.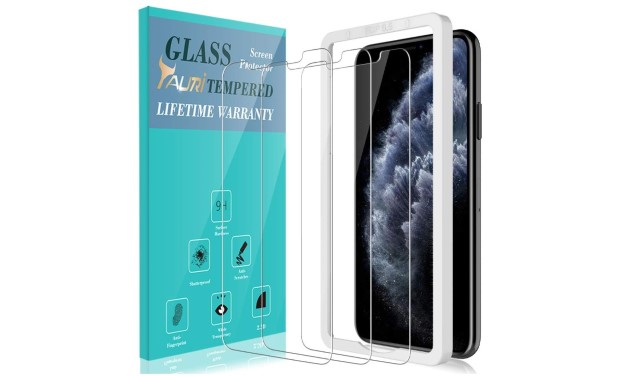 Besides, the 2.5 D curved edge plays a vital role in providing the full-coverage to the Super Retina XDR display. Not to mention, the case-friendly design that further enhances its profile as a trusted screen defender for Apple's latest phablet.
Buy From Amazon: $7.99 (pack of 3)
7. Elecshion
When it comes to offering the much-needed safeguard to the Pro Max display and also keeping fingerprints away, Elecshion's screen guard is second to none. The company says that the screen protector provides a 28° anti-spy angle that protects the privacy of your content from prying eyes. Beyond privacy, the screen protector features a full-coverage design so that the display has a complete defense.
Besides, it also doesn't interfere with cases thanks to a more cover-friendly design. As for price, Elecshion screen guard comes at $12.99 for two packs that do seem a bit expensive but considering the privacy feature and durability, it's a good deal.
Buy From Amazon: $12.99 (pack of 2)
8. Aliruke
For the folks who have a limited budget (under $10) for a reliable screen protector and a fairly good case, Aliruke is the right way to go. The company offers both a pretty good screen guard and a clear case for iPhone 11 Pro Max at a relatively low price. The screen protector is made of tempered glass and comes with industry-standard hardness and high clarity.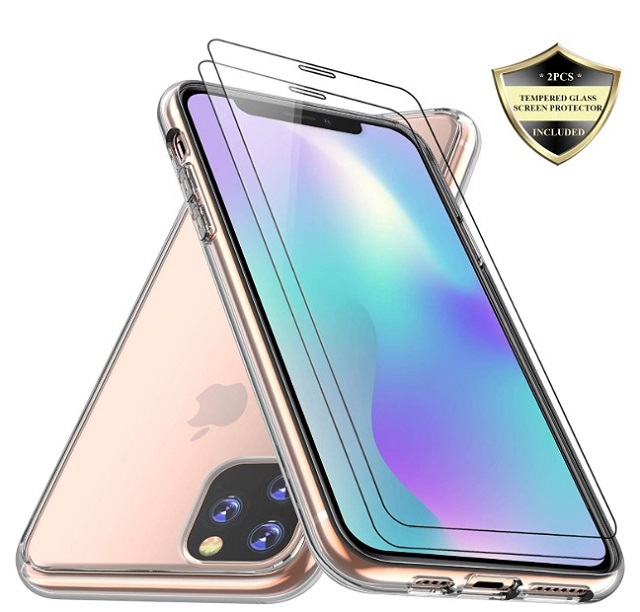 As for the clear case, it's made of German BAYER PC and clear TPU bumper that's fully capable of safeguarding the smartphone against accidental falls. Moreover, the cover snaps around the Pro Max like a glove, allowing it to showcase the design elegantly. In short, Aliruke is what you need to kill two birds with one stone!
Buy From Amazon: $9.90 
9. Dahkoiz
Yet another cost-effective deal for the folks who wish to keep their budget tight but without any compromise! Just like Aliruke, Dahkoiz also offers a screen guard and a durable case at a comparatively low price. The screen protector looks very durable thanks to the tempered glass. And with the industry-standard hardness, the display has dependable protection against scuffs.
Talking about the case, it's more protective than the one offered by Aliruke. Featuring raised lips, the case also shields the triple-lens camera setup and the display. What's more, you can choose this pack in two colors: black and blue.
Buy From Amazon: $8.99 
10. Ailun
Last but not least, Ailun may not be a popular name like some of its well-known counterparts but you can rely on its offering to be a dependable protector for your Pro Max display. At 0.33 mm thickness, it's one of the most durable screen guards in the market. And with 99.99 high-definition clarity, the screen guard also promises to enhance your viewing experience.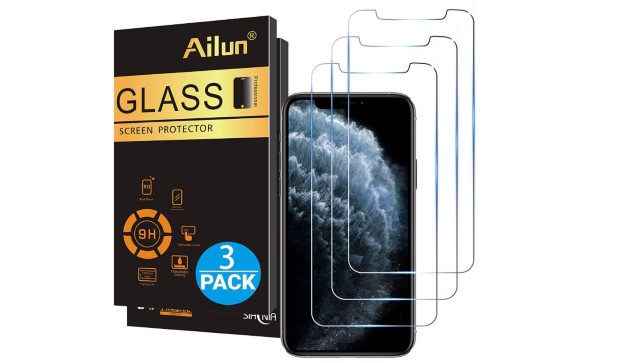 The laser-cut tempered glass screen protector features rounded edges for complete coverage of the screen. Lastly, it is available for $5.89 and comes in three packs that make the offer more than a decent deal.
Buy From Amazon: $5.89 (pack of 3)
SEE ALSO: 10 Best iPhone 11 Pro Max Skins You Can Buy
Choose the Best Screen Guards for iPhone 11 Pro Max
With so many appreciable screen protectors, selecting the most suitable one for your iPhone 11 Pro Max and of course your needs shouldn't have been a big deal. It would indeed be great if could share your invaluable feedback about your top pick. Also, do not forget to toss up your views about Apple's latest phablet and what has appealed to your penchant the most.