There is no doubt that Roblox has a game for players of all types, whether you want to play solo or enjoy playing Roblox games with your friends. One of the standout categories on the platform is the battle games, which offer a high level of creative freedom in their gameplay. These games provide players with unique weapons or access to virtually endless maps. Each battle game on Roblox is like playing a new video game, so if you're a fan of this genre, be sure to check out some of the best ones on the platform that you won't want to miss.
Best Battle Games on Roblox (2023)
1. Mad City: Chapter 2
Playing Mad City is like jumping into the world of games like GTA 5 in Roblox. You can play as a criminal and create chaos everywhere you go or can choose to join the police force to protect the Mad City. The experience offers tons of amazing features, including wildlife, vehicles, weapons, and more.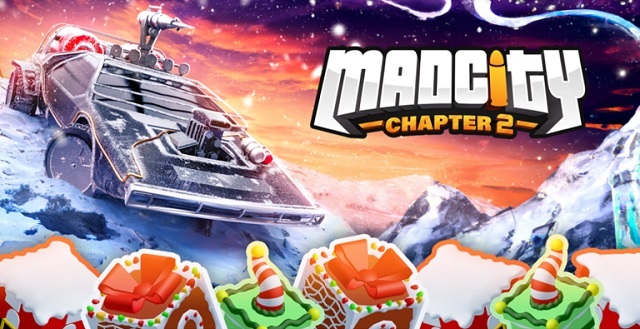 Not to forget, if the world of Mad City starts feeling a bit too familiar, there are amazing monthly events to refresh your experience. Furthermore, some themed maps also drop crates that allow you to collect a variety of rare in-game items. Lastly, since this game has over 2.3 Billion visits, you can always find 2000+ active players at any time to compete against.
Play Mad City: Chapter 2
2. Zombie Rush
No list of best Roblox battle games is complete without an iconic zombie game, and Zombie Rush is our choice for the same. It is a simple, fast-paced, and highly immersive zombie game with a heavy focus on survival. You spawn with other players in a huge open map and have to survive by killing wave after wave of zombies. As the game progresses and gets difficult, you can unlock better and more powerful weapons to deal with the undead.
Moreover, if a player gets killed by a zombie in this Roblox game, they will respawn as a zombie rather than a human. Instead of focusing on survival, their main goal becomes biting and killing the remaining survivors. This unique gameplay mechanic, where players can switch between human and zombie roles, is not commonly found in full-fledged zombie games, but Zombie Rush on Roblox executes it well.
Play Zombie Rush
3. Phantom Forces
Phantom Forces is easily one of the best shooting games in Roblox that offers the most action-packed PvP battle experience. It is an FPS experience where two teams compete in unique maps to take each other down. The experience is similar to popular titles such as COD: Warzone and Valorant. Though, the selection of weapons and characters in this Roblox game is more creative and dynamic than any other game.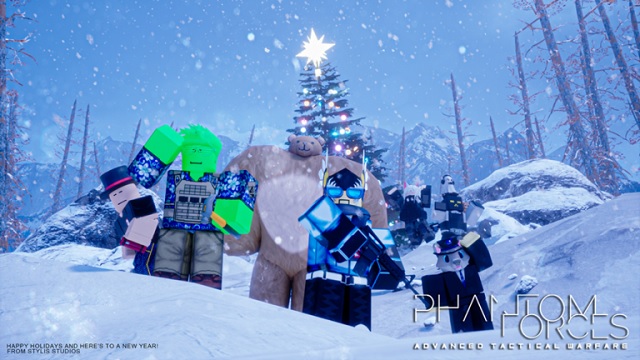 When it comes to maps, you have a variety of options to choose from. Some popular ones include Desert Storm, Resort, and Mall. Though, you can expect more maps to make it into the game through future updates. Meanwhile, the gun mechanics and power-ups in the game are balanced and skill-based. You do get a diverse set of attachments and skins but almost every weapon comes with a slight learning curve. So, you can start playing today and make it to the top of the leaderboards in no time.
Play Phantom Forces
4. Arsenal
Arsenal is a highly successful and enjoyable Roblox game. If you enjoy competitive wars, a variety of weapons, and creative freedom on a server with many other players, this is the best Roblox battle game for you. At any given time, you can find more than 10,000 active players roleplaying as one of the numerous character options and fighting against each other.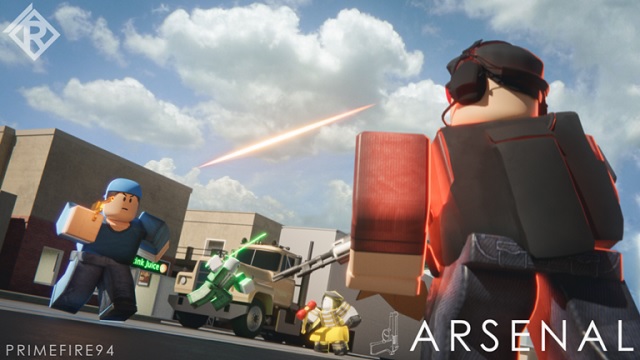 When it comes to gameplay, you are dropped in a fast-paced arcade where everyone is an enemy. You then have to cycle through a diverse range of weapons. From automatic guns to magical spell books, you can get any type of military, mythical, or futuristic weapon in the game. It's up to you to learn and play around with all the weapon's features and limitations. This simple and powerful mechanic makes Arsenal a game you can keep coming back to.
Play Arsenal
5. Military War Tycoon
This Roblox experience is one of the few games that take a realistic approach to in-game battles. Instead of jumping into the battlefield with a gun, you get to carefully create your own military base and then develop strategies to protect the same. The game provides you with tanks, military equipment, helicopters, and a lot more.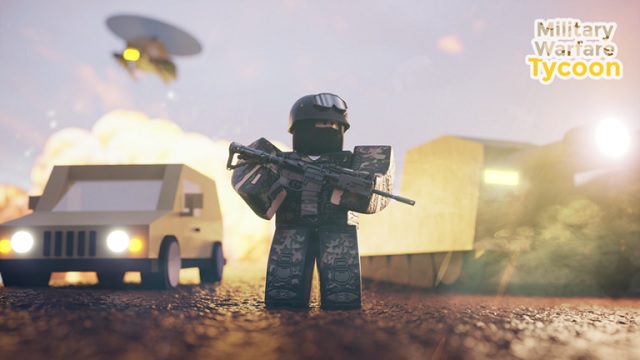 The game also has a bunch of military badges, which take some serious effort and skill to achieve. Meanwhile, if you don't wish to play the defensive role, you can venture around the map to find other players' bases and take them down before they become too strong. Though, if your own base gets destroyed in the meantime, your bravery would be for nothing. So, at the end of the day, this game is perfect to challenge your mind to come up with a great defensive and offensive military strategy.
Play Military War Tycoon
6. Super Bomb Survival
When players imagine Roblox battle games, they usually imagine war and heavy combat. But Super Bomb Survival is all about surviving for the longest time. In this game, destructive explosives rain from the sky above, and you need to survive the onslaught alongside your friends and even your enemies. It mimics the concept of battle royale games, as the last person standing wins.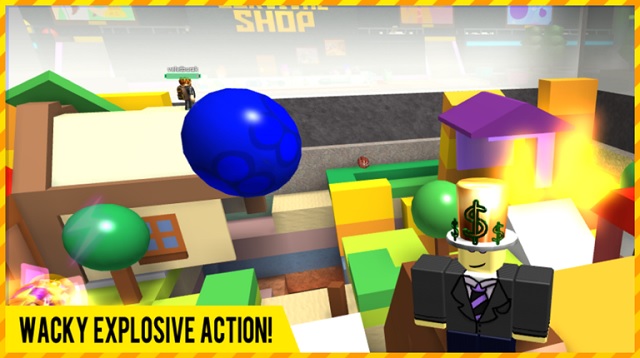 As you might expect, it has chaotic and fun gameplay with luck and skill playing an equal role in your win. There are more than 100 maps, perks, events, and unlockable skills to keep you entertained. Even the bombs aren't your simple deadly explosives. Instead, every bomb has unique effects, including eggs, spikes, fog, and even the cursed pizza impacts alongside many more creative options.
Play Super Bomb Survival
7. DBZ Final Stand
It's an undeniable fact that anime has set a high standard for battles that even some of the best superhero movies cannot match. Among these anime series, Dragon Ball Z has had a significant impact, and this Roblox game pays tribute to it. In the game, players can become one of the various Dragon Ball Z characters and unlock their powers.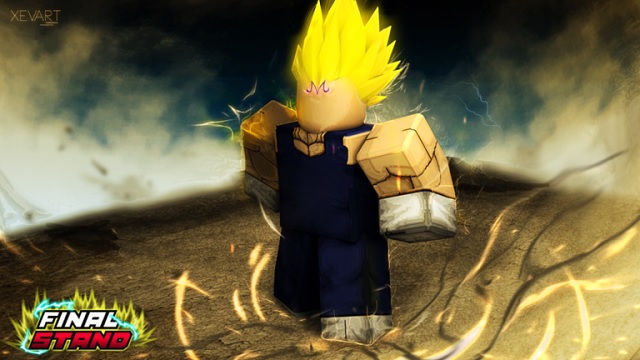 After that, what's left for you to do is find an opponent and fight till the final stand. In terms of abilities, the game gives you basic attacks like punches and blocks. But it also includes supernatural abilities like flying, "ki" sense, and more. If you are a DBZ fan, you will fit right into this game's world. But if you like some other franchise, our list of best Roblox anime games will help you find an alternative.
Play DBZ Final Stand
8. Counter Blox: Reimagined
Counter-Strike is undoubtedly one of the most impactful games when looking at the entire online PvP gaming industry. Now, to no one's surprise, there is a large selection of Counter Strike alternatives out there but almost none of them is as fun as Counter Blox. This Roblox battle game follows the same bomb planting and defusing mechanic in a classic 5v5 team setup.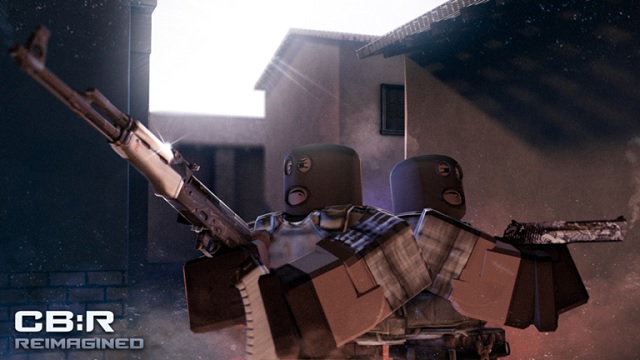 While it borrows a lot from the original game, Counter Blox has its own iconic cartoonish art style. It also has a military-based appearance and new game modes. Other than a general match, you can also enjoy casual play, deathmatch, and even competitive lobbies. Furthermore, the weapon selection here is comparable to its inspiration. So, for a veteran CS player, this game is the perfect Roblox experience to make leave their mark.
Play Counter Blox: Reimagined
9. Dungeon Quest
With a bunch of modern arsenal-based games out of the way, it's time to focus on a bunch of fantasy titles. Dungeon Quest throws you into a medieval world that feels like something out of a scary mythical tale. In here, you and your friends get to battle through dungeons, kill bosses, and acquire loot to progress.
The weapon arsenal in this game is divided into several categories based on their rarity. You get swords, daggers, bows, and much more to choose from. Moreover, you can access a bunch of special abilities, armor, and even skill points. Though, your inventory aside, unlike other Roblox battle games, you have to rely heavily on your team and group strategies to win in this game. This makes the experience all the way more challenging but also more fun.
Play Dungeon Quest
10. Apocalypse Rising 2
Lastly, this Roblox battle game has a dedicated player base, similar to World War Z. As the name indicates, you spawn in an apocalyptic world with zombies taking over humanity. You have to collect weapons, supplies, and vehicles to survive night after night in this world.
While doing so, you obviously have to fend off the zombies but also have to be careful of other players. Some of them can be friendly while others want to loot your inventory. In terms of unique mechanics, the game offers several boss-level zombies, loot events such as helicopter crashes, and a bunch of unique cosmetics. Due to the number of active players on the server, you will have to work hard in the early days to survive. But once you get the hang of it, Apocalypse Rising 2 is bound to get competitive.
Play Apocalypse Rising 2
Play Top Roblox Battle Games
Now that you have access to some of the most iconic Roblox battle games, it's time to dive in and start playing with friends. Before you get started, make sure to customize your Roblox avatar to stand out from the crowd in these popular titles. Alternatively, you can use a variety of cool, ready-to-use Roblox outfits to skip the customization process. So, which Roblox battle game do you plan on trying out first? Do let us know in the comments below!