The Roblox avatar shop is home to some of the most diverse sets of costumes you can get in any video game. From monsters to unique heroes, there's something for everyone. But with such variety, it can get hard to find the cuter girly outfits and even female characters in general. That's why we have collected the best Roblox character girl outfits for you to explore. Some of them are paid and other ones are totally free. All you need to do beforehand is create a Roblox account and be ready to witness character development. Having said that, let's explore all the best Roblox girl outfits you can get for your character in 2022!
Best Roblox Character Girl Outfits (2022)
Unlike the best Minecraft girl skins, you can't download or automatically apply outfits to your characters. Instead, on Roblox, you have to put on individual character items. So, make sure you know how to make a Roblox character to get these outfits working. Having said that, our list isn't ranked in any way and you can use the table below to explore each outfit as per your interest. You can also check out some of the best Roblox Piggy characters while you're at it.
Best Free Roblox Girl Outfits
1. Teen in Red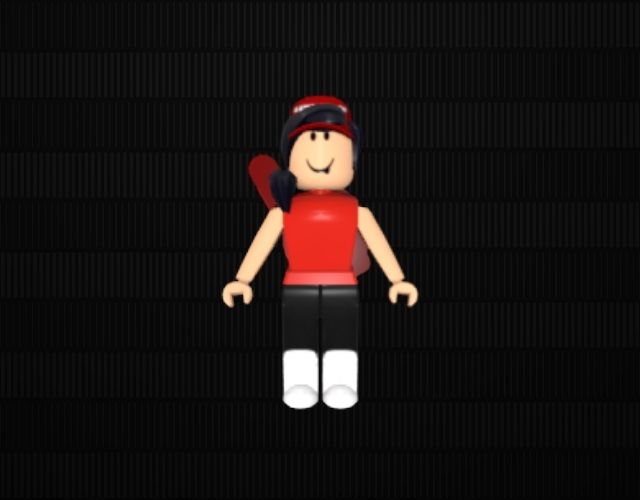 Starting on a simple note, we have an adventurous costume with red and black clothes. With these on, your character looks like a fun-loving teenager. They also have a fan sign on their back which matches the overall theme of the costume. So, if you want to attend a concert in Roblox, this character outfit is made for you.
Items:
Black Jeans with White Shoes
Happy New Year Rat
Fan Hand Sign
The Encierro Cap
Silly Fun
Black Ponytail
2. Royal in Pink
Our next character feels like they are on a walk outside of their luxurious villa. Their pink outfit and Gucci accessories are a major sign of wealth and help them easily fit within any high-class party. Not to forget, you can even combine their style with your existing wardrobe quite easily. Just make sure to not replace the quirky smile on their face.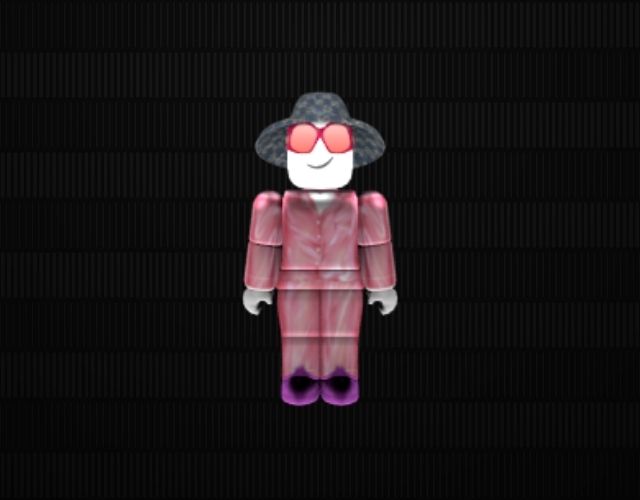 Items:
Poster Girl Record
Sleepy Pajama Pants
Sleepy Pajama Top
Check It
Gucci Round-Frame Sunglasses
Gucci Denim Wide Brim Hat
Kenneth body
3. Sleepy Fairy
To take your outfit away from regular clothing, this fairy has some magical options for you to try. They have an all-pink costume that even includes a unique hairstyle. Then to expand the fairy element, the outfit also includes a large blue-pink magical shaft that can act as the source of your power. And as for the sleepy part of the fairy, the glasses similar to eye masks and the "zzz" sins on their head are a very loud indication of drowsiness.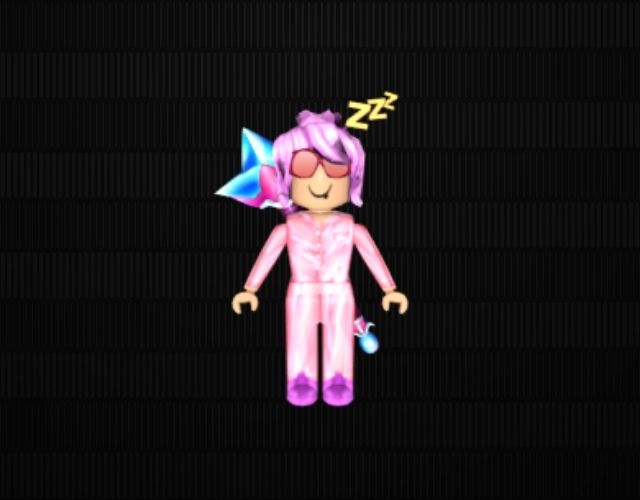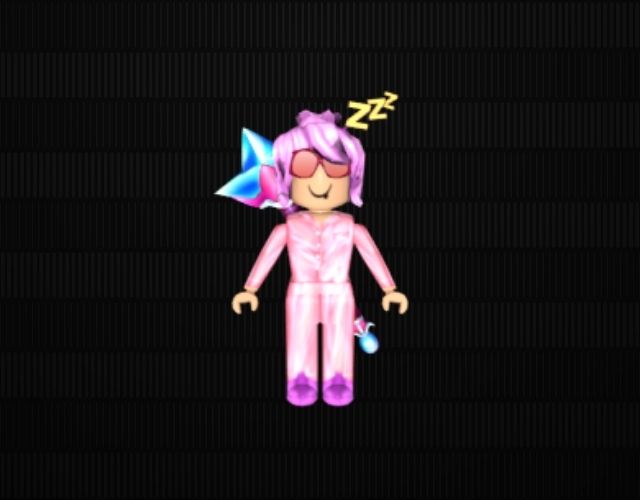 Items:
Sleepy Pajama Pants
Sleepy Pajama Top
Lavender Updo
Silly Fun
ZZZ Headband
Sparks' Wand of Wonder
Gucci Round-Frame Sunglasses
4. City Life Woman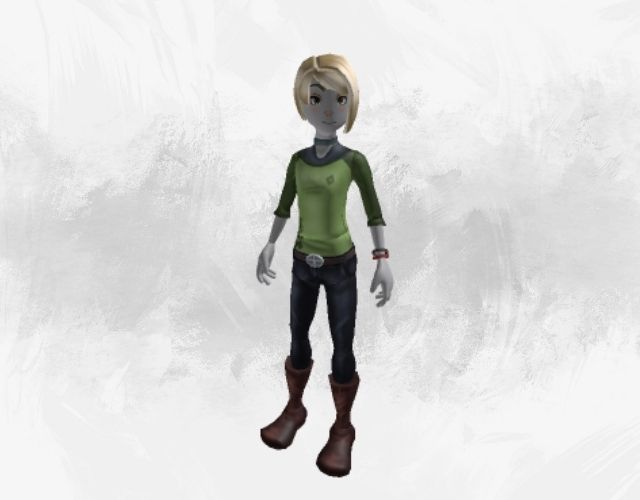 If just changing your clothes isn't enough, you can also shed the common Roblox body and level up with the city woman. This outfit features a lean body with modern clothes, cool accessories, and cowboy boots that match the contrasting hairstyle. With this equipped, you are sure to attract some attention on every server you join on Roblox.
5. The High Seas: Beatrix The Pirate Queen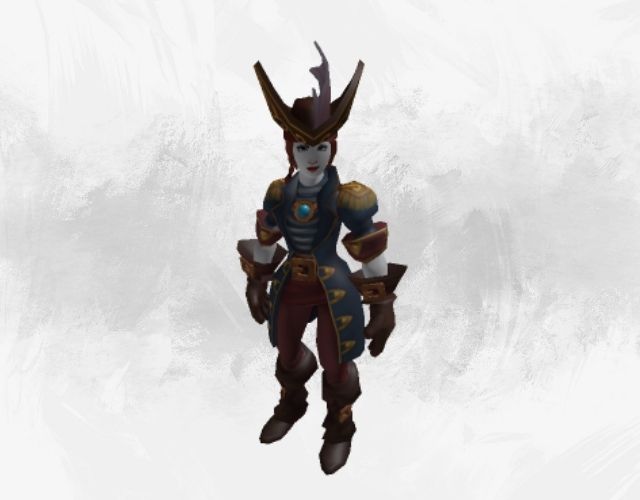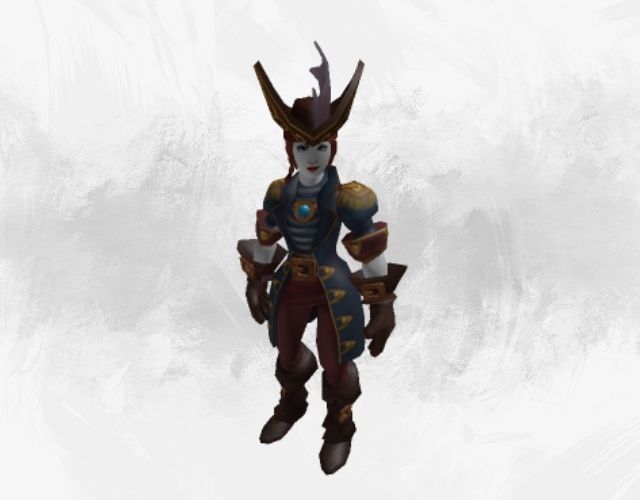 Don't get overwhelmed by our next best Roblox character girl outfit. It might look complex to put together but comes in a bundle format that you can equip in a single click. The pirate queen adorns an almost royal outfit with a long coat studded with a gem and a hat that is nothing less than a crown. The rest of the outfit reflects power as well as a sense of adventure. So, if you plan to take over the world of patriarchial oceans, this is the look to do it with.
Get Beatrix The Pirate Queen Bundle
6. Casual Adidas
Our next outfit will make you feel right at home if you are a student. It offers a cute student-like character with a popular hairstyle covered under an adorable beanie. Then this character's blue Adidas hoodie with black & white bottoms easily complete the look. Due to the use of common real-world elements, you can even dress yourself up alongside your Roblox avatar.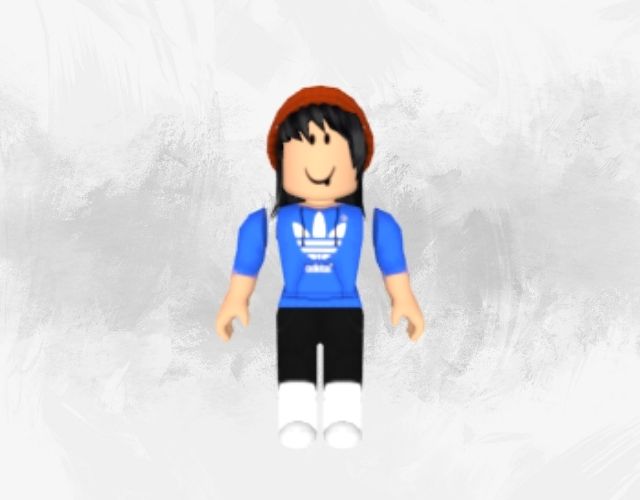 Items:
Silly Fun
Black Jeans
Orange Beanie
Black Hair
White Shoes
7. Cindy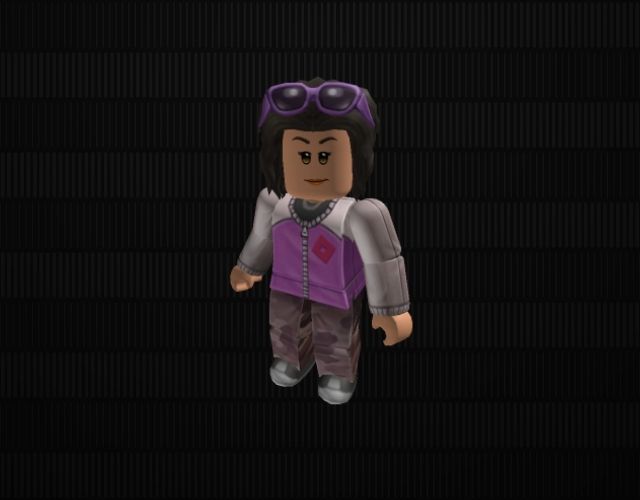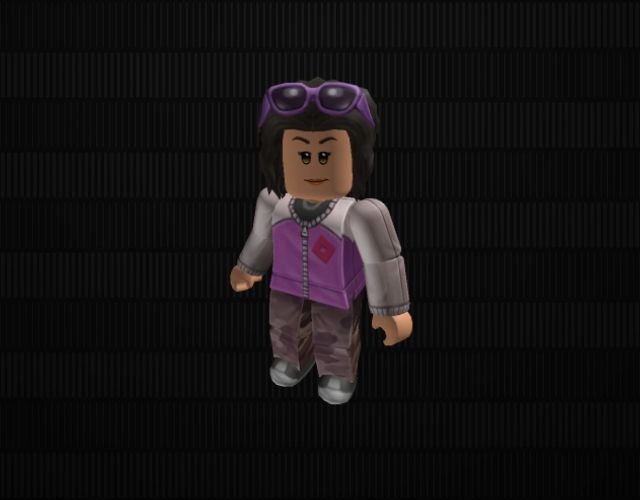 Cindy is one of the most popular Roblox characters of all time. It's a part of the official crew of Roblox characters that players love to use. You just have to install its bundle to get Cindy in your avatar collection. Once you do, you'll be welcomed by Cindy's quirky glasses, cool jacket, and overall bossy persona. Perfect fit for any impromptu adventure.
8. Office Look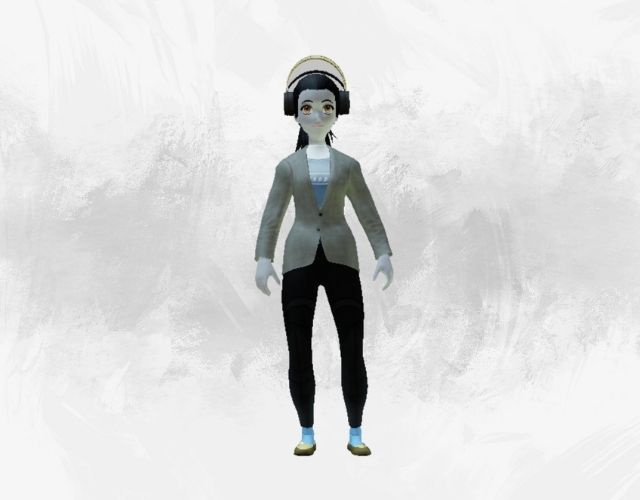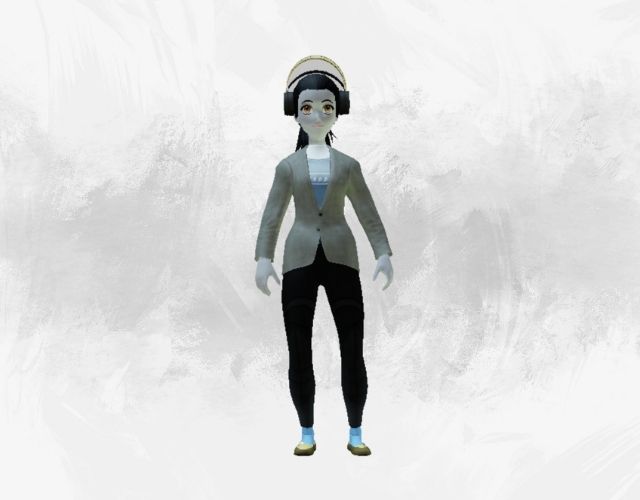 Our next best Roblox character outfit represents a modern-day office worker. They are wearing a stunning business goat that goes well with their formal pants. Then to complete the design, the character has a ponytail and matching accessories. Many people across the world might even have similar outfits as their official uniforms. So, if you are in an office setting, this outfit fits right in.
Items:
Linin Character
Business Coat – Gray
Wetsuit Pants – Black
Pony Tail – Black
Canvas Shoes
Golden Headphones
9. Scientist in White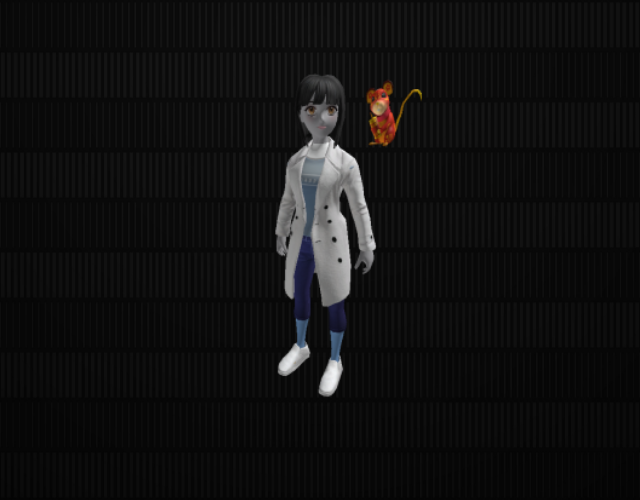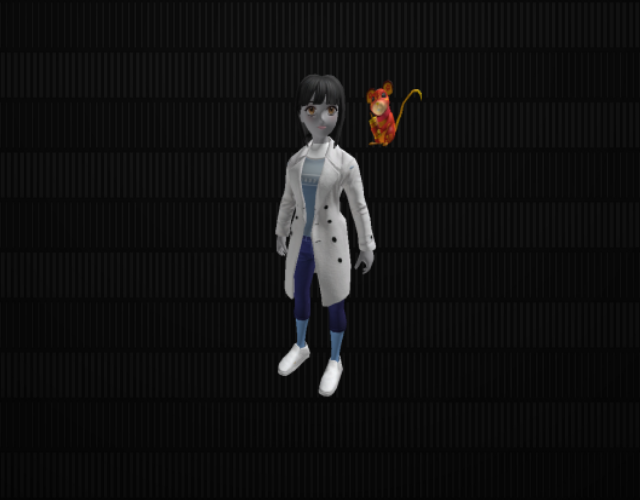 The next lady on our list confidently adorns a majestic lab coat and develops creative ways to improve the worlds of Roblox. And they don't do it alone. Outside the main costume, this outfit also consists of a floating lab rat which only reveals the type of experiments our scientist is up to. With or without the rat, if you are entering a science-themed experience, do take the scientist outfit with you.
Items:
Roblox T-shirt
Straight Bangs – Black
Roblox T-Shirt – White
Trench Coat – White
Linin Character Body
Canvas Shoes
10. Serena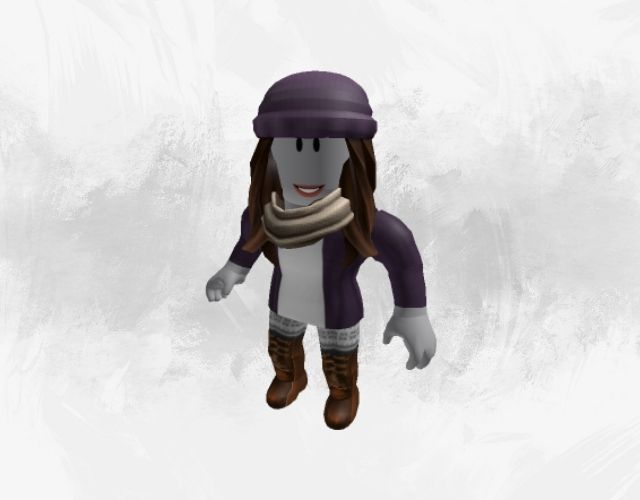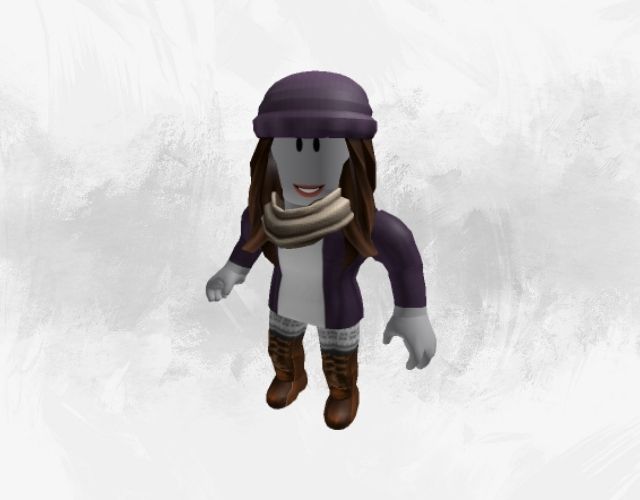 If you are looking for a reliable girl avatar but don't want to go into customization too deep, using Serena is the best option. They are one of the several exclusive Roblox Avatars that give you a base character for free. Later you just have to expand Serena's personality with customization options of your own.
Best Paid Roblox Girl Outfits
11. Blazeburner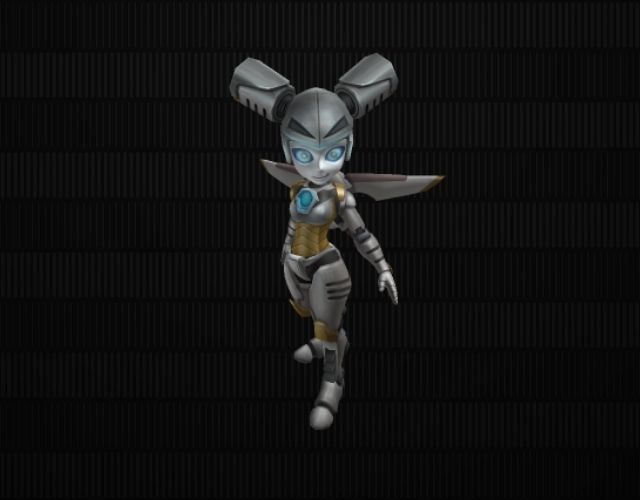 The Roblox character girl outfits don't have to fit in the cute or teenage themes only. And the Blazeburner is a testament to that. It features a futuristic sci-fi character with a superhero costume. This outfit also includes metal wings, weapon-like horns, and an iron-man-like arc reactor.
Get Blazeburner Bundle
Cost: 250 Robux
12. C.Y.N.D.I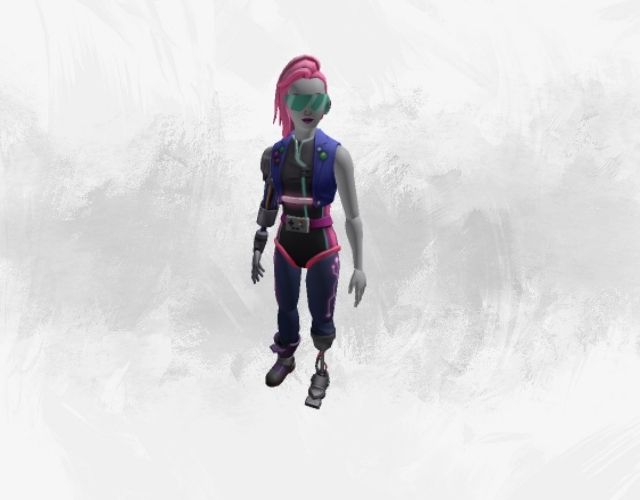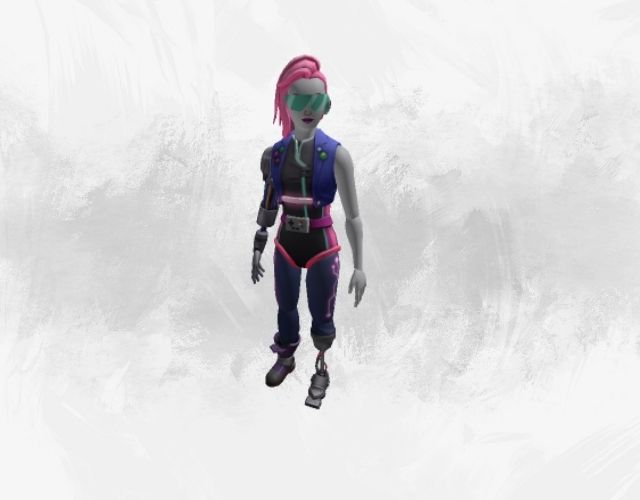 Our next character outfit changes you into a futuristic cyborg that has robotic limbs, a unique hairstyle, and an out-of-time outfit. With this on, you can stand out in any group of girls whether it's based on fantasy or just fresh style.
Get C.Y.N.D.I Bundle
Cost: 350 Robux
13. Beatrix the Bee Cadet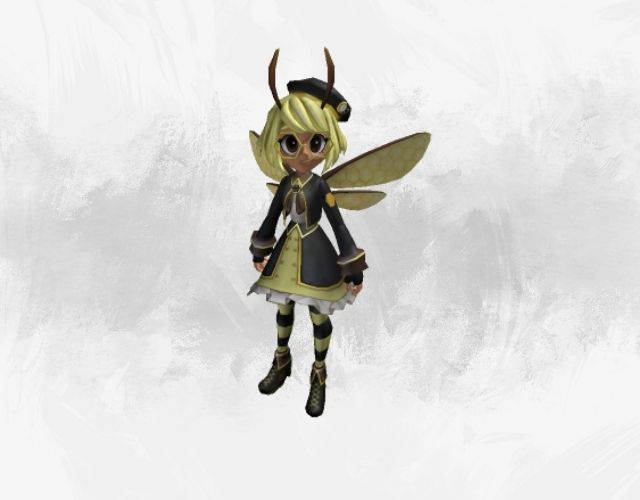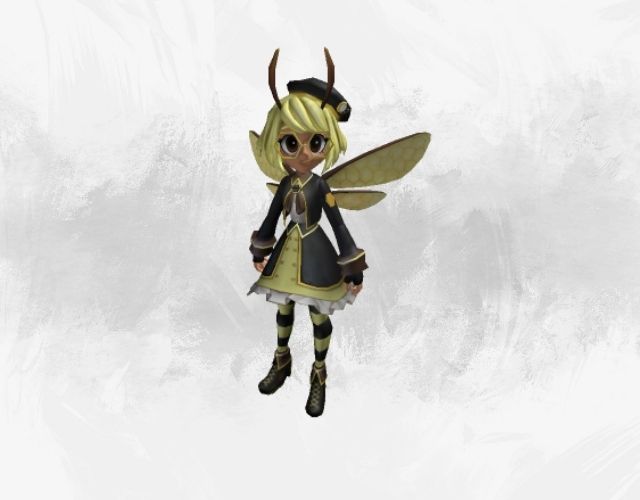 Beatrix is a little bee in the world of Roblox who works hard but is shy in nature. They have cute bee wings and horns along with a black uniform that feels like something out of a Pixar movie. The outfit of Beatrix is not just cute but also amazing in quality and high in detail. With such qualities, it's no surprise that this outfit is also the winner of the 2019 Rthro Design Contest.
Get Beatrix the Bee Cadet
Cost: 250 Robux
14. Octavia, The Ivory Spider-Girl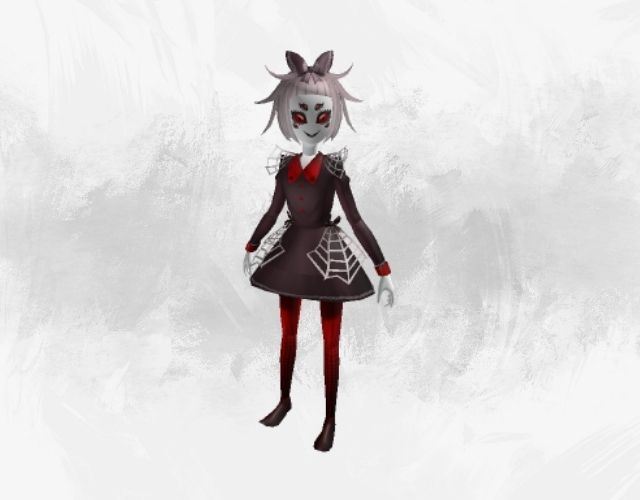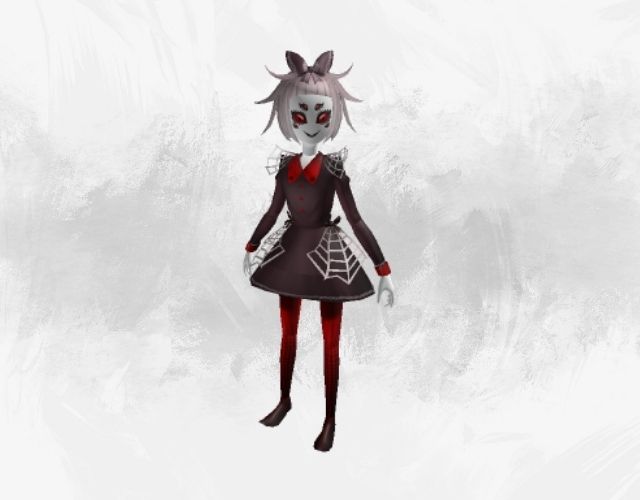 Before you start running away, Octavia only eats bugs so humans like us don't have to worry. Though, I would still suggest you not look into any of her eyes directly. Instead, focus on the main outfit which consists of a simple dark dress that is covered in the web and matches the greyish hair tied by a peculiar bow. Whether you want to create a gothic group or scare your friend, Octavia, the winner of the 2018 Rthro Design Contest, is there to support you.
Get Octavia Bundle
Cost: 250 Robux
15. Skater Gurl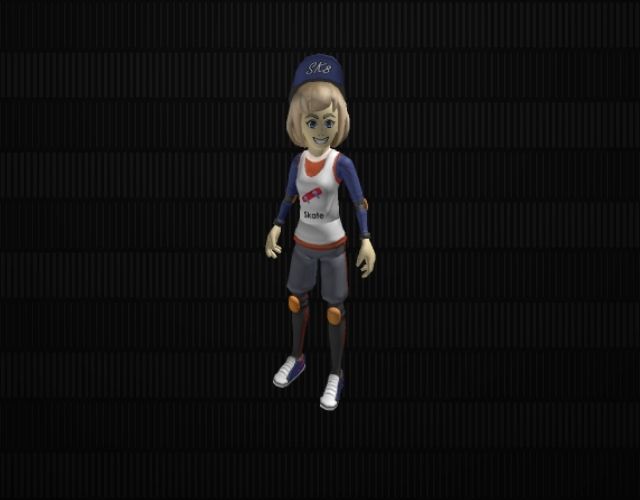 As the name suggests, the Skater Gurl loves skating and is pretty good at it too. From knee pads to the SKS cap, everything in this costume is dedicated to skating. So, whether you do it in real life or not, if you are skating in Roblox, it must be with the Skater Gurl character outfit.
Get Skater Gurl
Cost: 200 Robux
16. Gwen "Axe Angel" Rosewood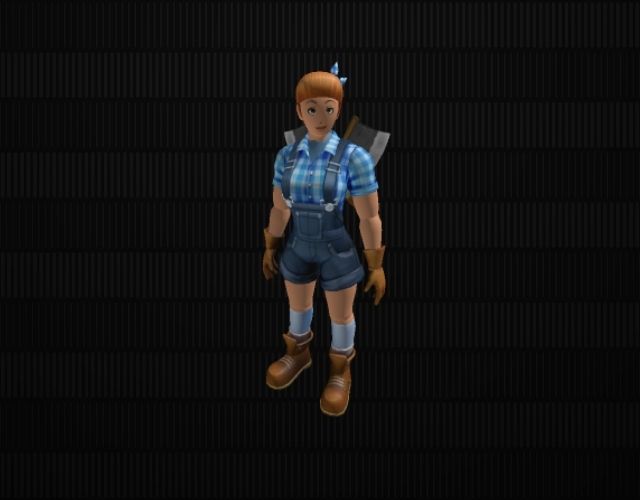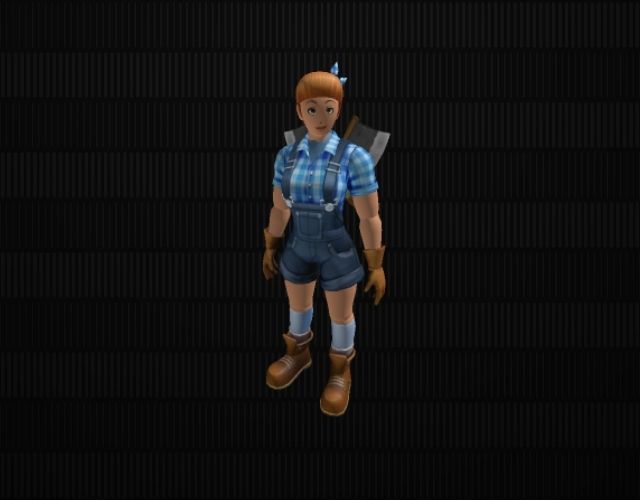 As per the character description, if you see a cleanly chopped tree trunk in Roblox, it's the work of Gwen Rosewood. This angle has axes for wings and a relaxed tomboy costume for a uniform. Their cowboy boots make it easy to cross the woods while the bow on their head ensures that you don't have to be afraid. Well, as long as you don't harm anyone in the Tupperview Woods.
Get Gwen Bundle
Cost: 200 Robux
17. The Birdcaller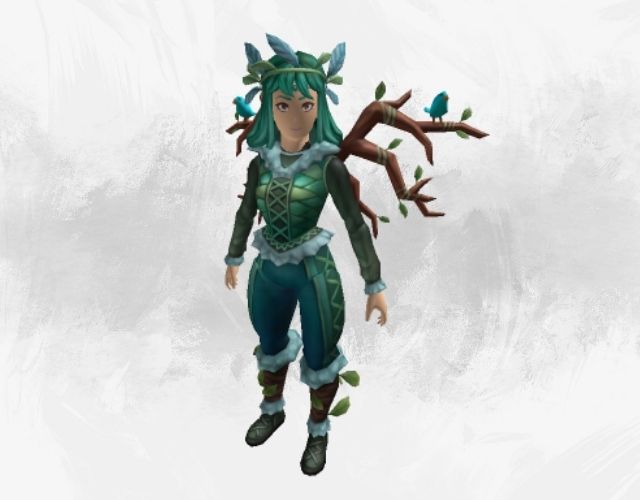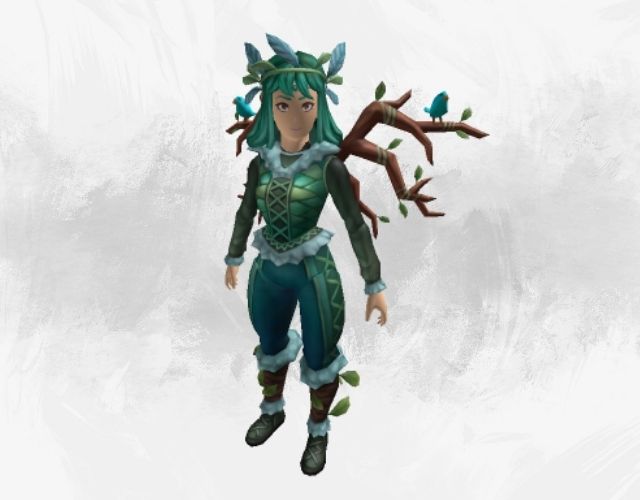 The exact opposite of the previous character, the Birdcaller loves the wood and guards them with her birds. She can dance into the wind, has a new language, and controls birds easily. You can even see two bluebirds being a part of her costume. This Birdcaller came into Roblox as one of the winning entries of the 2018 Rthro Design Contest and has been popular ever since.
Get The Birdcaller
Cost: 250 Robux
18. Squad Ghouls: Wendy Cleohamon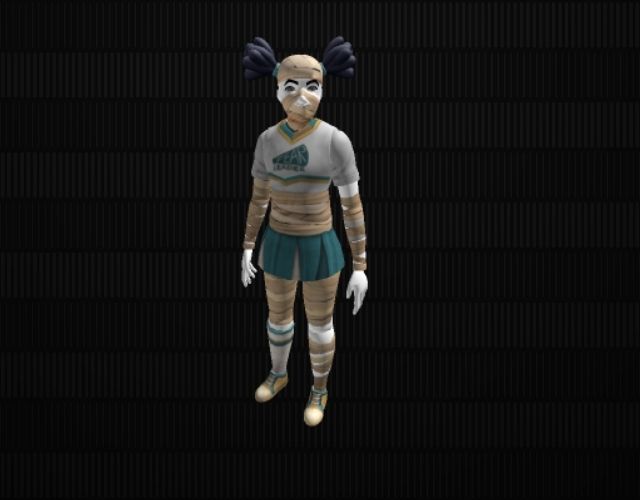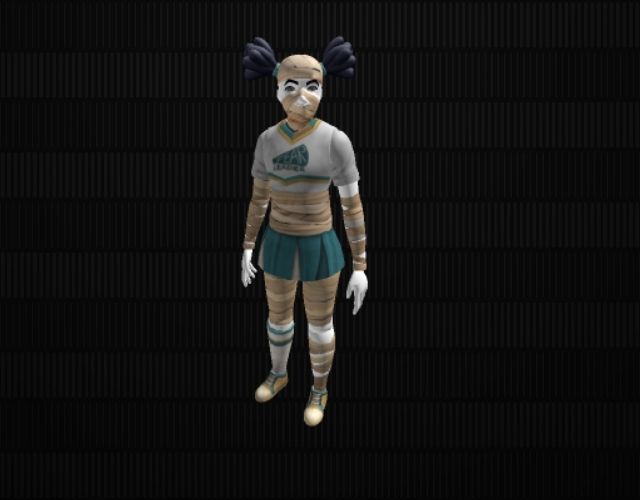 If you ask Wendy, she's just a regular teenager who loves cheerleading with her team. But if you ask anyone else, you'll discover that Wendy is an undead mob that just couldn't let death come between her and her love for cheerleading. With such a tragic story and a body covered in surgical tape, Wendy, for you, is the perfect outfit to wear for any of the best scary Roblox games.
Get Wendy Cleohamon
Cost: 600 Robux
19. Dr. Lauren, Artifact Excavator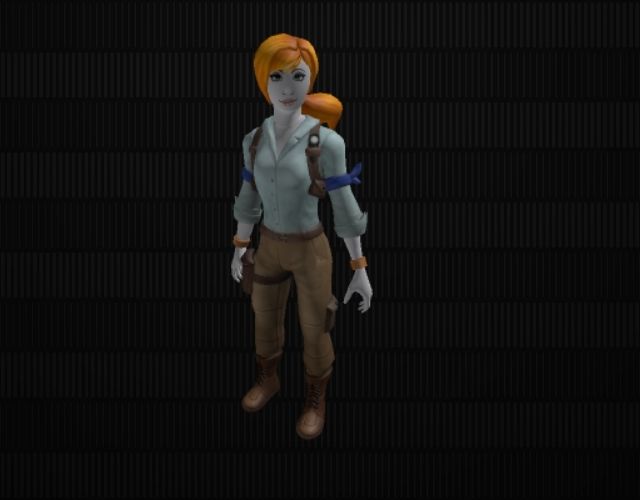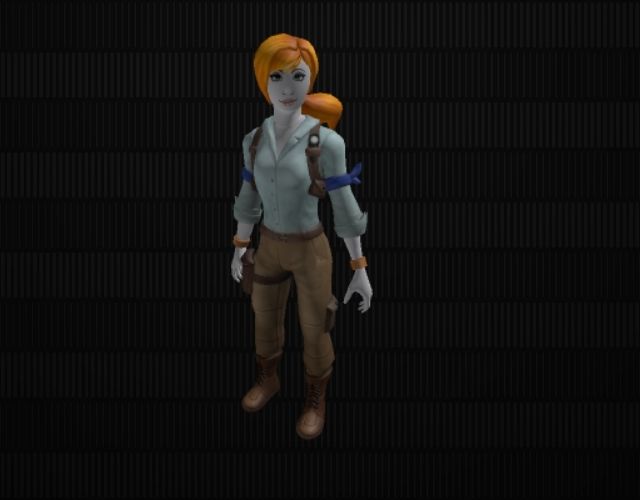 If you ever missed Lara Croft while playing the modern titles then Dr. Lauren is here to comfort you. She's perfectly capable to become the next protagonist of the Tomb Raider games. Her kit includes a compass, treasure map, tactical gear, and a ready-for-action outfit. Whether you are going to hunt the bad guys or uncover an Egyptian tomb, Dr. Lauren has your back in Roblox.
Get Dr. Lauren
Cost: 500 Robux
20. Wyldfire Fairy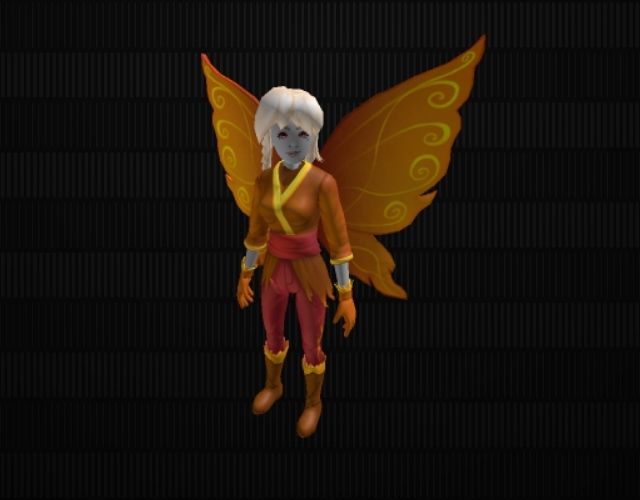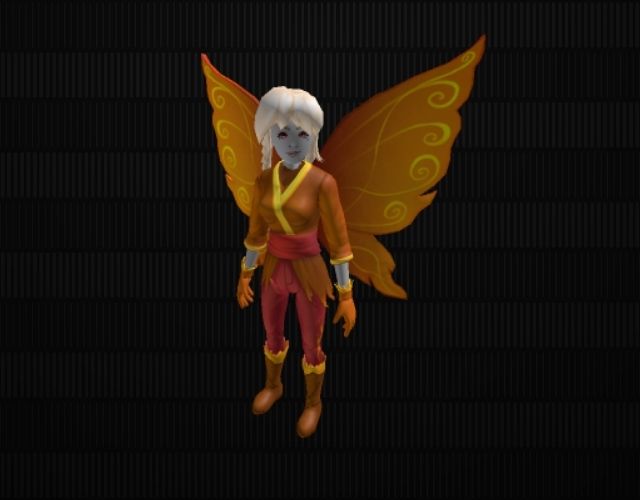 Our next Roblox character girl outfit is on the expensive side if you compare it to the rest of the list. But the outfit also has everything going for it. We get a guardian outfit with beautiful large wings, an eternal flame costume, and a unique blonde hairstyle. If you want to join a role-play server or enter a fantasy world in Roblox, this fairy can keep you afloat.
Get Wyldfire Fairy
Cost: 700 Robux
Cute Roblox Girl Outfits
21. Stellar the Solar Scientist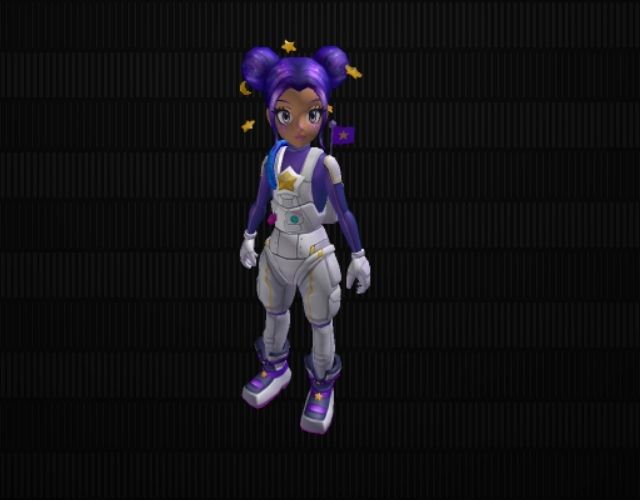 To start off the cuter segment of our list, there is no better candidate than the amazing solar scientist outfit of Stellar. She's a space explorer that goes on universal journeys to find new planets and look for aliens. Her spacesuit is unique in its design and doesn't feel as bulky as the real ones. It also has a flag on it alongside a star in the middle which is similar to the stars always floating around Stellar.
Get Stellar
Cost: 250 Robux
22. Star-Mist Fairy
Keeping up the fantasy vibes of our collection, we have a fairy whose home is in another galaxy. She has wandered into our stars to look for the secrets of the universe. Even if she doesn't find them, her star-studded wings and the princess-like dress has got her a winning entry in the 2018 Rthro Design Contest.
Get Star Mist Fairy
Cost: 250 Robux
23. Astolfo by Fergusguy300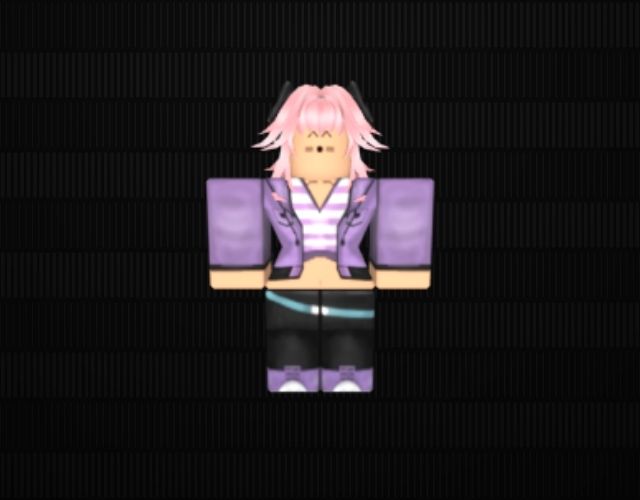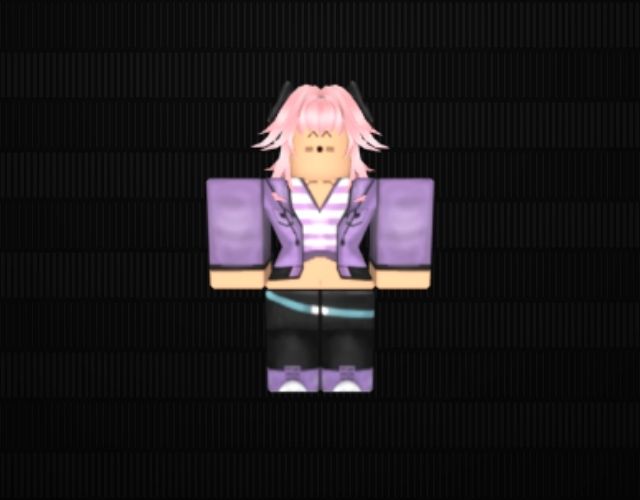 When creating a cute Roblox character you don't have to step away from the traditional blocky character shape. Astolfo is proof of that. She adorns a teenager outfit with a purple dress code and coral-pink hair. And if you haven't recognized her already, she's from the Fale/Apocrypha anime series. You might have even seen her in the Grand Order mobile game.
Items:
Pink Hair Cute Bow Tie (100)
Astolfo Casual Shirt (5)
Astolfo Casual Pants (5)
Cutiemouse (15)
Simple Black Hair Bows (50)
Total Cost: 175 Robux
24. Nezuko Kamado by Smhmica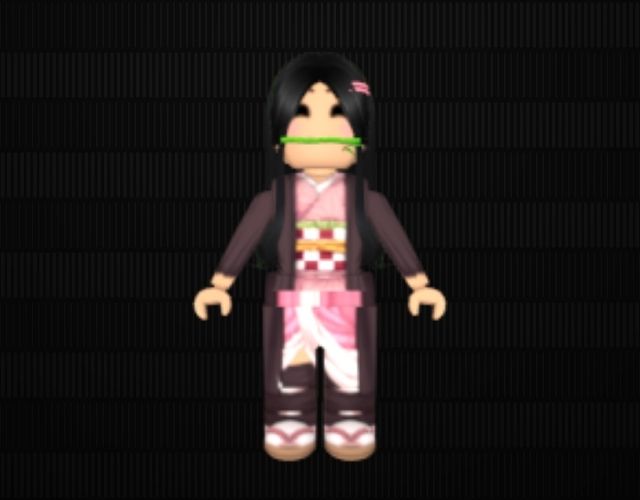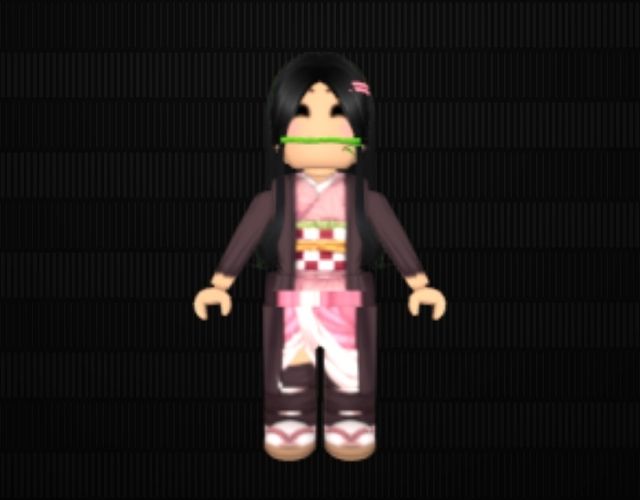 If you have been active in the Anime community for the past years, missing Demon Slayer must have been inevitable. Our next Roblox girl character outfit brings out the cutest character from that series. Yes, this outfit features Nezuko with her traditional Kimono and a bamboo covering her mouth. The outfit is serious about the details but doesn't break the blocky look of Roblox characters.
Items:
Long Black Hair(80)
Nezuko Kamado top(5)
Nezuko Kamado bottoms(5)
Joyful Expressive Mask(65)
Cute Pink Double-Line Hair Pins(20)
Bamboo Snack(25)
NewSide Bangs in Black(40)
Total Cost: 240 Robux
25. Free Hugs by Yye12050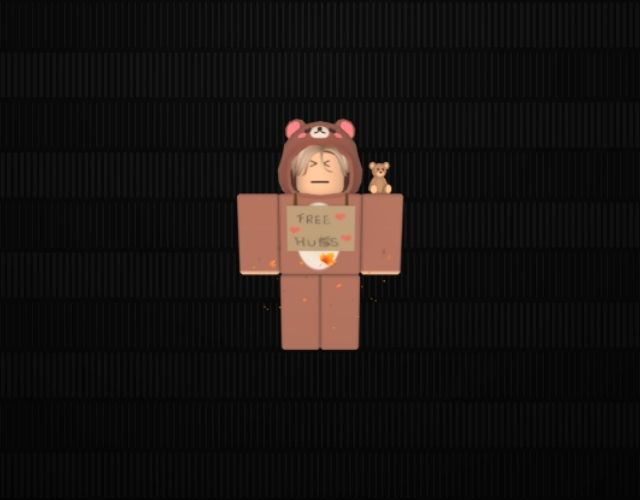 It's impossible to not hug our next outfit when you first see it and it's all up for it. With a girl in the bear costume and a sign saying "free hugs", you can't get any cuter bear in Roblox. The only exception to that is the tiny cute teddy bear sitting on the outfit's shoulder. If you had any troubles while making friends on Roblox, this "free hugs" outfit might resolve that.
Items:
Free Hugs Poster(20)
Cute Y2K Aesthetic Bear pants(5)
Cute Y2K Aesthetic Bear shirt(5)
>_< face(55)
Cutesy Bear Hood(60)
Little Teddy Bear Buddy(15)
Autumn Aura(60)
Floofy Blonde Hair(50)
Total Cost: 270 Robux
26. Kawaii Rabbit by SquidWaters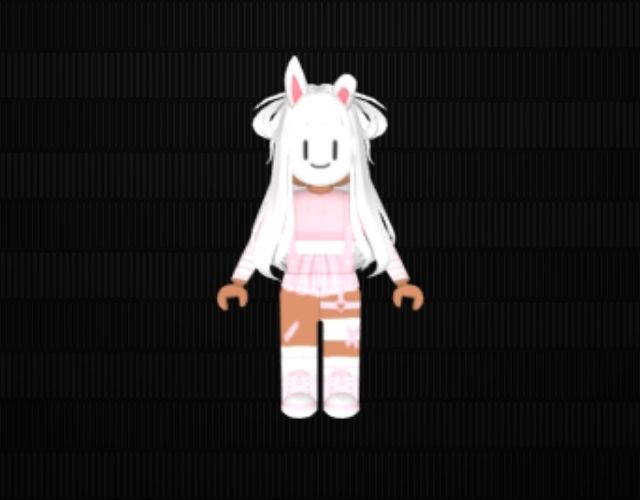 Depending upon your taste and the environment you use it in, this next outfit can either be scary or adorable. We get a girl wearing bunny mask and bunny ears alongside a cute pink costume. She also has matching shoes but they are located below her injured legs. Now, whether the injury has a cute story behind them or a demonic history that's up to your imagination.
Items:
Tiny Kawaii Mask(50)
Cute Bunny Filter w/ Blush (White)(50)
Plain White Cat Tail(100)
Loose White Anime Side Buns(80)
kawaii pink plaid skirt(7)
Kawaii delicate top(5)
Total Cost: 292 Robux
27. Angry Gamer Girl by NADIRADIYANA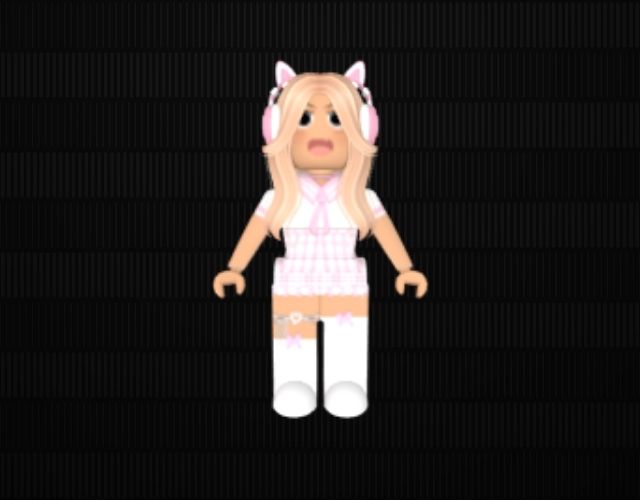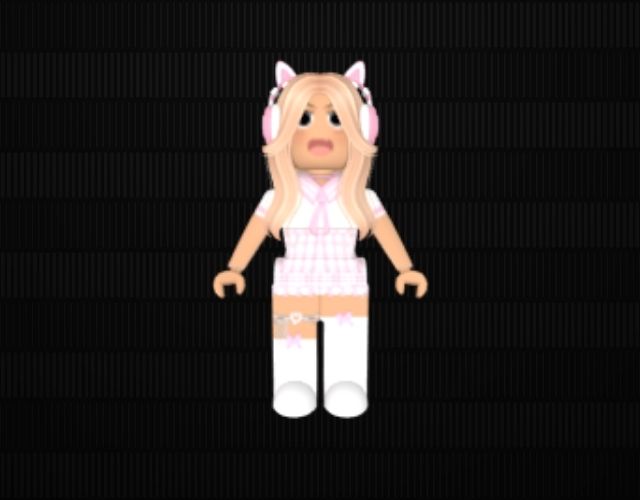 Thanks to a variety of weird players, the online experience of gamer girls isn't the most pleasant. Now at least they have a costume that shouts the same. We get a cute school uniform like a white dress with bunny-eared headphones in this outfit. But the best part of this character is the angry expression that it holds all the time.
Items:
Gaming Kitty Headphones (Pink)(50)
Aesthetic pink top(5)
Aesthetic Pink Soft skirt(5)
Cute Expressive Mask(65)
Aesthetic Split Bangs Hair in Blonde(75)
Total Cost: 200 Robux
28. Black & White Cat by Mollydonuts1256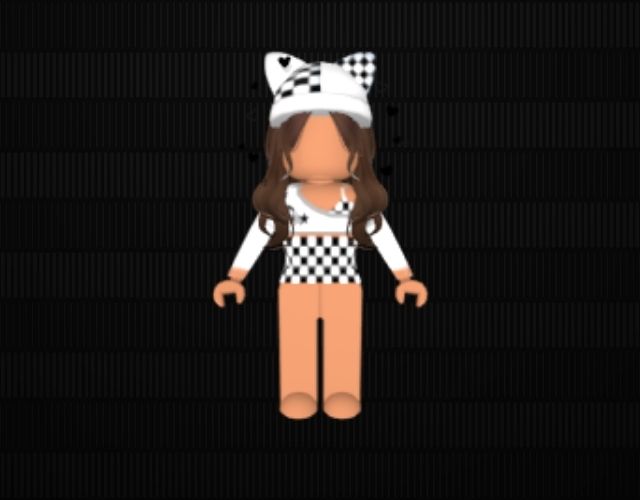 Cat-themed costumes have been a popular choice for players in the best Minecraft girl skins. And the same stays true with the Roblox community too. Our next Roblox girl character outfit gives us a cute black and white cat costume complete with cat ears, a hat, and checkered clothes.
Items:
Woman(0)
White Checkered Cat Beanie(50)
Skin Color Head w/ Horns(100)
Curtain Bangs in Brown(22)
Kate Brunette High Ponytail(75)
Preppy checkered skirt!(5)
Preppy checkered skirt! Pant(5)
Laughing Fun(100)
Black Heart Confetti(66)
Total Cost: 423 Robux
29. Flowery Trends by SeriousSofia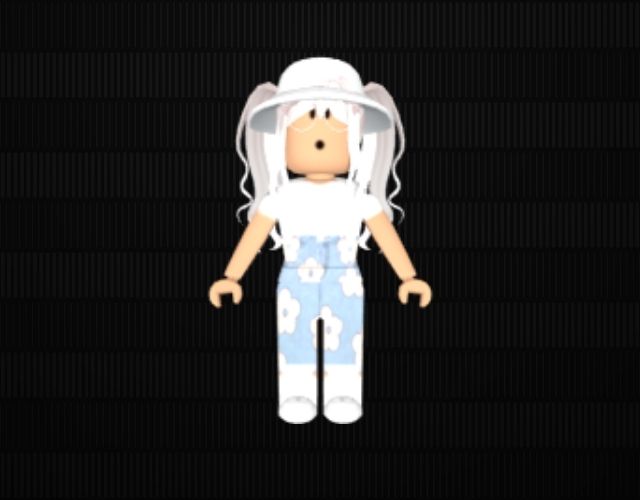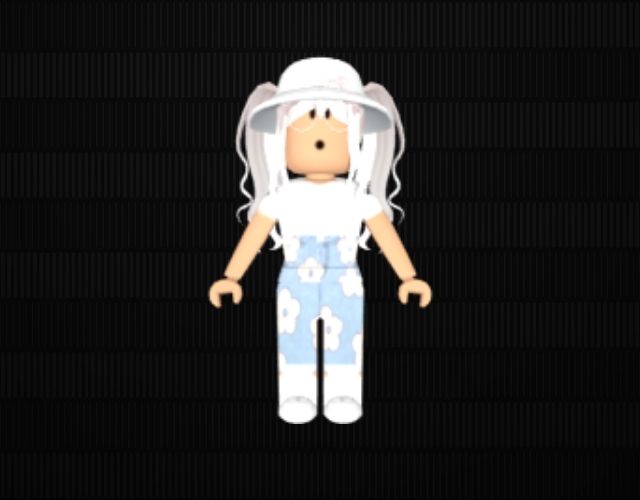 Keeping things simple, our next girl outfit features a cute hairstyle, a tiny hat, and a flowery dress. The character even has round glasses and unique expressions to complete the look. She's a perfect fit for quirky groups and fun adventures.
Items:
Woman(0)
peach butterfly flower set jean soft vintage sodti(5)
White Wavy Hair(90)
Whistle(33)
White Trendy Hat(75)
Rosey Gold Vintage Glasses(125)
Total Cost: 328 Robux
30. Froggy by L1zz1eL1z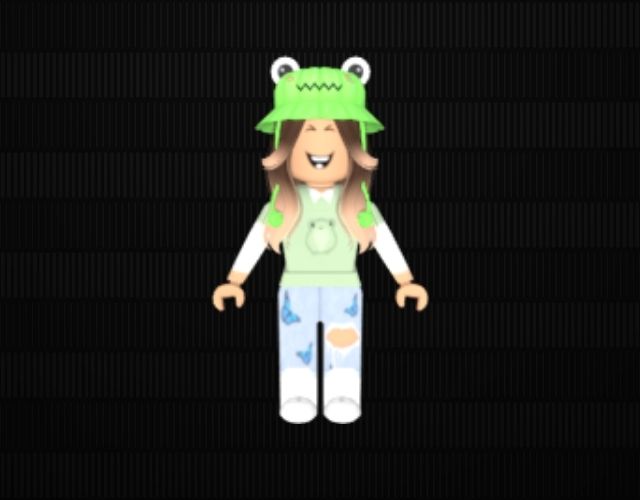 2022 has seen a major drive of cute frogs from around the world. So, Roblox's best girly outfits can't be free from them either. So, to end it on a perfectly adorable note, we have a cute frog-themed outfit consisting of a frog head hat, a cute t-shirt, and charming pants. There can't be a cuter way, to sum up, our list of best Roblox character girl outfits.
Items:
Woman(0)
Pretty butterfly girl necklace one shoulder jeans(8)
Cute frog shirt w collar(5)
Frog Aesthetic Hat(59)
Aesthetic Split Bangs Hair in Brown to Blonde(75)
Laughing Fun(100)
Total Cost: 247
Get Aesthetic Roblox Character Girl Outfits
Whether you want to look cute or just try a new gaming experience, these best Roblox character girl outfits can lend you a hand. Some are empowering and out of the world while others are just adorable. You only have to equip them and join and Roblox experience to enjoy it in a completely new way. But if you want even more customization then you can take a few steps and travel to the world of Minecraft. Here, you can make your own Minecraft skins, and even though they'll be pixelated, they will still have more free customization options. Having said that, which is your favorite girl outfit from our list? Tell us in the comments!