Did you ever miss out on a great deal on Amazon and wished you had a better tool to keep a tab on the exclusive offers? As the price of the products keeps changing every now and then (even multiple times in a day), it's hard not to lose sight of amazing price drops. And I guess many of us have been on the receiving end of the missed out opportunities at some point or the other. Now the biggest question that comes to mind is how do you keep an eye on Amazon price drops so that you can grab your favorite deals without any delay? To put it straight, so long as you have got the best Amazon price trackers to keep you in the loop, you will remain on track to cash-in-on the deals.
Best Amazon Price Trackers You Should Try in 2021
So, how do the Amazon price trackers work? Precisely speaking, they let you track Amazon prices at your own pace based on the custom watch list and your targeted price. Features like detailed price history and interactive charts ensure you have a killer insight into when it's the perfect time to go for the deal and when you should rather take a backseat.
Courtesy of the real-time alerts, they keep you alerted so that you remain aware of the awesome deals. That all being said, let's head over to take a look at the top Amazon trackers you should use in 2021!
Best Amazon Price Tracking Websites
1. CamelCamelCamel
When it comes to tracking Amazon prices, CamelCamelCamel has got you fully covered. And that too at your own pace. With real-time alerts, the site keeps you in the loop about the products you are interested in. Thus, you can cash-in-on the hot deals before they get out of stock.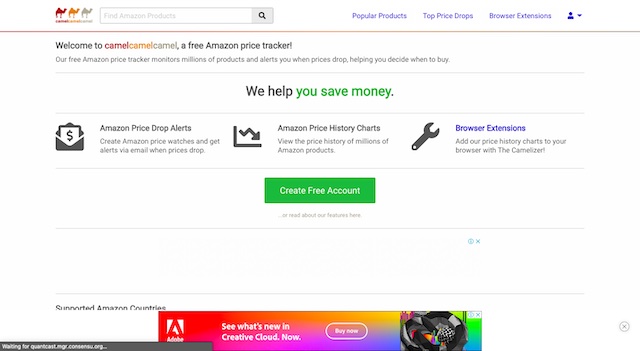 Probably the best part about CamelCamelCamel is the ability to show detailed price history charts for products from various categories. Hence, you can get a better insight into the price-drop pattern, which would play a vital role in helping you get the right deals.
Another feature worth taking note of is the option to create watches to get personalized alerts about the price drop of your favorite products. What's more, you can also add CamelCamelCamel to your browser to keep an eye on the price change without having to dig deep.
As CamelCamelCamel supports multiple marketplaces, you can easily find the lowest prices on Amazon in several countries. Notably, you can register for free to get email alerts. Plus, there is also an option to track price alerts via an RSS feed. Overall, it's undoubtedly one of the best Amazon price trackers in 2021.
Visit: CamelCamelCamel
2. Keepa
Keepa is another popular Amazon price tracker. It is fully geared for the folks who never want to miss out on exclusive deals. If that's you, keep it on your radar to track the coveted offers and grab them before it's too late. What makes it so handy is the in-depth price history charts of millions of Amazon products. Hence, there is no question of a missed opportunity anymore.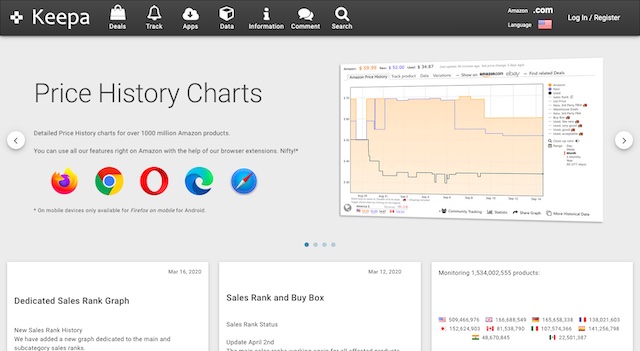 You can use Keepa to compare and track international Amazon prices, which is a big plus if you prefer to compare prices. Depending on your goal, you can set a price watch and get notifications when it touches your targeted price. Furthermore, there is also an option to track products with the biggest price drops in your favorite product category. Thanks to the extensions for all the popular browsers including Safari, Google Chrome, Microsoft Edge, and Firefox, you can monitor the price drop right from your preferred browser.
Keepa lets you sign up for free to access almost all the essential features like increase price alerts, interactive graphs, and browser extensions. However, you will need to upgrade to the premium version ($20/month) to use tools like Keepa API or get much higher caps on the number of products you want to keep track of.
Visit: Keepa 
3. PriceDrop
As the name itself makes it crystal clear, PriceDrop aims to keep you updated about the price drop of the items that are on your watch list. You can use it to view all of your favorite items and compare their price to figure out whether or not it's the right time to buy a specific product.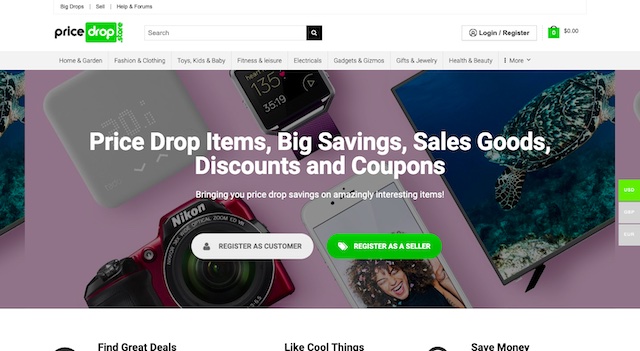 PriceDrop can let you search and find products from a variety of providers and monitor their price change over time. Based on what sort of items you want to keep a tab on, you can create a custom watch list to track things like savings, price drops, and discounts. From fashion to gadgets to health to toys, PriceDrop has got you fully checked off.
With the browser extension for Chrome and Firefox coupled with timely alerts, it can let you monitor the price change of your desired products at your own convenience. To sum up, PriceDrop is a useful Amazon price tracker.
Visit: PriceDrop 
4. Slickdeals
Slickdeals is more than just a simple Amazon price tracker. Whether it's tracking amazing offers with plenty of discounts or stellar deals or the hot coupons, it has got more ways to let you save more money. One of the highlights of this site is a large community that provides ratings and reviews about products. Thus, it becomes easier for you to determine whether a particular product can live up to your expectation.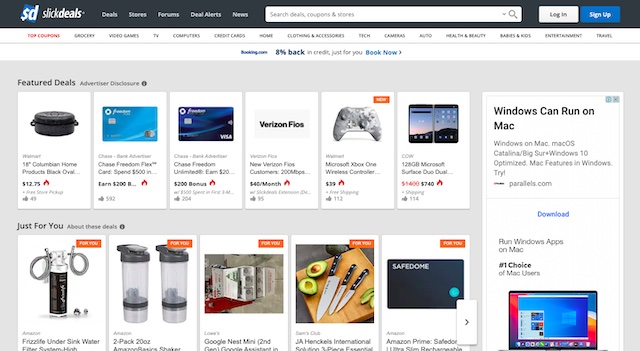 To let you make an informed buying decision, Slickdeals offers detailed information about each product. For instance, you can check the total score of a deal and also find out the pros and cons suggested by users. If you want to further enquire about a deal, you can also ask questions to experts. Notably, Slickdeals also provides a Chrome extension to let you monitor deals right from the web browser.
Visit: Slickdeals 
5. Penny Parrot
Touted to be a modern Amazon price tracker, Penny Parrot has checked off most essential boxes to be your one-stop platform. What gives it an edge over many other alternatives is the extensive price dropping chart of every Amazon product. Using the chart, you can discover the best time to buy a product.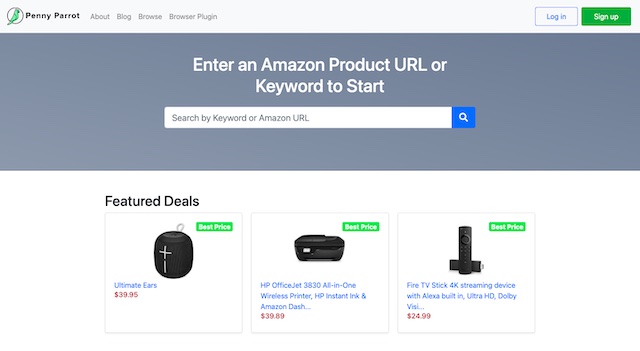 Penny Parrot features a cluttered-free interface and has a smart search to let you track down deals using a variety of filters. Besides, you can also search by Amazon URL and keep a track of the price change by setting custom alerts. One of my favorite features of this Amazon tracker is the shortcut that makes it incredibly simple to track Amazon prices on your iPhone and iPad.
That's not all, Penny Parrot also providers browser extensions for Google Chrome, Microsoft Edge, Opera, and Mozilla Firefox to make it pretty convenient to track Amazon prices. Bear in mind that it is only compatible with Amazon.com, which means you will be able to track products' prices only in the USA.
Visit: Penny Parrot 
6. ShoppingNotes
For a simplified Amazon price tracking experience, you can't go wrong with ShoppingNotes. All you have to do to monitor the price of any item is to paste the product page URL and enter the email address to receive price alerts. Moreover, the site also features an integrated Google Search so that you can search for a product and add it to your list to track its price.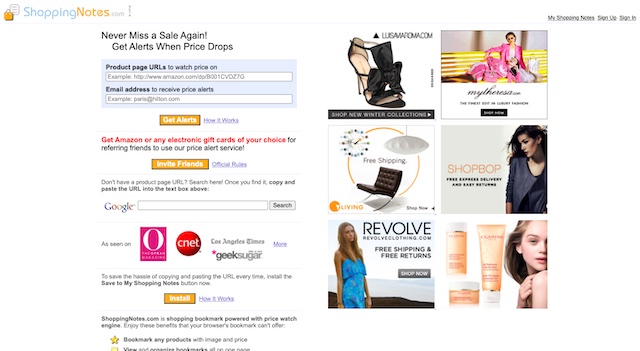 Beyond tracking the price of Amazon products, ShoppingNotes is also an efficient bookmark manager. Hence, you can use it to bookmark any products with images and prices as well as keep them perfectly organized. With the customized alerts always ready to keep you notified, you will make the most of great deals whenever they go live.
Visit: ShoppingNotes 
7. PriceGrabber
It doesn't matter whether you are fond of gadgets or love jewelry or have a huge penchant for fashionable clothes, PriceGrabber is the one you shouldn't miss out on. Especially if you intend to be in thick and thin of the bumper offers.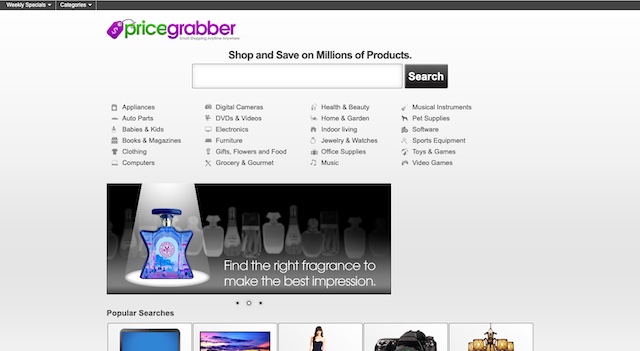 PriceGrabber is backed by a huge library of products including appliances, auto parts, digital cameras, clothes, and more. Thus, you can search through the entire catalog and buy the ones that appear to be in line with your needs. Better still, you can also set alerts to get timely alerts about fully personalized deals.
One of the notable features of PriceGrabber is the weekly newsletter that makes sure you have quick access to great deals. Therefore, you can navigate through the desired offers and buy the preferred ones to save a ton of dollars.
Visit: PriceGrabber 
8. NotifyPrice
NotifyPrice does exactly what it states – to keep you notified about the price of your favorite items. So, all you need is a lightweight tool that can help you put the items of your wishlist within your budget, this one can be worth having at your disposal.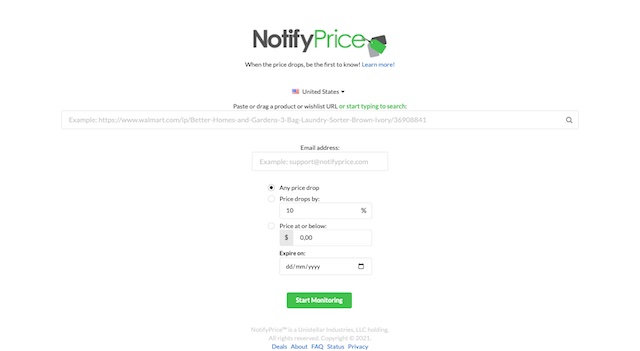 To get started with price tracking, you can simply paste the URL of a product or enter the wishlist URL. Based on your preference, you can customize the tracker to notify you when the price drops below a certain level or reaches the desired threshold. After that, hit the "Start Monitoring" to monitor the price drops. Everything considered; you can count on NotifyPrice to be your neat Amazon price tracker to keep you in sync with amazing offers.
Visit: NotifyPrice
Best Amazon Price Tracking Apps for iPhone and Android
If you prefer to keep a tab on amazing offers right at your fingertips, you would appreciate these smart Amazon price tracking apps for iOS and Android.
1. Price Tracker for Amazon
When you have the real-time alerts to keep you notified about price drops, tracking bumper deals seems pretty straightforward even when you are on the move. And that's what makes Price Tracker for Amazon such a great asset.
Depending on your goal, you can customize the app to send alerts whenever prices drop or when they reach your threshold. Hence, monitoring the price of the listed items on Amazon is never a big deal. Furthermore, it features a price change history to let you make an informed buying.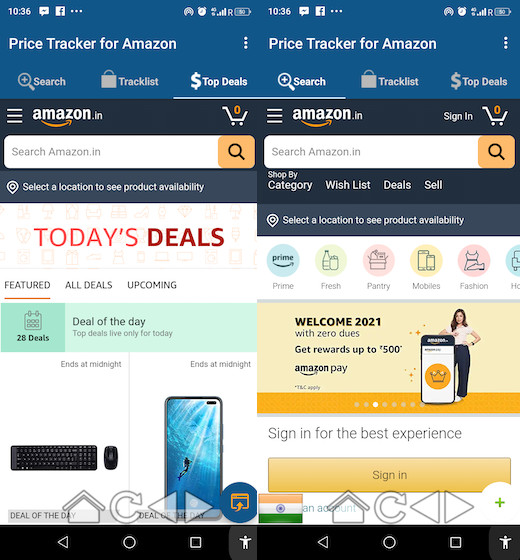 What I have found really appreciable about this app is the integrated browser that allows you to search for products right from the app and set alerts for them. With a price change history, it helps you get a better understanding of the price changing pattern.
Price Tracker for Amazon lets you track items from several Amazon sites including amazon.com, amazon.co.uk, amazon.ca, and more. Keep in mind that the app is free but you will need to spend some extra dollars ($2.99/item) to unlock all the goodies.
Install: (free, $2.99/item)
2. Pricepulse
Leveraging artificial intelligence, Pricepulse keeps you in sync with the trending deals on Amazon and also offers you the pro tips about what is the best time to get them. The app first goes through all the possible purchase options and then provides suggestions regarding whether or not the time is right to go for the deal or take a backseat and wait for another price drop.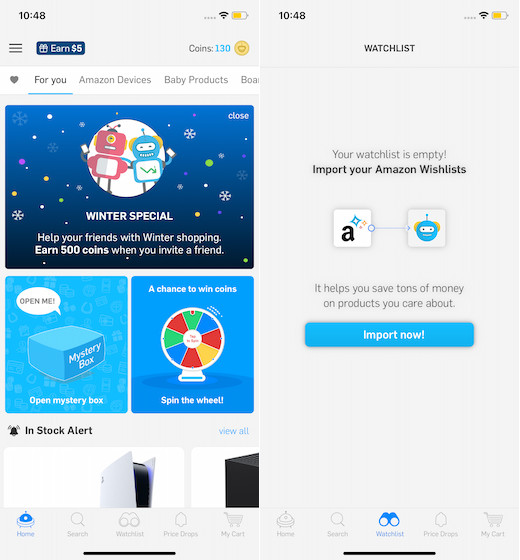 With Pricepulse, you get access to a ton of top deals across tens of thousands of products. Thanks to the barcode scanning feature, you can perform price comparison to find the cheapest items quickly. On top of all, the app also provides personalized coupons to let you save more bucks.
Install: (free )
Top Amazon Price Trackers You Should Try
So, these are the best Amazon price trackers that you can use to track all the much-awaited deals that are breaking the internet. Now that you have got the top trackers at your beck and call, make the most of them to never miss any killer deals.
Anyway, which one of these Amazon price tracking tool that has caught your eyes? Is it the one that offers fully personalized deals? Feel free to let us know your top platform in the comments section below.
---
Load More