One time I wrote about wallpaper apps for Linux, and the feedback I got was – almost unanimously – that nobody cares about wallpapers.
There's truth to that criticism. Most people use their computers for work, and don't spend time staring at the desktop, admiring the wallpaper. They do, however, spend a lot of time using the web browser. That's why it makes sense to tweak the browser and make it as powerful as possible with a smart selection of extensions.
Tab management extensions are incredibly popular for both Firefox and Chrome. Even an empty tab page can be transformed into something useful. Firefox has adopted the "speed dial" format with tiles back in 2012, but its default new tab page is not particularly customizable. Thankfully, there are add-ons to fix that. We've already shown you some cool extensions for tweaking the new tab page in Chrome, and today we'll see how to do that in Firefox.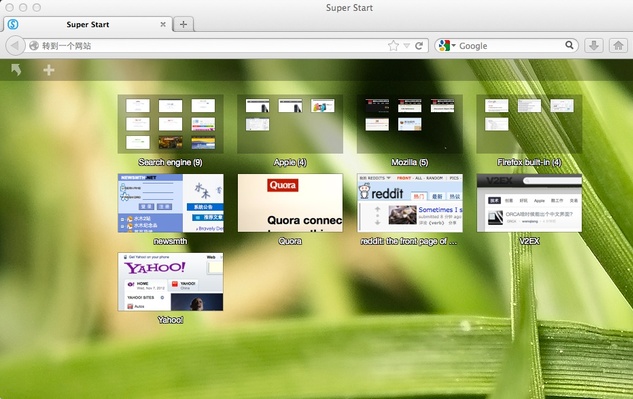 Super Start is my current new tab add-on, so let's start with it. On the surface, it's just a regular speed-dial-style extension that lets you create shortcuts for your favorite links. Once you dive into the customization options, you'll discover that Super Start can do much more.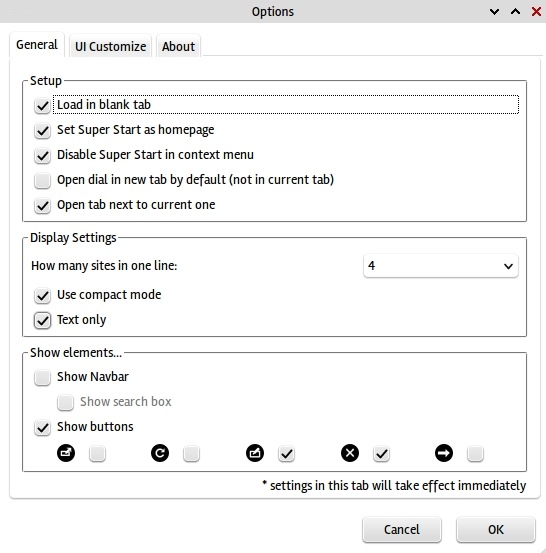 You can display a to-do list on the new tab page, group bookmarks by drag-and-dropping them onto each other, and insert placeholders (empty tiles) to arrange bookmarks in any way you want. If tiles look too big for you, there's the text-only mode that saves space and lets you show more bookmarks on the page.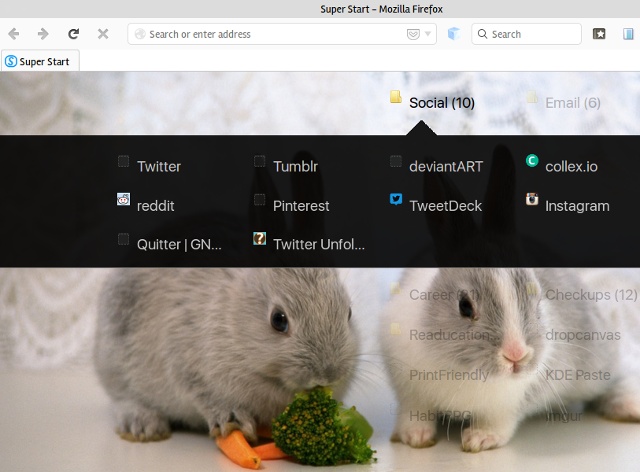 Optionally, Super Start can display a navigation bar with a search field at the top of the page. If you want to use Super Start on another computer, you can export (and import) all your links.
Outstanding features: custom CSS; option to quickly add any website to Super Start from the right-click menu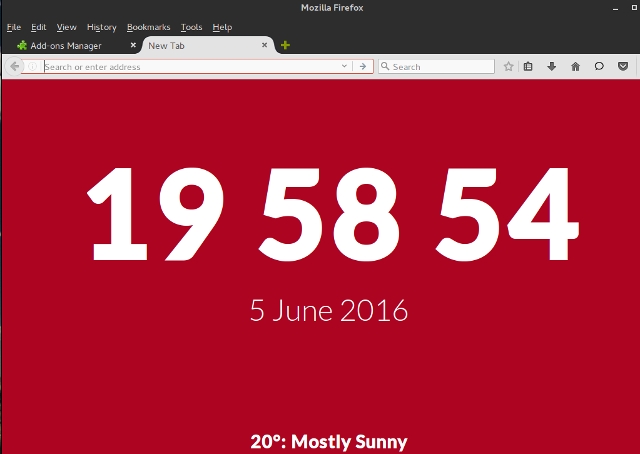 Moment is as simple and minimal as it gets. There are no superficial features – it just displays the time, date, and weather information. While it might be useful to include links to favorite websites, Moment is not that kind of add-on. This is actually a good thing; after all, there are plenty of other add-ons for that. It's only fair that there's something for the minimalists, too.
Besides, Moment is not completely stripped down: the Options dialog lets you change colors, font, and date format. If you're confident in your CSS skills, you can even try modifying Moment in that way.
Outstanding features: lightweight; loads quickly; lets you write custom CSS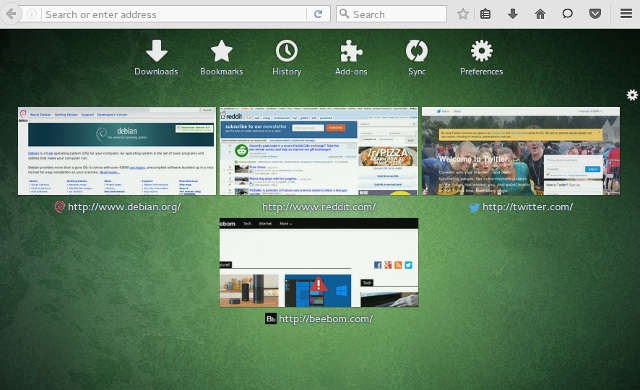 New Tab Tools improves upon the default new tab page in Firefox while retaining a similar appearance. You can display your bookmarks as tiles, and each tile can have a custom image or icon. Alternatively, you can let New Tab Tools generate thumbnails for them. New Tab Tools can show recently closed tabs, as well as create tiles from the browser history. The menu bar with links to downloads, add-ons, and preferences is optional, and you can adjust its position.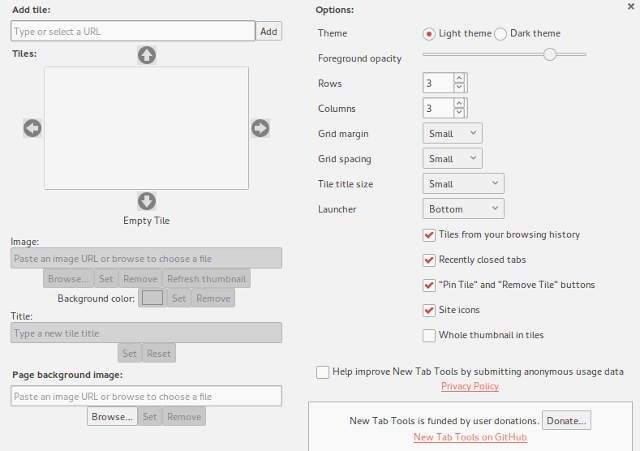 The only problem with New Tab Tools is that the Options dialog can be confusing; more specifically, the "Tiles" section where you're supposed to navigate by clicking the arrows to reach the individual settings for each tile.
Outstanding features: tile transparency; custom images and colors for each tile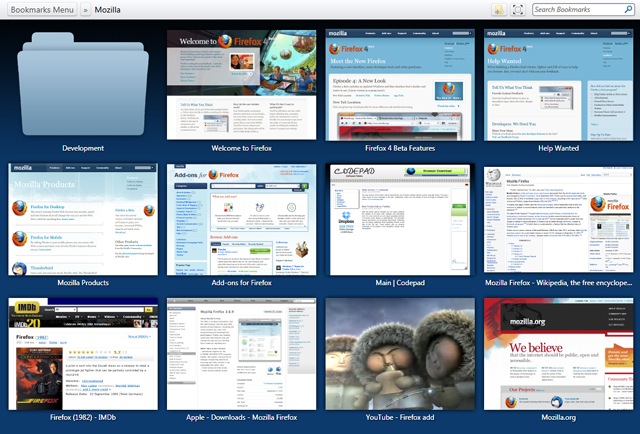 The primary purpose of Viewmarks is to visually organize your bookmarks. Since it's possible to make Viewmarks load instead of the default new tab page, we're including it in the list. Your bookmarks are represented as thumbnails, and there is a handy visual search feature that lets you look through your browsing history. You can assign tags to your bookmarks, give each bookmark a star-rating, and keep deleted bookmarks in the Trash folder for a quick restore if necessary. If you take bookmark management seriously, Viewmarks can make you happy.
Outstanding features: automatic thumbnail creation; quick navigation similar to a file manager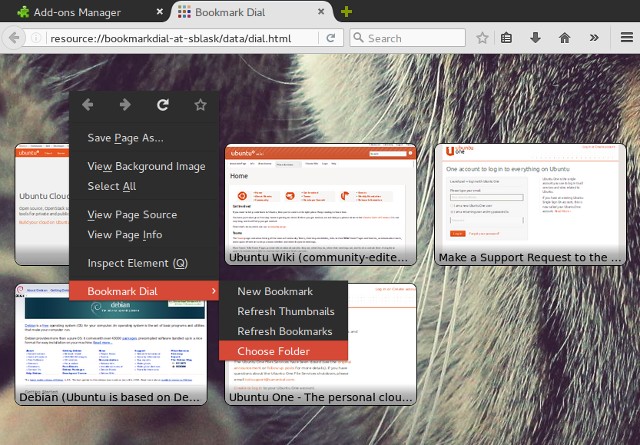 If you're one of those rare people whose browser bookmarks are perfectly organized, Bookmark Dial might be just right for you. Instead of adding links one by one, Bookmark Dial can populate the new tab page with a selected folder from your bookmarks. Thumbnails (images on the tiles) are also generated automatically, and you can rearrange them by simply drag-and-dropping them around. As with some other add-ons on this list, it's possible to further tweak Bookmark Dial with custom CSS.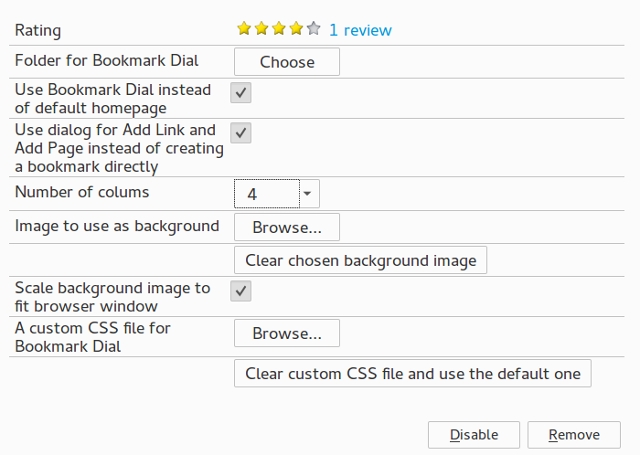 Outstanding features: option to manage bookmarks from the right-click menu; tiles can be resized manually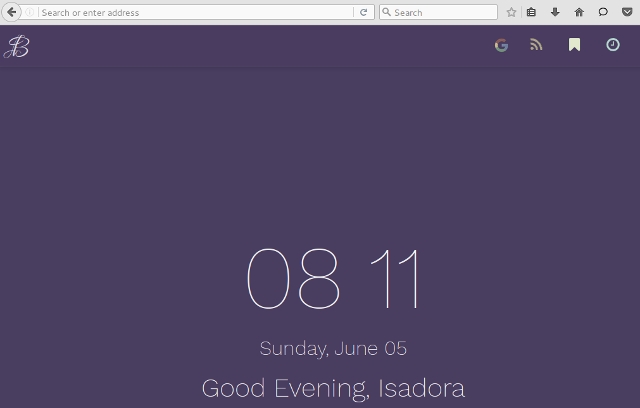 Blink looks plain and simple, initially showing only time and date. But what about those icons in the top right toolbar? You've guessed it – that's where you'll find the best part of Blink. Integration with the popular news aggregator service Feedly lets you see the latest content from your favorite blogs and websites right on the new tab page. All you have to do is select the desired sources or topics in the appropriate dialog. This makes Blink great for people who want to jump right into the news when they open Firefox.
Outstanding features: option to choose between latest, trending, or balanced news; neat, Pinterest-like interface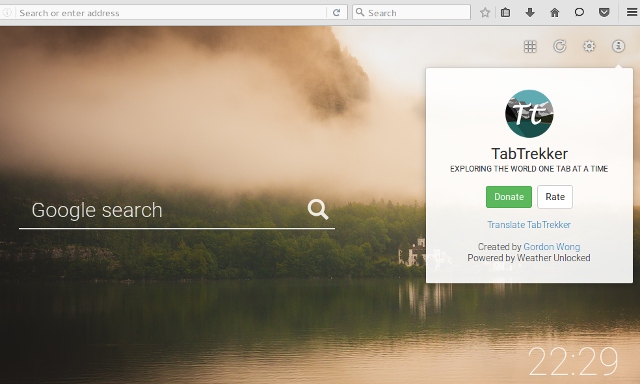 TabTrekker is often mentioned as the best alternative to Chrome's Momentum (which is, sadly, still unavailable for Firefox). If you're more concerned with the aesthetic features of your new tab page than with a bunch of bookmark-related options, try TabTrekker. It uses beautiful photographs from all around the world as the background, and rotates them automatically. Of course, this means that TabTrekker won't work properly without an Internet connection. If you want, it can also display the weather information, time, date, a search bar, and your most visited websites.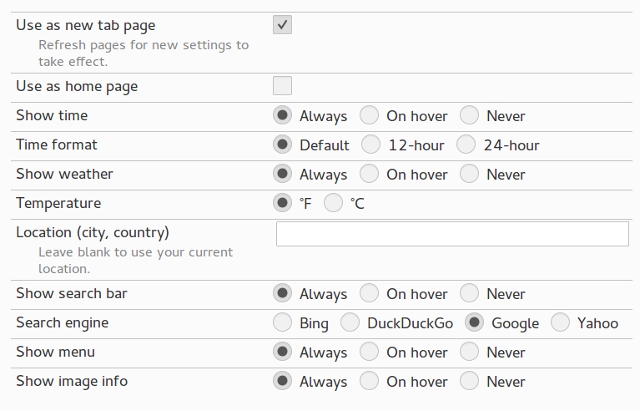 Outstanding features: attractive design; simple and straightforward settings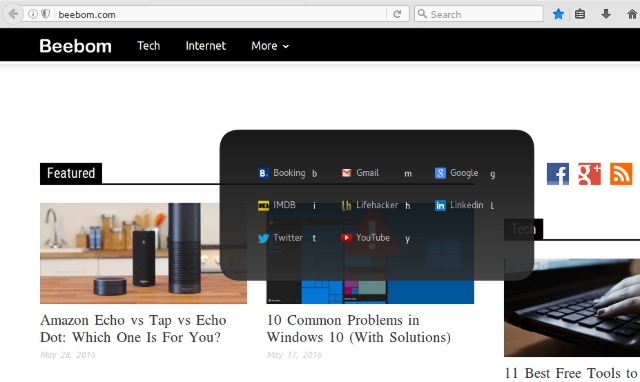 …and now for something completely different. SiteLauncher is not your typical new tab add-on; in fact, it doesn't actually modify the new tab page. However, the functionality it provides is very similar to other add-ons on this list. Instead of loading in a new tab, SiteLauncher shows up as an overlay on any website you're currently visiting when you press its keyboard shortcut (Ctrl+Space).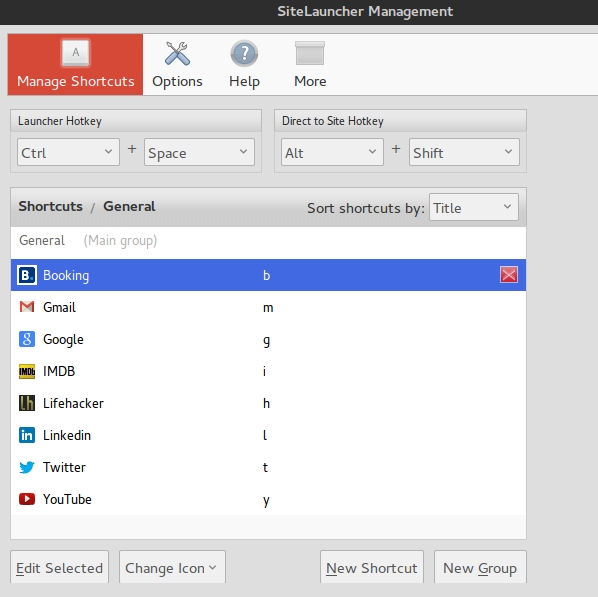 You can change the size, text, and colors of the overlay, add a bit of transparency if you wish, and create groups of links. The most important feature is that you can assign a letter to every website displayed in SiteLauncher, and open it by simply pressing the desired key – no need to click around with the mouse. SiteLauncher can replace your home page, and there are plenty more features in the Options dialog that make it worth checking out.
Outstanding features: quick to access; highly customizable appearance
Start.me is a godsend for people who prefer keeping their bookmarks in the cloud, accessible from any computer connected to the Internet. Naturally, this requires an account, which is free and which you can create with an email address, or log in with your social media credentials.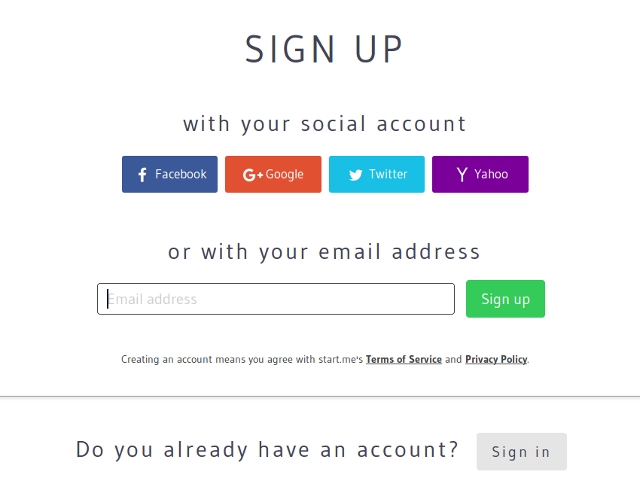 Start.me integrates well with Google Apps, and lets you add email, weather, and social networking widgets to your new tab page. You can import bookmarks and RSS feeds, and export everything, including your notes and to-do lists. Start.me can look as busy or as minimal as you want – use all the widgets, or just display your favorite bookmarks. It's a good kind of choice, isn't it?
Outstanding features: dozens of widgets to choose from; the search bar can crawl several search engines simultaneously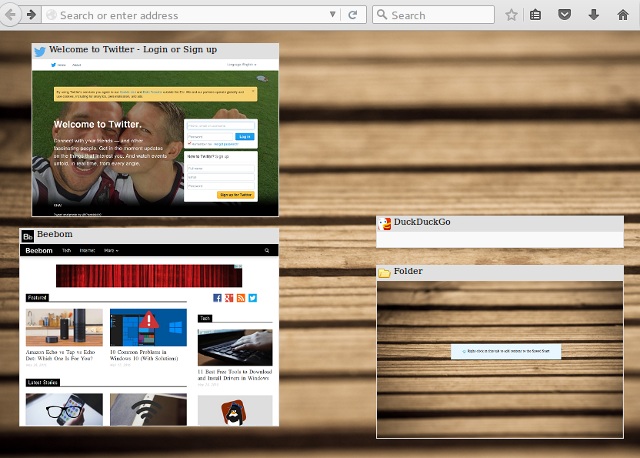 Speed Start sports a classic speed dial look, but with a twist: everything is customizable. You're free to rearrange and resize items on the new tab page, whether they're single links to websites or groups (folders) containing multiple links. There's no need to worry if something goes wrong, as Speed Start can backup and restore all your settings and bookmarks.
Search engines can be added to Speed Start as separate items, so you can display several at once. Of course, background image and colors can also be changed, and adding links to folders is as simple as drag-and-dropping them over the existing folders.
Outstanding features: support for mouse gestures to load links in a new tab; zooming and scaling for larger/smaller displays
Why settle for a blank new tab when you can use it to boost your productivity, remind yourself with notes and to-do lists, or sort your most important bookmarks? If the add-ons we've suggested so far don't suit you, take a look at two other popular choices: FVD Speed Dial and Fast Dial. The former is chock-full of features, while the latter is focused on doing one thing, but doing it right.
What's that – you don't want to install any add-ons at all, yet you still want a custom new tab page?
Very well. Consider visiting the /r/Startpages subreddit, where you can get inspired by other people's ideas, and in some cases, freely copy their code. Another fantastic resource for this purpose is deviantART, where people share HTML files for free – all you have to do is download them, then set them up to load as your new tab page in Firefox.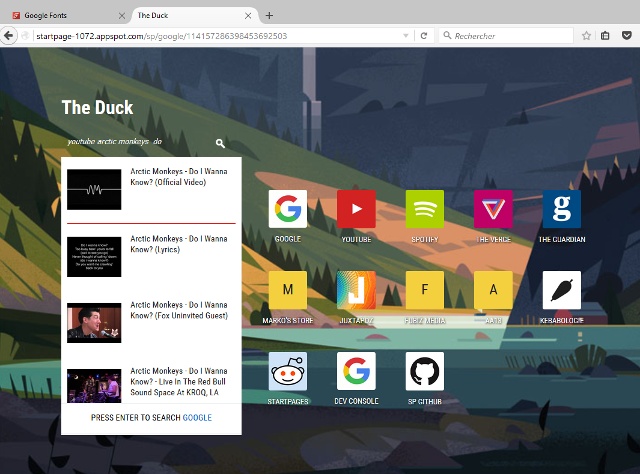 SEE ALSO: 8 Best Data Saving Android Browsers to Surf the Web Faster
Do you know of any other cool add-ons for new tab customization? How do you make sure your new tab page doesn't look boring? Share your tips and recommendations in the comments below.
Featured Image Courtesy: Flickr
---
Load More