There are a number of great browsers available for Android that let users surf the web but only a few of them bring data compression. You might be wondering why data saving Android browsers are needed in a time of high-speed internet. Well, there are a number of reasons for that. Firstly, your mobile data bandwidth can get used up quickly, especially if you love browsing on your Android smartphone and thus, if you have a good data compressing browser, you might save a lot of data for further usage. Then there's also the issue of inconsistent internet speeds when we travel to remote places. With data compression technology, the browsers can bring you content a lot faster, even when your internet connection is unstable.
Not everything is great though, the websites aren't as interactive with data compression involved and some websites aren't rendered correctly. In our usage though, we only found only a handful of web pages that aren't rendered well or that face problems with data compression technology.
Among the plethora of browsers available on Google Play Store, there are some good data saving browsers available. We tested all the browsers for you and found the best data saving Android browsers:
Best Android Browsers to save data and open websites quickly
1. Opera Mini
Opera Mini has always been the go-to browser when it comes to data compression & speed and it still remains so. Opera Mini browser aims at users who have limited bandwidth and an inconsistent internet connection. The browser lets you choose between two data compression modes: "High" and "Extreme". It also lets you know the exact data savings the browsers have made. The browser also lets you change various settings that would save you tons of data like quality of images, text wrap, protocol and more. Along with data saving, the browser also loads pages a lot quicker than what you are used to on other browsers. It is also no slouch when it comes to other features like download manager, private browsing, interface customizations, device sync etc. The popular browser is available for free on the Play Store. Chances are you already have it installed but if you haven't, you should!
Install: (Free)
Compatibility: Varies with device.
2. UC Browser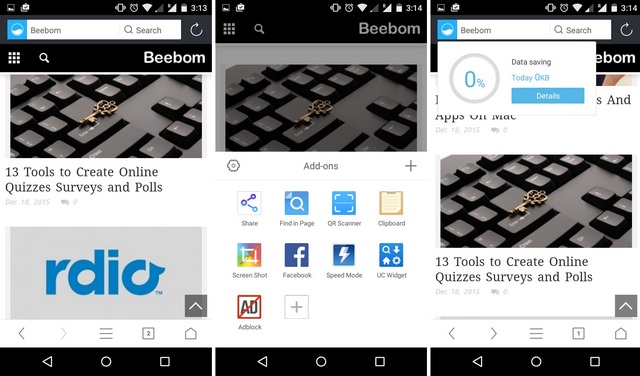 UC Browser is another popular browser, which has a pretty great data compression technology along with a great download manager. The browser has a "Fast" mode, which compresses the webpage and saves you a lot of data. As the name suggests, the Fast mode also lets you browse through websites swiftly. The browser also preloads pages it thinks you are going to open next. You can also alter settings like image quality to save data. It also supports add-ons or extensions to block ads, which can be used to save up even more data. As we mentioned above, the browser has been known for its data savings and smart downloading feature, which makes sure your downloads are fast and stable. Add to that, there are features like Facebook notifications, video streaming, night mode and a great fluid interface. The much loved browser is available for free on the Play Store, so grab it if you haven't already.
Install: (Free)
Compatibility: Android 2.3 and up.
3. Google Chrome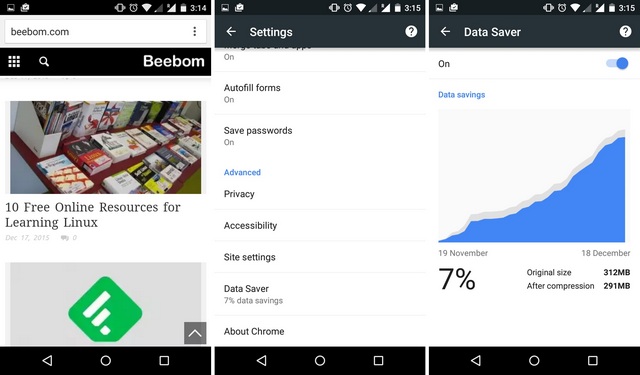 Android's default browser, Google Chrome has a lot of tricks and one of them is the data compression feature, which comes in pretty handy. In Settings, you will find a "Data Saver" feature, which when turned ON compresses webpages to save you lots of data. Chrome uses Google servers to compress webpages you visit before they open. You can also turn off prefetch page resources in Privacy settings of Chrome to save data. While it's a simple feature, it is handy, considering Chrome makes sure websites that are interactive remain that way. Along with the data saving features, we all know Chrome is a pretty capable browser with features like sync across devices, voice search, translate pages, intuitive gestures and more. As is the case with every other Google service, Chrome is available for free on the Play Store. It's mostly pre-installed on Android smartphones but download it in case you don't have it.
Install: (Free)
Compatibility: Varies with device.
4. Yandex Browser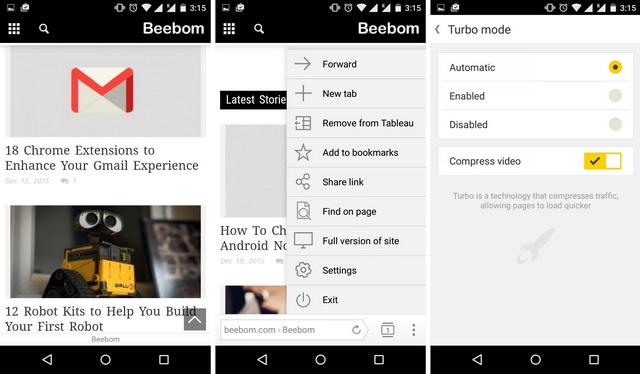 Yandex is another cool data saving browser that brings intuitive browsing along with other cool features. The browser brings a Turbo mode, which compresses traffic while opening webpages to save you data and load pages quicker. You can set the Turbo mode to automatic or enable/disable it. When set to automatic, Yandex browser automatically compresses elements in a webpage, which don't hinder the experience. Moreover, the Turbo mode also compresses videos in pages. You will surely feel the speed while browsing the web on Yandex browser, thanks to the Turbo mode. Along with the data saving mode, Yandex browser brings a clean & intuitive UI, data sync, an active security system to protect your privacy on public WiFi networks and more. You can download Yandex browser on Android for free.
Install: (Free)
Compatibility: Varies with device.
5. Apus Browser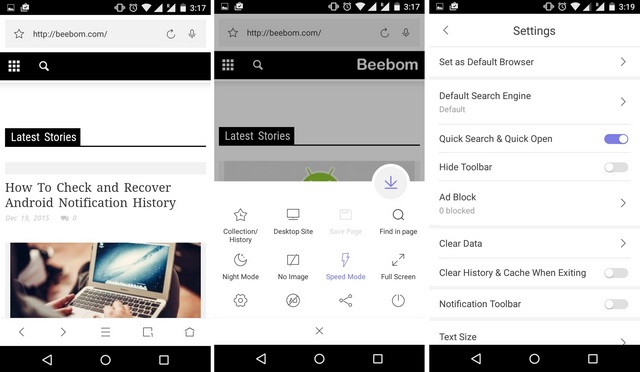 Apus Browser is another highly rated lightweight browser, which brings a number of data saving features. The browser features a "No-image" mode, which disable videos and images to save you tons of bandwidth and load pages way quicker. There's also a "Speed" mode in the browser, which loads webpages quicker through data compression and lowering image quality. The developers behind Apus browser claim that Speed mode lets you browse swiftly even on a 2G network. There's also a feature to block ads, which should save some more of your data. Along with these bandwidth saving features, there's also a Game mode, which automatically switches the page to full-screen to make HTML5 games more fun. Other unique features of the browser includes support for 7 search engines, gesture controls for tabs, night mode, voice search and more. Apus Browser is available for free on the Google Play Store, so check it out!
Install: (Free)
Compatibility: Android 4.0.3 and up.
6. Dolphin Browser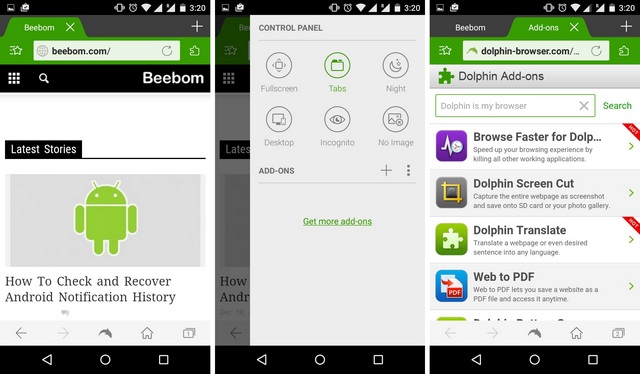 Dolphin is one of the most downloaded browsers on Android and it deserves every bit of that attention. The browser does not specifically say anything about data compression but there are features that do let you save data. Firstly, there's a no-image browsing mode, which saves you a lot of data. There's other data saving features like auto-fit, disable javascript and more. The browser also supports add-ons and there are numerous add-ons for adblocker, browsing faster, which compresses data to load up pages quickly. There's also an add-on dubbed Dolphin Reader, which removes all of the ads & clutter and presents only text to give you a great reading experience. Other than that, Dolphin is a much loved browser and that's due to unique features like Sonar, Web App Store, themes, intuitive gestures, sync across devices, fast download etc. The highly rated browser is available for free on the Play Store and there's no catch to that, so go grab it!
Install: (Free)
Compatibility: Varies with device.
7. KK browser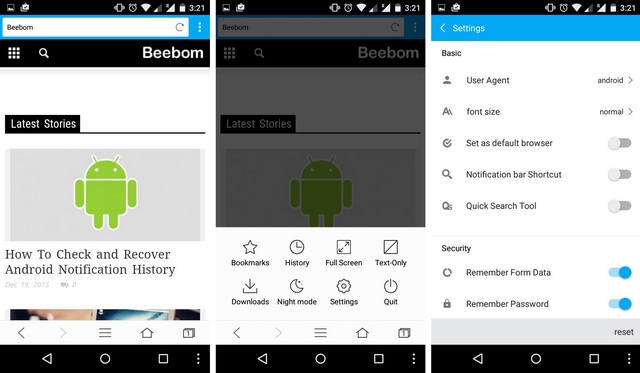 KK Browser is a lightweight browser aimed at people looking for a speedy browsing experience. The browser also brings a few handy data saving features. It claims to save you 60% data with its no-image mode. It also compresses webpages to load it up faster for you, which is appreciable if you have a slow connection or limited bandwidth. The browser is also great for people who don't have a device with large internal storage, considering it takes around 1 MB of your space. Other features of the browser includes smart websites recommendation, Night mode, customizations and more.
Install: (Free)
Compatibility: Android 2.3.3 and up.
8. Flynx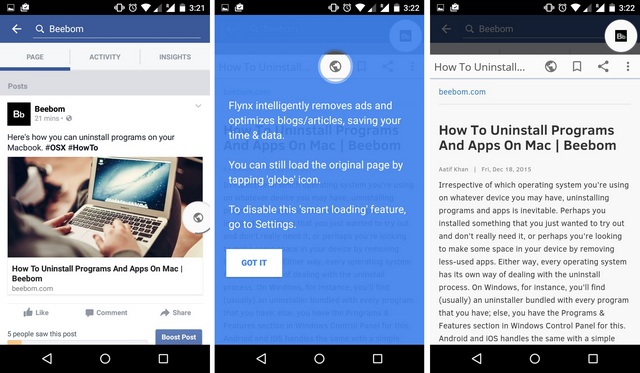 Flynx is not your typical web browser but it's good at what it does. Flynx lets you open articles and links in the background while you keep doing what you were doing. If you are browsing through your Facebook, Twitter or Google app, you can choose to open links in Flynx and it will load it up under a pop-up (Facebook Messenger like Chat-head), which you can open to read the articles whenever you want. It strips webpages of all ads, distractions and other clutters to give you a great reading experience along with saving you data. It saves your bandwidth and also makes you multitask with ease. It's also speedy and lets you share articles or save it for offline usage. Flynx is great if you read a lot of articles and you want to read them in a clean interface whilst also saving data.
Install: (Free)
Compatibility: Android 3.0 and up.
SEE ALSO: 8 Tips To Save Mobile Data On Android
If you have an inconsistent internet connection or looking to save some of your bandwidth, then these data saving browsers are your best bet. So, try them out and do share your experience with these apps in comments section.