With Instagram boasting thrice the daily active users as Snapchat, the company is continually updating the lucrative Stories feature to stay ahead of its biggest rival, and keep users engaged. Ironically, Instagram, which was losing users to Snapchat, copied Stories from its rival to make it a huge growth area for itself. And now Stories is the primary interaction point for many Instagram users. So it makes sense to make it all the more easier to share more.
Now it's letting anyone post multiple images or videos to Stories to give this feature a massive push.
With today's announcement, you will now be able to upload multiple photos and videos to your Story at once. Earlier you could only upload one at a time, which meant it could become tiresome to post multiple media, which did friction to the process.
When you select the option to upload content from your gallery now, you'll see a new 'select multiple' icon on the top right. Tap this button, select up to 10 photos or videos, preview them, edit each individually and hit 'Next' to add them to your Story. The photos and videos will be uploaded in the same order as you selected them from the gallery.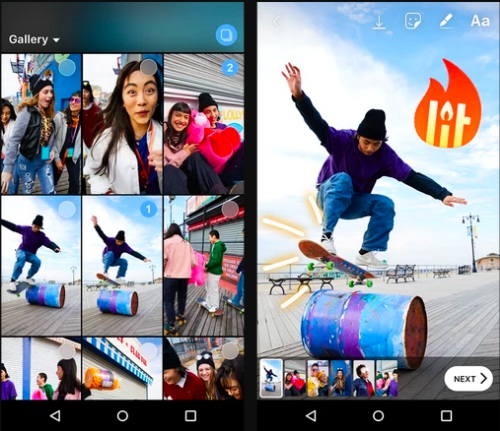 Instagram is also making it easier to add 'location tags' to your Stories. It will now auto-suggest relevant locations based on where the photo or video was captured, so you won't have to do the chore of searching for it each time you try to add the location sticker. This is a small change but again removes some friction for regular users.
The new features have been rolled out with an update, which is available on Android and coming to iOS in the next few weeks.