As a social-networking platform, Snapchat never fails to excite you. Be it the eye-catching lenses, fun-loving filters, or the trending stories, there are a ton of cool Snapchat tricks to keep you engrossed for more. Should you wish to further amp up the fun game, Snapchat drawings would be worth having a go. Whether you are yet to draw on Snapchat or looking for some cool ideas to enhance your drawing skill, check out these 10 best Snapchat drawings and also learn how to draw them. 
Best Drawings on Snapchat You Can Try in 2022 
When it comes to drawing, what makes the real difference is – precise control. And that's exactly where a digital pen like the famed "Apple Pencil" comes into play. But what if you do not have a stylus? Bother not, you are born with a decent pointing device "Your finger" to help you create awesome Snapchat drawings. Since there is no strict rule, you have got the complete freedom to use different colors, emojis, and even stickers to adorn your drawings to your liking.
How to Draw in Snapchat on iPhone and iPad
First off, let's learn how to draw on Snapchat so that you will have a better understanding of the tools used in our drawings.
1. To get started, open Snapchat on your device and hit the camera switcher to switch between the rear and front camera as per your needs.
2. After that, either take a snap (works with both photo and video) or hit the tiny "Snap" icon -> Choose Camera Roll and then select the image where you want to draw.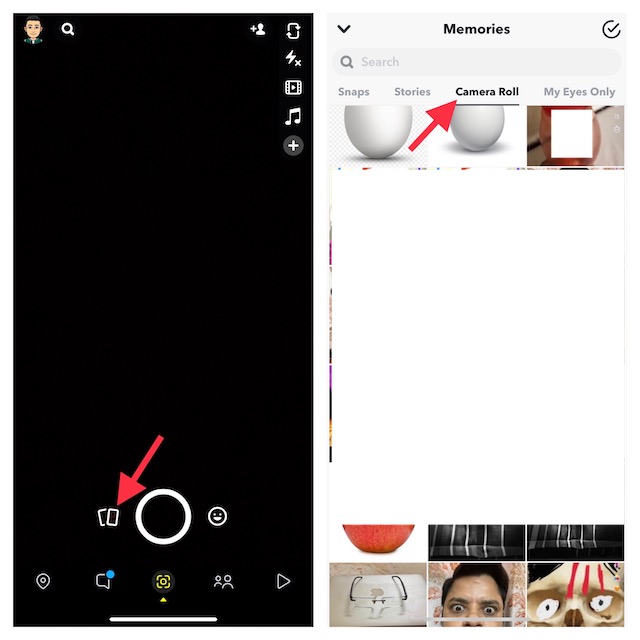 2. Now, tap on the three-dot icon at the top-right corner of the screen and choose Edit Photo in the menu.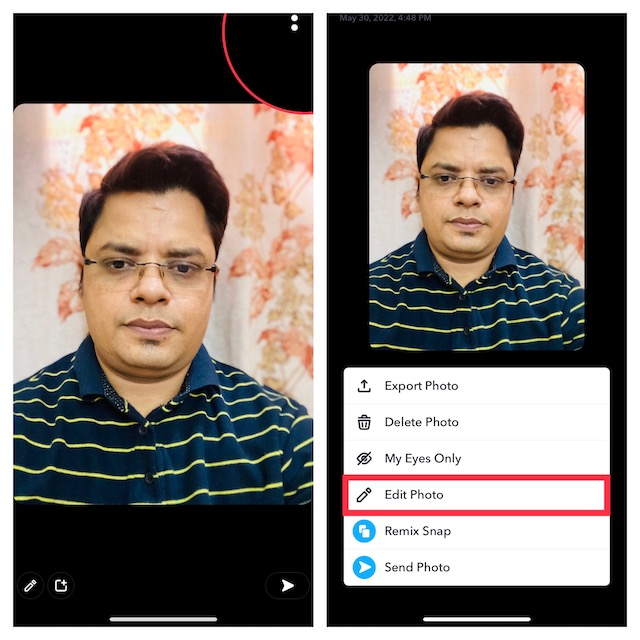 3. Next, tap on the "Pencil" icon at the upper-right corner of the screen. Then, tap on the color palette and choose the desired color using the slider.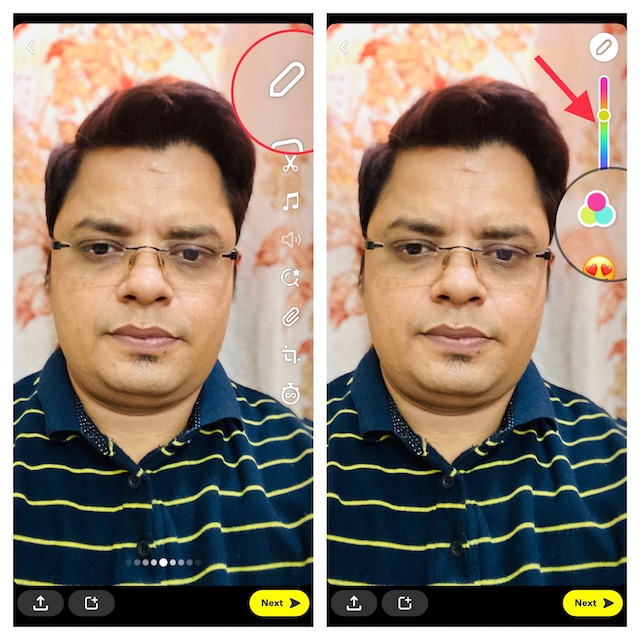 4. It's worth noting that you can also use emojis to deck up your drawing. What's more, by pinching your forefinger and thumb together, you can expand/shrink the size of the emoji and pencil as well.
5. If you go wrong or just want to undo any action, tap on the backward arrow located at the top-right corner of the screen. When you are happy with your drawing, hit the save button (Upward-facing arrow) to save your snap. And if you want to share your snap, hit the next button and share it as usual.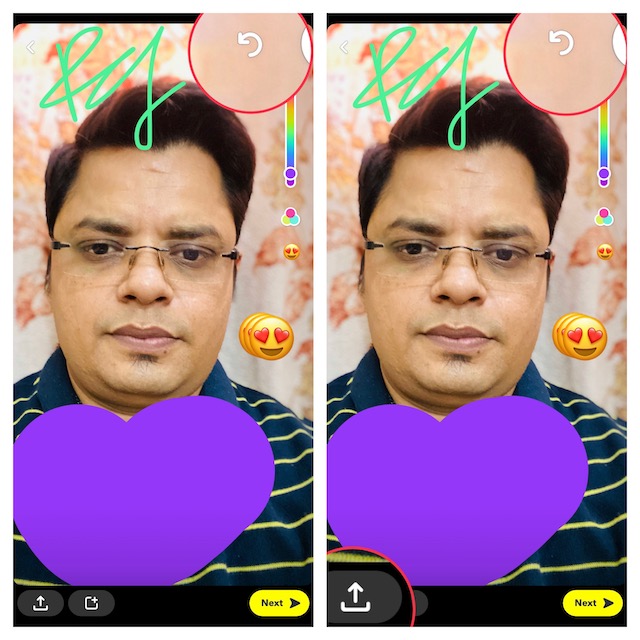 Best Snapchat Drawings
Now that you know how to draw in the Snapchat app, take a look at some of my drawings.
1. Your Beloved Santa
When you think of creating an insanely crazy Snapchat drawing, how long can you keep the beloved Santa out? It's precisely what you should pick to kickstart your festive season with a boatload of fun. So long as you have got the big beard and mustache in sync, making this drawing is not a big deal. Though I have preferred to make the Santa look a bit younger, you can choose to make him younger and even more comical.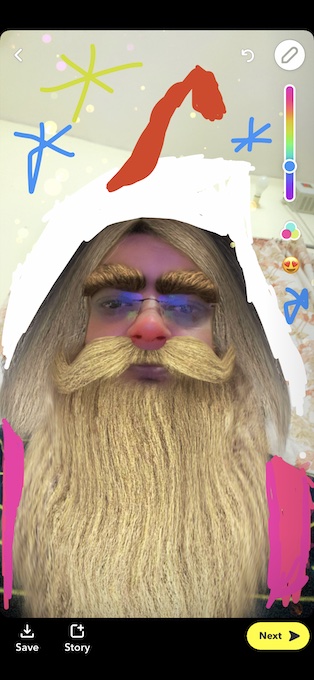 2. Halloween
What better way to send shivers down the spine of your friends than unleash a Halloween Snapchat drawing? If you are wondering how to draw it, let me tell you that it's pretty straightforward. Simply find a skull on the web or create one and bring it inside Snapchat. Once that's done, hit the "Pencil" button at the top-right. After that, bring all your scary imagination into play to create a dreading avatar.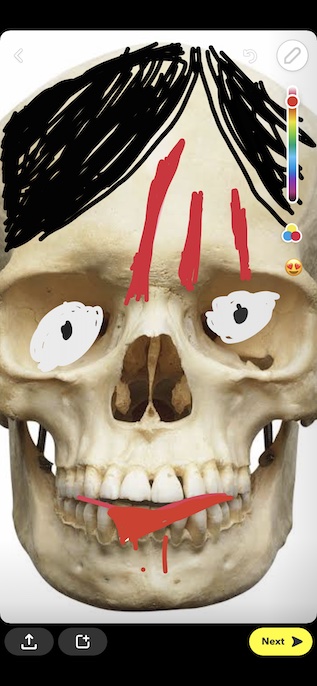 3. An Apple a Day…
If you have heard of the idiom, "An Apple a day, keeps the doctor away", this Snapchat drawing might have reminded you of that. Apart from bringing plenty of laughter, it could also remind your friends to embrace a healthy life.
Crafting this Snapchat drawing is quite easy. Just bring up a fresh apple and then give it the desired look using the available color palette. If anything, I would recommend you go lightweight, especially with your drawing. Make sure to keep everything as neat as possible.
4. AirPods
Whether you hate the classic AirPods or love them, you can't ignore the fact that they are by far the most popular true wireless earphones. Inspired by Star Wars' iconic Stormtropper, the one-size-fits-all design is still able to grab attention with ease. Talking about my AirPods drawing, it's very minimal. You can either go from scratch or bring up AirPods and give them a preferred look using the native pencil. For a striking similarity, make sure to pick the black and white colors.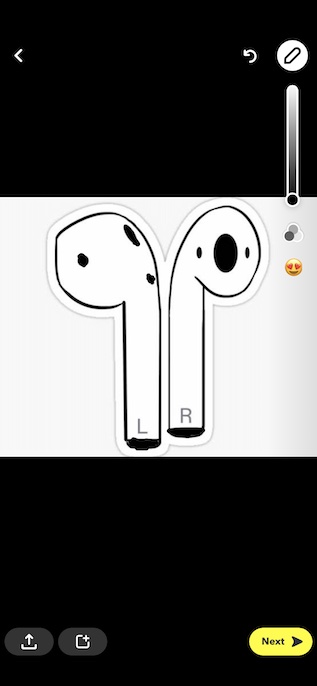 To make a classic AirPods drawing, you do not need to be a pro. A complete white background along with black and white colors are all you need to draw AirPods. If you have a digital pen, you can come up with an impressive drawing. However, you can also trust your finger to stand you in good stead provided go with it patiently.
5. Waterman
Unless you are living under a rock, you have heard of Spider-Man, Iron Man, and Superman. But have you ever heard of "Waterman", by any chance? If not, it would be great to bring this supernatural character into play as well. To make the drawing more familiar, I've gone with a water bottle and used a little boy as the protagonist. But you can go with your own imagination.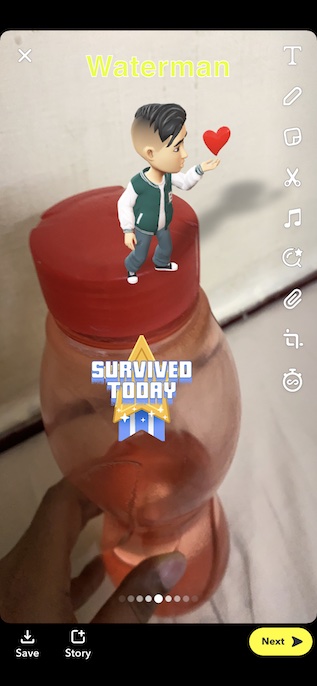 6. Pizza Party
Just a glance at a hot and spicy pizza and you feel like giving the slice a big bite. Well, this Snapchat drawing takes inspiration from this very yummy-licious feeling. Again, there is no hard rule to make this drawing. However, I would suggest you give a bit more focus on the hunger-driven eyes.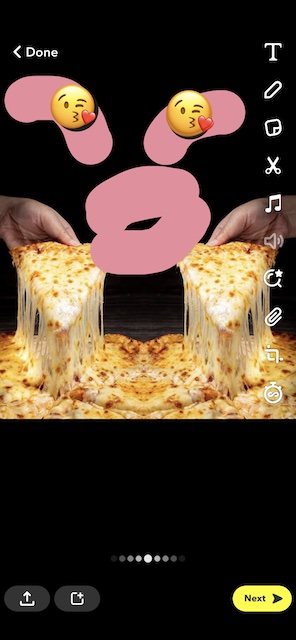 7. The Hipster
The hipster drawing is what you need to break the ice. Even though it's dead simple, it never fails to tickle the funny bones. And that's probably why I prefer to go for it time and time again. Once you have snapped a photo sporting beard and a matching hat, just give a hip-hop touch to your attire and you are done.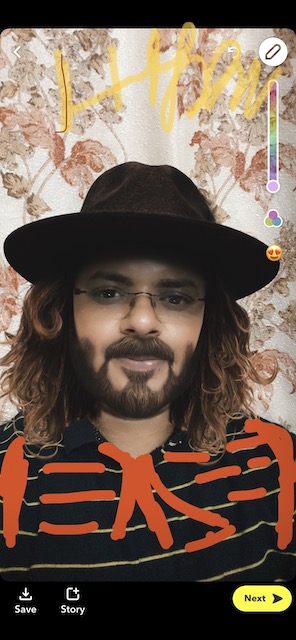 To get started, launch Snapchat -> swipe over to find the hipster lens, and then take a snap as usual. After that, hit the pencil button and then fine-tune the hair, hat, and beard so that they all look perfectly aligned. Oh yes, do not forget to give your shirt a hip-hop look so that it can stand out as well.
8. I'm Done…
When you get completely exhausted after a hard day of work, you want to shut your laptop for good and put your glasses to rest. And if you had an altercation with someone, bringing curtail to the day feels ever so soothing. For this drawing, I turned the MacBook and glasses into a human and let them rest on a pillow. And instead of a funny face, I have gone with a tired one intentionally.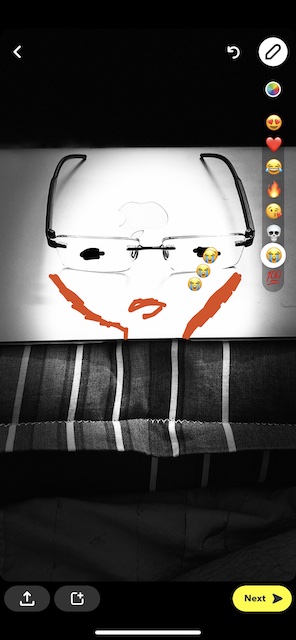 9. Egg Me Not
There is no dearth of people who keep on egging you to do something foolish or even risky. This edgy drawing points to this very embarrassing situation where you are being pushed to take a wrong turn. To make this drawing, snap or draw an egg and then give it a human shape (just a bit). Be sure to show irritation to make embarrassment palpable.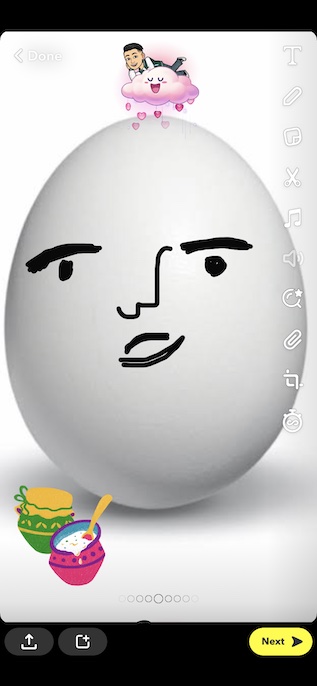 10. Little Teapot
I bet this one could easily appeal to the folks who are fond of tea. Even if you aren't a great fan of it, you would appreciate this simple yet nice-looking Snapchat drawing. Though creating a teapot drawing is easy, you should use a digital pen to draw with better control. While I have preferred the black and white colors, you can choose any color depending on your theme.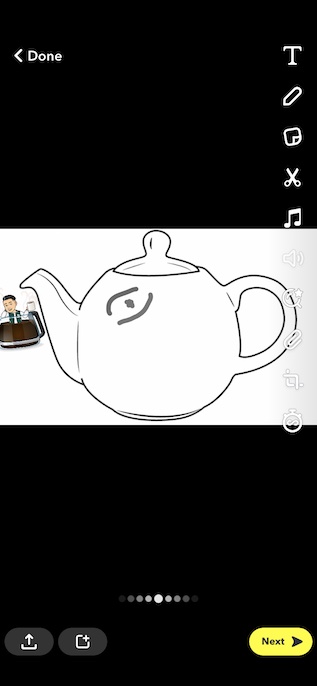 Bonus: The He-Man
Creating "The He-Man" Snapchat drawing does not require you to go deep. As you may have already guessed, it's all about adding a robust mustache to your face. And if you want to take it even further, you can also bring in a matching beard to give the face a masculine look.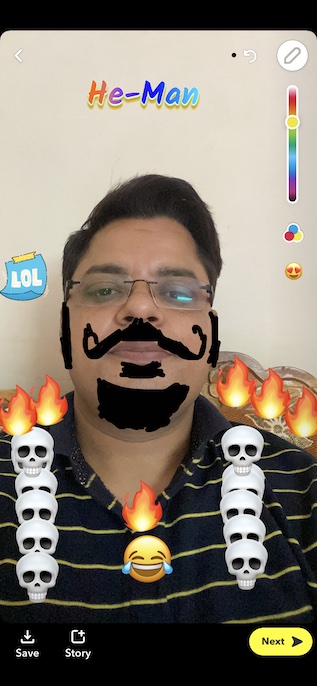 Share Your Favourite Snapchat Drawings with Friends
There you go! So, yeah, these are some of the most hilarious and fun Snapchat drawings. Remember, it's not about being downright perfect nor about winning the race to be the most sought-after snapper. It's just about giving the little pencil full freedom to help you draw something that looks funny and unique. So, even if your drawing does not look perfect, there is no shame in sharing it with your friends and loved ones. If you go by this very principle, chances are you will come up with some awesome drawings more often than not.