After two years, Samsung Semiconductor finally announced the latest UFS 4.0 flash storage solution for smartphones and other electronic devices. Samsung claims that UFS 4.0 storage delivers double the speed of UFS 3.1, its predecessor, while keeping the power consumption in check. To learn more, in this article, we have compiled all the information related to UFS 4.0 and how it compares against its past flash storage standards. We have also shared details about the new SD Express card in case you want to learn more about its specifications and speed. Anyway, let's go ahead and find out what is UFS 4.0 and how fast storage can be utilized in the 5G era.
UFS 4.0 Storage Standard Explained (2022)
In this UFS 4.0 explainer, we have detailed what is UFS 4.0 and compared its speed with UFS 3.1 and past UFS standards. You can expand the table below and move to any section you want.
What is UFS 4.0?
UFS 4.0 is the latest UFS (Universal Flash Storage) standard defined by JEDEC, the umbrella organization that looks over the development of UFS and other microelectronics standards. In January 2020, JEDEC released the UFS 3.1 specs, and the new UFS 4.0 standard has come up after over two years. It promises double the speeds of the previous UFS 3.1 standard.
Samsung Semiconductor has implemented the UFS 4.0 standard with its proprietary controller and 7th-generation V-NAND technology to bring the UFS 4.0 storage solution to the masses. It has also deployed MIPI's M-PHY v5.0 physical layer specification and the upcoming UniPro v2.0 transport layer specification.
Samsung claims the new-gen UFS 4.0 storage has a maximum bandwidth of up to 23.3Gbps per lane, which is double the UFS 3.1's speed. And since UFS comes with a full-duplex interface (in comparison to eMMC), it can simultaneously read and write, offering dual-lane data transmission.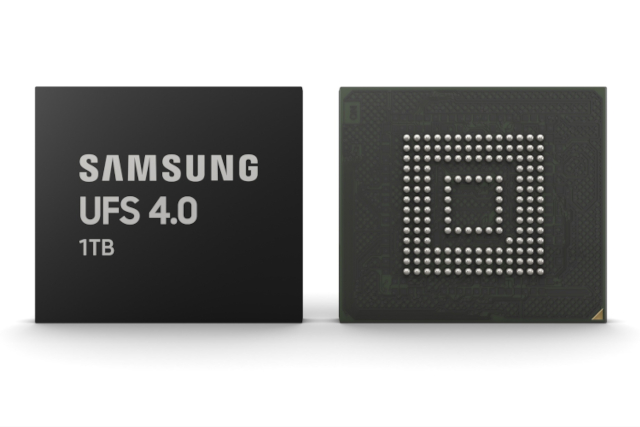 UFS 4.0 can deliver a sequential read speed of 4200MBps and a sequential write speed of 2800MBps. For your reference, UFS 3.1 is capable of driving the sequential read speed up to 2100MBps and sequential write speed up to 1200MBps. That's more than double the speed of UFS 3.1, which is amazing.
That's not all, though. Power efficiency is one area where Samsung has improved the UFS storage standard by a lot. The UFS 4.0 standard consumes 46% less power than UFS 3.1, while offering 2x performance. That means you will have much faster storage on your next flagship smartphone without depleting the battery life. Effectively, for every mA, it can deliver a sequential read speed of 6.0MBps.
In terms of dimension, Samsung has kept the size compact, keeping design convenience in mind for smartphones and other electronics. UFS 4.0 storage, developed by Samsung, has a maximum dimension of 11 mm length, 13mm width, and 1mm height. Samsung has also said that the 4.0 standard will have a capacity of up to 1TB (UFS 3.1 only supported up to 512GB), which is more than enough for portable devices.
Speed Comparison: UFS 4.0 vs UFS 3.1 vs UFS 3.0 vs UFS 2.2
Here is the speed comparison between UFS 4.0, UFS 3.1, UFS 3.0, and UFS 2.2. As you can notice from the table below, UFS 4.0 is indeed a monumental upgrade over the UFS 3.1
| | UFS 4.0 | UFS 3.1 | UFS 3.0 | UFS 2.2 |
| --- | --- | --- | --- | --- |
| Sequential Read Speed | 4200MBps | 2100MBps | 2100MBps | 1000MBps |
| Sequential Write Speed | 2800MBps | 1200MBps | 410MBps | 260MBps |
| Random Read | Not known yet | 100,000 IOPS | 63,000 IOPS | 58,000 IOPS |
| Random Write | Not known yet | 70,000 IOPS | 68,000 IOPS | 50,000 IOPS |
What Phones Will Come With UFS 4.0s Storage?
Currently, none of the smartphone makers have announced smartphones with UFS 4.0. However, Samsung Semiconductor has announced that UFS 4.0 mass production will start in the third quarter of 2022. It basically means that upcoming Samsung flagship phones, beginning with the Galaxy S23 series, will be the first to include the latest UFS 4.0 flash storage in Q1 of 2023.
Following that, we expect flagship smartphones from OnePlus, Xiaomi, Oppo, Google, and other phone makers to also come with UFS 4.0 storage in 2023. As for iPhones, Apple uses NVMe storage in place of UFS due to better write speeds than UFS.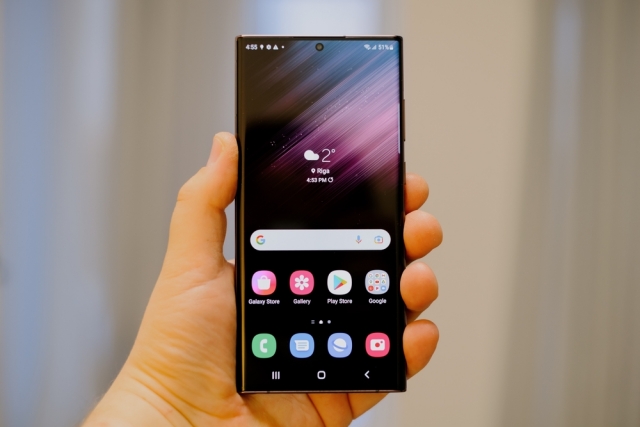 Are You Excited About UFS 4.0? Let Us Know!
So that is everything we know about the upcoming UFS 4.0 flash storage standard developed by Samsung. In the Android world, almost all smartphone makers use Samsung's high-end flash storage, and the upcoming UFS 4.0 flash storage will make things even more exciting. As chipsets are getting more powerful and we are heading into this 5G-led ecosystem, it's important to have a faster and more efficient storage solution. And well, UFS 4.0 seems to be making entry at the right time. Anyway, that is all from us. If you want to see how Samsung's latest Exynos 2200 chipset compares against the Snapdragon 8 Gen 1, follow our linked article. And if you have any questions, let us know in the comments section below.