Earlier this year, NVIDIA formally announced a new service that the company has been working on, for several years now. It's called GeForce Now and it's capable of totally changing the way how we play the latest games. Well, this is not the same GeForce Now that you've seen on the company's SHIELD devices so far. This new service is in the beta stage and currently available only in the United States and Canada. NVIDIA randomly selects the users who registered for the early access and mails them an activation code, in order to try out the GeForce Now Beta. For PC users, the beta access have been available since February, but the service was made available for Mac users just recently. So, before you get all hyped up and head over to their website, in order to sign up for the beta access, let me explain what NVIDIA GeForce Now is:
What is NVIDIA GeForce Now?
GeForce Now is a cloud-based gaming service offered by the highly reputed GPU manufacturer, NVIDIA. Consider it to be a Virtual Private Server (VPS) for all the gamers out there. Once you subscribe to GeForce Now, you're given your own virtual PC in the cloud. These cloud computers are powered by the latest NVIDIA GeForce GTX graphics cards, so there are absolutely no questions regarding their performance. You'll be able to download your own personal game library from digital distribution services like Steam or Origin, and start playing right away, by remotely accessing your virtual computer from any modern machine that runs Windows or Mac. All in all, you get access to a high-end computer on a subscription basis, so that you don't have to spend thousands of dollars in sourcing the required components and building one for yourself.

NVIDIA GeForce Now – The Hardware
Let's talk about the interesting hardware that powers these high-end cloud computers. Well, NVIDIA offers two hardware configurations that are priced accordingly, so you can choose depending on the performance you need. If you're looking for a system that can handle most of the games at 1080p/60 fps with minor frame drops, the GeForce GTX 1060-powered virtual PC will be good enough for you. However, if you don't want to sacrifice on any kind of performance and want the absolute best when it comes to graphical fidelity and frame rate, NVIDIA's GeForce GTX 1080-powered cloud computer is the one you should be going for, as it's capable of running every single game at 1080p while maintaining a stable 60 fps frame rate. Both of these configurations are powered by Intel Core i7 processors and are liquid cooled for optimal thermal performance during intense gaming sessions.
System & Internet Requirements
The best part of GeForce Now is that it doesn't require any powerful hardware, as the cloud computer does all the heavy lifting. Any modern computer running a recent version Windows or macOS, will easily be able to handle GeForce Now. However, what you'll always need for GeForce Now to work, is a high-speed internet connection. That's right, you'll require a bare minimum of 25 Mbps download speed to stream video from the cloud computer to your system. NVIDIA recommends a download speed of 50 Mbps for streaming at 1080p/60 fps, without any issues. Consumers will need to use a hardwired ethernet connection or a wireless router capable of transmitting 5 GHz signal, for optimal streaming performance, as the widely used 2.4 GHz band just does not make the cut.
Who Needs NVIDIA GeForce Now?
This service is well suited for people who can't afford to spend thousands of dollars on a high-end gaming machine and also the people who use MacBooks or iMacs as their daily driver, as these machines mostly don't have enough graphical horsepower to play all the games at the highest visual fidelity. Lastly, if you're on the move, it's pretty likely that you're away from your gaming rig. In such a scenario, you can subscribe to this service temporarily and play all those games on your ultrabook, as if you never left home.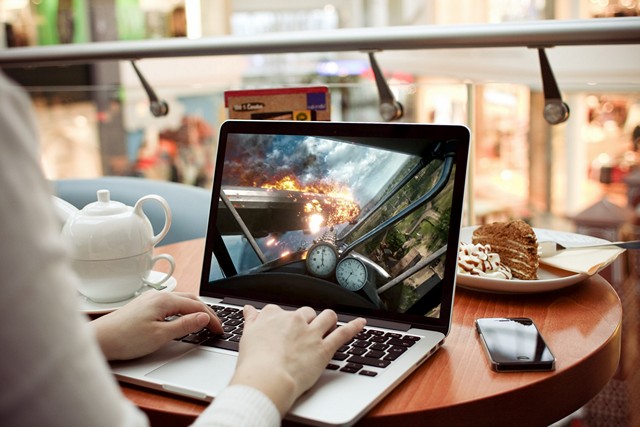 Pricing and Availability
The GeForce Now cloud gaming service is currently in the beta stage for Mac users, and you can completely access this service for free as long as the beta is open. Earlier, PC users got a taste of the free beta as well, but it's no longer available.
Once NVIDIA officially releases GeForce Now to the public, you will be able to avail it on a pay-as-you-go basis. The GeForce GTX 1060 powered machine will be available at a price of $25 for 20 hours of game time and the higher end machine powered by GeForce GTX 1080 will be available at the same price for 10 hours of game time. As far as availability is concerned, the company has been mum on the final release date for the service, but it's hugely expected to be made available to the public by the end of 2017.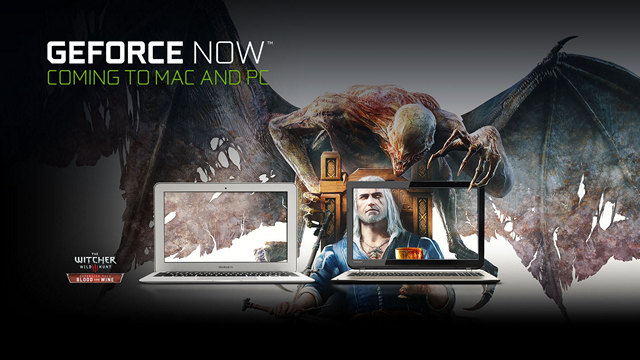 NVIDIA GeForce Now vs LiquidSky
Before NVIDIA GeForce Now was officially announced, there was already a popular cloud based gaming service that received over 1 million beta sign ups, called LiquidSky. Now, the company has officially made it available to the public and we're tempted to pit this service against NVIDIA's service.
You will be able to avail one of the two plans that LiquidSky has to offer with the company's own SkyCredits currency. These SkyCredits can be either earned for free or purchased on a pay-as-you-go or monthly basis depending on your requirements. The pay-as-you-go option starts at $4.99 and the monthly option starts at $9.99/month, which gets you over 2400 SkyCredits. What excites us the most is the free option, that lets you earn SkyCredits by engaging with the company's ad partners. Using these SkyCredits, you can avail either the Gamer or Pro plan priced at 60 and 120 SkyCredits/hour respectively. LiquidSky's Gamer plan provides the user with 2 GB of GPU VRAM, 8 GB of memory and 3 CPU Cores, whereas the Pro plan fetches you with 4 GB of GPU VRAM, 16 GB of memory and 6 CPU Cores. The company is not naming which processor or graphics card model they're using in their cloud machines, which is kind of disappointing.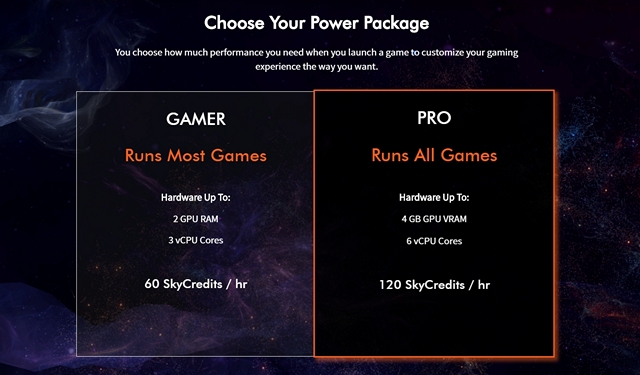 When you pit these specs against the GeForce Now service, you're getting much better performance by opting for NVIDIA, as their GTX 1060 and GTX 1080 graphics cards pack 6 GB and 8 GB GDDR5 VRAM respectively. Based on Pascal architecture, these cards are the best in their class, and there's no matching them in terms of performance. However, in terms of pricing, LiquidSky seems to be the winner, as you can get nearly 50 hours of game time, for the 25 bucks you're paying for, especially when you're opting for the Monthly SkyCredits plan. That's more than twice as much as what NVIDIA brings to the table. That being said, if performance is your top priority, go for the GeForce Now once it launches, as LiquidSky does not have ample horsepower to push 1080p/60 fps on all the latest games our there.
SEE ALSO: NVIDIA Volta: Everything You Need To Know
Hyped For NVIDIA GeForce Now?
If you're a person who's constantly on the move, but own an underpowered laptop like a MacBook that can barely run any games, you'll be happy to subscribe to a cloud based gaming service like NVIDIA GeForce Now, so that you don't have to sacrifice gaming for portability. However, if you already own a gaming laptop, we really don't think it's worth paying for this service, unless you're going to be away from your machine for a few days. If you're skeptical about paying $25 for a service that lasts just around 20 hours, you can register and try out the free beta that's currently available for the Mac users in the United States and Canada, before judging it beforehand. Well, are you interested in trying out GeForce Now? Do let us know what you guys think about NVIDIA's cloud based gaming service, by shooting your valuable opinions in the comments section down below.