Alongside the new iOS 15 and macOS 12 Monterey updates at WWDC 2021, Apple also announced a couple of updates for AirPods to make them more useful for users. One of the cool new AirPods features announced at WWDC 2021 is called Conversation Boost, and it makes it easier for AirPods users to hear people talking to them. Now, if you are interested in testing it out, well, here's what is Conversation Boost on AirPods and how to use it.
Conversation Boost on AirPods: Explained (2021)
In this article, we have not only explained what the new Conversation Boost feature is but also detailed how to enable it, compatible devices, and more. So, use the table below to move between the relevant sections.
What is Conversation Boost on AirPods?
So first up, what is Conversation Boost in AirPods? Now, you must know that the AirPods Pro support active noise cancellation, and there's a cool transparency mode that you can use to listen to sounds around you. If you are not aware of it, here's how to switch between ANC and transparency modes in AirPods Pro. It is also pretty good for being able to talk to other people while you are listening to music on your AirPods Pro.
However, for some people, especially those with hearing disabilities, it can be difficult to talk to others with AirPods Pro's transparency mode. Conversation Boost aims to solve that problem.
Basically, when you enable conversation boost on AirPods Pro, the AirPods will use their beam-forming microphones to focus on the person speaking in front of you and amplify their voice in your ears. This way, you can hear them properly even when you are wearing your AirPods Pro.
That's pretty cool, and it's definitely a helpful feature that I will be making use of a lot when we're back at the office after the lockdown.
How to Use Conversation Boost on AirPods
Now that you know what Conversation Boost does, let's take a look at how to enable it on AirPods Pro. Just follow the steps below:
With your AirPods Pro connected to your iPhone, open the Control Center. You can access the Control Center by swiping down from the top right corner of the screen. Here, long press on the volume slider to open AirPods Pro settings.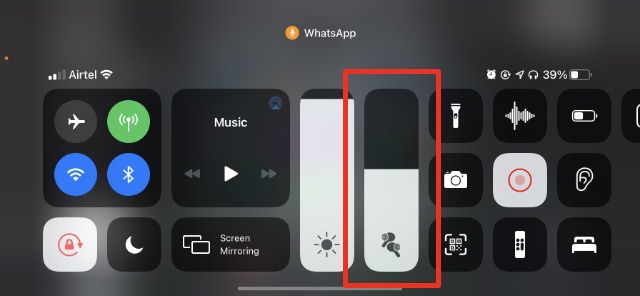 You can enable the "Conversation Boost" feature here with just a tap and adjust the ambient noise reduction with a slider.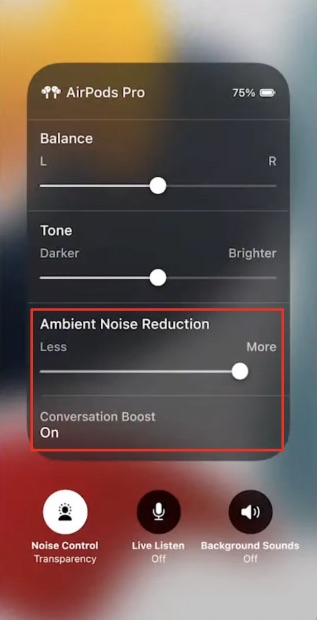 Once you turn Conversation Boost on, your Pro earbuds will focus on the person who's speaking in front of you, and you will be able to hear them better. Pretty cool, right?
Which AirPods are Compatible with Conversation Boost?
By now, you must be wondering which AirPods support this feature. If you have questions such as "can I use conversation boost with AirPods or AirPods Max?" Unfortunately, you can't. Apple has only rolled out this new feature for AirPods Pro.
That means the first-gen AirPods, second-gen AirPods, and AirPods Max can't use Conversation Boost. That's a little surprising because all the AirPods come with beam-forming mics, but Apple has chosen to allow only the Pro variant to use the conversation boost feature.
Listen to Others Easily with Conversation Boost
As you can probably tell by now, Conversation Boost is a helpful new AirPods feature that's available to users who update the iPhone to iOS 15. But Conversation Boost isn't all that's new in iOS 15. There are several useful features, such as making FaceTime calls between iPhone and Android, blur background in FaceTime calls in iOS 15, and a lot more. So what do you think about the AirPods Pro's Conversation Boost feature? Will you be using it? Let us know in the comments.