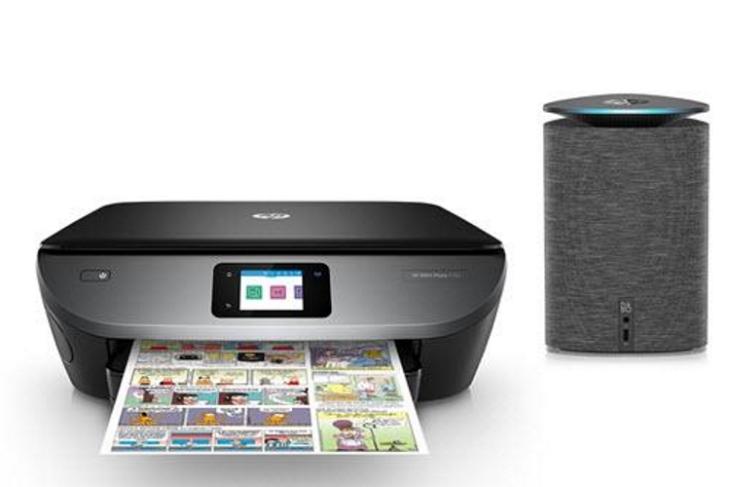 Voice assistants are on a rise, with Google Assistant and Amazon Alexa being integrated into every device and peripheral around us. CES 2018 saw these voice assistants being integrated into laptops, vehicles, fridges, smart displays, and what not!
While using a voice assistant is clearly fun and helpful in some ways, do we really need a voice assistant embedded everywhere? Well, it seems like HP certainly seems to think so. As reported by The Verge, HP has announced in an official blog post that the company is working on bringing voice assistant compatibility to its line of printers. According to the post, the printers will work with Alexa, Google Assistant, and Microsoft's Cortana.
HP further goes on to state that it envisions a future where these smart assistants will be embedded within the printer itself, eliminating the need for an additional speaker such as Amazon Echo or Google Home. You could then use your voice to add the printer to your network or ask it how much ink is left in it. HP also imagines a world where your voice assistant knows so much about your life that it will proactively print boarding passes for your flight just before it's time to leave for the airport.
As of now, there is no word when these smart assistant compatible speakers are supposed to enter the market.
Beebom's Take
Now while all this does sound possible, considering the fact that we've seen products such as showers and smartwatches come with Alexa, it still begs us to think whether we really need the integration of smart assistants everywhere? The only place printers are still relevant in today's world is in offices, and that is one place I certainly do not envision employees screaming at the printer to take out a print. As for home purposes, all the tasks that HP says one will be able to do using their voice commands can be easily carried out using your smartphone, without the need of a voice assistant.
Perhaps the inclusion of voice assistants is just HP's attempt to bring printers in line with the current trend of smart devices. However, I do not see a single practical use of this, and personally, I feel the voice assistant on the printer will be used even lesser than the number of times one uses a printer, which is nearly once or twice in a month.