Within just three months, Zoom has gone from 10 million daily active users to 200 million. Part of its success lies in its free plan where it offers video conferencing of up to 100 participants. Besides, Zoom does not require participants to create an account for joining a web meeting. It all adds up to seamless experience and users love the fact that Zoom works reliably well. So to tackle the rise of Zoom, Microsoft has brought its consumer app, Skype to the forefront. With a new feature called Meet Now on Skype, the company is offering lots of free goodies. So to understand this new feature better and how we can use Skype Meet Now for free video conferencing, let's go through the article point by point.
Set Up Skype Meet Now for Free Video Conference Calls
There are two ways you can create a web meeting on Skype: through a web browser or a native app. If you want to immediately host a meeting without creating a Skype account then opt for the web browser method. It just takes a few clicks and the participants can join the meeting through a web browser. Yes, no one needs to create a Skype account on the web version neither the host nor the participants. That's awesome, right?
However, if you want more features like background blur and real-time subtitles then pick the native app for your operating system. In this method, only the host will have to create an account and then one can start a video conference call. Further, participants don't need to create an account for joining calls.
Having said that, the best part about Skype Meet Now is — and it applies to both web and native apps– that there is no time limit on Group Calling unlike Zoom's 40-minute ceiling under the free tier if you have more than 3 participants. This is one of the most important additions to Skype and it's going to change the whole game for free users. So keeping all the points in mind, it seems Skype's new offering is much better than Zoom and you get all of these hassle-free features without any charge. Now having explained all the points, let's go to the steps.
1. Open Skype Meet Now page on a web browser and click on "Create a Free Meeting".

2. Next, copy the link and share it with your friends and teammates. After that, click on "Start Call". That's it. Participants can now join the call then and there. Keep in mind, if you are using a smartphone then you will have to install the app to join a call. But if you are on a desktop then you can join the web meeting without installing an app or creating an account.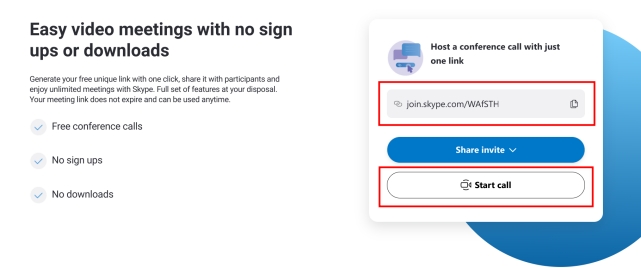 3. If you are using a native app for Skype then make sure to update it to the latest version (Profile -> Get Skype App). You can also download the latest version from here. After that, sign in and the new "Meet Now" button will appear on your dashboard. Click on it to generate a sharing link.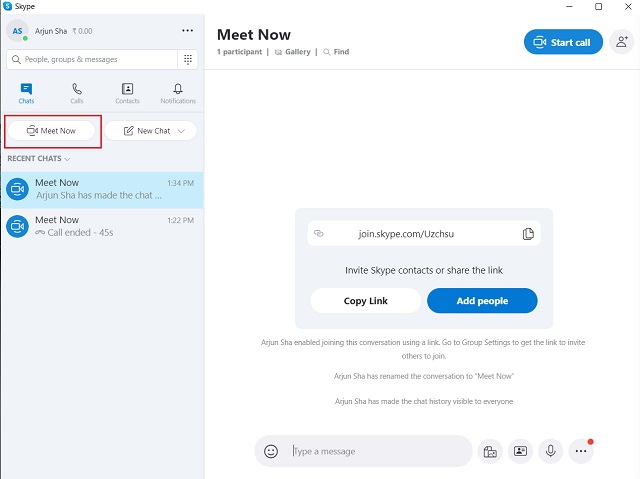 4. Having done that, copy the link and share it with your friends and teammates. After that, click on "Start Call" and you will be live within seconds. Enjoy!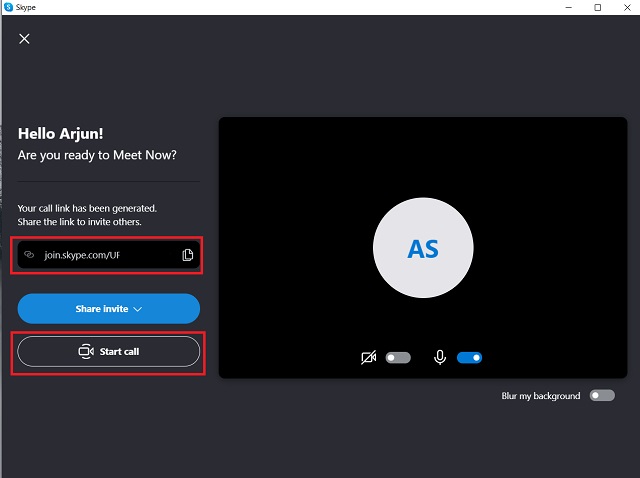 Say Goodbye to Zoom and Embrace Skype Meet Now
So that was all about Skype's new Meet Now feature. After Microsoft merged Skype for Business with Teams, we were skeptical about Skype's future role. However, with this new feature addition, Skype is acting as a free solution to Microsoft Teams. As a result, Skype has become one of the best alternatives to Zoom for users who were using its free plan. Anyway, that is all from us. If you found the article helpful then do comment down below and let us know. And if you are still choosing to stick with Zoom then go through our detailed article on best Zoom tips and tricks to secure your Zoom meetings.
---
Load More