The human race has reinvented several methods and principles to increase productivity in their work over and over again in the span of their lifetime. From beautifully illustrated handwritten books to paper printing to digital ebooks, from traditional Indonesian batik cloth painting to mass produced factory apparels to customized online t-shirt orders, and many more examples out there. They have all enriched our lives one way or the other. The latest and greatest productivity method presently is multi-platform team collaboration over the cloud. While the statement is a mouthful, it's a task and project management service that you can open in different devices and the changes are automatically in sync with one another.
One of the most well known of such services is Trello. We have already talked at length about the working of Trello but in brief, it's a task and project management tool that uses boards, lists, and cards to help users manage everything. Users can add, delete, archive, and move these elements and get a more visual bird-eye-view of their projects. It can cater to one person or a large team. It's a free service with the options to upgrade to get more features.
But as we have come to expect, no app can satisfy everyone. So if you need some features that Trello doesn't have, or if you want to try out several similar apps before you decide the one that fits your need, here are 8 Trello alternatives for project and task management:
Key Features
While there are many advantages of starting early in the business world, there's an upper hand if you launch your business after everybody else: you can learn from the mistakes and create a better product. That might be the case of MeisterTask. This relatively new kanban-style task and project management app might not be as famous as Trello, yet, but it offers several things that Trello lacks.
There are several professional task management features in MeisterTask that you might miss on Trello. There is time tracking, a way to display tasks across multiple boards, and native integration with other external tools such as Slack, Zendesk, and GitHub. The free plan also allows users to change the background of the workspace, something that you can only do with upgraded Gold version of Trello.
Pricing and Availability
MeisterTask is incredibly intuitive. It works in any standard web browser and offers native mobile apps for iPhone, iPad, and Apple Watch; with the ability to send push notifications from the web app in Android devices, and native wrapper for the web app with notifications & dock icon for Mac and Windows.
The service is free for everybody to use. But if you want more features such as unlimited integrations and workflow automation with Section Actions, there is the option to upgrade to Pro for $9 per user per month.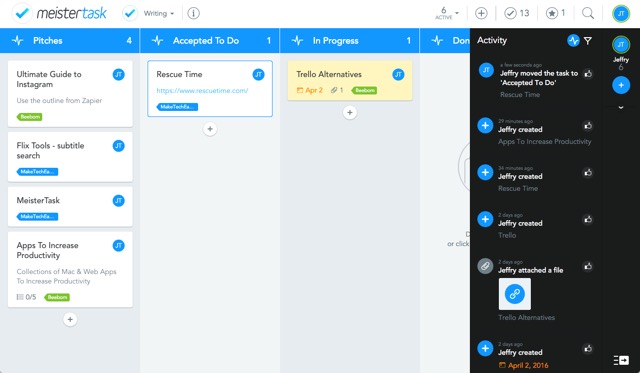 Key Features
Jira is built specifically for software developers. The goal is to provide every member of the team with a tool to guide them through all the development stages of the project. Starting with the planning stage where the team decides on the story, list down potential issues, plan sprints and distribute tasks across the members. Then, continue by tracking the whole progress and prioritize on the most important task, until the project reaches the release time. After that, the team can evaluate everything using the available report generated along the project, and can get ready to move on to the next releases. You can expand Jira features with add-ons and integrations.
Pricing and Availability
The tool is cloud based with no desktop or mobile application available. You can try Jira Software for free up to seven days, after which you will have to pay $10/month for a small team with up to 10 members. For a team above ten members, here's the list of available monthly plans.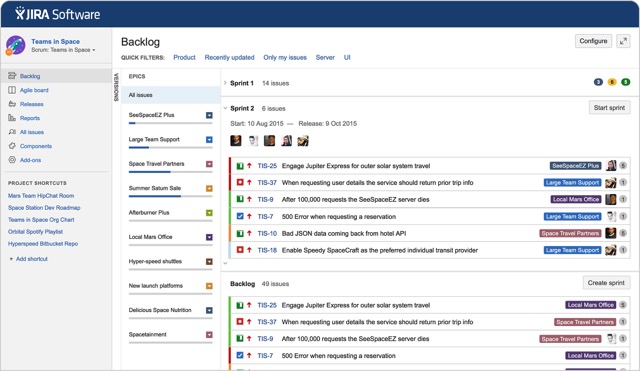 Key Features
Classifying Bitrix24 only into project and task management services would be an understatement. The Bitrix24 suite includes a host of tools merged into one. It's a combination of Social Network for a team within the company's intranet, Task and Project management system, Chat and Video communication system, Document management, cloud storage Drive, Calendar and Mail system, Customer Relationship Management (CRM), Telephony, Human Resources Management System (HRMS), and more.
And since we are using Trello as the comparison, Bitrix24's Task and Project Management system is also a powerful one. It has project and task management features, Gantt Chart, task dependencies, employee workload management, counters and roles, checklists, templates and automation, workgroups, task report and builder, external users, and tasks via email.
Pricing and Availability
With all of the features above, it's a bit surprising that the cloud version of Bitrix24 is available for free for unlimited users. There are several limitations compared to the paid version, but it's more than enough for most regular users. There are the Plus, Standard, and Professional plan for $39, $99, and $199 monthly subscription respectively.
Bitrix24 can be used via the cloud, using mobile apps for iOS and Android, desktop apps for Mac and Windows, and the self-hosted server version.
Key Features
Taiga is a free open source project management platform that was built out of dissatisfaction of the available alternatives. That's why Taiga is powerful, simple and intuitive, beautifully and highly designed, and customizable. The tool supports both Scrum and Kanban workflows, and it includes many features such as Issues, Wiki, Tasks, Team, Iocaine, Integrations, Social Management, and API.
Pricing and Availability
As an open source tool, Taiga is always free to use for public projects and one private project. But it also offers paid plans to keep the development going. If you want to manage 5 to 50 private projects, you can opt for monthly paid plans ranging from $19 to $99.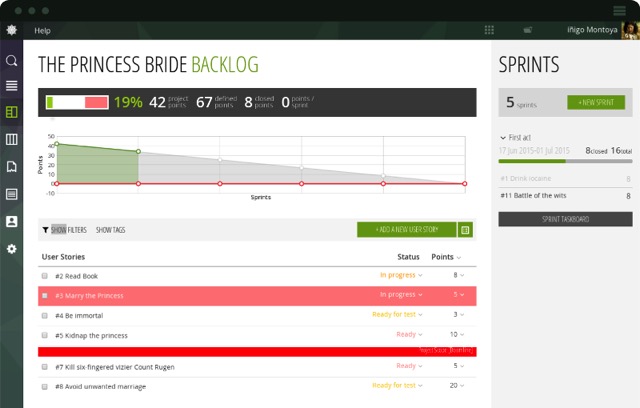 Key Features
While some services are trying to add as many features as they can, Asana is taking the opposite approach. It simplifies the project and task management so that the process is easy enough for everybody to use. It comes with necessary features such as tasks, projects, sections, due dates & times, attachments, and hearts. Asana is also strong on the communication front with support for task and project conversations, and team pages. Other features are Views, Team Management, and Integrations.
Pricing and Availability
Asana prefers users to sign up with their work email address so that it can automatically connect you with your team mates using the domain in the address. But it's also possible to continue the registration process with a personal email address. Asana is free for a team of up to 15 people. For more team members and more features, you can upgrade to Premium for $8.33 per member per month. Asana is available as web-based service and in app form for iOS and Android.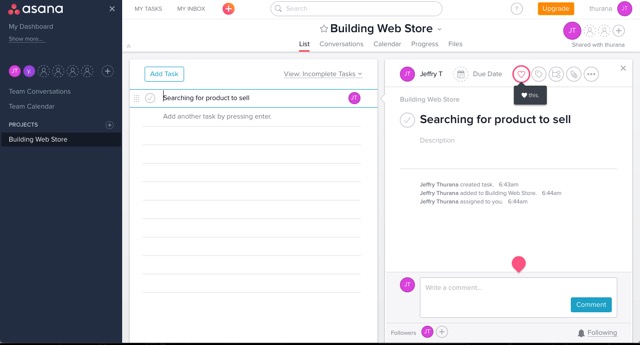 Key Features
One of the main selling points of Wrike is its role as the command center. Instead of a simple integration with third-party tools that we already use, Wrike provides users with the ability to use everything from one place. You can start your tasks anywhere and connect them to Wrike. For example, if you connect Gmail with Wrike, you'll have a button in Gmail to turn your emails into tasks. Wrike also comes with all the project and task management goodies such as creating task and projects, communication channels with other team members, built-in document editor, and more.
Pricing and Availability
Wrike is free for a team up to 5 members. For a larger team and more features, you can upgrade to Professional plan starting from $49/month for a maximum of 15 team members. Wrike is available on the web, iOS, and Android.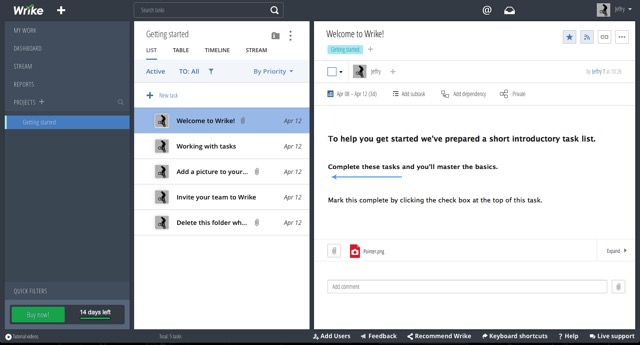 Key Features
Wunderlist started as a simple to-do list manager app for mobile but now it has merged with its sister project manager app and expanded its features. While it has become a worthy contender of other full-featured alternatives, the core of the service remains to-do list and task manager. Wunderlist features folders, comments, share lists, reminders, due dates, notes, and notifications. It also supports the ability to add actions via email, add web items, use of hashtags to organize your project and add more context to it, and print to-dos and lists with one click.
Pricing and Availability
If you are looking for a truly multi-platform task and project manager, Wunderlist could be your choice. It's available as a native app for Mac, Windows, Chromebook, iOS, Android, Windows Phone, Apple Watch, and as a web app. Wunderlist is free to use, but personal users who want more features can upgrade to the Pro plan for $4.99/month. The Business plan might fit a team better with $4.99 monthly fee for a person per month.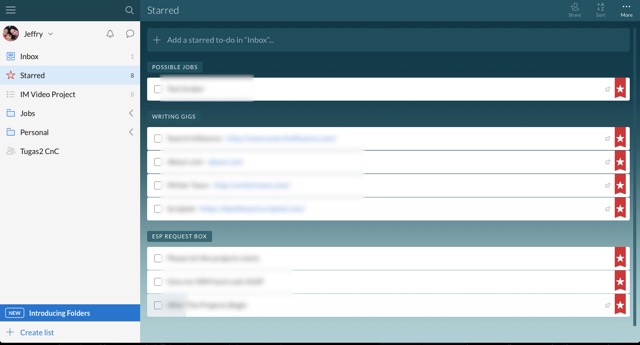 Key Features
Remember the Milk – one of the veterans in the field – is another to do and task manager that focuses more on personal users. Its main premise is that users should be able to add a task quickly and easily, so it features the ability to add everything about a task in one single line. Most of other alternatives require multiple windows to add more details about a task. Another cool thing about the app is that you can opt to get reminders via multiple channels such as email, text message, IM, Twitter, and mobile apps. You can also add colorful tags to your tasks, break the tasks into multiple sub-tasks, share and assign tasks to others, and use smart lists to organize those tasks.
Pricing and Availability
The service is available for free for anyone to use. But if you want to get more features, you could upgrade to Pro account for $39.99/year. Remember, the Milk is available through the web and as a Mac desktop app (Windows and Linux version is coming soon); iOS, Android and Blackberry mobile apps; Microsoft Outlook extension (Windows only), and will come to Apple Watch and Android Wear.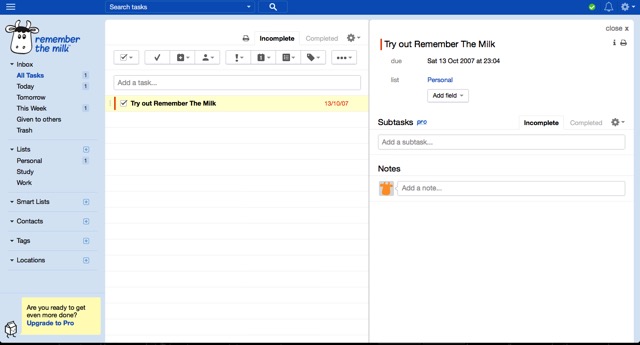 Bonus:
Team Communication Apps
Many of the aforementioned services feature the ability to communicate with the team member but you can also use team communication apps to manage your tasks and projects, even though they are not as fully featured and less convenient. You can add them to one of the tasks and projects management services as extensions, or you could use the simplicity of team communication apps to manage simple tasks directly in the app. Some examples of these apps are Quip, Slack, and Hipchat.
SEE ALSO:  Slack Alternatives: 10 Best Tools For Team Communication
Try out these Trello alternatives for better task management
Trello is a very popular project and task management tool but if you have been looking for an alternative, the aforementioned services should work fine. So, try them out and you might even find some of these services better than Trello.
So, do you use one of the services listed above to manage your Projects and Tasks? Which one is your favorite? Share using the comments section below.