Efficient project management demands smart planning and seamless communication. Aside from these two pivotal components, it also requires insightful visualization to double down on productivity and spot the areas that warrant more attention. Speaking of the well-organized project management tools, Asana has long been a popular name. And if you are into managing projects, you might already be familiar with its versatility and the wide range of impressive tools designed to handle projects proficiently. Nonetheless, project management software at times feels too clunky and also involves a tad more learning curve. Moreover, it lacks powerful reporting features that are so essential for visualization. And, this is where the best Asana alternatives have a significant role to play in 2019!
Best Asana Alternatives for Seamless Project Management
Take note of a few pro tips before putting your money on a project manager:
Which Project Manager Can Perfectly Meet Your Needs?
Though most project managers have the same basic functionalities, there are quite a features that separate them from each other. While some are more skilled at offering in-depth reports, others look much better when it comes to planning and keeping tracks of tasks. Then, there are the ones that offer full-on customization for desired flexibility. So, before choosing a particular Asana alternative, take a quick look at where your priority lies i.e smooth-sailing collaboration, astute visualization, perfect planning etc. Then pick out the one that seems to be ahead of the counterparts on those specific aspects. That said, let's now set our sight on the best apps like Asana, shall we?
List of Asana Alternatives
1. Wrike
Frankly speaking, "Wrike" has never failed to charm me as a project management app. In terms of functionality, I find it very close to what Asana offers. The best part about this software is the more user-friendly interface coupled with interactive Gantt charts. You can quickly check out your project schedules and be able to set dependencies as per needs. Thanks to the full-on customization, it offers you the required flexibility to adjust everything in line with the demand – which is yet another plus and can play a decisive role in the way you handle your projects.
On the visualization front, I find "Wrike" up to the mark and way better than Asana. As the calendars are fully integrated with the underlying tasks and projects, you will be able to get up-to-date plans and schedules. Therefore, you can keep an eye on what needs to be done without breaking any sweat at all.
Depending on requirements, you can prioritize your tasks so that the most important ones get more emphasis and are done before the deadline. Don't want your dashboard to look cluttered with the unwanted information? Personalize it so that it shows only the info that's relevant to you. Just like Asana, Wrike is also available for free with basic functionalities. But if you want to go beyond the limitations, you will need to upgrade to the premium version which starts at $9.80/month, which is a bit less expensive than the former.
Pricing: Free, Premium version starts at $9.80/month (billed annually)
Platform Availability: macOS, Windows, iOS, Android, and web platform
Pros:
Interactive Gnatt charts
Online project and work calendars
Customizable dashboard
Native apps for all major platforms
Cons:
Involves a learning curve
Visit: Website 
2. Zoho Projects
If I were to pick one project management software that excels in most aspects, I would go for "Zoho Projects" – without even thinking twice. Well, that speaks volumes of how efficient this tool is. Like Asana, it has always been feature-rich and offers a wide range of tools to let you manage your projects with maximum flexibility. And unless you are good at mastering pro tools, you will have to go through some learning curve and also a bit of brainstorming before you can get the best out of this software. So, if you are someone who finds Asana a tad difficult to handle, I wouldn't recommend you to give it a try. That's as straightforward as it can ever get!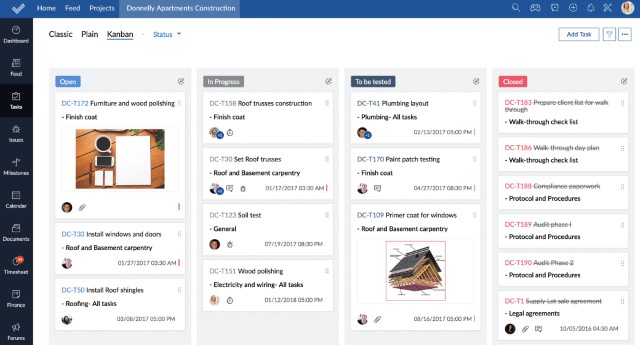 One of my favorite features of this project manager is the ability to plan projects with ease. Using milestones, tasks, and handy task lists, you can perfectly plan your tasks. And based on your needs, you can create some custom blueprints that enhance the workflow and also play a vital role in getting the work done faster. When it comes to offering detailed insights into where your projects stand, Zoho Projects clearly outshines Asana. In fact, I would put it right at the top in this aspect as it provides more insightful charts.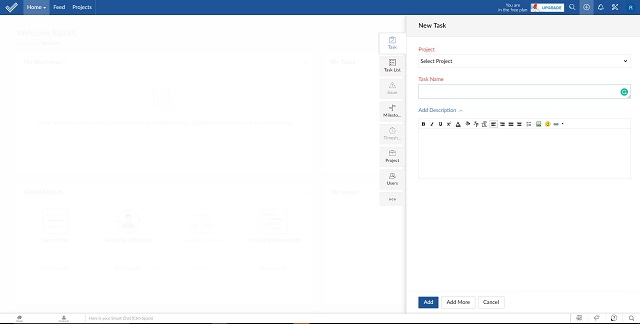 Zoho Projects also comes with many collaboration tools, allowing the entire team to work together and always stay in sync. One notable feature of this software is the highly useful timesheets that let everyone enter their billable and non-billable hours. With the built-in integration with Zoho Invoice, it can create invoices from timesheets both accurately and automatically. Overall, it's a top-notch tool and can prove to be a much-needed shot-in-the-arm for your project management.
Pricing: Free, $100/month (up to 20 users)
Platform Availability:  iOS, Android, and web app 
Pros:
Efficient project tracking through Gnatt charts, milestones, flowcharts, and more
Built-in chats and forum support
Full-fledged task management system
Cons:
No native desktop apps
Comes with a steep learning curve
Visit: Website
3. Trello
Should your priority lies with smooth-sailing collaboration (more than anything else), Trello is for you. Though not as feature-packed as Asana, it's got everything to make project management hassle-free for you. What has always appealed to me in this software is the amount of flexibility it provides to organize and prioritize your projects in a way that works best for you and your entire team.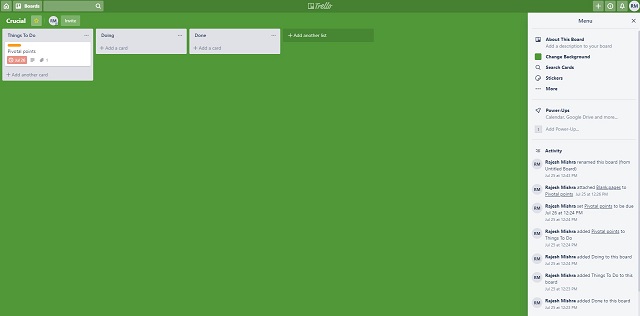 You can take advantage of several boards, cards, and lists to create projects faster.  And that too, without any compromise. Another important feature of this app is the integration with the apps that your team uses. Thus, you can further amp up the workflow, which could result in much better productivity and also cut down quite a lot of slack.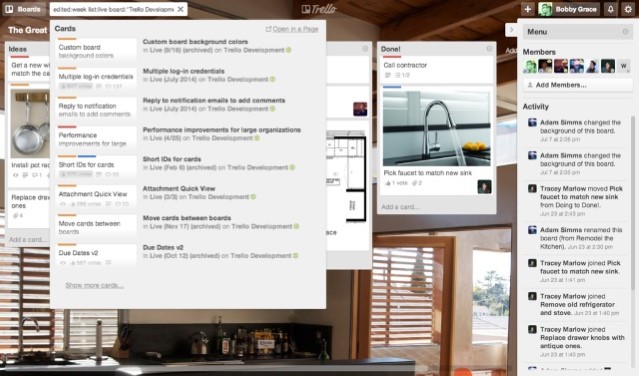 So, if Asana is not able to ramp up productivity, it would be wise to give a shot to Trello. On top of all, this project and task manager comes with the support for 21 languages which ensures everyone has got the freedom to express in their favorite language.
Pricing: Free, Trello Gold comes at $5/month/user
Platform Availability: Web platform, Android, iOS, macOS, and Windows
Pros:
Probably the best Kanban-based project management tool
Excellent set of power-ups for adding extra features
Good team work support
Cons:
Although it offers native Windows and macOS apps, they feel like web-wrapper apps rather than native apps,
Not as feature rich as Asana or some of the other apps on this list
Visit: Website
4. ClickUp
Simply put, "ClickUp" is specifically designed for those who want to manage projects without being embroiled into too many dos and don'ts. I mean it provides more personalized project management and would suit the taste of those who want to have their own way of dealing with projects. Therefore, if you are willing to have an Asana alternative that can offer a more personalized experience, it has to be your top bet.

By putting reminders, notes, and calendars in one place, it allows you to quickly access all the essential information; thereby saving a lot of time. Regarding integration with services, ClickUp clearly beats Asana (or has a clear advantage). The app is integrated with over 1000 apps and services including Dropbox, Google Drive, GitHub and more. Better yet, it also has the support for almost all the platforms like iOS, Android, Linux, etc.
Pricing: Free, $9/month (starting price)
Platform Availability: iOS, Android, Windows, macOS, Linux, Chrome, Amazon Fire TV
Pros:
Powerful project management features
Integrates with Google Assistant and Alexa
Different view modes including Kanban, checklist, Agile board and more
One of the few project management apps which offer a native Linux app
Cons:
Has a really steep learning curve
Too many features might result in too much of using the app rather than working
Visit: Website 
5. Workzone
"Workzone" is what you need to take control of your entire projects and manage them efficiently without putting much effort. Just like Asana, this project management software is also feature-packed. But unlike the former, it doesn't involve lengthy learning curve thanks largely to the pretty intuitive user-interface and easy-to-use features. So, if you are looking for one of the best Asana alternatives that is not only packed with top-of-the-line features but also more convenient to use, you can't go wrong with Workzone.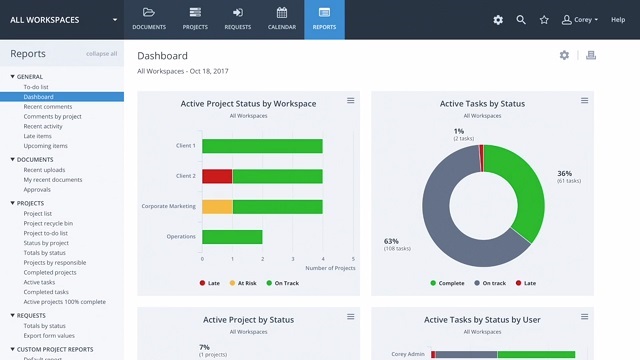 Times when you want to take a close look at the status of every project without needing to dive deep into specific ones, a neatly designed dashboard comes in super handy. And this project management ensures you can quickly find out where your projects stand at a glance. With tons of predefined templates, the software makes it a lot easier for you to get started – which not only enhances your productivity but also saves plenty of valuable time.
In terms of visualizing projects, I find Workzone a touch better than Asana. With the insightful Gantt charts, you can comfortably keep a track of timelines, tasks, and responsibilities. Not to mention, the personalized to-do lists that can go a long way in helping you carry out your tasks proficiently and also enable you to pay the desired focus on what matters most. When it comes to collaboration, it has a clear edge over Asana with a bit more seamless communication. While everything about Workzone sounds impressive, it doesn't offer a full-fledged free tier – which is certainly a disappointment.
Pricing: $20/month (Starting price)
Platform Availability: iOS, Android, and web platform
Pros:
Dashboard gives a complete overview of your projects
Huge templates support
Gnatt Charts
Resource reports to make sure that team members are not over or under utilized.
Cons:
Too costly
Not suited for individuals or smaller teams
No native desktop apps
Visit: Website 
6. ProjectManager
How long can you keep a robust project manager like "ProjectManager" out of your sight? The software can live up to your mark both in terms of making project management easy-going and also boosting your productivity to a great extent just like Asana. As compared to Asana, PM's user-interface looks less appealing but it's more convenient to master. Besides, it features a clutter-free dashboard where you can check out all the vital information about your projects.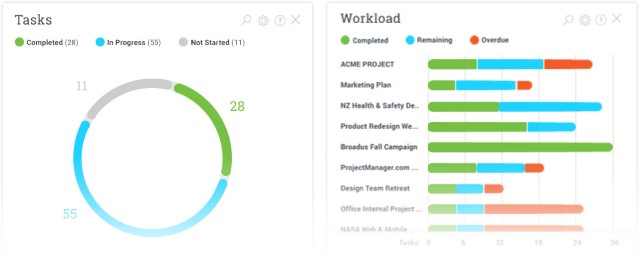 Being fully customizable, the dashboard can also let you put the unwanted information out of sight. On the task management front, PM works just as effectively as Asana. You can easily assign tasks to your team and view the ones that are lined up for you. Whenever the need arrives to take a close look at everything, you will be able to create an in-depth report and also be able to export it as a PDF, Word or Excel file.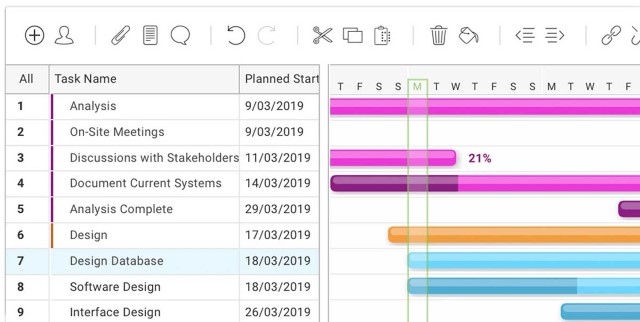 Pricing: Free-trial, Premium version starts at $15/month (per user)
Platform Availability: Web platform
Pros:
Excellent dashboard
Support for different project management tools including Kanban, Gnatt charts, and more
Resource and time management tools
Support for instant reports, time-sheets, invoicing, and more
Cons:
The absence of mobile apps might be a deal breaker for some users
A bit higher on the price
Visit: Website 
7. Microsoft Project
Microsoft Project has always been one of the most loved project managers on the market. And with a range of top-notch features, it didn't have to work hard to find a safe spot in this roundup of the best alternatives to Asana. The app has best-in-class templates that can cater to your different needs with aplomb. But what has called for my attention in this project manager is the smart automation that can bolster your efficiency big time.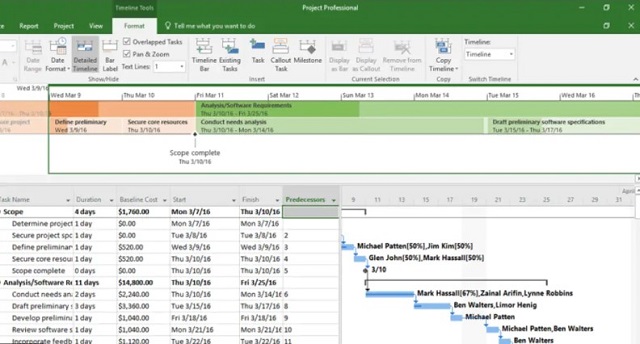 To save your precious time, it automatically fills in the start and end dates as per dependencies. Plus, there is a task inspector to quickly find out all the pivotal tasks so that you don't have to spend a lot of time to figure out which tasks need immediate or more attention. As compared to Asana, Microsoft Project has a more intuitive timeline which allows you to comfortably find out all important aspects of a project.
If you are a Microsoft Office user, you can also share your timelines using handy Office tools like PowerPoint. Another feature that gives Microsoft Project an edge over Asana is the baseline that works immaculately in tracking and comparing the progress.
Pricing: Free-trial, $30/month (for the professional plan)
Platform Availability: macOS, Windows, Linux, works with web browsers 
Pros:
Built-in templates and scheduling tools
Best for teams who are already using Microsoft Office products
Portfolio and resource management
Cons:
Not meant for small teams
Fairly complicated
Visit: Website 
8. ProofHub
"ProofHub" is the sort of project managers that seem to be an obvious choice especially when you want to have a notable replacement for Asana. The app boasts all the features to enhance your project management skills. Whether it's creating projects fast or monitoring their status with ease, it can live up to your billing on most fronts. But there is one department where ProofHub is far better than Asana – managing workflow.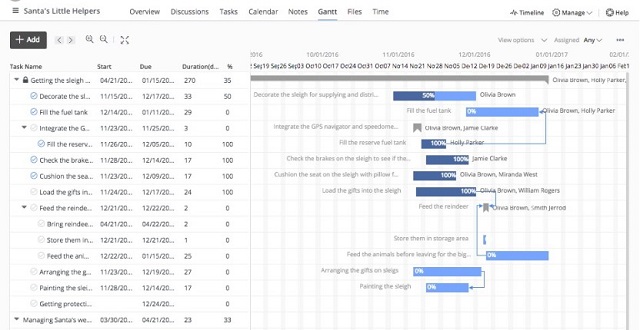 You can easily add tasks and edit them. For more flexibility, it also lets you add recurring tasks. As for the calendar, it's just a click away and allows you to view all the milestones so that your planning is perfect. You can also download the calendar to access it without any interruption.
While the default reports keep you updated about all the major things, the comprehensive charts offer you the bird's eye view of your projects, unlike Asana's very basic reporting features. What's more, you will also be able to add notes so that you don't forget important points. If you can afford to pay $45/month (starting price), it's worth having at the disposal.
Pricing: Free-trial, starts at $45/month (unlimited users)
Platform Availability: iOS, Android, and Web
Pros:
Excellent project visualization tools
Collaboration tools for both teams and clients
Quick and thorough reports generator
Cons:
Visit: Website 
9. Basecamp
When it comes to making project management a pleasing experience, "Basecamp" ranks at the top – along with the best in the business like Asana. The app goes well beyond the basic project management, offering you exceptionally handy tools to plan, organize and track your projects without having to run from pillar to post. Times when you want to amplify productivity without putting crucial aspects on the backburner, you need a competent tool like this one.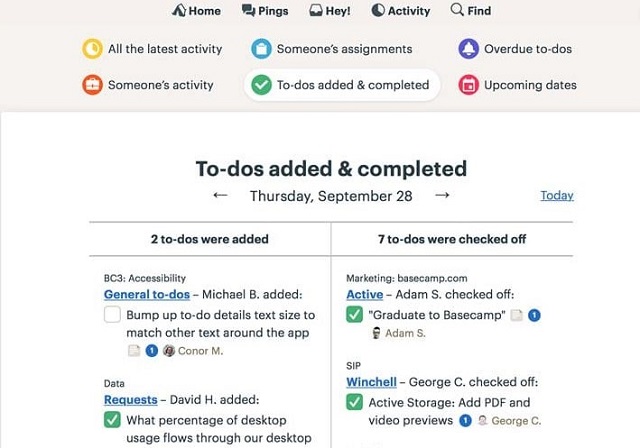 Basecamp comes with a highly effective way of managing to-do lists. Thus, you can sort out the mess with ease and be able to focus on what needs to be done at the earliest. It also lets you assign tasks and set due dates so that they are done on time. One of my favorite features of this app is that it smartly follows up on overdue tasks in order that they do not get any more delay.
At $99, Basecamp is definitely a lot pricey but if you take a close look at what it has in store, you would find it a fairly good deal. That's for sure!
Pricing: Free-trial, $99/month (unlimited users)
Platform Availability: iOS, Android, Windows, macOS, and web browsers 
Pros:
A no-nonsense project manager which only brings essential features and is to learn and use
Excellent team management features
The best flat pricing you can ever find
Cons:
Best for small and medium teams.
Doesn't offer too many extra features like different viewing modes (Kanban, Gnatt Charts), time tracking, and more
Visit: Website 
10. ProWorkflow
No matter whether you are a pro at managing projects or have just taken it on, you will enjoy using "ProWorkflow". It's because simplicity is one of the core aspects of this powerful project manager. To ensure you are able to keep a track of all the essential things with ease, the app puts all of your notes, tasks, and projects just a glance away. Using the timeline, it's much easier to review projects and also reschedule them.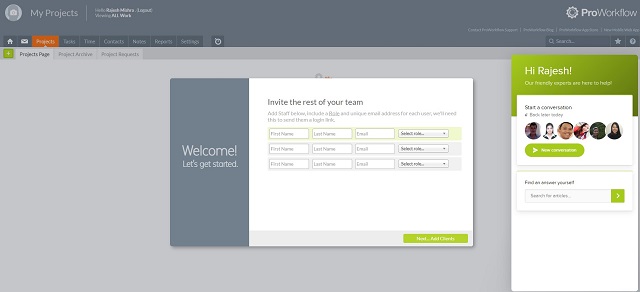 Talking about the collaboration, ProWorkflow has got enough tools to let everyone from staff to clients to contractors to stay connected and share information without any roadblock. Though it's not as intuitive as the one offered in Asana, you wouldn't have any reason to complain. With the integration of timesheet, it allows you to track time more conveniently.
Beyond comfortable time tracking, it has a good collection of customizable templates that provide required flexibility and also save plenty of time. What's more, ProWorkflow has got a more productive invoice manager than Asana. So, if you often have to deal with invoices, you would really appreciate the useful plugin.
Pricing: Free-trial, Premium version starts at $10/month ($20/month/user for teams)
Platform Availability: iOS, Android, and web
Pros:
Dashboard and timeline support
Built-in time tracking sheets and invoice manager
Resource and time management tools
Cons:
No native desktop apps
Not as pleasing to eyes as Asana
Visit: Website 
11. Scoro
Project management is all about effective planning and perfect execution. Should you think that Asana doesn't offer you enough tricks to manage your projects elegantly, give a chance to Scoro. Though the app feels very close to its more famed counterpart, it's a bit easier to handle. Besides, all of its hacks don't require you to go through an exhaustive learning curve.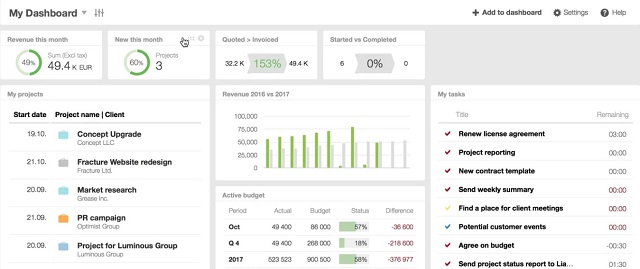 Based on your workflow, you can create a variety of projects using a number of impressive tools. As someone who always likes to have neat organizing tools to keep everything in the right order, I'm really pleased with the features that make organizing projects very straightforward. As far as offering detailed reports is concerned, I would rate Scoro very highly as compared to Asana which is often criticized for not providing comprehensive reports.
Pricing: Free-trial, $26/month (minimum 5 users)
Platform Availability: Web platform 
Pros:
Excellent business and time mangetout tools
Good for managing resources, finances, and clients
Work scheduling and tracking support
Cons:
Only web app is available
Not as feature-rich as some of the other Asana alternatives on this list
Visit: Website 
12. todoist
Before you begin to wonder why I have included "todoist" in this lineup of the best apps like Asana that's known as a powerful project manager, let me tell you that it's one of the most versatile apps. And if you want to have an app to keep everything – from tasks to lists to projects – fully organized, you shouldn't miss out on this one. When everything you want is perfectly placed in the right order and in one place, you will enjoy dealing with your tasks.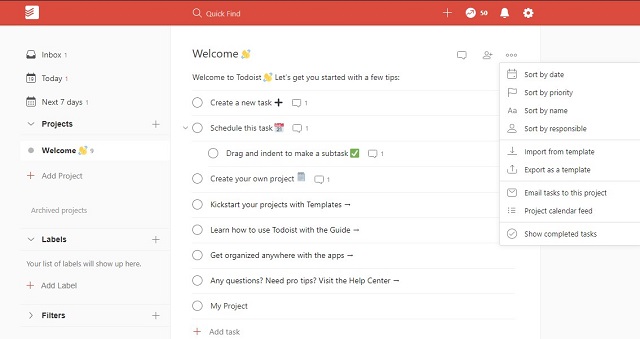 The app presents a clear view of all the tasks that are lined up for you so that you can easily take a quick tour and start working on them. With due dates and recurring due dates, it keeps you alerted and perfectly in sync, ensuring you never miss the deadline. You can review the day or week and plan accordingly to stay ahead. Furthermore, the color-coded priority levels also play defining roles in helping you complete tasks before the stipulated time.
Pricing: Free, $3/month (billed annually)
Platform Availability: macOS, Windows, iOS, Android, watchOS, and Wear OS
Pros:
Easy to use with a good UI
Offers native apps for most platfomrs
Best for small teams or personal project management
Cons:
Not meant for handling large projects with too many variables
Visit: Website 
SEE ALSO: 12 Best Plex Alternatives You Should Try
Choose the Best Alternatives to Asana for Better Project Management
Having explored this extensive lineup of the best apps like Asana, I guess you have found the desired app to take control of your entire projects and deal with them with more flexibility. Do let me know the project management app that has looked more promising for your needs and the features that have caught your eyes. Besides, do not forget to tell the names of the software that seems to be missing from the roundup.