In this era of smartphone obsession, do you often find yourself looking at your phone screen throughout the day? Losing track of time when you're busy scrolling through apps or busy playing games is not very uncommon. Most likely, you find yourself looking at your phone screen when you should, ideally, be doing something else. What if, somehow, you could revoke your access to certain apps for some time? Would that help you in being more productive?
There are some apps out there which can be used to block certain apps, as well as some websites from being opened at specific times of the day. Yes, such apps exist! We've compiled a list of the 5 best app blocker apps you can use to boost your productivity:
1. AppBlock
AppBlock, as the name suggests, is an app that lets you block other apps, so that you can stay focused on your work. This app lets you create profiles in which you can specify the days of the week, the time period and the apps that you want to block access to, during that period. You can even block notifications for these apps, which can later be accessed from within AppBlock. There is also an option to lock the profiles, so that you don't find yourself tweaking AppBlock's settings every time you get the urge to open any of the blocked apps. And how is this useful? You can unlock a profile, once locked, only when it is connected to a charger. To top it all up, AppBlock comes with the option of securing it with a PIN code.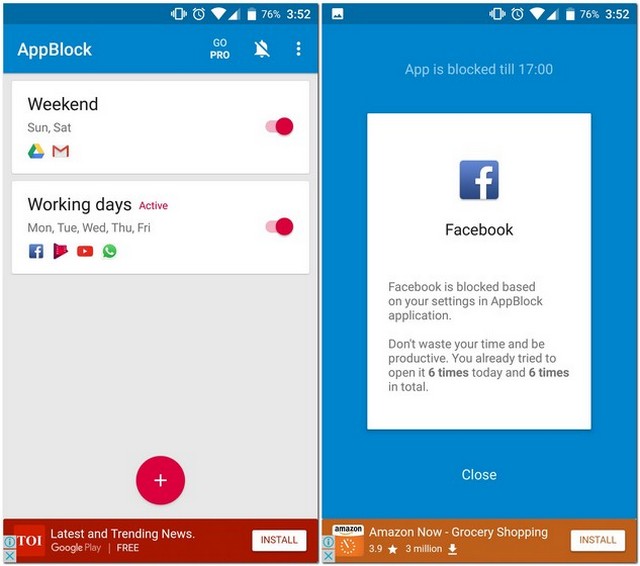 Its free version limits you to create up to 3 profiles. To create more than 3 profiles and to enjoy an ad-free experience with some other unlocked perks, you can buy its premium version from within the app.
Install: (Free with in-app purchases)
2. Block Apps
Block Apps lets you create schedules, or as it calls it – blocks, where you can specify which apps you want to block and for how long. One thing that makes this app stand out is its battery management. It changes the state of the blocks to idle when the screen is off and automatically activates them when the screen is on. While a block is active, it can't be turned off. The only option is to delete it. And you wouldn't want to keep creating that block again and again, would you?
If you try opening an app which falls under any of the active blocks, the app shows you a motivating productivity quote to help you focus back on your work (this can be turned off from the app settings). If all this wasn't enough, Block Apps has Tasker support.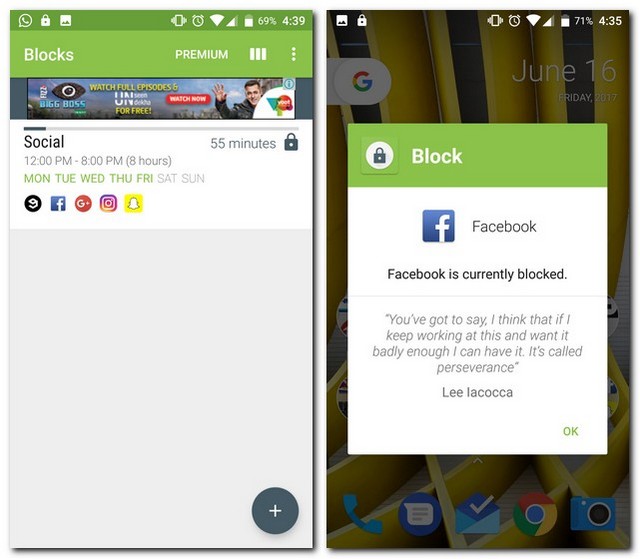 Its free version lets you create up to 3 blocks. If you want to create more than that and even get the widget for this app, you can buy its premium version from within the app.
Install: (Free with in-app purchases)
3. AppDetox
As the name suggests, AppDetox helps you in being more productive by taking a digital detox. It is a free app that lets you create as many rules as you want. There are a number of options in which you can create the rules – specific day times, number of launches, usage time, activity-based, some time, and forever. AppDetox also shows you your app usage for all the apps, so that you really get pushed to be more productive. If you try breaking a rule, the app doesn't open, and you get a toast notification. Such entries get logged under the Rule Breaks section of the app.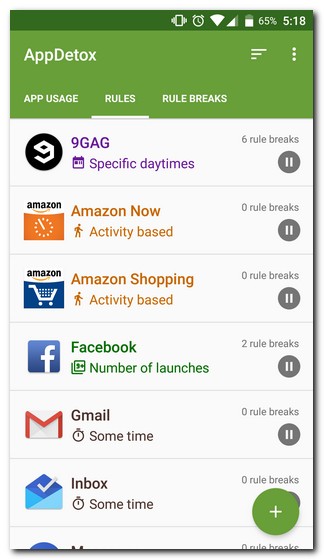 This app can be protected using a passcode. You can also prevent its uninstall, but you need to have device administrator rights for that.
Install: (Free)
4.  ClearLock
ClearLock is a productivity app which lets you lock some particular apps for a particular duration. To use those apps in that duration, you have to reboot your phone. And you wouldn't want to keep rebooting your phone just to use those apps, would you? Its free version doesn't let you do much, but you can go ahead and buy its pro version from in-app purchases, which allows you to schedule lock sessions and even has a widget for the app.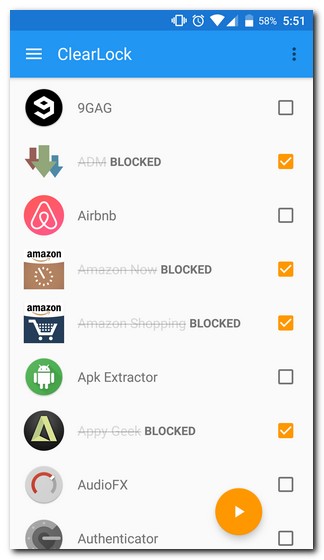 Install: (Free with in-app purchases)
5. (OFFTIME)
(OFFTIME) is an app blocker that features a very cool interface and yes, the app's name is listed with brackets on the Play Store. Using the app, you can create profiles that block your calls, texts, and notifications. You can even restrict access to certain apps for specific periods of time. Profiles can be stopped manually using customizable options. In (OFFTIME), you even get the option to allow a second call from a user, if it is within 3 minutes, that is, if your profile includes call blocking. You also get the option to set custom SMS replies when your profile is active.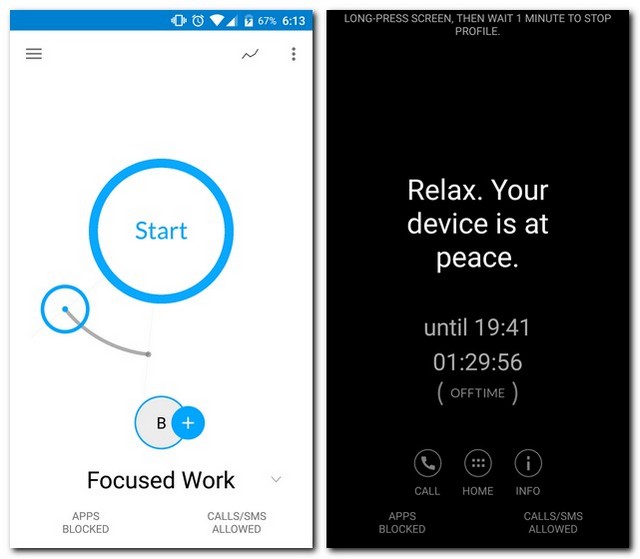 You can only create one profile in its free version. Buying its Pro version from in-app purchases allows you to create unlimited profiles, schedule OFFTIMEs, calendar synchronization, and monthly insights.
Install: (Free with in-app purchases)
App blocker apps for iOS?
Sadly, iOS apps are sandboxed, so no apps can be allowed as such to block other apps. However, you can download apps like Freedom which limit your data usage for apps. For instance, if you were to open Facebook under a Freedom session, it would not load up any new content, but would only show you the content that was loaded till the time you last opened up the app. It's not the same as app blocker apps we mentioned above but it should do well if you want to increase your productivity.
SEE ALSO: 6 Best Pomodoro Timer Apps for Mac to Enhance Productivity
Install These App Blocker Apps to Boost Productivity
Not being able to procrastinate when there is a world full of entertainment waiting in your phone is not an easy task, but with the help of the aforementioned app blocker apps, it doesn't seem that difficult after all. So, go ahead and try some of these apps to block time wasting apps and focus on your work. Do let us know if they helped you boost up your productivity in the comments section below.