While we love shopping on Amazon and asking all sorts of questions to Alexa, we rarely give heed to how much user data Amazon is collecting behind the scenes. From browsing to purchase history to Alexa recordings, Amazon can easily create a target audience profile for tracking users on the web which is pretty damning as far as privacy is concerned. So if you want to tighten your privacy on Amazon services then you have come to the right place. Here, we explain multiple tutorials on how to take back control of your personal data on Amazon. So without any delay, let's get started.
Tighten Your Privacy on Amazon Services
We have mentioned multiple ways to tighten your privacy on various Amazon services. We have also mentioned a way to improve your Amazon account security by enabling 2FA. For easy navigation, click on the link below and move to the corresponding guide easily.
Enable Two-factor Verification (2FV) on Amazon
1. First of all, log in to your Amazon account and move to "Your Account" from the "Account and Lists" menu. You can alternatively click here to open the Account page directly.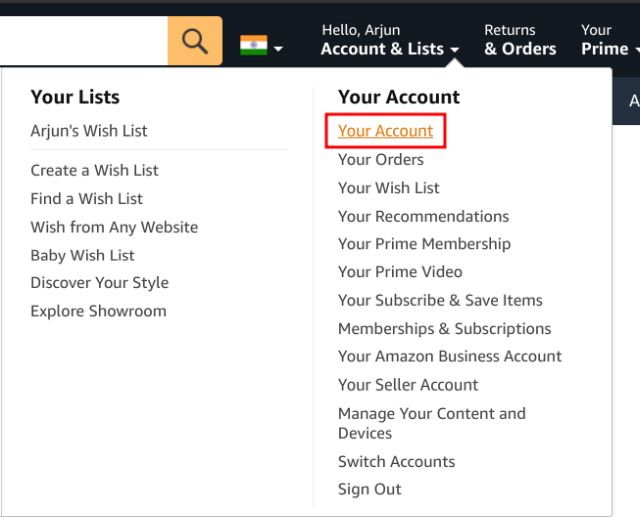 2. Next, click on "Login and Security".

3. At the bottom, click on "Edit" next to Two-Step Verification (2SV) Settings.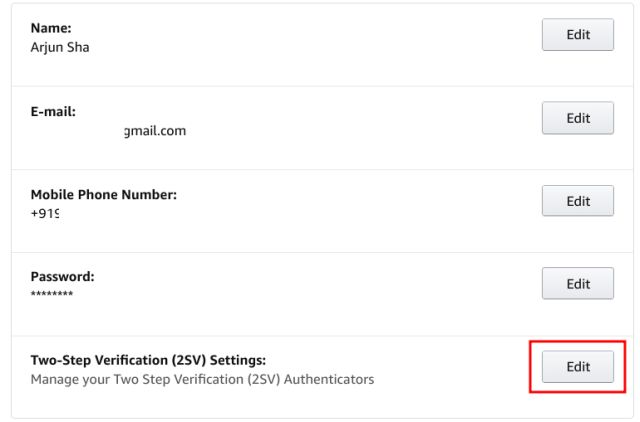 4. Here, click on "Get Started".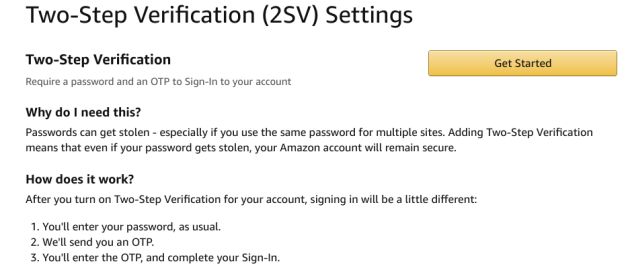 5. Now, enter your mobile number and provide the one-time code that you received on your phone number. Now onwards, you will be asked to enter a one-time code before logging in. This way, not just your privacy, but security against fraudulent purchases will also be guarded on Amazon.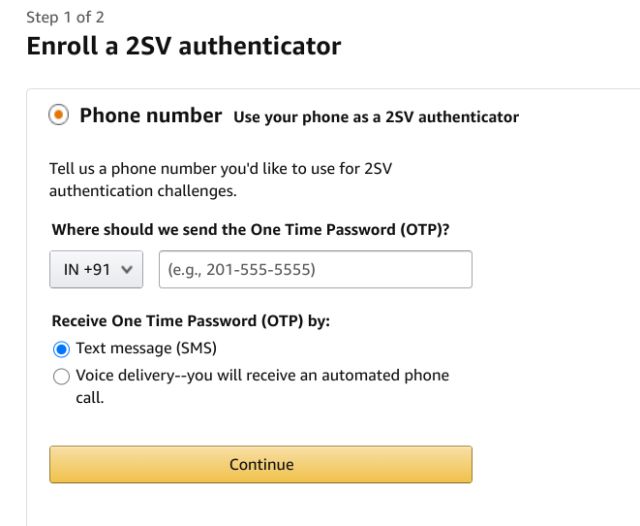 Manage Your Public Profile on Amazon
You might be surprised to find that Amazon creates a public profile for every account. It looks very much like a social media profile, and if you are not careful with your wishlists and purchase activity then you might be putting your data into the public domain. So to manage your Amazon public profile, follow along.
1. Open "Your Account" and click on "Profile" under "Ordering and shopping preferences". You can also click here to open the Profile page directly.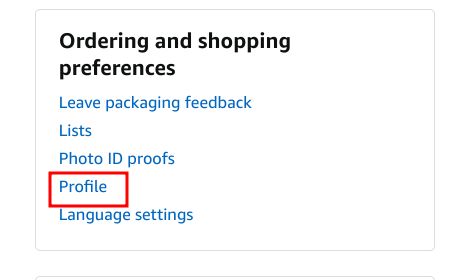 2. To hide your purchase history on Amazon, click on the 3-dot menu and choose "Hide on my public profile".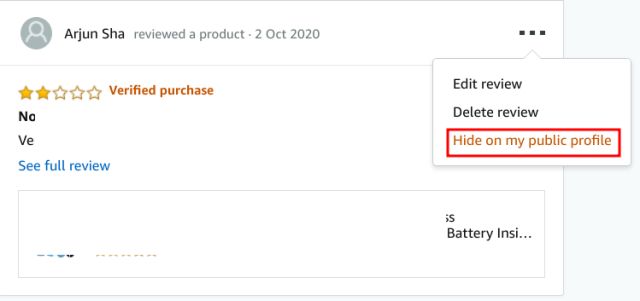 3. Similarly, on the left pane, make sure the wishlist is set to private.
4. In case, it's public then click on the wishlist and navigate to More -> Manage List -> Privacy -> Set Privacy to Private.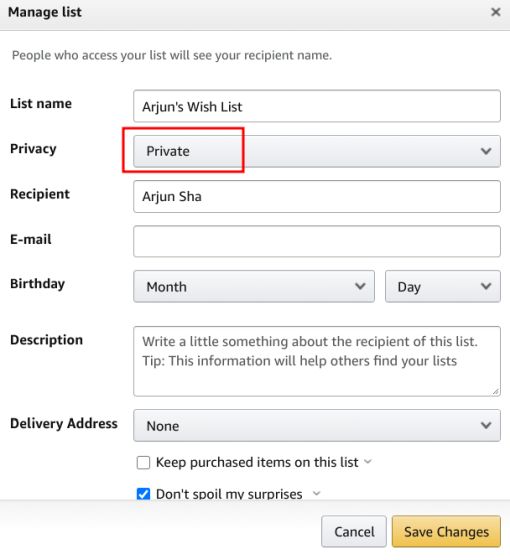 5. Now to check how your Amazon profile looks on the web, click on "See what others see" and verify whether you have put any personal information in the public domain.

6. If so, click on "Edit Your Public Profile" and make the changes accordingly.

Stop Amazon from Collecting Your Browsing History
1. Click on this link to open the Recommendations page. Here, click on "Manage History".
2. Next, click on "Remove all items from view" to delete all your collected data. And if you want to permanently disable Browsing History on Amazon then turn off the toggle.

Remove Your Alexa Voice Recordings
1. You can delete Alexa Voice Recordings using the Amazon Alexa app on both Android (Free) and iOS (Free). So go ahead and install the app on your smartphone.
2. Next, sign in to your Amazon account and navigate to More -> Settings. Here, open "Alexa Privacy".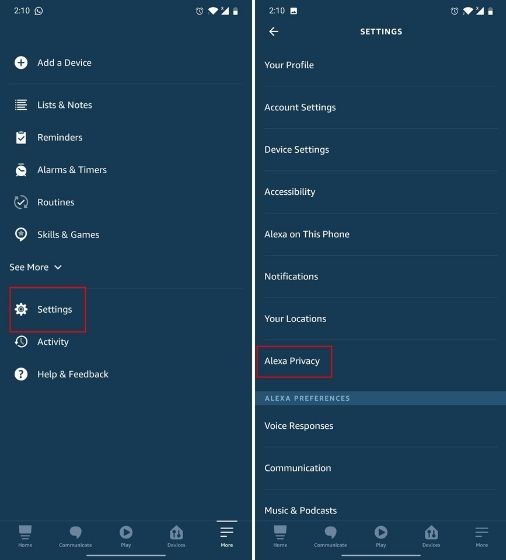 3. On this page, open "Manage Your Alexa Data" and enable "Automatically delete recordings". You can also enable the toggle to enable the deletion of voice recording by voice command.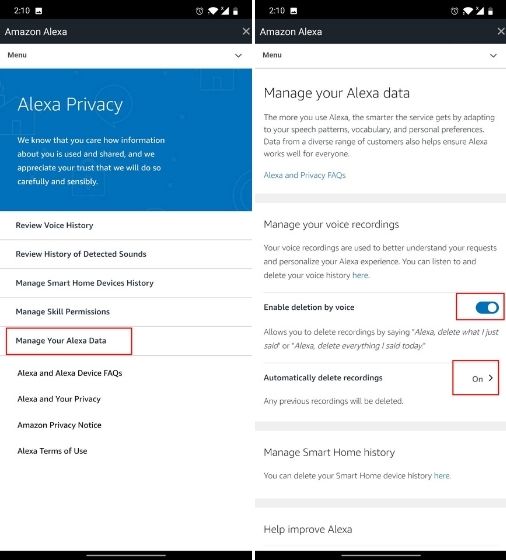 4. Next, scroll down and disable "Use of Voice Recordings" and "Use Messages to Improve Transcriptions". This will ensure that Amazon does not peek into your personal messages and recordings that you have sent through Alexa.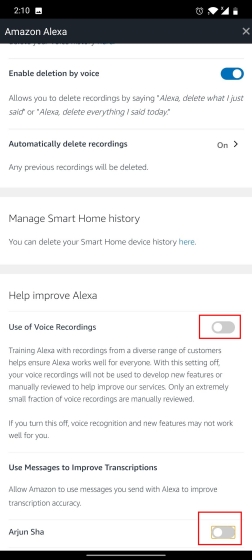 5. Finally, if you want to delete all your Alexa voice recordings then go back and open "Review Voice History". Here, change the date filter to "All History" and tap on "Delete all of my recordings". You can also go through Skill Permissions to manage the authorization of various Alexa Skills.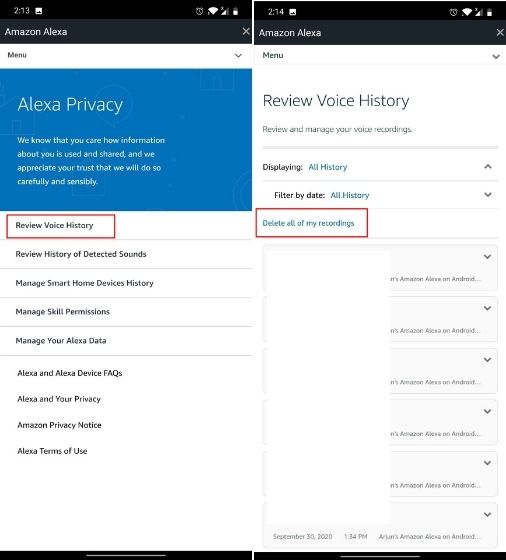 Improve Your Privacy Across Amazon Services
So that is how you can tighten your privacy on Amazon services — be it Alexa recordings or your browsing history on Amazon. I am really surprised to discover that so many privacy-related settings on Amazon are turned on by default, which should have an opt-in option in the first place.
Anyway, go ahead and make the changes to take control of your data. If you are facing any issue then comment down below and let us know. We will surely try to help you out. Apart from that, if you are on a spree to control your privacy, go through our in-depth guide and remove Google from your life.