The music industry is an ever-changing landscape. There's always the new way to distribute music from the artist to the audience. After the declining trends of buying singles and albums via online music stores, it seems that today's consumers prefer subscribing to music streaming services.
With streaming service, the customer pays a monthly fee to access music from the service providers' library. The quality of accessible music will depend on the plan subscriber has chosen. Different from buying music, consumers only "rent" and don't own any songs that they subscribe to. After the subscribing period is over, subscribers will lose all the access to the music.
Spotify, Why and Why Not?
One of the popular music subscribing services today is Spotify. It's a free tool to listen and discover new music. It's available on smartphones, tablets, computers, PlayStations, TVs, Cars, Android Wears, and Web Player. You can use it to build your song collection and organize them into playlists. Spotify will help you find new music based on genres, artists, or songs that you like. There's also the social network side of it where you can connect with your friends, check out each other's music preferences, vote for bands, etc.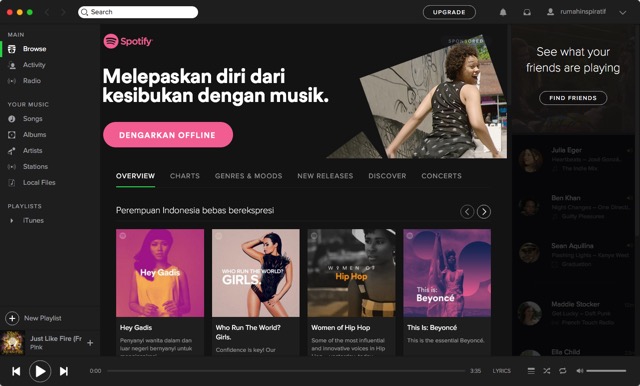 However, there are limitations in the free plan. For example, you need to listen to commercials between songs, and you can't listen to your music offline. There's no option to purchase and download the songs that you hear on Spotify. In another word, everything inside Spotify will always stay inside Spotify.
Whether you are looking for a different perspective to discover music, prefer to own your music, want an entirely free music streaming service, or just want to check out different services before you decide to settle with one, here are 10 Spotify alternatives that you can try.
Start with the Stores, Shift to the Stream
One of the biggest waves that hit the music industry came in the early days of world wide web and digital file sharing. The new technology enabled anyone with a computer and an internet connection to rip their physical music collections and share them with the world. Remember Napster, anyone? The music industry reacted to this new technology by adding layers of protections and encryptions.
Steve Jobs expressed his concern that people were illegally obtaining music because it was the only option they had. He built iTunes Music Store and made it easy for music lovers to purchase songs and albums for a very affordable price as an option to illegally obtaining music from peer-to-peer networks. That move was proven to be popular with the consumers, and it changed the music industry forever.
Even though the music store model has passed its peak, it's still going strong today. But the more recent trend is inching toward streaming service where users subscribe to listen to unlimited songs for a limited period, or for unlimited time with ads.
The Music Stores
Apple's iTunes music store offers over 43 million songs and currently the largest music vendors in the world. You can listen to song previews, purchase individual songs and albums, download and play them on various devices that you have.
You also have the option to upgrade to iTunes Match (US$ 29.99/year) to store all of your music in iCloud, including the ones that you didn't purchase from iTunes. The service will look into your collection then find songs that are available from its library and match them. For songs without any match, iTunes will upload them to iCloud. You can stream and download the highest quality of your songs to your devices.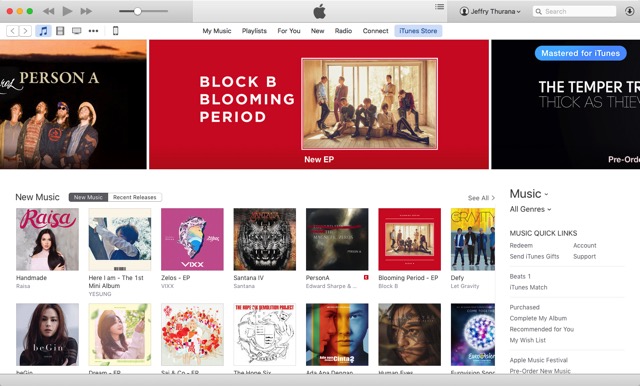 And as a bonus, iTunes allows you to listen to Internet Radios for free. It's available from View – More – Internet Radio menu.
Google Play Music stays between the music store and music streaming subscription service. It allows you to upload up to 50,000 songs that you already have in your music collection to the online music locker in the cloud (similar to iTunes Match). Then, you can access your collection from any devices. The music storage service is free, but the streaming service requires a US$ 10 monthly subscription. Google Play Music also gives you the option to buy the music that you are listening to on the streaming service.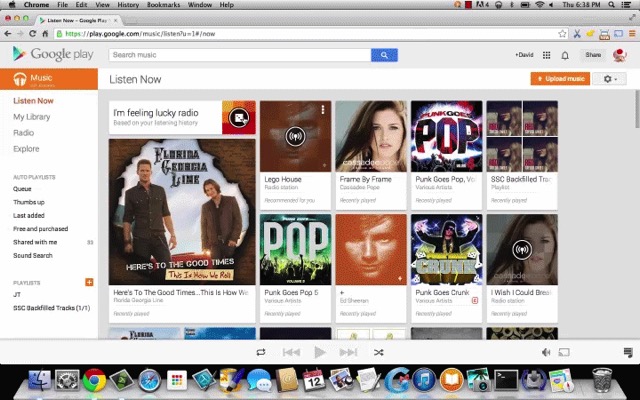 Currently, the service offers more than 30 million tracks for purchase or streaming and is only available in 63 selected countries.
Amazon Music, previously known as Amazon MP3, is the first online music store to offer DRM-free digital music. In addition to the music store, Amazon Music offers online music locker. You can upload, download, and access their digital music in the cloud via Amazon Cloud Player app. Currently, there are around 30 million songs in Amazon Music library.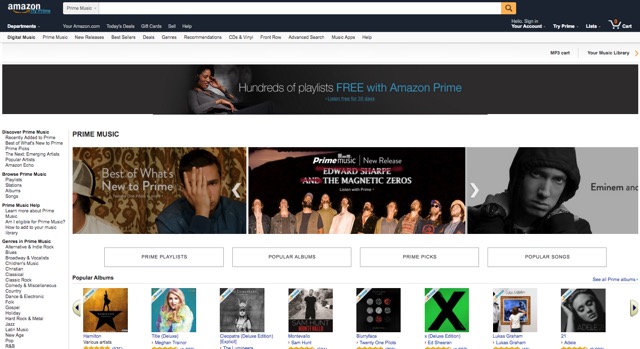 Amazon also offers subscription-based streaming services called Amazon Prime Music. This service is part of Amazon Prime subscription which includes faster product shipping, movie streaming, digital book borrowing, and more.
The Streaming Services
Pandora is one of the veterans in the music streaming business and also one of the most popular. Started in 2000, Pandora is a music streaming and automated music recommendation service and now has grown its user base to around 80 million active users. The first thing that you should do is to choose your favorite genres or artists, then provide positive or negative feedback to the selection plays by Pandora. Using that data, Pandora can build a better playlist for future song recommendations.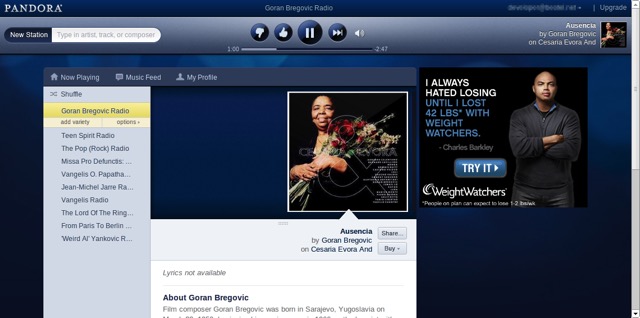 The free plan will limit the song-skipping ability, and some ads play between songs. The monthly subscription, with better features, is available for US$ 5. Unfortunately, due to DMCA regulations, Pandora is only available in United States, Australia, and New Zealand.
Deezer is a French-based music streaming service that allows you to listen to songs, create and rate custom playlists based on your favorites, and group songs or artists into "radio stations". You can also create "Hear This" list based on the music in your collection that you've listened recently. Deezer currently has more than 40 million licensed tracks in its library, over 30,000 radio channels, and around 16 million monthly active users.
The service is available for free. But to remove advertisements between songs, play music offline, and listen to the songs on your mobile devices, you need to upgrade to paid plan for US$ 6 /month.
Apple Music is Apple's answer to the growing trend of subscription-based music consuming. Since it uses the same music collection as iTunes Store, Apple Music subscribers will get access to the largest music library in the world. It also offers deep integration with other devices and features in Apple environment, such as the ability to use Siri voice command to search, navigate, and perform other actions. It also features Beats 1 live radio, broadcasted worldwide 24/7 from studios in Los Angeles, New York, and London.
But what makes Apple Music different from other streaming music services is the human curation. Apple hires top names in the music industry not only to broadcast the live radio but also to curate other theme-based stations. In addition, you can build your stations based on songs or artists that you like.
You can try Apple Music for free for three months. Then the subscription fee is US$ 9.99 monthly for an individual or US$ 14.99 monthly for a family up to 6 members. Beats 1 live radio is always free for everyone.
Tidal is a subscription-based music streaming service, owned by the rap star Jay-Z, that combines lossless audio and high definition music videos with curated editorial. The service pride itself on providing users with the highest quality of music files possible, and also for giving the highest percentage of royalties to music artists and songwriters among other streaming music providers. Currently, the service has over 40 million tracks and 130 thousand music videos in its library with over 3 million subscribers.
If you are a true audiophile who has no problem paying extra for better quality music, and you have access to a good internet connection, then you might want to try Tidal. The service cost US$ 9.99/month for the standard quality and US$ 19.99/month for high-fidelity music. There's a 30-day free trial.
Last.fm take the model of streaming radio station instead of on-demand music provider. You can play music online, but you can't create custom playlists. You can customize your listening experience by tagging like and dislike to the songs, choosing your favorite artists and un-choosing the ones that you don't like. Last.fm will build your playlist based on your preferences.
The unique feature of the service is the music Charts. It is the semi-automatic music rank generated by users' listening habit and preferences. There are several different charts available, including Top Artists, Top Tracks, and Top Albums, as well as Weekly Top Artists and Weekly Top Tracks.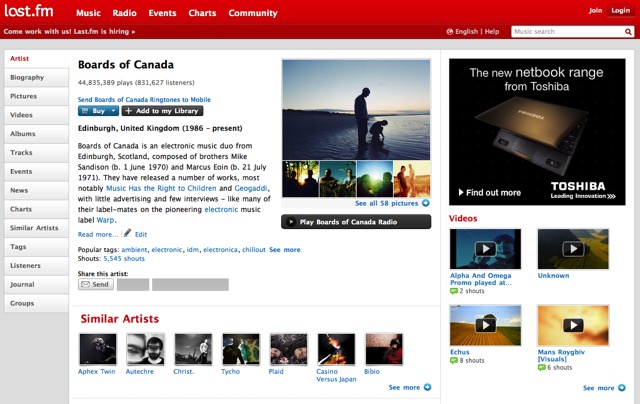 The service offers good sound quality and a wide selection of music. The last statistic on Wikipedia stated that there are over 12 million tracks available in Last.fm library. Users can choose the free plan with advertisements, or upgrade to the ad-free version for US$ 3 per month.
Bring Out the Bollywood
Gaana claimed itself as the number one Indian music station. It offers both Indian and International music content. While the Indian catalog is available to users worldwide, the International music collection on Gaana is only available for Indian users. The service features 21 languages including English, Hindi, and other Indian regional languages. Gaana users can make their playlists public so that other users can see them. It's also possible to favorite others' playlist.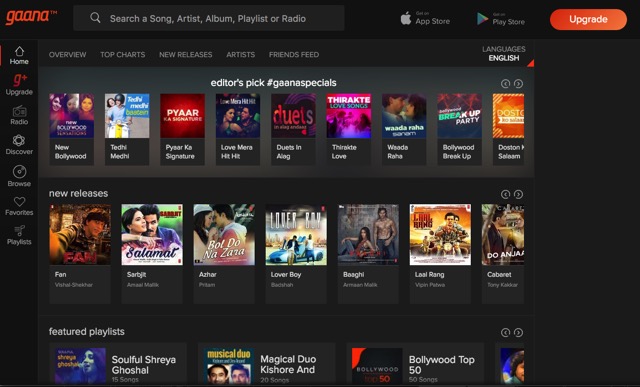 There are around 10 million songs in Gaana library, and you can listen to them for free. But to eliminate ads, listen to high definition quality, and unlock the ability to download music to listen offline on your mobile, you can upgrade to Gaana Plus starting from US$ 9.99/month.
Saavn is another music streaming service that focuses on Indian or Indian music lovers. It's also the distributor for Bollywood and Indian music in over 200 countries. Similar to other streaming music service, Saavn also offers unlimited music streaming and searching. Also, it adds social network element to the service by allowing users to follow the profile and playlists of friends and celebrities. Users can also share songs, albums and playlists with their friends; and chat about music with them in real time.
To date, the service has acquired rights to over 7 million songs and 13 million monthly active users. It also builds partnerships with Shazam, Twitter, Facebook, major music labels, and music and mobile related companies. The service is free, but if you want to listen to HD audio without ad interruptions and the ability to download songs for offline listening, you can opt to the pro plan for US$ 3.99/month.
SEE ALSO: Apple Music Vs Spotify Premium Vs Pandora One: Which is Best?
Have you tried any of these Spotify alternatives? Or do you prefer buying songs instead of streaming them? Feel free to share your thoughts using the comment below.