Music streaming is certainly very cool, as it lets you access and discover new music you like on the go. However, it's not always the best option for your music needs. That's because you cannot always be sure about your internet connection. While modern day telecom operators want us to believe that their networks are everywhere but we know better, don't we? So, if you are on a road trip or travelling to a rural area, you might want to consider taking your music collection offline. Also, streaming music on your mobile data plan might eat up all the bandwidth before you even know it.
The good news is, most of the popular music streaming apps today let you take your music offline. We are talking about apps that are legal, so you have nothing to worry about. So, if you have been looking for the best music apps that work without an internet connection, here are the best ones:
1. Spotify
Spotify is the bigwig among the music streaming apps and it's good to know that it lets users take their music offline. Spotify lets you add up to 3,333 songs to your offline list on three different devices. However, the feature is only available with the Spotify Premium subscription but the good news is, the feature is available on all the Spotify apps across different platforms.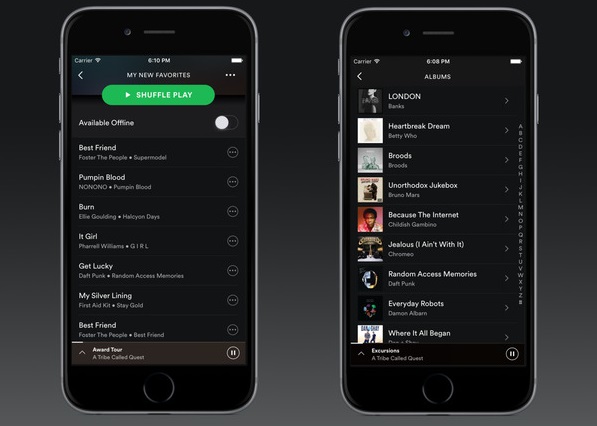 If you are a Premium user, you should find an "Available Offline" toggle at the top of a playlist, you can simply turn it on and the songs will be available to you offline. To start listening to your favorite music offline, go to app's settings and turn on the Offline mode. The app automatically goes into offline mode, if your device loses the internet connection.
Install: Android, iOS, Windows, OS X (Free with Premium subscription at $9.99/month)
2. Groove Music
If you are serious about taking all your music offline, you can consider Microsoft's Groove Music app. Groove Music lets you download all your purchased music, plus it also lets you download tracks you might have purchased on other devices.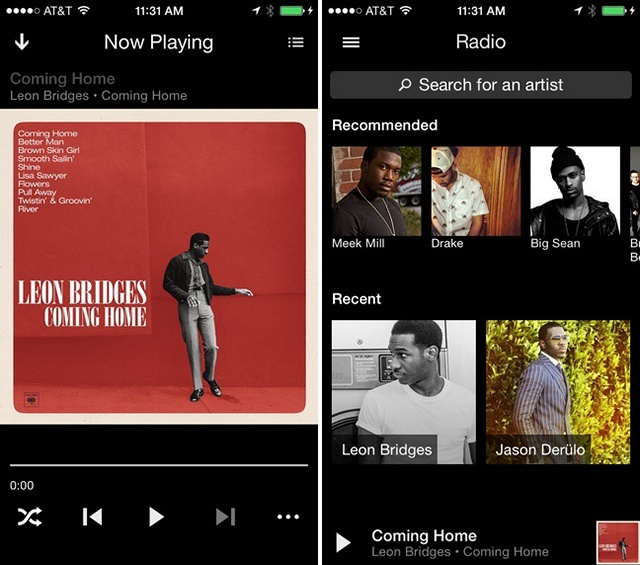 In the app's settings, you can simply turn on "Automatically download songs", which will make sure that all the songs you add from Groove Music is available offline. The feature is only available when you have a Groove Music Pass subscription.
Install: Android, iOS, Windows (Free trial with premium subscription at $9.99/month)
3. Google Play Music
The Google Play Music app also brings some handy features to let you play your favorite music even when you don't have a great internet connection. Play Music lets you download music from the apps, web player along with a cool "Music Manager" to let you download purchased music with ease.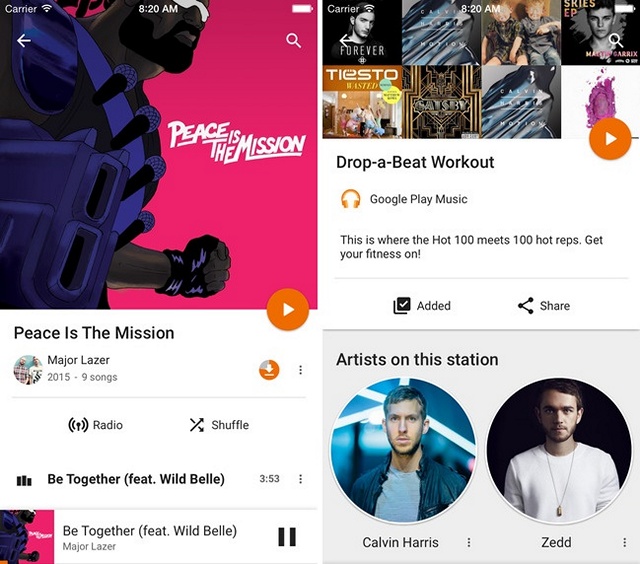 To download a purchased song or playlist from the Google Play Music app, you just need to tap the download icon inside a playlist or album. If you are a Google Play All Access subscriber, you can simply tap the three-dot button alongside a song, playlist or album and select "Download".
Install: Android, iOS, (Free trial with premium subscription at $9.99/month)
4. Apple Music
The budding music streaming app from the Cupertino giant is already a very mature service and it includes the option to download your music. If you are an Apple Music member, you can add songs to the offline collection with ease.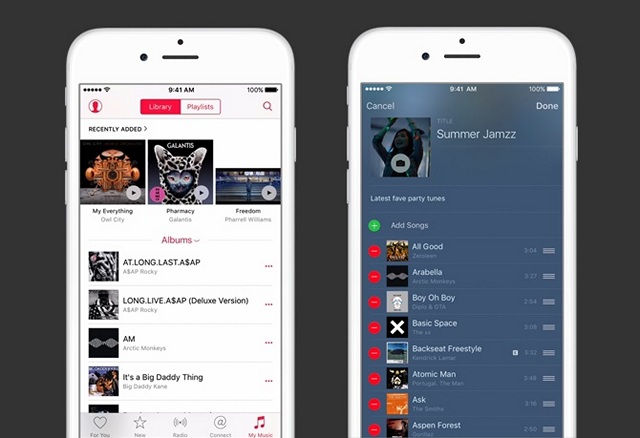 In the Apple Music app, there's a three dot button alongside every song, album or playlist. You can just tap that button and you will see a download icon on the right of the artwork. If you don't see a download button, you should see a plus icon, which will add the item to "My Music". While the feature works well, you will have to download tracks and playlists individually, which might be hassle if you have a large collection.
Install: Android, iOS, OS X (Free trial with premium subscription at $9.99/month)
5. Slacker Radio
If you love listening to radio, Slacker offers the option to download your favorite radio stations and more for offline usage. Slacker Plus and Premium subscribers can simply select the songs, stations or playlists they want on their device, hit the refresh button when connected to WiFi and the content should be available offline. So, if you have been looking for a radio service or a Pandora alternative for offline usage, Slacker should be your choice.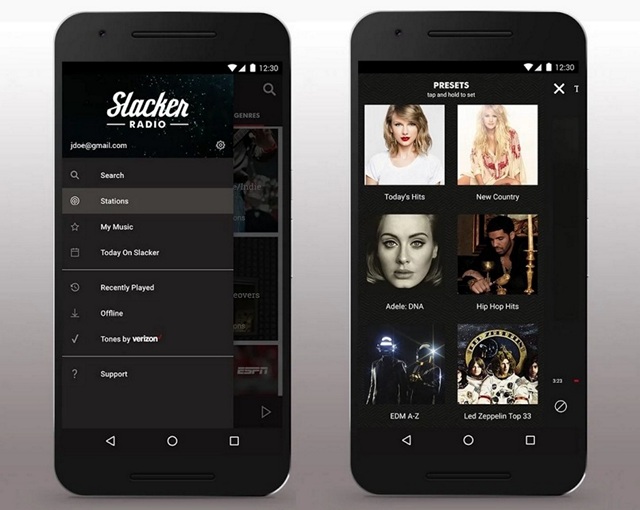 Install: Android, iOS, BlackBerry, Windows (Free with premium subscriptions starting at $3.99/month)
6. Gaana
Gaana is a music streaming app aimed at Indian users and it's offline capabilities are pretty alluring. If you have a Gaana Plus subscription, you can easily download unlimited number of songs in high quality. Moreover, you can sync your downloaded songs across 5 different devices.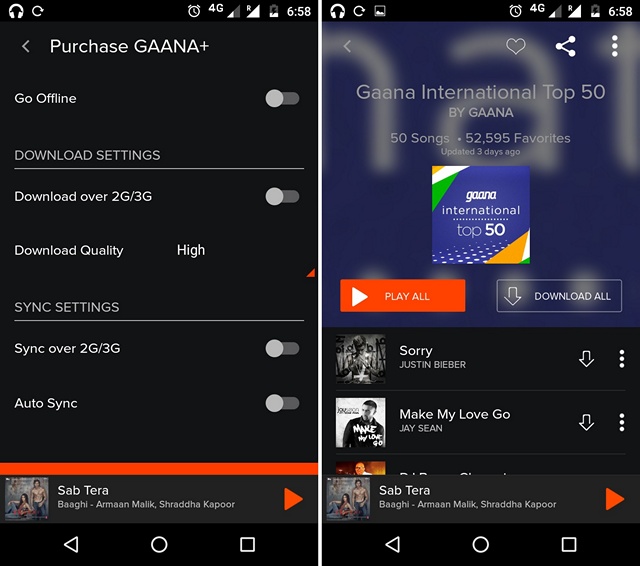 Downloading songs are pretty easy, as the Gaana app has a download button alongside every song. So, if you use different devices all the time, your music collection will always accompany you.
Install: Android, iOS (Free with Plus subscription at $3.99/month)
SEE ALSO: 14 Legal and Free Music Download Websites
Ready to take your music collection offline?
Not many people seem to know that music apps do offer the ability to download and move songs offline, so if you have been one of them, don't worry, now you know! So, what are you waiting for? Install one of these cool music apps and download your favorite songs to use offline without any worries. Let us know your experience in the comments section below.