As someone who's surrounded by the latest and greatest of technology, I've always found myself a little skeptical about recommending a smartwatch. That's mainly because I had a terrible experience as an early adopter of the Moto 360 smartwatch.
However, a lot has changed since then, and Android smartwatches are back in the news after a couple of stagnation. That's also a part of the reason why I was excited to witness the launch of Fossil's next-generation smartwatches, where the company ended up launching as many as seven new smartwatches under its six brands.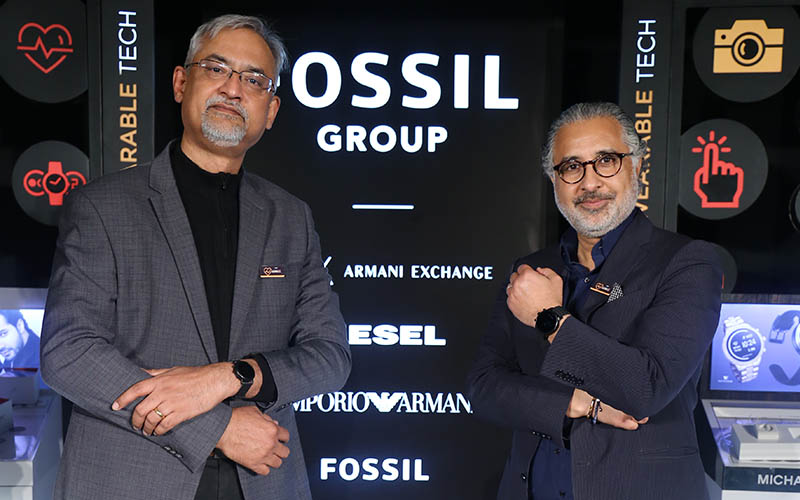 While I got to experience all seven of them at the event, Fossil hooked me up with the new Skagen Falster 2 smartwatch (Rs. 19,995), one of the seven new watches that were announced today, to see how I like it. Well, the watch has enjoyed a decent amount of time on my wrist, so allow me to give you my first impression –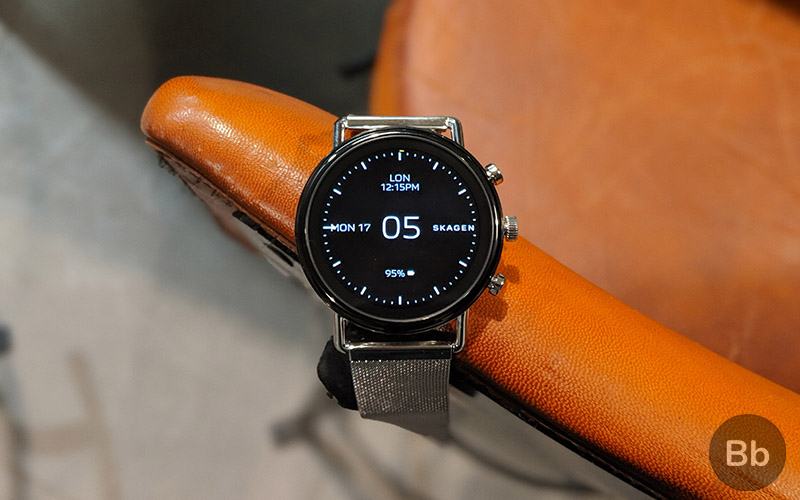 Design & Build Quality
The Danish watchmaker Skagen has always favored a minimalist, thin and lightweight design. Although the new Falster 2 is not necessarily the thinnest smartwatch out there, it does have a very simple and minimal look. In fact, it has the most subtle design elements of all the watches that Fossil announced under its different sub-brands today. My review unit, as you can see, is the Gray Magnetic Steel variant of the watch with Magnetic Mesh strap, but you can also get it in a variety of different colors like Black, Rose Gold, and more.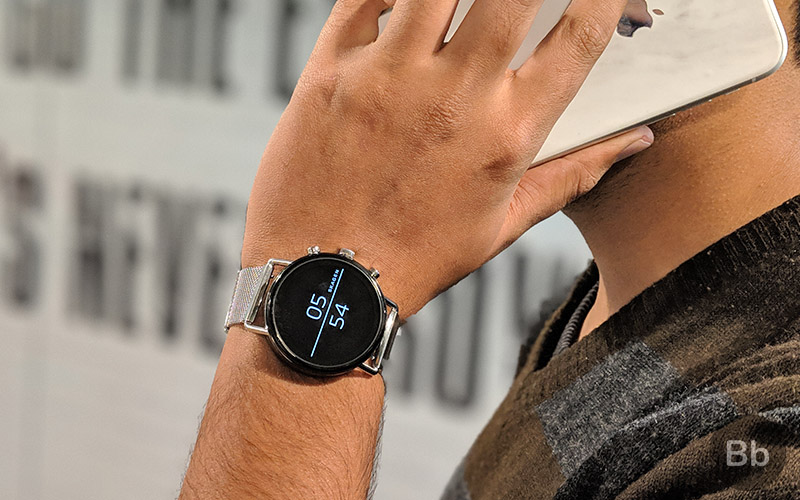 It has a 40mm circular enclosure and three different push buttons on the side. The center button also doubles up as a rotating crown, making scrolling around Google's Wear OS much easier. I've been told that the two buttons can be programmed to open any apps, but I haven't had the chance to explore those options yet, as it's been some time since I used Wear OS or Android on a smartwatch. The Falster 2 also comes with a 3ATM wtater resistance rating, which means you'll be fine wearing it in the pool.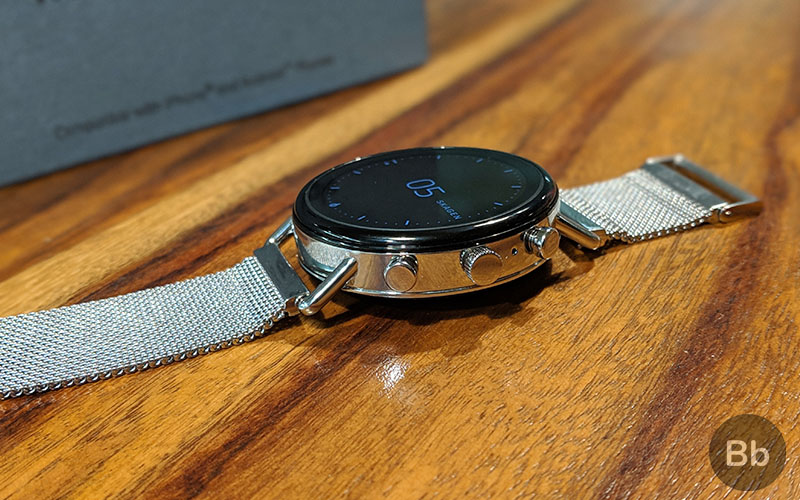 Although the Falster 2 may look more less masculine compared to other options, it quite frankly, looks wonderful to me. It's minimal and light design has grown on me, and I hope I'll continue to like it throughout my testing period.
"The Falster 2's design looks wonderful to me."
Display
Besides the design, the Falster 2's display is also something that I really like. It has a 1.19-inch circular OLED panel, that looks nice and bright. It is worth pointing out that the display has huge bezels, which makes it look like the watch has a dated design. The watch faces, however, are mostly black, and it helps mask the bezels.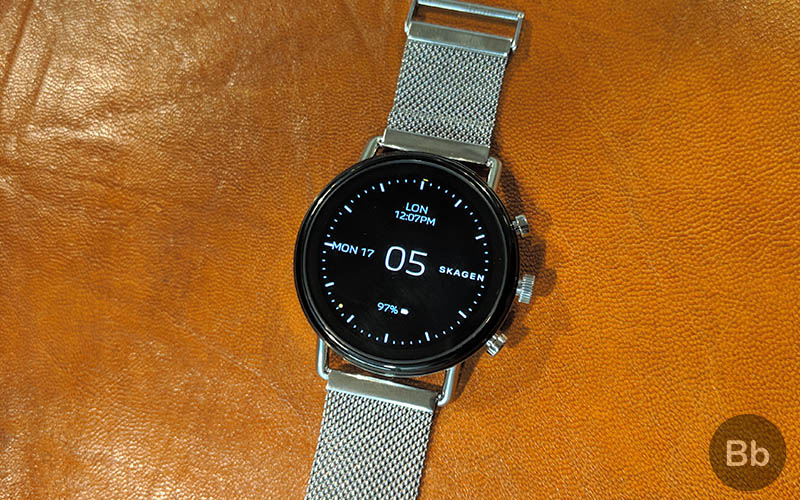 By default, the watch ships with a bunch of watch faces, and they all have, well, a minimal design. Just like any other smartwatch or fitness tracker out there, you can raise your wrist to check the time or browse your notifications. There's also an option to enable Wear OS's Always-on Display feature, but that'll affect the battery life.
Specifications & Features
The Skagen Falster 2 is powered by Qualcomm's Snapdragon Wear 2100, which isn't necessarily the most powerful chipset out there. We've seen watches running on this chipset for quite some time now, and it would have been nice to see it running on Snapdragon Wear 3100.
That being said, I haven't noticed any lags or stutters so far. It's running on Android 8.0 Oreo-based Wear OS 1.2 software. Browsing through the Wear OS UI is a breeze and even opening/ leaving apps seems to be snappy. We hope a Wear OS 2.0 update is on the cards.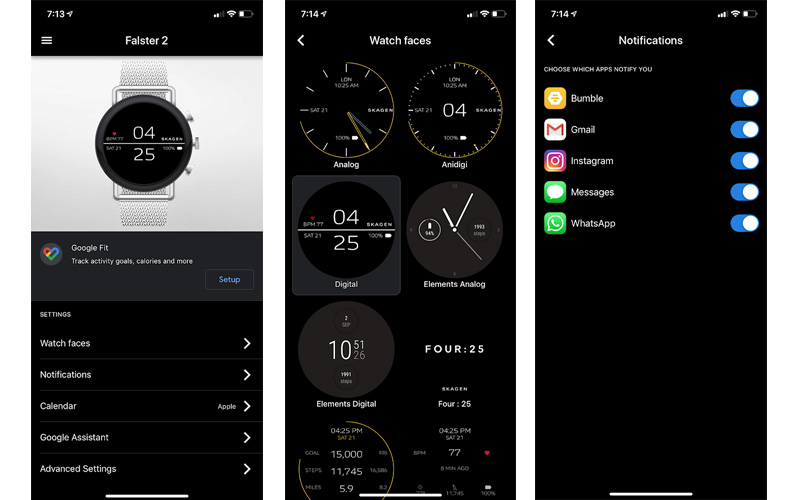 Be it simply browsing through the Wear OS interface or using resource intensive apps like Uber, I haven't had any issues whatsoever. It has been very consistent at showing me the time and notification every time I raise my wrist. However, I've only had the watch for a few hours now, so I am sure I'll have more to talk about the watch's performance in my full review.
FaLster 2's Performance has been pretty consistent so far
The Falster 2 is also packed with a ton of features. It makes up for the omission of a bunch of handy features from its predecessor like GPS, Heart-rate monitor, and NFC. This means you'll now be able to go out for a run wearing the watch and track metrics like pace and distance. It also comes with Google's new and updated 'Google Fit' app with a new design and interface, which I am excited about.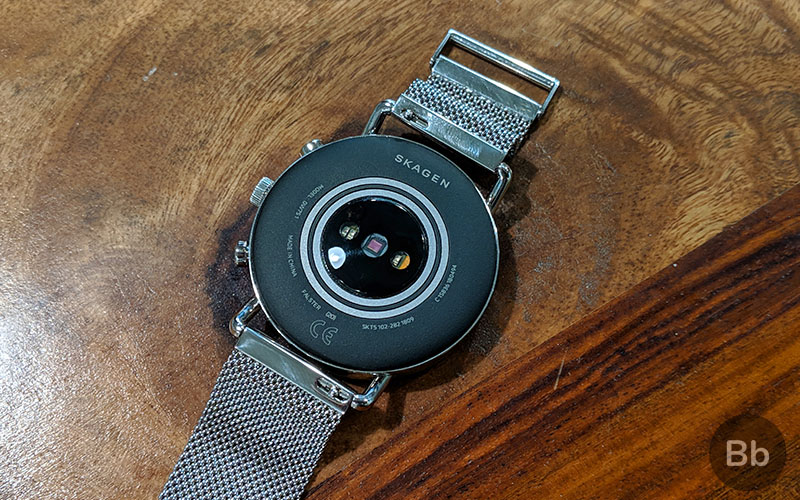 Before wrapping up my first impressions, I'd like to talk about battery life. The Falster 2 packs a 300 mAh battery, which, according to Skagen, should last for up to 2 days. Thanks to its rapid charging feature, I was able to top up the battery pretty quickly. It's too early to judge the battery performance, but honestly, two-days battery life seems to be an ambitious quote, especially with the Always-On display and continuous heart-rate monitoring.
Skagen Falster 2 First Impressions: Design Steals The Show
All thing considered, I must say that the Skagen Falster 2 is shaping up to be a really good smartwatch. In a little time that I've spent with it so far, it feels like a well-polished watch. The highlight of the watch has to be the design, really.
Skagen's watches have always eschewed the grand look for simplicity and minimal looks, but the Falster 2 seems like a well put-together watch. Honestly, even Wear OS already feels like accomplished, as I am yet to find something that's frustratingly annoying.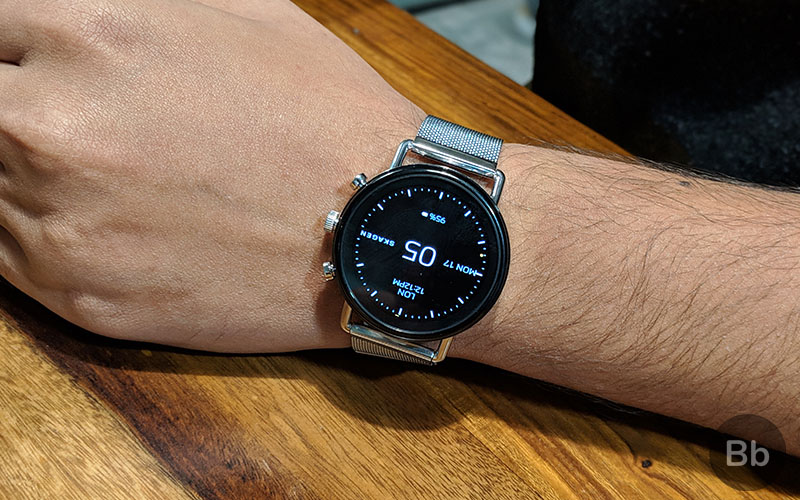 But is the Skagen Falster 2 worth dropping your money on? Well, as I've mentioned multiple times earlier, there's a lot to like about this smartwatch. However, I'll suggest you wait for my full review to find out if it's really worth buying. I mean, Rs. 20,000 is still a lot of money for a watch, especially given how sketchy Google's Wear OS platform is in terms of updates, and lack of really great apps like in the case of Apple Watch.
In the meantime, if you have any questions regarding the device, then be sure to drop them in the comments section down below. I'd love to take a look at them and try answering them in my full review.