Samsung has been making some of the best flagship smartphones for years. True, its 'TouchWiz UI', now named 'Samsung Experience UI' is the exact opposite of what I like in Android phones, and it slows things down a lot, but just looking at Samsung's hardware, it's top notch. It's stuffed with technology, and innovative (mostly useful) features.
Lately, however, it seems as though the South Korean giant just can't catch a break. The company is suffering through multiple issues, and even though I really dislike their smartphones (only because of the UI), I can't help but feel bad about it.
2016: Samsung launched the Note 7 to much fanfare. On top of other awesome features, it came with an iris scanner. People were loving the smartphone, and everything seemed to be going just fine; until it wasn't. A Note 7 caught fire. Then another, and another. Before we knew it, the Note 7 was caught in an elaborate drama that rocked through the world. Samsung made a recall, airlines banned the phone from being carried in flights. Samsung pushed an update to essentially brick all the Note 7 smartphones out in the wild — for security reasons.
For months, the company was the butt of all the jokes in the world of technology. Fire jokes, blast jokes, jokes about how Samsung phones could be used at the New Year instead of fireworks and so on. Not gonna lie, they were funny when they started, but they got insensitive and boring after a while.
The new Samsung Galaxy 7 is water resistant, which comes in handy when you're trying to extinguish it from being on fire.

— Tim Hanlon (@TimfromDa70s) September 12, 2016
I have an iPhone but I hear the new Samsung Galaxy is lit 🔥

— Nick Major (@Nick_Major) September 13, 2016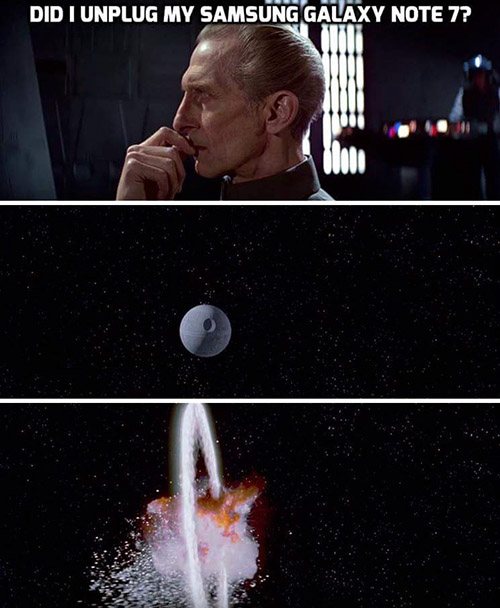 To cap things off, Samsung also got stuck in a major bribery case — a case that, by the way, resulted in South Korea's first woman President getting impeached, and Samsung's de-facto Chairman, Lee Jae-yong getting jailed.
2017: All eyes were on Samsung to see how the world's biggest manufacturer of smartphones came back from the Note 7 fiasco. Samsung showed off the S8 — a beautiful, bezel-less phone, which in my opinion, is one of the most beautiful phones out there. People made more battery jokes, but the S8 didn't have issues; in fact, it had the best camera, the best display, the best design. And so, we neared IFA, and Samsung launched the Note 8. We knew what to expect — a similar 'Infinity Display' design language, and more 'stuffed to the brim with tech' features.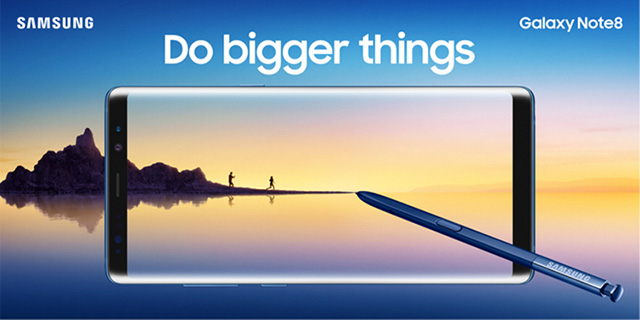 For a moment, everything was fine. The Note 8 had no fiery issues, and didn't start blowing up people's cars just because it was hot inside. Samsung seemed to be on track for a perfect year, and oh what a comeback it had been.
But then, it happened again. Battery issues, it seems, have taken a liking to Samsung's flagships. The Note 8 (at least some units) got bricked if the battery reached 0%. That's just plain weird. Samsung ignored the first few issues — no blame there, these things happen — but then the complaints started rising in a manner reminiscent of last year's Note 7 debacle, and Samsung had to take note (no pun intended).
The situation is still developing, and we can only guess why this happened to the Note 8, but as of now, Samsung is having some really poor luck with its Note series. The worst part is, this phone really deserves to be out there — it's a great device. I still don't like the UI, but the phone has everything one would want in a flagship smartphone, and the camera, as Samsung's cameras always are, is top-notch.
In 2016, we all made fun of Samsung for screwing up the Note 7 battery. In 2017, Samsung put its batteries through even more rigorous testing, with some reports saying that the company destroyed 3% of its batteries every month while testing. Samsung did everything right, or at least did everything it could think of doing to ensure its phones were perfect. Something still got messed up, and we don't yet know what.
What we do know, is that a company like Samsung can bounce back from almost anything. It's awesome like that, but we — as consumers, journalists, and tech-enthusiasts — owe it to the company that gave us years of great smartphone experiences, to not ridicule them for their failures. Heck, Apple made the iPhone X and Apple loyalists will fight you if you tell them the design sucks, the phone is overpriced, and the cameras aren't nearly as good as they should've been. Samsung actually deserves fans like that. After all, everything aside, Samsung's phones are top of the class, and nigh unbeatable in every aspect.
We're in 2018 now, and Samsung is gearing up to launch the Galaxy S9 very soon. It'll probably not be as big a change as the S8 was when it first came out, but I'm excited to see how Samsung handles all of the issues from the last two years, and how it bounces back. Here's wishing Samsung a great 2018.
---
Load More