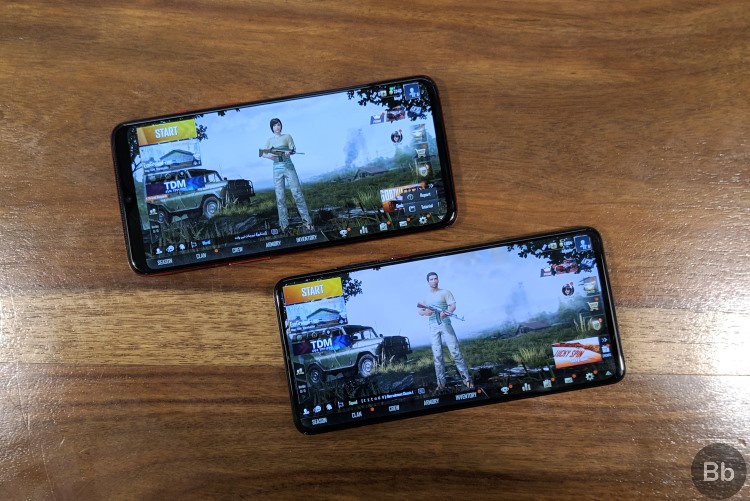 The premium budget segment in India earlier only had a single contender. I am talking about OnePlus which was dominating this space but then came the Poco F1. Xiaomi's Poco F1 came through with an even affordable flagship experience and took the market by storm. Now, the Redmi K20 Pro, which was launched in China recently, can be seen as the successor to Xiaomi's Poco F1 and it's now all set to take on the latest OnePlus budget flagship: the OnePlus 7!
With Xiaomi gearing up to launch the Redmi K20 Pro in India later in July to take on the OnePlus 7, we have decided it was time to test out the gaming performance of the two Snapdragon 855-powered devices. Which of the two devices performs better? Does the Redmi K20 Pro heat up on continuous gaming?
Well, the best way to test the flagship internals of the Redmi K20 Pro and OnePlus 7 is playing two of the most graphics-intensive games available on Android. You guessed it, right? It's certainly PUBG Mobile and Fortnite. So, let's jump in and test out the gaming performance of the two devices:
Redmi K20 Pro vs OnePlus 7: PUBG Mobile
Of course, we have to start with PUBG Mobile. It's a battle royale phenomenon that has redefined the mobile gaming scene and managed to keep users glued to their screens. I installed PUBG Mobile on the Redmi K20 Pro and OnePlus 7, with both offering HD graphics and high frame settings by default. Nothing less is expected from the high-end Snapdragon 855-backed smartphones.
The gameplay experience is in line with the firepower packed inside both the devices. It means you won't notice any form of stutter or frame drops while playing PUBG Mobile on Redmi K20 Pro and OnePlus 7. Well, I didn't notice anything over the course of the day where I only played the game to pit the 2 devices against one another. The touch response on both the screens is also pretty good and you won't miss out on shooting an enemy that jumps in front of you out of the blue.
You may be getting constant 30 frames on both the phones with the default setting, but you can choose to crank it up to HDR graphics and ultra frame rate as well. If you don't already know, this makes it possible for your device to offer a smoother gameplay (upto 40fps) while playing PUBG Mobile. I switched to the higher graphics settings for a better half of my testing and was impressed to see the Redmi K20 and OnePlus 7 handle these heavier graphics without a sweat. No frame drops or lag noticed in Ultra settings as well.
Redmi K20 Pro vs OnePlus 7: Fortnite
Moving on to Fortnite, well, let me preface the explanation with this – both the OnePlus 7 and Redmi K20 Pro perform equally well when playing Fortnite. The devices assume the highest 'Epic' graphics setting by default, with the frame rate capped at 30fps. You don't get access to the 60fps option, which can make the gameplay feel a lot smoother, however, it's still good enough.
Overall, our Fortnite gameplay on both OnePlus 7 and Redmi K20 Pro was really smooth and free of any noticeable lag. The waterdrop notch on the former wasn't an intrusion, which some may think of, as well and the latter is already offering an almost bezel-less experience to users.
We switched on the "FPS counter" on both the devices to keep an eye on how stable it remains during your gameplay. The frame rates on both OnePlus 7 and Redmi K20 Pro hover between 28-30, which means there isn't a huge drop in frames and you'll get an undisputable flagship performance in Fortnite.
Redmi K20 Pro vs OnePlus 7: Heating?
Finally, we also put the Redmi K20 Pro and OnePlus 7 through its paces to see whether these devices get heated up while playing games for a longer duration. While we know Redmi K20 Pro comes outfitted with an 8-layer graphite stereo cooling system, its rival doesn't feature anything similar for heat dissipation. The 'Pro' model of OnePlus 7, however, packs a 10-layer liquid cooling system to keep the smartphone cool while you game on it.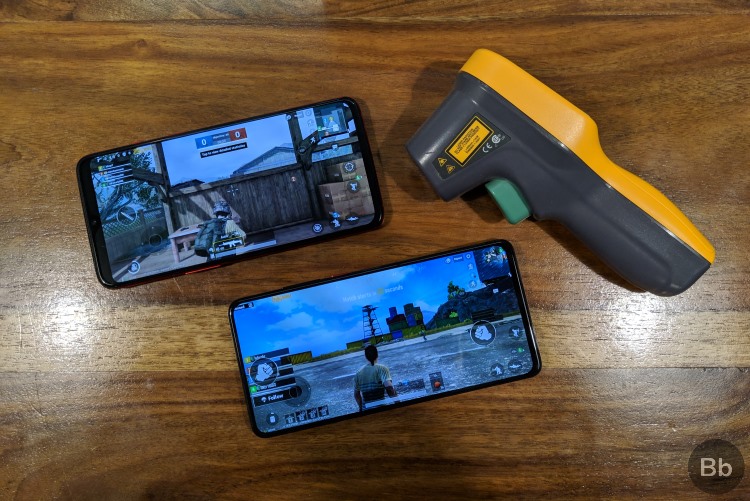 To conduct the heating test, we played PUBG Mobile on both the devices for around one hour and then measured the outer temperature. The OnePlus 7 and Redmi K20 Pro are again on par with one another in this segment as both of them don't get heated up too much. The temperature of the OnePlus 7 peaked to around 35.5 degrees while that of Redmi K20 Pro went up to 35 degrees, which is pretty decent and expected from the Snapdragon 855 chipset.
Mind you, they do get hot but are well within the temperatures one expects on continuously playing games on the smartphone. You can feel the OnePlus 7 heating up under your palm, especially with a case applied, whereas the Redmi K20 Pro was a bit cooler in my experience. The heat is bearable and won't affect your gameplay.
So, you can obviously see that both the budget flagships, OnePlus 7 and Redmi K20 Pro pack the internals to offer you a stutter-free and superior gameplay experience. But the former is expected to make the same available for under Rs 25,000 while you'll need to shell out a minimum of Rs 32,999 for the OnePlus 7. So, which of the two smartphones would you pick for playing PUBG? Let us know in the comments below.
---
Load More