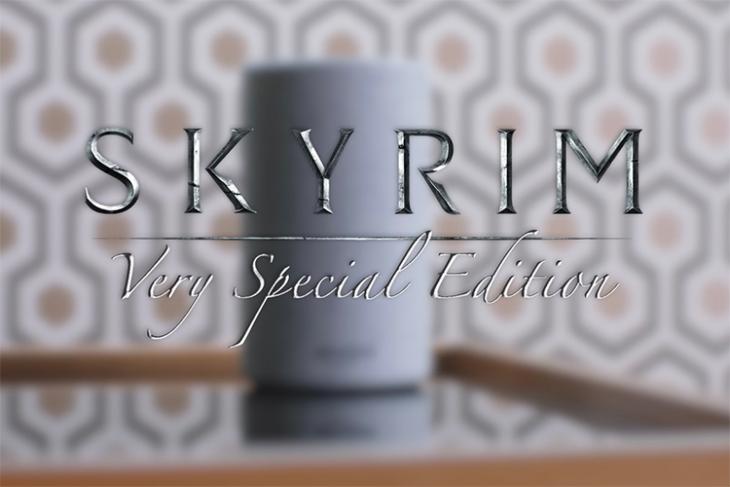 Skyrim has been ported to every popular console, and remastered for VR, and so many revisions have given birth to jokes about the developer porting it every possible computing device with a screen. But this time Bethesda is taking it to the next level and will let you play Skyrim even without a screen or handheld controller.
At the E3 conference, Bethesda chuckled about porting the game to Amazon Echo devices and every device that runs Alexa, showing a commercial featuring comedian Keegan-Michael Key. While attendees might have taken it for a gag, you can, in fact, play Skyrim using voice commands with Alexa.
You can head over to this page to download the Alexa skill called "Skyrim: Very Special Edition" and command Alexa to "Open Skyrim". As per the description, the Alexa skill lets you "take your rightful place as the Dragonborn of legend (again) and explore Skyrim using the power of your voice…your Thu'um!".
The description also lists the things you will be able to achieve by commanding Alexa including the abilities to "fight dragons", "eat sweet rolls", "guard your knees against arrows", "vanquish malevolent evils", and many more epic things. Since there is no screen and Alexa is the only interface, this version of Skyrim is considerably less violent and taxes your imagination.
Sadly for most of the Echo owners, this version is limited to users in the US. We fidgeted with settings, set the Echo Plus' location to the US; even on a US VPN the skill refused to load. But at least 60 users have reviewed the skill which has earned it an overall rating of 4.7 stars on Amazon, so it must be pretty damn slick.
https://twitter.com/Nitomatta/status/1006032050900496384
As for other versions, the trailer showed by Bethesda reveals that Skyrim will soon reach Motorola pagers, Etch-a-Sketch, and Samsung smart fridges, which sadly is not true. But if you're in the US, you can very well enjoy the game by talking to Alexa.