After the Oppo Find X with its mechanical pop-up camera design launched in India earlier this year without much fanfare, the Chinese giant decided to step up the game and bring their most popular and innovative R-series to the country. Well, the latest smartphone in that line-up, the Oppo R17 Pro, is finally here and has been priced at Rs 45,990.
The Oppo R17 Pro is not only the first device to bring the Snapdragon 710 chipset to India (around a week before Nokia), but also the one to show off its SuperVOOC flash charging technology – which is just marvelous as you'll learn. It also features a waterdrop notch with a great-looking display, stunning gradient design, and more.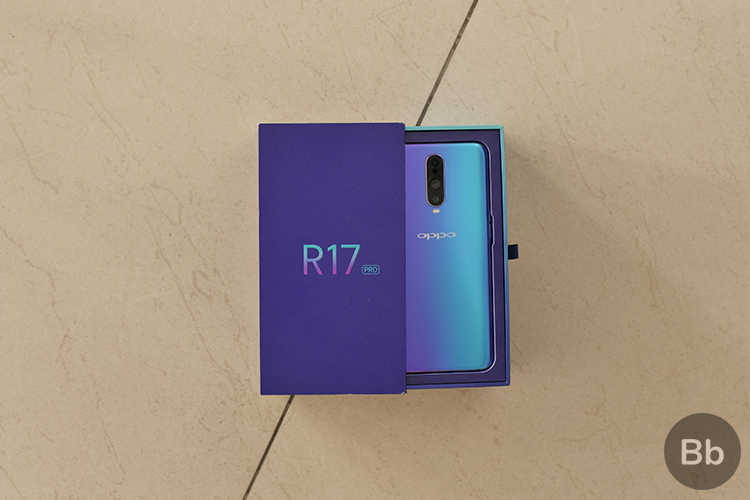 I was truly excited to try out the Oppo R17 Pro, and we were loaned a Radiant Mist variant of the device, so let's check out my experiences with the device:
Oppo R17 Pro: Specifications
Like we always do, let's first take a quick peek at the specifications table for the Oppo R17 Pro to get an idea of what we're dealing with here:
| | |
| --- | --- |
| Dimensions | 157.6 x 74.6 x 7.9 mm |
| Weight | 183 grams |
| Display | 6.4-inch Full-HD+ AMOLED |
| Processor | Snapdragon 710 |
| GPU | Adreno 616 |
| RAM | 8GB |
| Internal Storage | 128GB |
| Rear Cameras | 12MP (f/1.5-f/2.4) + 20MP (f/2.6) + TOF (time-of-flight) 3D stereo camera, LED flash |
| Front Camera | 25MP (f/2.0) |
| Operating System | Android 8.1 Oreo-based ColorOS 5.2 |
| Connectivity | Wi-Fi 802.11 a/b/g/n/ac, Wi-Fi Direct, Bluetooth 5.0, A-GPS, GLONASS, NFC, USB Type-C |
| Sensors | in-display fingerprint, E-Compass, Light and Proximity, Acceleration Sensor |
| Battery | 3,650mAh (1850mAh + 1800mAh) |
| Colors | Radiant Mist, Emerald Green |
Oppo R17 Pro: What's in the Box
The device comes packed inside an elegant purple box with the R17 Pro tag on top – that also dazzles in a blue and purple gradient under a light. Once you slide out the main compartment, you will find the Oppo R17 Pro sitting on the top, followed by all the other accessories neatly placed inside.
Apart from the Oppo R17 Pro, listed below are the box contents of the device:
SuperVOOC Charging Adapter
USB-A to USB-C Cable
USB Type-C Earphones
Quick Start Guide
SIM Ejector Tool
Silicone Case (Blue)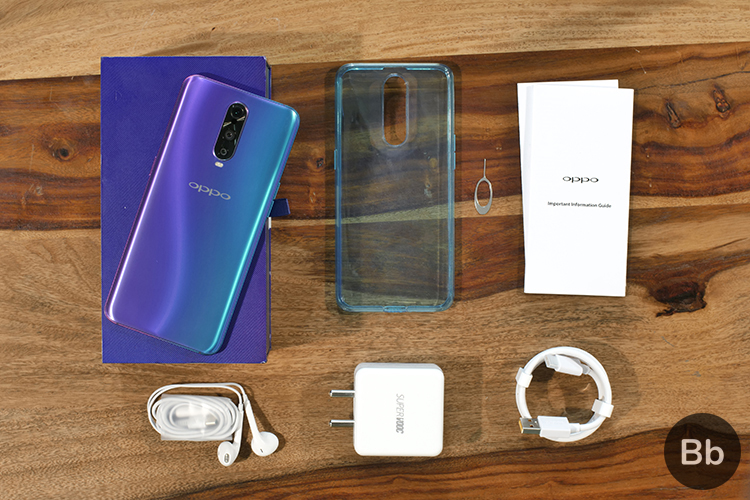 Oppo R17 Pro: Design and Build
A glass back with the gradient look is no longer a new look for smartphones. Oppo has itself has dabbled with this before, and R17 Pro is an attractive and sparkling beauty.
The Radiant Mist color that I've been using switches between bright blue and purple colors under different lighting conditions, and it may be a little too dazzling at first look -well, to the point that many of us found it to be tacky.
You will, however, get used to the color gradient once you start using the smartphone or can choose to subdue the effect by using the blue silicone case. The camera bump on the rear is also huge and the phone rocks back and forth when you place it on a table and try to use the in-display fingerprint sensor.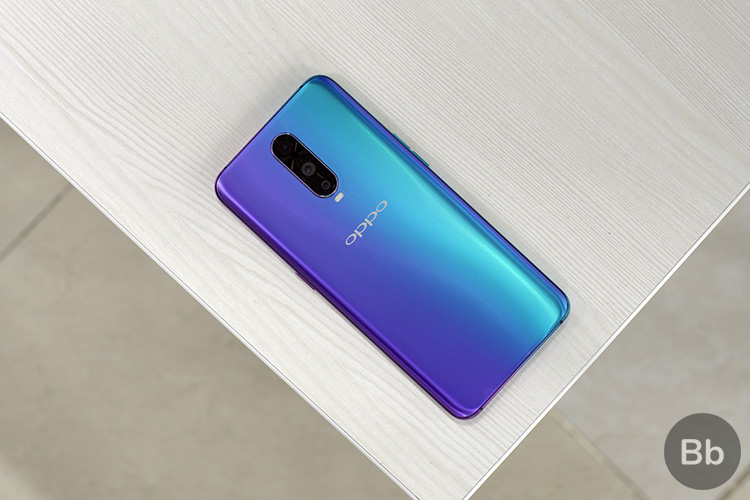 Not everyone is a big fan of the blinding colors and the shiny back of Oppo R17 Pro, but I believe it's fun to show it off in public. It obviously makes everyone take notice and I, for one, wouldn't mind that kind of attention and it could be a great conversation starter.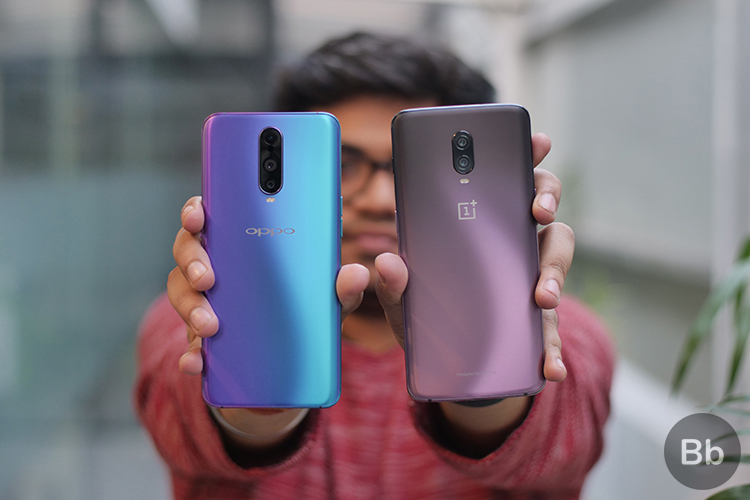 Though it's a bit on the thicker and heavier side of things than say OnePlus 6T, the R17 Pro feels light and comfortable to use thanks to a great in-hand feeling. The frosted glass finish feels very good but the phone is a bit on the slippery side and I would suggest you use the silicone case, if possible.
The power button on the right and the volume rocker on the left are quite clicky, which makes them a joy to use, and like me, you might also keep wondering about how they are of different colors.
In terms of ports, you will only get a USB-C port on board here and there's no 3.5mm headphone jack, but I appreciate Oppo for including a pair of USB Type-C earbuds in the box.
Oppo R17 Pro: Display
Turning our attention to the front, the Oppo R17 Pro dons the now-trendy waterdrop notch that makes it look equally gorgeous from the front as the back. The device is packing a 6.4-inch Full-HD+ AMOLED display, with a resolution of a 2340 x 1080 pixels, a 19.5:9 aspect ratio, and a screen-to-body ratio of 91.5 percent.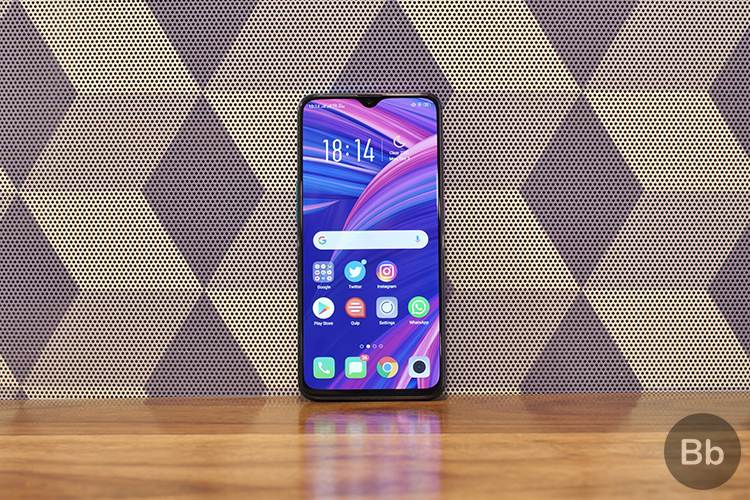 The display is gorgeous and makes for the perfect entertainment device. The OLED screen gets pretty bright, not just indoors but also under direct sunlight. Everything from the color reproduction, viewing angles, and the accuracy is spot on and there's nothing I'd change here.
The Oppo R17 Pro was the first device with Corning's Gorilla Glass 6 protection. It means you don't need to use any form of screen protector, which is generally the first accessory you might buy. Well, I didn't mean to test out its toughness, but accidentally dropped the smartphone from pocket height and it survived, so there's surely some merit to Corning's claims.
You can take a closer look at the notch, with a selfie camera and missing notification LED (which is a shame), as well as the thin bottom chin right here. They are no different from what we've seen on the OnePlus 6T already.
The chamfered edges around the display, where the smartphone's frame meets the screen, were quite sharp to the touch and it felt like you could get some cuts at first, but the edges smoothen out after a day or two of usage which is a relief.
Oppo R17 Pro: Under-Display Fingerprint Scanner
As smartphones are shifting towards bezel-less displays, the rear fingerprint scanner is losing its relevance. The Oppo R17 Pro also ditches the physical fingerprint sensor in favor of the under-display optical fingerprint sensor to further enhance the look and feel of the frosted glass back.
Oppo's proprietary under-display fingerprint sensor on the R17 Pro only lags a little behind the OnePlus 6T in terms of unlocking speed. The speeds are quite comparable and it's difficult to pick a winner, as you can see for yourself in the video attached below.
It's not all rosy. These sensors are fairly new, and the registration process is still pretty sluggish. The recognition is also a hit or miss, if you haven't registered your fingerprint correctly, covering the edges. We also noticed sluggish animations while unlocking the device on certain occasions, but the same can be fixed via software updates in the future.
Oppo R17 Pro: User Experience
Well, let me start off by saying that Oppo R17 Pro is backed by Android 8.1 Oreo-based ColorOS 5.2 and it should be enough to give you the hint that even though you will get a feature-rich skin, there are some qualms that need to be corrected – as I've already stated in my Realme U1 review.
ColorOS 5.2 may have mixed things up since it first arrived but the experience and UI still looks pretty much iOS-like and that bugs me every time I hop onto this train. I may have gotten used to the gestures and menus, so it has become less of a pain for me and I hope that ColorOS 6.0 fixes some of the niggles.
Even though it seems that we usually have bad things to say about ColorOS, this Android skin is literally packed to the brim with features and there are some which you might come to appreciate over time. As you can see in the screenshots attached below, when you turn on the portable hotspot, Oppo R17 Pro shows the data consumed in that one session and the number of devices connected to it in the notification bar at the top.
Oppo has also partnered with Trustonic Secure Platform (TSP) to only further enhance the security and privacy of its devices by providing enhanced experiences on services such as Alipay, WeChat Pay and even Paytm – which gave us a sneak peek at this feature while helping complete payments in a Secure Environment.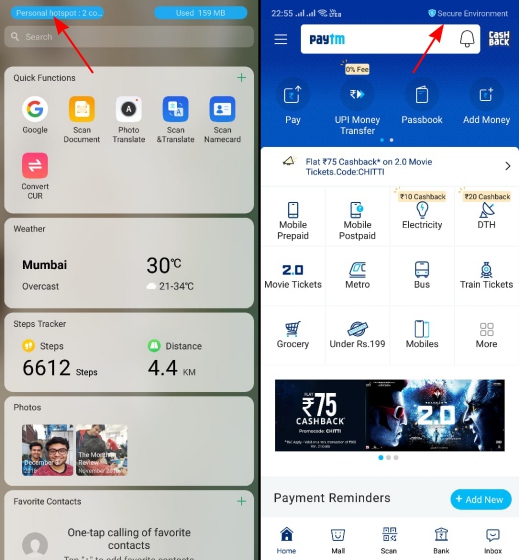 There are several other features too, such as the Smart Assistant and Smart Sidebar, along with Kids Space, Voice Call Effects, and more that you will need to scour through under the Settings. My biggest complaint is the absence of an ambient display that could've made up for the lack of the notification LED.
Oppo R17 Pro: Performance
Though ColorOS may not paint the best picture in terms of user experience, I cannot say the same for the Snapdragon 710 chipset. Oppo R17 Pro is the first smartphone powered by this chipset to launch in India, promising flagship-grade features and performance comparable to Qualcomm's 800-series chipset. It is coupled with a whopping 8GB of RAM and 128GB of onboard storage on the Oppo R17 Pro, which is no longer an overkill and only works in the favor of the smartphone.
We decided to test out the performance of the Snapdragon 710 against the Snapdragon 845 chipset, so I've been lugging around both the Oppo R17 Pro and OnePlus 6T with me for the past few days. Apart from running the conventional benchmark tests (results below), I decided to check out app opening and closing times, gameplay experience, and an overall performance check.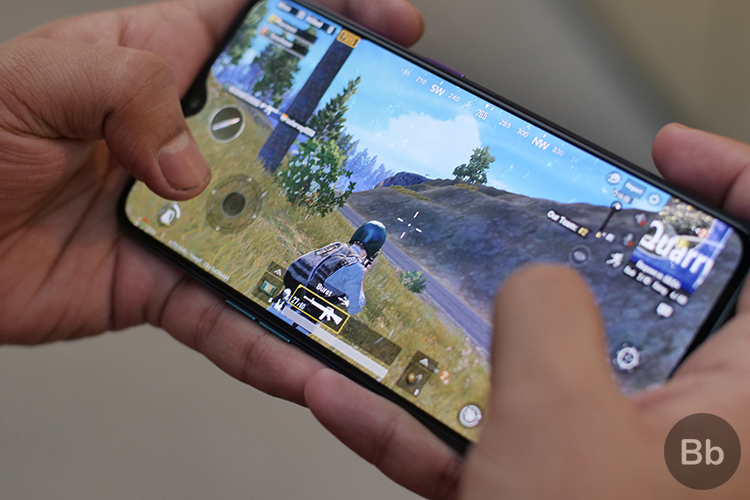 I was keen to finally get a taste of Snapdragon 710's real-world performance against its older brother and it didn't disappoint me. The app loading time differs only by a mere 6 seconds, where PUBG opened on the Oppo R17 Pro in around 33 seconds whereas it took 27 seconds to load up on the OnePlus 6T. This is not bad considering the heaps of memory that's always available for use on the R17 Pro, especially after more of it is freed up by the software-based Oppo Game Engine feature.
Further, I also opened popular social media apps such as Instagram, Facebook, and Twitter in quick succession and the Snapdragon 710 was only a few milliseconds behind in opening and closing and re-opening the apps in comparison to the Snapdragon 845, which shows that app management on the Oppo R17 Pro is also good and you wouldn't face any issues over the long term.
I then turned my attention to the gaming performance, which is where I was surprised to see that even though the Snapdragon 710 chipset is slightly better than the Snapdragon 660 (in terms of benchmarks), popular games such as PUBG and Asphalt 9 automatically took up the highest graphics settings, which is not the case with the 660. While Asphalt 9 was a breeze in my testing over the past few days, my PUBG sessions saw me jump back and forth between high and medium graphics.
I did notice a few jitters and frame drops in the former, leading me to jump to the latter, but the crisp graphics on the OLED screen of the Oppo R17 Pro pushed me to switch back to "high" graphics once again.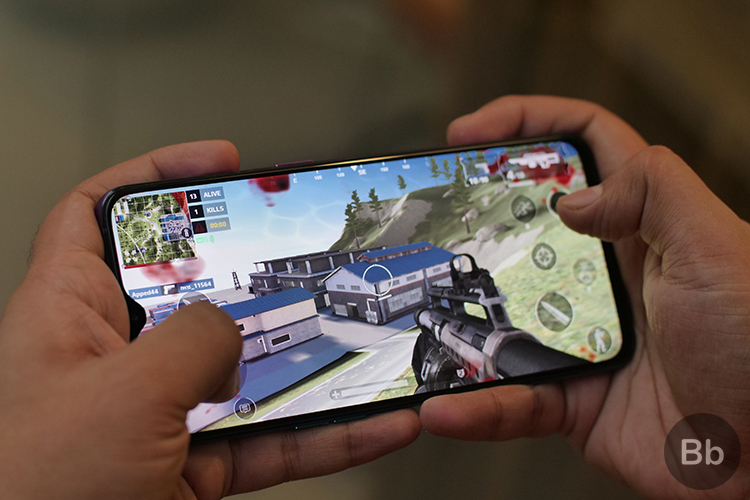 Finally, I decided to load up the newly added Battle Royale mode in Modern Combat 5 and Oppo R17 Pro offered stable frame rates here as well, confirming that the Snapdragon 710 is capable enough to handle heavy workloads. Games like Asphalt 9, Injustice, and Mortal Combat X also ran buttery smooth, without any frame drops or stutters, so it's safe to say that gaming on this device is a satisfactory experience.
Oppo R17 Pro: Antutu Benchmarks
Though I wouldn't put too much faith in benchmark figures as they don't really translate to the real-world performance, you can find attached our Geekbench and AnTutu benchmark scores below.
The single and multi-core Geekbench scores of Oppo R17 Pro stands at around 1800 and 6000 respectively, which is pretty low as compared to Snapdragon 845-powered devices, whose benchmark scores peak at around 2450 and 9000 (for the OnePlus 6T).
The Antutu benchmark of the Snapdragon 710 chipset on Oppo R17 Pro may be a little higher than Snapdragon 660 benchmarks, but the Snapdragon 845 blows it out of the water. The AnTuTu benchmark score of the Snapdragon 845 is almost twice as much as those of the Snapdragon 710 – which is enough to tell you the difference between the two, but as pointed out about I noticed no issues in real-world performance.
Oppo R17 Pro: Cameras
The cameras are a major highlight of the Oppo R17 Pro as it's the first Oppo device to feature a triple rear-camera setup. This includes a 12MP (f/1.5-f/2.4) primary sensor and a 20MP (f/2.6) secondary sensor, coupled with a third TOF (time-of-flight) 3D stereo sensor. There's also a 25MP (f/2.0) selfie camera on board here.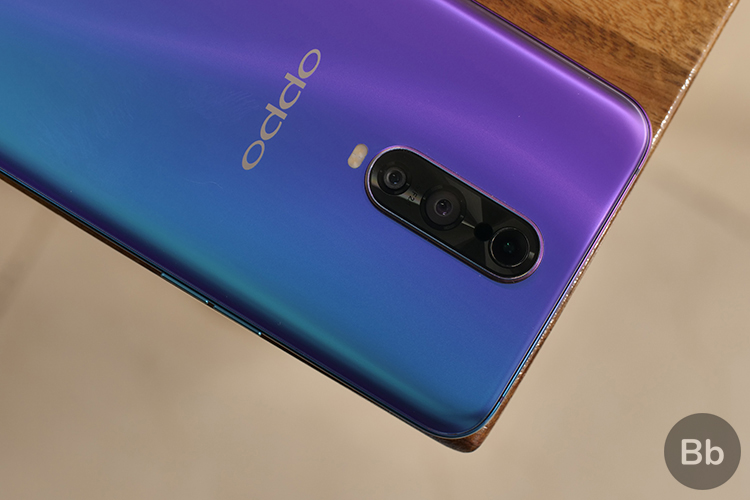 In true Oppo fashion, the camera hardware does sound amazing on paper but spending a few days with the R17 Pro made me realize that the company has come a long way. The days of overexposed or saturated selfies are gone and you can now capture some striking shots with this smartphone. Let's check out some camera samples:
Oppo R17 Pro Camera Samples: Daylight
The Oppo R17 Pro was a pleasant surprise in the camera department as the pictures we captured in day time and some artificial lighting turned out to be pretty good. While the color saturation and over-sharpening may be an issue for some, I found these shots to be Instagram-ready and worth every penny you'll spend on this phone.
The dual rear cameras, paired with the AI algorithms, are able to give you photos with good detail, vibrant colors, and highlights.
Oppo R17 Pro Camera Samples: Low Light
Oppo R17 Pro is able to hold its ground in low-light conditions as well, where also it helps punch up the colors, retain color depth, and outputs accurate photos. The device usually automatically recognizes the scene as 'Night' and clicks night mode shots, which turn out to be amazing even when there is a bare minimum amount of light around.
Oppo R17 Pro Camera Samples: Selfies
As I've already mentioned, Oppo seems to have improved its selfie camera performance with the addition of onboard AI to the device. The pictures you see attached below have decent amount of detail and while the camera may soften the skin tones sometimes, the selfies captured are Instagram-worthy in most cases.
Oppo R17 Pro Camera Samples: Portrait Mode
Oppo clicks one of the better portrait shots on a smartphone and it was unbelievable for me as well. The portrait selfies, as well as shots captured using the rear camera, have a ton of detail, decent edge detection and a natural background blur in most cases. While pictures of human subjects are much better, those of inanimate objects look great too, which is not the case in many phones.
Oppo R17 Pro Camera Samples: Ultra Night Mode
Night mode is the latest hype train that every smartphone maker is looking to board and Oppo doesn't want to miss out on that. The Ultra Night Mode on the Oppo R17 Pro is not at par with the Pixel 3, but it's pretty good. You will see in the shots attached below that Oppo is punching up the highlights and shadows to output some stunning pictures.
Oppo R17 Pro Camera Samples: TOF Camera
The time-of-flight (TOF) camera may not appear to be a suitable addition from a user's point of view but it makes the Oppo R17 Pro capable of capturing some sweet photos at night and get it ready for future AR applications. It currently sits above the existing rear-camera setup, shoots light beams at subjects and reads their distance from the device to better position the limited AR Stickers (or Apple Animoji clone) inside the camera app or light up the subjects in might mode.
These AR stickers may not be as good as Animoji's but you can see the TOF camera in action in the screenshot attached below. You can check out the lion's close-up and body shot right here. The face tracking is okayish and I'm not impressed.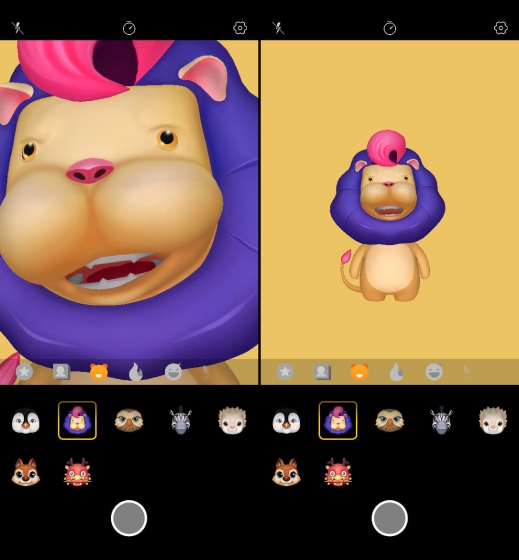 Oppo, however, tells us that new features that make use of the TOF camera will soon be added via software upgrades and if AR applications take off, then you have got yourself 'dedicated hardware' to better map and process depth data.
Oppo R17 Pro Video Samples
The Oppo F17 Pro is capable of capturing 4K (UHD) videos but only at 30fps, which sure sounds disappointing for the price you are paying. And if that wasn't enough, the videos captured, while they feature accurate colors and good audio quality, but the OIS (Optical Image Stabilization) isn't able to handle the wobble of the auto-rickshaw I was traveling by. You can find the 4K (30fps) video sample attached right here:
However, when you bump down the video quality to 1080p (30fps) then you can easily witness that the video is smoother and the wobble is also reduced in comparison to the 4K videos. You can check out the 1080p video sample attached right here:
Oppo R17 Pro: Connectivity
The Oppo R17 Pro comes with a dual nano-SIM card tray at the bottom and it looks like the tray we have seen on the Mate 20 Pro that also allows you to use a Nano memory card to expand storage. The device extends to you dual VoLTE functionality and I faced no issues with the network connection over the past five days, except when I switched circles and landed in Mumbai yesterday morning to attend the launch event.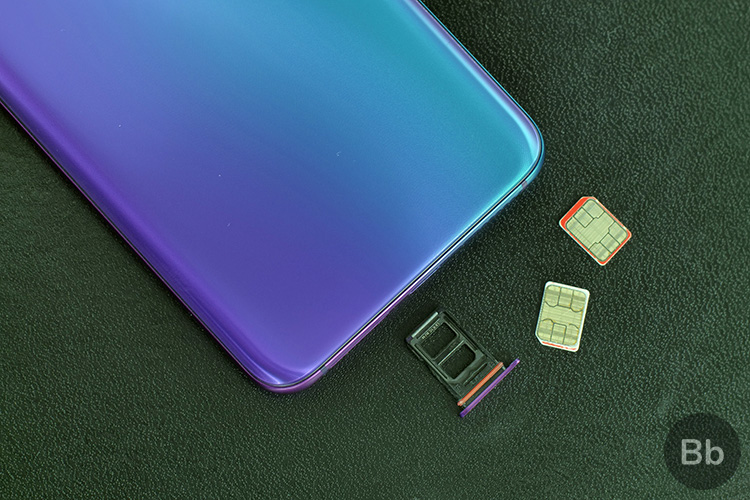 You also get your usual set of connectivity options here, which includes Wi-Fi 802.11 a/b/g/n/ac (2.4GHz and 5GHz support), Bluetooth 5.0, A-GPS, GLONASS, BeiDou, NFC, and a lot more. So, there's no dearth of connectivity options and R17 Pro will serve you just fine in this department.
Oppo R17 Pro: Audio and Telephony
The Oppo R17 Pro comes with a single bottom-firing speaker and even though I'm not particularly happy with its positioning, the speaker gets really loud (like really!!) and still manages to offer a wide soundstage with plenty of treble and bass.
It's easy to muffle the speaker while playing games, so be warned and use a pair of earphones to enhance the experience. You get 15 volume steps, which could be better distributed to let you control the volume.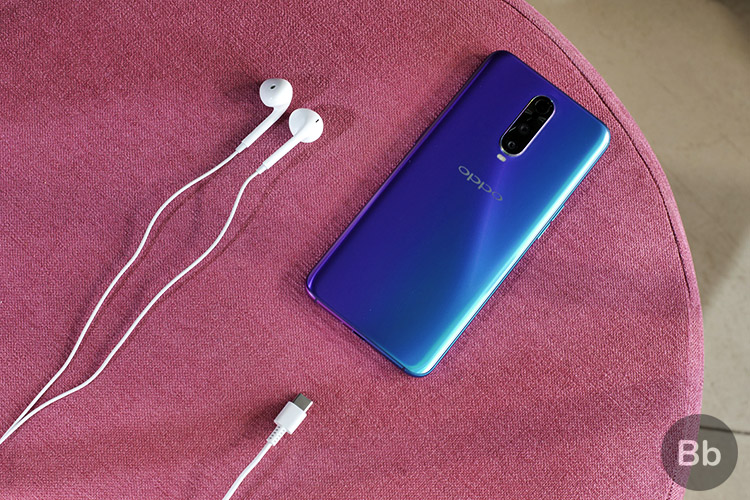 To make up for the lack of a headphone jack, Oppo has included a USB Type-C headset in the box but they're yet another Apple Earpods clone. I don't understand the obsession with copying Apple products but these earphones are sturdy and well-built. They offer decent sound quality, but with a flat soundstage and no bass-rich sound, which could turn out to be a disappointment for the Indian masses.
Further, Oppo told us that the Snapdragon 710 chipset packs 2×2 MIMO support and this made it possible for the company to include four antennas (two at the top, two on the bottom) on the R17 Pro. I have been using both my Jio and Airtel SIM cards on the device since it first landed into my hands and there have been no complaints on my end.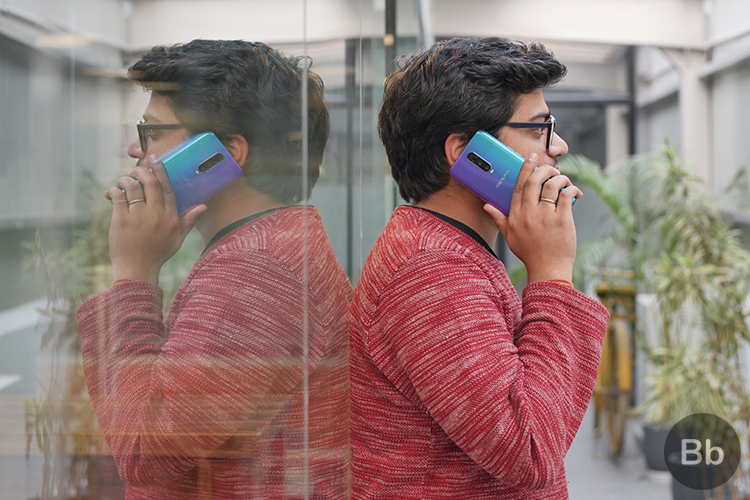 The network reception has been great and I haven't experienced any call drops either. I was told by one caller that the voice did fade away when I held the smartphone even a little far away from my mouth, but there were no hiccups otherwise.
Oppo R17 Pro: Battery Life
We know you have been dying to know about the awesome battery in the Oppo R17 Pro and the SuperVOOC charging technology.
Yes, the modest 3,700mAh battery pack on this device (same capacity as the OnePlus 6T) is backed by crazy fast charging speed that blew me away. I mean, pretty much everyone was amazed by the charging speed of the Oppo R17 Pro.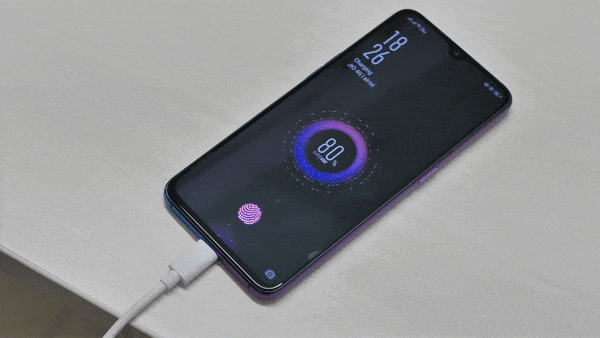 Well, my first taste of SuperVOOC was at a cafe, with my battery drained down to 4% after clicking camera samples and texting. I only put the device to charge at the cafe counter for about 7-8 minutes, and I was shocked to see the battery at 35%.
SuperVOOC charging takes a leap ahead of OnePlus' fast charge; it completely powers up your device from 5% to 100% in a little over 30 minutes. This has been made possible by splitting the battery into two halves – 1850mAh and 1800mAh and charging simultaneously via a 50W charging adapter – making for an extraordinary experience.
SuperVOOC Charging iS just incredible
As for the battery life, well, my biggest qualm with ColorOS is that it does not show the screen-on time and it becomes a little difficult to judge how long the battery really lasts under different usage conditions.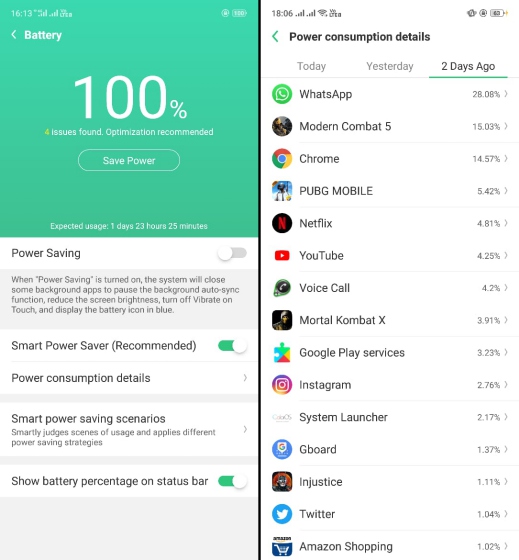 If I were to guess, a few phone calls, some PUBG and Modern Combat 5, along with WhatsApp amounts to medium usage. The device lasted me the whole day, with 12-15% charge left at the end of the day, but SuperVOOC technology remedies low battery warnings by juicing it up to full charge in no time. Just plug it in and be ready to be amazed.
Oppo R17 Pro: Pros and Cons
We have now finally made it to the decision-making process and I know most of you've already dismissed Oppo R17 Pro as an overpriced Snapdragon 710 smartphone. I know you're recommending the OnePlus 6T (starts at Rs 37,999) to friends and relatives right now, but do hear me out once.
Oppo R17 Pro is not a bad phone in any way and you cannot outright dismiss it because the device certainly has a lot of things working in its favor and I really took a liking to it over the past few days. Oppo R17 Pro didn't just lay the groundwork for the OnePlus 6T, but also brings along a powerful set of dual rear cameras, faster charging, and a dazzling (yet tacky!) rear panel.
The R17 Pro is a really compelling device but the poor pricing seems to have sunk the ship for Oppo, who might find it difficult to court buyers for the device. The users are all about internals specifications right now and the possibility of owning a more powerful device, backed by the Snapdragon 845 for less money will certainly sound like a better option, which is where the OnePlus 6T or Poco F1 (starts at Rs 20,999) take the cake.
PROS:
Beautiful gradient design
Less intrusive waterdrop notch
Under-display fingerprint sensor
Cameras live up to the hype
Snapdragon 710 is great
Remarkable charging speed
CONS:
Grossly overpriced
TOF camera unusable
ColorOS woes galore
No wireless charging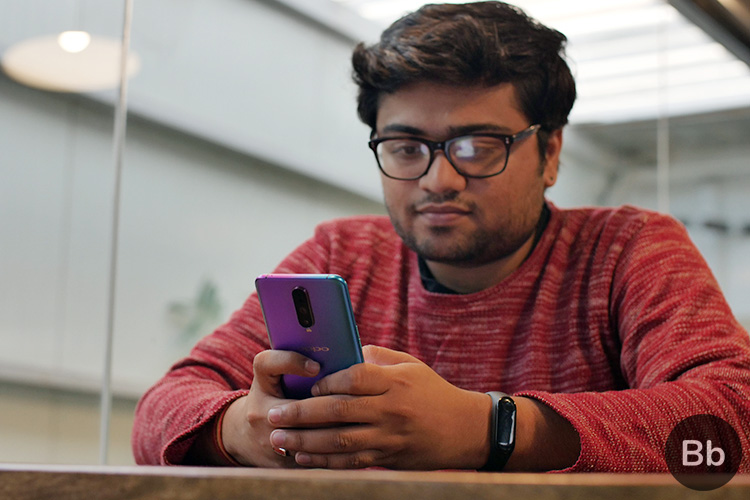 SEE ALSO: OnePlus 6T Review: It's Almost Perfect
Oppo R17 Pro Review: Impressive But Overpriced
Overall, the Oppo R17 Pro is one beautiful and powerful package that makes sense and is capable enough to check all the right boxes. But the price is unpalatable only for the super fast charging tech.
The Oppo R17 Pro, as it turns out, could have been a strong competitor in the mid-range segment in India if the company hadn't bet too heavily on SuperVOOC and not priced its device way beyond the cheapest flagship smartphone in the market. This makes the R17 Pro a futile attempt to court flagship users in the country. Do you agree with me?
What are your thoughts on the Oppo R17 Pro? Does SuperVOOC charging tech and triple rear-cameras give you a reason enough to go out and buy this Oppo device? Let us know down in the comments below.
Buy Oppo R17 Pro from Amazon (Rs 45,999)
---
Load More