The smartphone that is currently being touted to be the pinnacle of innovation, a device with almost negligible bezels, no cutouts either on the front or the rear, and a slide-out camera mechanism has finally landed in India. Yes, I'm talking about the Oppo Find X (Rs 59,990), which we got a chance to use at the launch.
It had been a while since Oppo had a headline-grabbing flagship smartphone in India. The Find X ends this drought in a phenomenal way, as you will see in our first impressions of the Oppo Find X:
Design and Build
The first thing I noticed was that the device isn't too bulky and feels quite light. The curved design is seamless and helps when you grip the device.
Oppo has adopted a clean and curved design with a glass panel on both sides for a sleek look. The company says the end product is a result of its dedication towards craftsmanship, and this shows in the attention to detail. The Find X is definitely eye-candy.
I'm impressed by the fact that Oppo has included no cutouts or holes anywhere on the front and back of the Find X. The motorized pop-up camera (more on that below) is eye-catching the moment it moves.
The phone also has of an astonishing 93.8% screen-to-body ratio, with almost even bezels on all sides except the bottom chin. Yes, it's here but you would possibly never notice it since the screen will drive all your attention away from it.
Display
The Find X has a huge and immersive 6.42-inch Full-HD+ (2340× 1080p) AMOLED display (called Panoramic Arc Screen by Oppo), which can get pretty bright and provides rich color reproduction on par with other flagships in this price range.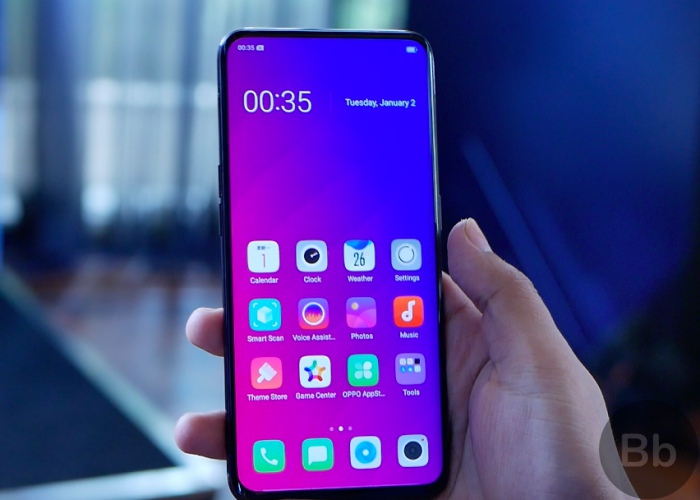 The viewing angles on this screen are also great and you wouldn't have any major qualms with it, except for maybe one. The display falters a bit in direct sunlight. I wasn't able to see the viewfinder clearly in daylight.
Hardware & Performance
Just like most flagship Android phones right now, the Find X is powered by the top-of-the-line Snapdragon 845 chipset. This is paired with 8GB of RAM and 256GB of onboard storage, and the device lives up to its hardware capabilities.
In my hour or two with the Oppo Find X, I didn't notice any lag or frame drops. The motorized pop-up camera opens almost immediately on tapping the camera icon, but it takes relatively longer to go back in.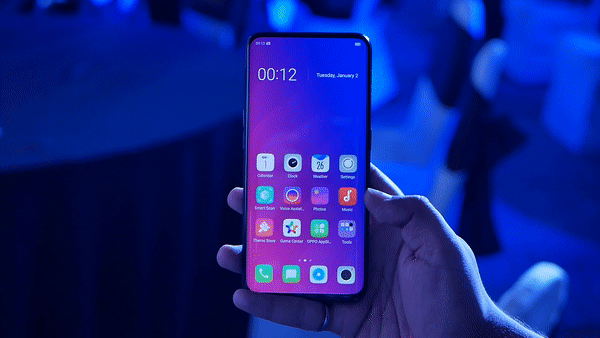 Since we are talking about the motorized camera module, it's a good time to mention the iPhone X-like '3D Face Recognition' technology in the front camera. You get a flood illuminator, an infrared camera, a ranging sensor and dot projector.
And it would be an understatement to say that facial recognition on Oppo Find X didn't blow my socks off. Yes, it's that fast. Even though the device needs to open a pop-up module to scan your face, the 3D facial recognition is insanely fast (much faster than the iPhone X in its initial days) and it left me seriously impressed. Just watch this GIF to see what I mean: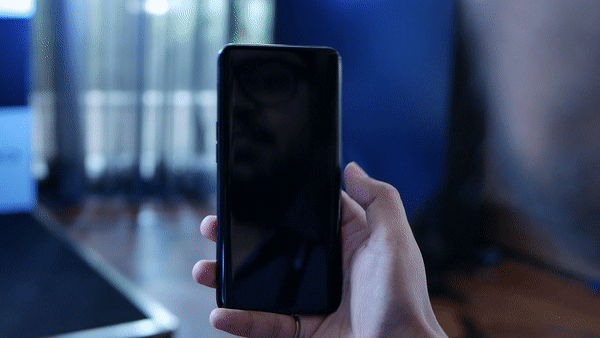 Oppo Find X Cameras
Now, let us turn our attention to the one feature that Oppo has always been known to do well – cameras. The Find X doesn't disappoint in this regard at least in the few minutes we tested it.
The Find X has an AI-assisted dual-rear camera setup, featuring a primary 16-megapixel f/2.0 sensor and a secondary 20-megapixel f/2.2 sensor, which you know by now are hidden behind the motorized glass back.
As you see attached below, the rear camera setup is able to produce some great photos with decent color reproduction and dynamic range. The rear camera performs quite well in natural light as well as in low-light conditions, but it loses out on detail in the latter.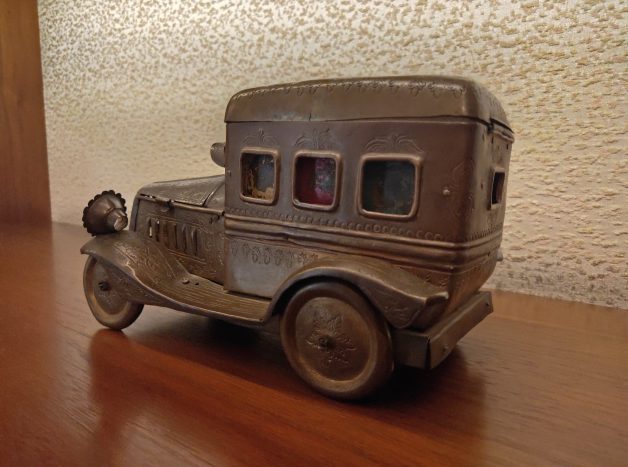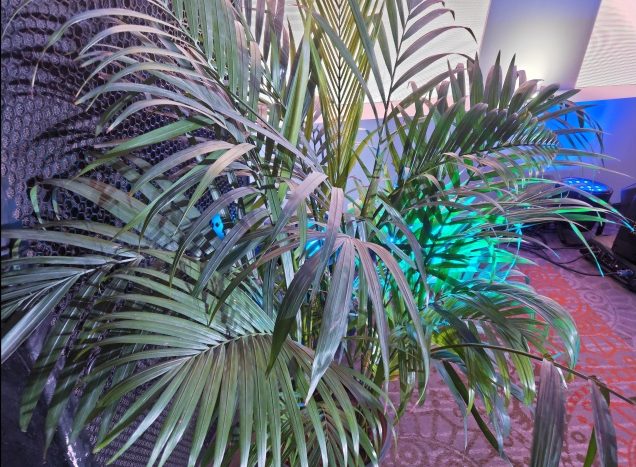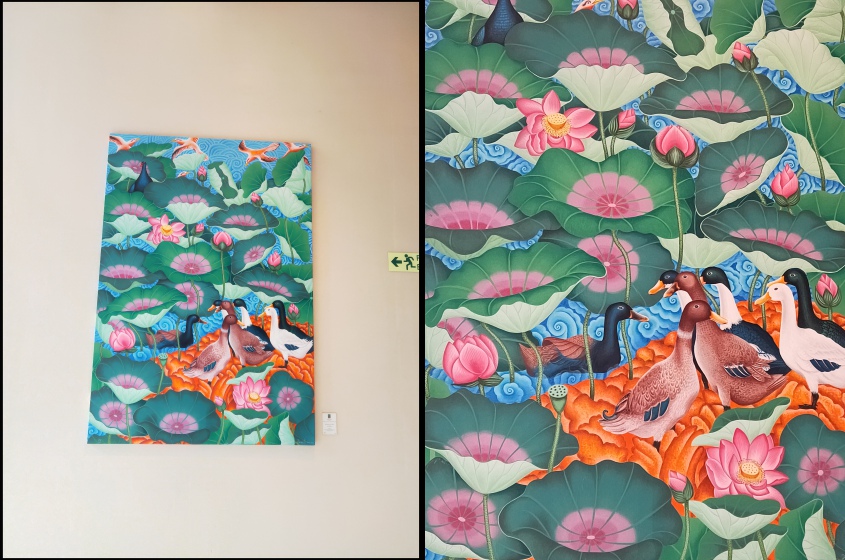 The selfies and portrait shots on the Find X are average, to say the least. The edge detection and blurring are fairly decent, but it's difficult to judge the camera quality in a couple of hours. All photos, however, turn out Instagram-worthy and most users will be okay with it.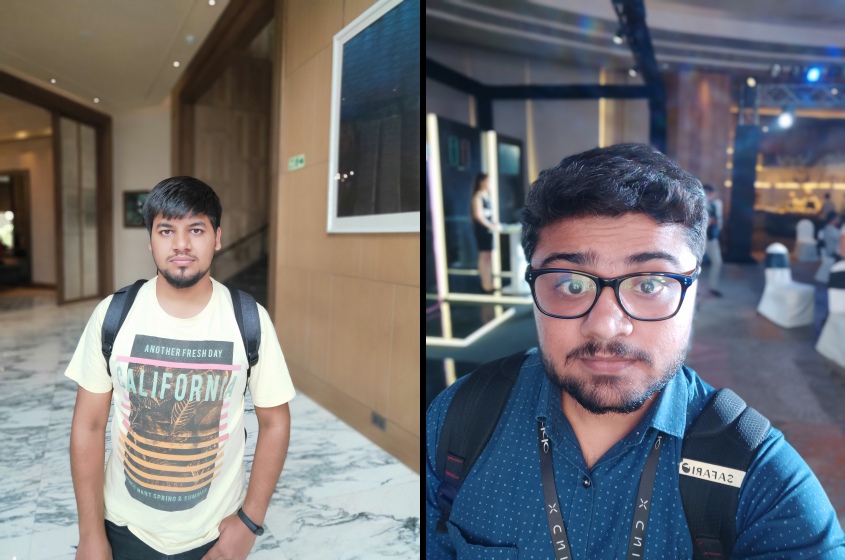 Also, as you may have already noticed, the motorized camera module quickly catches a lot of dust and it is easily discernible each time this part pops up. I hope dust particles don't really get into a spring-loaded motorized slider and slow it down after a few weeks.
Software
The great hardware on the Oppo Find X is backed by the company's Android 8.1 Oreo-based colorOS 5.1 on the user end. Even though the software is heavily skinned, it isn't bogged down by all the tweaks, and it will definitely remind you of iOS thanks to the screen gestures for navigation.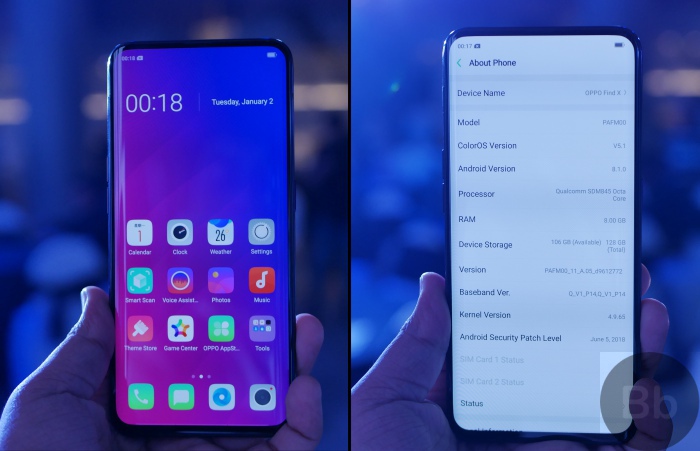 The demo devices on display at the event were all Chinese variants, so we couldn't load any games or apps from the Google Play Store to better analyze its overall performance. Still, the software is feature-rich, with add-on capabilities such as App Vault, Music Party, and more. Oppo Find X also comes with Android P Beta support, which surely is a welcome addition.
Price And Availability
The Oppo Find X is priced at an exorbitant Rs 59,990 in India and will go on sale starting August 3 on Flipkart and retail stores, with pre-orders beginning on July 25. You can head over to Flipkart and click the 'Notify Me' button to receive an email when pre-orders go live.
This device competes with flagships at the top of the spectrum, such as the Galaxy S9 or the Huawei P20 Pro, but is a class-apart. A company executive, in a personal interaction, told us that the Find X is a showcase of Oppo's technology and innovation. It isn't meant to attract the masses but you'll certainly see jaws drop to the ground when people experience the sliding camera mechanism for the first time.
So, if I had to sum everything up, the Oppo Find X truly exudes innovation and is a step forward for the smartphone industry. I'm a bit skeptical of the moving parts though and we'll have to see how it holds up in prolonged (and daily) use. You'll have to wait for our in-depth review to get an answer to this question.
---