The recently launched OnePlus 6T is just a minor upgrade over the OnePlus 6, bringing just a couple of new features over its predecessors. Among these is a larger 3,700mAh battery which is a significant improvement over the OnePlus 6's 3,300mAh battery. The device still ships with the same 5V/4A fast charger in the box, which has proven its fast charging capabilities with older OnePlus devices.
While it's quite obvious that the newer OnePlus 6T will have a better battery life than the OnePlus 6, we're here to find out just how much of an improvement does the larger battery bring. But before we get to our battery tests, lets take a cursory look at the charging performance.
Charging Test
As mentioned earlier, the OnePlus 6T comes with support for OnePlus' fast charging technology (which isn't called Dash Charge anymore, despite the charging brick still featuring the logo) and ships with a 5V/4A fast charger in the box. In my testing I found that the OnePlus 6T not only comes with a bigger battery but also charges a bit faster.
The bundled charger managed to charge up the phone from 10 to 100 percent in just 1 hour and 15 minutes, which is quite impressive. The OnePlus 6 takes a similar amount of time, but with a smaller battery. So, as you might have already expected, the OnePlus 6T really shines when it comes to charging speeds and there's hardly any device in the market that can match up to its performance.
Battery Life
Now with a 400mAh larger battery you'd expect the OnePlus 6T to perform marginally better than the OnePlus 6, but OnePlus has also included some software improvements to regulate the battery consumption for the device and that leads to some exceptional battery life. As always, we put the OnePlus 6T through two different use case scenarios – one with a normal everyday workload and the other with intensive use. Here's how the device performed:
Normal Workload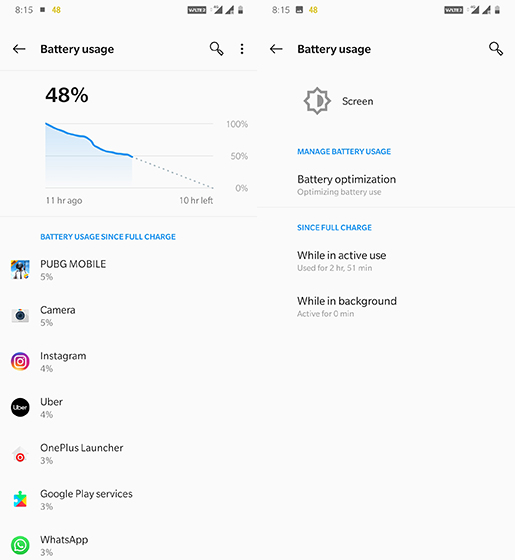 With a normal workload, which included some light web browsing, using social media, listening to music and playing a game or two of PUBG Mobile (apart from the usual calling and texting), the OnePlus 6T easily managed to last a full day with almost 50 percent battery remaining as I started my next day.
The OnePlus 6T delivered a decent screen-on-time of about 3 hours. Combined with the power-sipping Optic AMOLED display and OnePlus' software optimization, the OnePlus 6T manages to last quite a while on a single charge and I for one really liked its performance.
Intensive Workload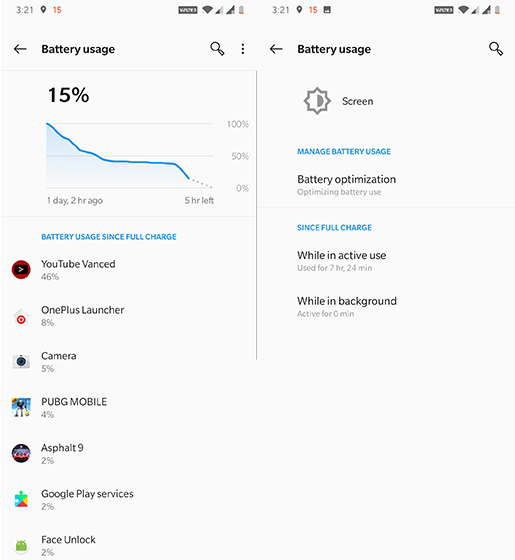 Under an intensive workload, which included running benchmarking apps, watching a whole lot of YouTube videos, playing several PUBG Mobile matches, along with the usual calling and texting, the OnePlus 6T managed to pull off a screen-on-time just shy of 7 hours and 30 minutes while lasting one and a half days with that kind of use.
The device barely lost any charge overnight, which means that OnePlus has considerably improved the standby times for the device. With that kind of screen-on-time, the OnePlus 6T definitely shines, even among smartphones that pack larger 4,000mAh batteries.
OnePlus 6T Battery Life and Charging Test: Undoubtedly the Best
In conclusion, the OnePlus 6T is definitely the device to get if you want great battery life along with fast charging. As you've already seen, the device can easily last a full day under heavy workload and you won't face any problems with the device's battery life.
Even if the device does run out of battery, you can charge it up quite quickly which means that you won't be tethered to the power outlet for an extended duration. Honestly, if great battery life is what you're looking for, then there isn't a better device that I can recommend to you right now.
---
Load More