With a rapidly expanding product portfolio, HMD Global is enjoying a fantastic streak in India this year with over nine Nokia smartphones already out in the market. And with the new Nokia 3.1 Plus it felt as though the company had cooked a perfect recipe for a budget smartphone. But to my surprise, HMD Global decided to launch the Nokia 3.1 Plus at a starting price of Rs. 11,499, which is relatively high when compared with its other phones in its league of budget phones.
Yes, it makes me scratch my head every time I think about it. Anyway, you can read my thoughts on Nokia's odd-ball pricing strategy here, but for now, let's see if the phone manages to make a decent fist of its pricing.
I have been using the Nokia 3.1 Plus for little over a week now, so let me tell you if it has enough power to stand a chance against the fierce competition from its Chinese rivals.
What's in The Box
Before I start with my opinion on the phone, let's take a look at the things that you would get inside the box when you pick up a Nokia 3.1 Plus –
Nokia 3.1 Plus
Micro USB to USB-A cable
5V/2A Charger
A pair of standard earphones
Instruction leaflets
SIM Ejector Tool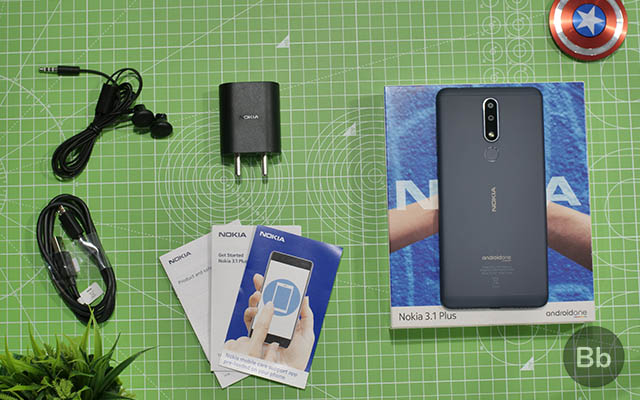 Nokia 3.1 Plus Specifications
| | |
| --- | --- |
| Dimensions | 156.68 x 76.44 x 8.19 mm |
| Weight | 180 grams |
| Display | 6-inch HD+ IPS LCD |
| Processor | MediaTek Helio P22 |
| RAM | 2/3GB |
| Storage | 16/32GB, expandable up to 400GB |
| Rear Camera | 13MP (f/2.0)+5MP (f/2.4), PDAF, single LED flash |
| Front Camera | 8MP (f/2.2) |
| Battery | 3,500 mAh |
| OS | Android 8.1 Oreo, under Android One program |
| Connectivity | Wi-Fi 802.11 b/g/n, Bluetooth 4.1, A-GPS, GLONASS, 3.5mm headphone jack, microUSB port |
| Sensors | rear-mounted fingerprint, accelerometer, gyroscope, e-compass, proximity, ambient light |
| Colors | Blue, White, Baltic |
Now that you have a good idea about the internals in the Nokia 3.1 Plus, let's see how it performs in the real world.
Design & Build Quality
The Nokia-branded phones, as we all know, may have wishy-washy performance, but they always score good marks when it comes to the design. Well, I am happy to report that the Nokia 3.1 Plus is no exception. In fact, the best part of Nokia 3.1 Plus is its in-hand feel. The company is using a die-cast metal casing for the phone's back, which makes it very comfortable to hold.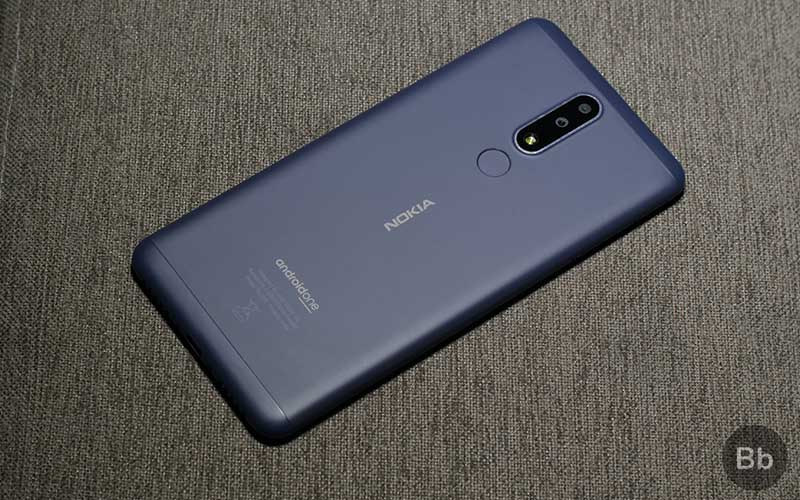 The Nokia 3.1 Plus also hits the sweet spot when it comes to ergonomics. It has nice curved edges, the buttons are reachable, and the fingerprint scanner sits in the right place too. While we are at it, let me tell you that the fingerprint scanner is snappy and accurate as well.
The Nokia 3.1 Plus feels almost too premium for a budget smartphone!
The silver accents around the dual camera setup and the fingerprint scanner on my Blue color variant here gives it an edge over the competition when it comes to the design. The accents, in my opinion, are not too obnoxious like the ones on the Nokia 7 Plus, and I really like it. It's just a matter of taste, really.
Coming to the front, I am glad that Nokia has decided to defy the trend by going for a classic look instead of throwing in a notch. It still has a tall 18:9 display, and it looks better than the competition like the Redmi 6 Pro. Some may think that the Nokia 3.1 Plus has a dated look, but I hate notches in general, so I am okay with it.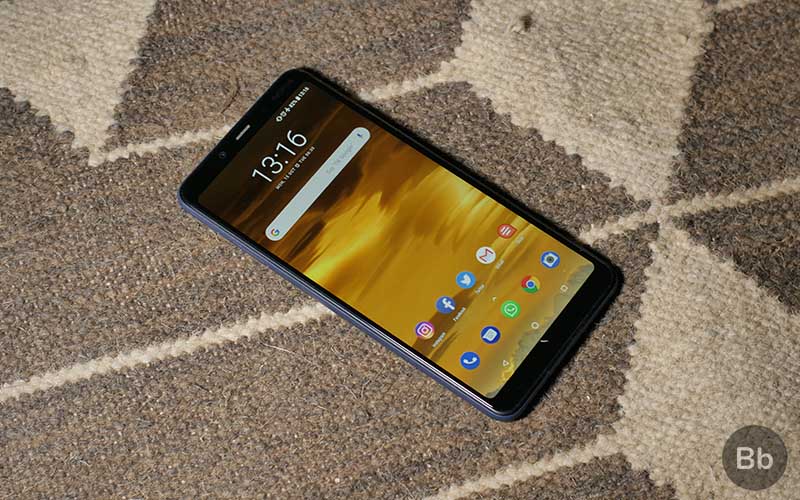 Before I talk more about the display, I'd like to point out that the Nokia 3.1 Plus has a 3.5mm headphone jack, and a dedicated micro SD card slot in addition to two SIM card slots. The bottom firing speakers are also surprisingly good, but you'll have to make do with a micro USB port.
Display
The Nokia 3.1 Plus has a 6-inch HD+ IPS display with a 2.5D curved glass on top. There's no Gorilla Glass here, and I am already seeing a lot of scratches on my unit. It's not a pretty sight considering the fact that I've only had it for little over a week.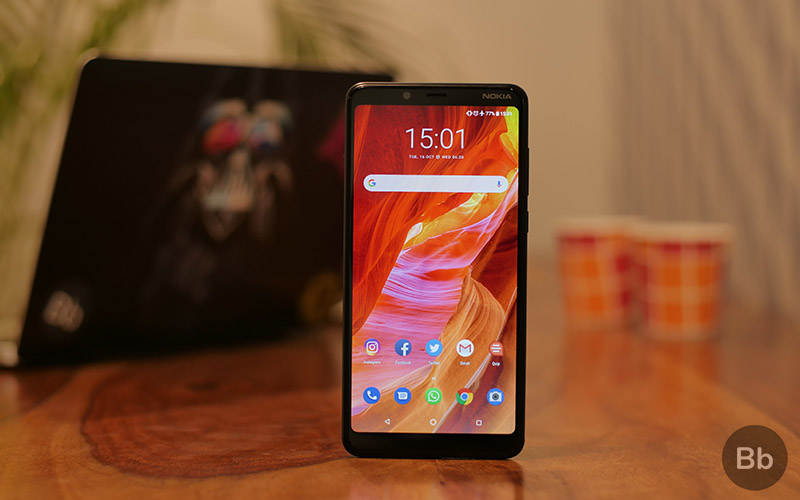 I know I've said this before, but I'll say it again – I like Nokia's classic no-notch design. The colors look vibrant and the viewing angles are also nice. It also gets decently bright for outdoor visibility and gets considerably dim to be used comfortably in low-light conditions. I personally had no issues with the display, but the lower resolution panel could be a deal breaker for many.
Overall, I'd say the display on the Nokia 3.1 Plus is good, but I can't say it is right on the money because let's be real, you can get other phones with better displays for this price.
I did express my concerns about a ghosting effect on texts (when used in night light mode) during my initial impressions, but I'd like to point out that it doesn't seem to be as prominent as it was. Maybe I've gotten used to it with time, but I don't think you should base your purchase decision based on it.
Cameras
Photos and videos on the Nokia 3.1 Plus are handled by a pair of 13MP+5MP cameras at the back, and an 8MP shooter on the front. The 13MP primary lens has a f/2.0 aperture, whereas the secondary 5MP has a f/2.4 aperture. The cameras are also supported by Phase Detection Auto Focus and a single LED flash. The front-facing camera, on the other hand, has a f/2.2 aperture.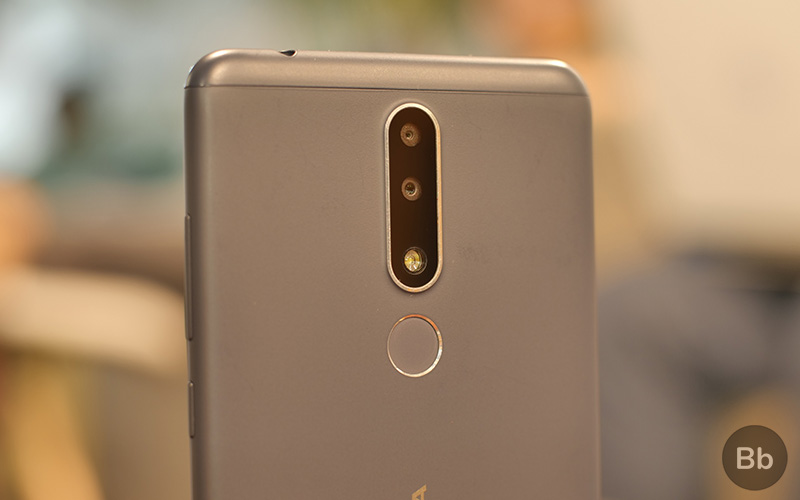 So, how's the camera? Well, I'd say Nokia still needs to work on it. Under good lighting conditions, the photos turned out to be good with a decent amount of detail. I didn't notice any over-saturation, which is always a good thing. The phone, however, struggles to deliver photos with a good dynamic range and crispness.
Daylight Photos
Lowlight Photos
While the images turned out to be good in broad daylight, I am afraid I can't say the same for the images taken in low-lighting conditions. Don't get me wrong, the camera did manage to light up the scene pretty well, but the images turned out way too soft for my liking.
Portrait Photos
To my surprise, the Portrait photos turned out to be decent. The found the edge detection to be on par with some other budget phones. In fact, there were some instances when I got some really nice portrait shots. Even the front camera of the Nokia 3.1 Plus lets you take photos in Bokeh mode, and I found the results to be decent.
Selfies
I am not a huge fan of the 8MP selfie camera on the Nokia 3.1 Plus. It won't feed your selfie obsession, but the photos came out alright with a decent amount of detail most of the time, and generally good color balance.
It is worth pointing out that the cameras on the Nokia 3.1 Plus had a hard time locking focus on a subject. There were multiple occasions when I almost missed my shot due to this issue. Besides that, I also found the camera to be annoyingly slow. I don't know if the issue is exclusive to my unit, but I hope the frustrating shutter lag will be fixed as soon as possible via a software update.
The camera app, on the other hand, is fairly straightforward. There are a ton of different modes to be explored here and the same can be held true for videos as well. You can shoot videos in 1080P with rear camera, but the front camera is limited to 720P recording. The best part, however, is the fact that the app also lets you capture time-lapse and slow-motion videos.
Software
The Nokia 3.1 Plus comes with the prestigious badge of Android One at the back, which means the phone packs in Pure Android experience just like most other Nokia-branded phones. It comes with Android 8.1 Oreo out of the box and you can count on it to receive timely OS and security updates for the next three years.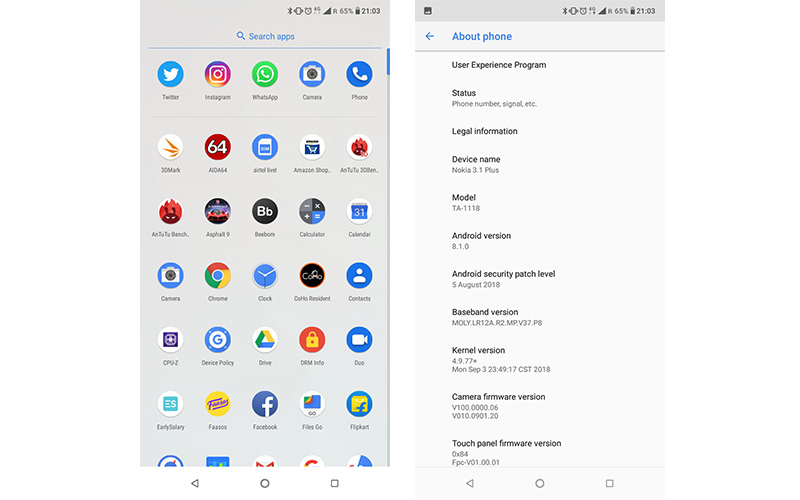 The stock version of Android is free of any bloatware, and you can expect it to stay that way. However, if you are accustomed to using skinned versions of Android like, say, Xiaomi's MIUI, then you might find the stock Android to be fairly basic. But hey, at least you won't have to worry about some annoying ads, right?
Performance
If somebody asked me to point out the shortcomings of Nokia 3.1 Plus, then I'll direct them to this part of my review. The phone is powered by MediaTek's octa-core Helio P22 processor, which is frankly what I've come to expect from most manufacturers when it comes to budget phones. The processor has never left a lasting impression on me, but I was open to surprises while testing the Nokia 3.1 Plus.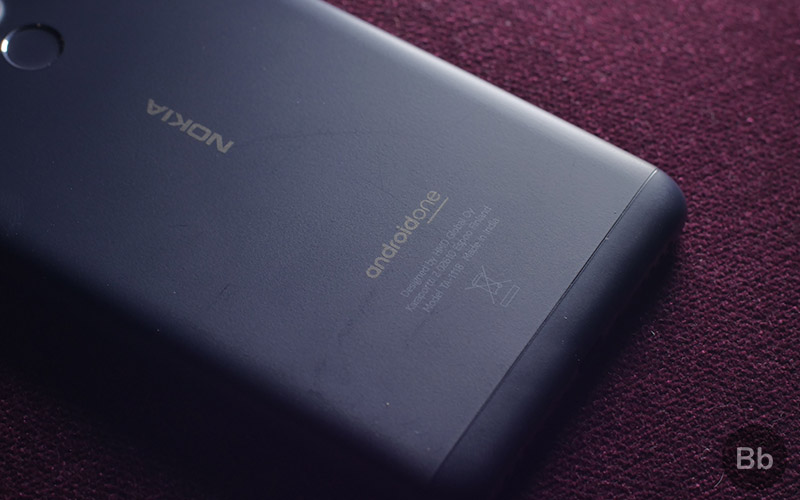 The octa-core processor is coupled with up to 3GB RAM and 32GB of internal storage, so I'd say it is on par with most other budget phones out there. Well, I've been testing the 3GB RAM variant of the phone, and let me tell you that the performance of Nokia 3.1 Plus is just decent at best.
Anyway, if you are looking for some benchmark results, here, have a look at Nokia 3.1 Plus' Antutu and 3D Mark results –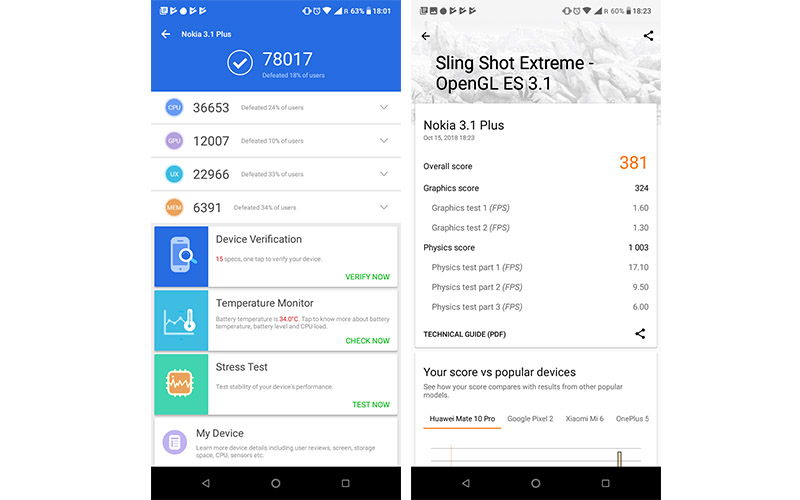 The Helio P22, even when paired with 3GB of RAM, doesn't enable smooth performance on this phone. I am not even talking about the performance while gaming or while using resource-intensive tasks. I experienced frame drops and hiccups just while casually browsing through my social media feeds, which was very disappointing, to say the least.
And don't even get me started on multi-tasking because there have been instances when I found myself waiting multiple seconds for each app to load while jumping from one to the other. The fact that I am getting such a performance while running on a stock version of Android makes it all the more surprising.
Despite the substandard performance, I tried playing some games like PUBG Mobile and Asphalt 9: Legends on the Nokia 3.1 Plus, because why not? Well, after playing these games for about 20 minutes, I came to a conclusion that you can play games on this phone, but it won't be an enjoyable experience. The games take time to load, plus you'll have to put up with occasional stutters and frame drops as well.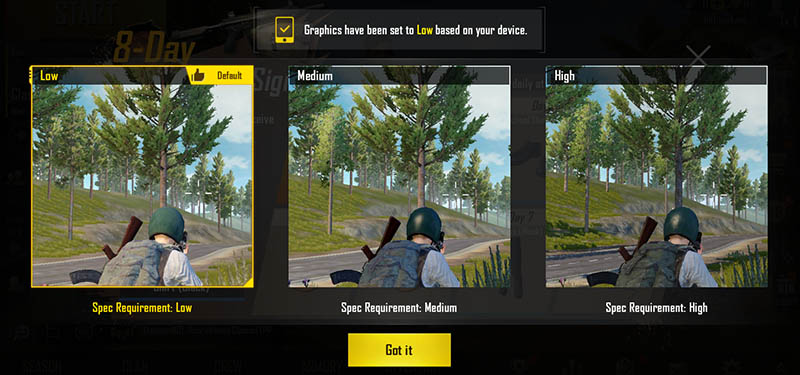 Connectivity
As mentioned earlier in this review, the Nokia 3.1 Plus has dedicated slots for two SIM cards and a micro SD card. The dedicated SD card might come in handy if you buy the 16GB variant. Apart from that, you also get other connectivity options like Wi-Fi 802.11 b/g/n, Bluetooth 4.1, A-GPS, GLONASS, FM Radio, etc.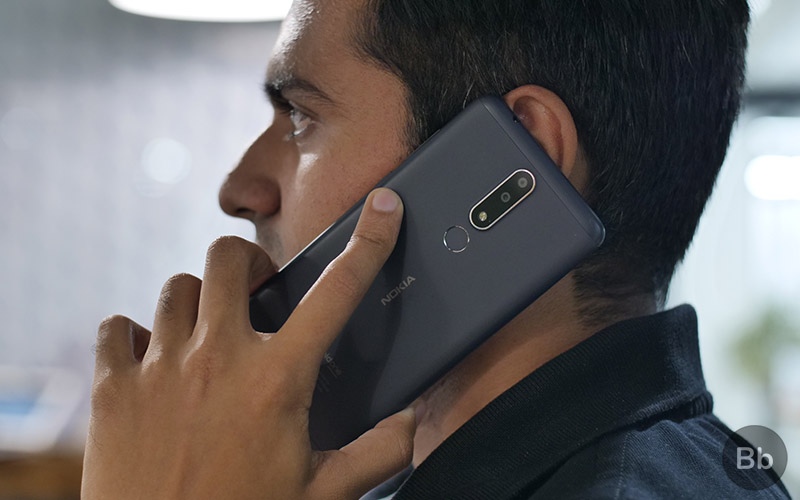 VoLTE on the Nokia 3.1 Plus is enabled out of the box.
Battery Life
The Nokia 3.1 Plus packs a 3,500 mAh battery. During my usage, I was ending my days (with medium usage) with close to 6 hours of screen-on-time (SoT). Of course, you'll be able to squeeze more than 6 hours of SoT if you go easy on your usage, but I consider myself a moderate-heavy user, so I was pretty impressed with the battery life.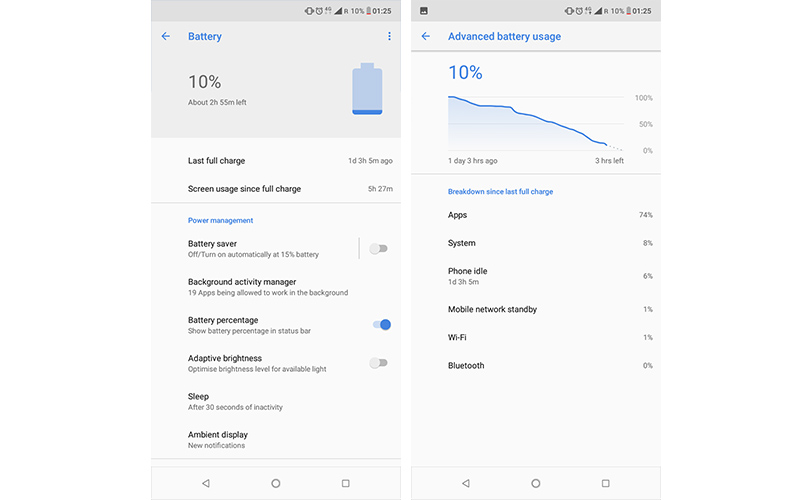 The Nokia 3.1 Plus offers a good battery life to last you for an entire day.
As for the charging time, the Nokia 3.1 Plus went from 0% to 100% in a little over two hours while using the 5V/2A charger that's included in the box. It is, however, worth pointing out that the charging times may vary if you keep using the device while plugged in.
Nokia 3.1 Plus: Should You Buy It?
As much as I want to see this gorgeous phone in everyone's hand, my answer to that question would be a resounding no. Let me explain –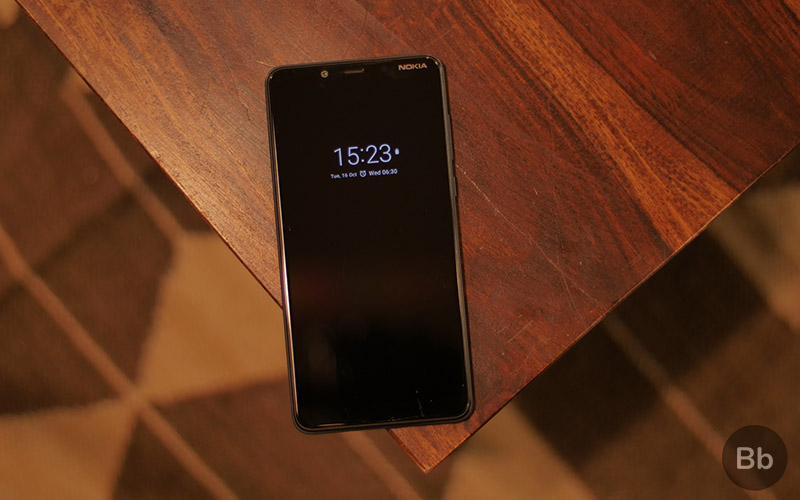 The Nokia 3.1 Plus starts at Rs. 11,499, which as I mentioned earlier, is on the pricier side. Yes, it is one of the best-looking devices at this price point, but let's face it, looks can be deceptive. You should get a phone with a capable processor that can last, say, 2-3 years without any issues. Frankly, in its current state, it doesn't look like the Nokia 3.1 Plus will be able to do that.
Here's what you can do instead – You can pick up a Redmi 6 Pro for as low as Rs. 10,999 and get a better performance. Heck, you can even buy a Nokia 5.1 Plus for Rs. 10,999 and get a better stock Android experience.
Nokia 3.1 Plus Pros & Cons
Pros:
Great build quality
Good battery life
Stock Android experience
Cons:
Sluggish performance
Average cameras
SEE ALSO: Nokia 3.1 Plus vs Redmi 6 Pro: New Kid Meets the Budget King
Nokia 3.1 Plus: Lost in Ambition
Honestly, I feel like HMD Global's ambitious plan to disrupt the offline market with the Nokia 3.1 Plus (which explains why it's expensive) seems like a missed opportunity to me. With its current price tag, the Nokia 3.1 Plus seems like it is in a weird spot.
The Achilles' heel of the Nokia 3.1 Plus is its middling performance, and the Helio P22 processor seems to be the bottleneck here. It just isn't fully up to the task, and it's crippling the phone against the competition with superior specs across the board.
That being said, a widespread online availability option (Flipkart or Amazon) with a sensible pricing of, say, under Rs. 10,000 would have made the Nokia 3.1 Plus a promising offering from the Finnish manufacturer.
The Nokia 3.1 Plus has great design and uncluttered software experience, but you may find yourself frustrated with the performance.
In case you think you want to know more about the phone, drop a comment down below or connect with us on social media. I'd love to know your thoughts on this phone.
Check out Nokia 3.1 Plus on Nokia Store (Rs. 11,499)
REVIEW OVERVIEW

Design & Build Quality

8.5

SUMMARY

At first, the Nokia 3.1 Plus looked like a promising offering, but Nokia's odd-pricing has put the phone in a weird spot. The phone's strength remains in its design and uncluttered software experience, but the Nokia 3.1 Plus struggles to put out a commendable performance.