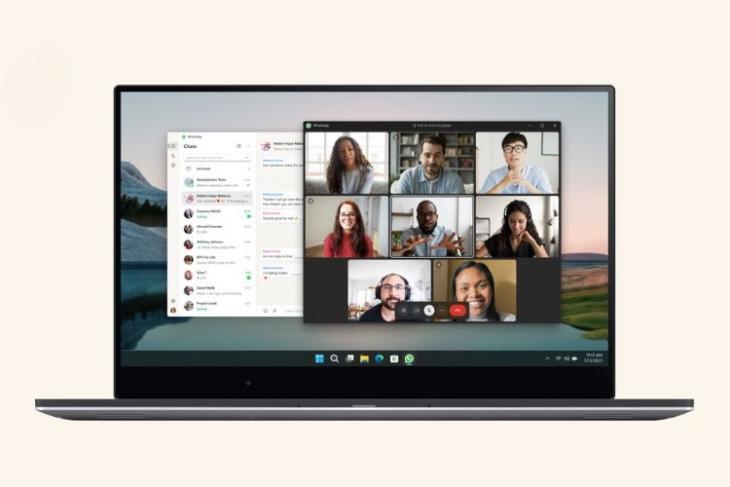 WhatsApp, aiming to improve the messaging (and even calling) experience on Windows PCs, has now announced a new version of the Windows app, which comes with performance improvements and a focus on convenient calling. The new Windows client is now available for users and here's what it brings to the table.
WhatsApp's New Windows App Introduced
Primarily, WhatsApp for Windows now lets you have group video and audio calls. For video calls, you can add up to 8 people and for just the audio ones, up to 32 others can be added. Earlier, only one-on-one calls were allowed on WhatsApp Desktop.
Mark Zuckerberg, in a statement, said, "Launching a new WhatsApp desktop app for Windows. Now you can make E2E encrypted video calls with up to 8 people and audio calls with up to 32 people."
WhatsApp claims that this limit will be increased in the future so that staying in touch with your close ones via the desktop is as easy as through a smartphone. For those who don't know, WhatsApp already lets you add up to 32 people on a group video or audio call.
Another change is improvements to WhatsApp's multi-device capability. This functionality helps you use one account on multiple devices (secondary phones are currently not included) and now, you will be able to get messages on your PC even when your smartphone is offline.
WhatsApp's new app for Windows also loads much faster and has an interface similar to that of WhatsApp for Android or iOS. This provides further ease of usage. And like its mobile apps, the new WhatsApp for Windows app is end-to-encrypted.
These newly added functionalities are a part of WhatsApp's endeavor of improving the user experience across platforms. This comes after the Meta-owned messaging platform introduced the native Windows app last year and is even beta-testing apps for Android tablets and macOS. You can now download the WhatsApp for Windows app from over here. And don't forget to share your thoughts on it in the comments below.