There's no dearth of great apps on the Google Play Store but what are the apps you should install when you set up a new Android device? That is a question we all face from time to time. Sure, you install the popular apps like WhatsApp, Facebook, Skype, Uber, Twitter, Instagram, Snapchat etc. but what about the other essential apps? Well, don't worry, we have curated a list of the 15 must apps for Android that you should install:
1. Twilight
The blue light coming from your smartphone can strain your eyes, resulting in improper sleep and this is where the Twilight app comes in handy. The app adapts your device's display to the time of the day and filters out the flux of the blue light after sunset with a slightly red filter to protect your eyes. You can also manually set the color temperature, intensity of the filter and screen dim on the display. There's also an option to create profiles, so that you can set custom filters for a particular time, for instance, bedtime reading.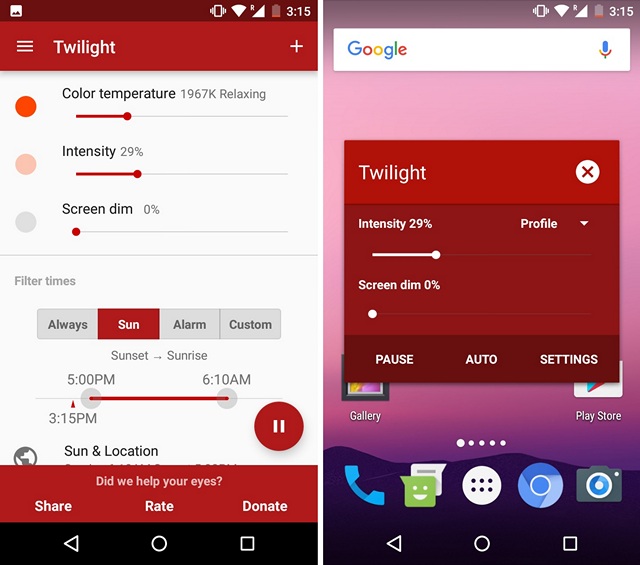 The app is available in a free version but it only lets you create a couple of profiles. For more profiles, ability to adjust transition time for sunset and sunrise, you can get the Pro version of the app.
2. Action Launcher 3
If you would like to have more customization options on your Android smartphone, installing a launcher is a good idea. Chances are, you are already using a popular launcher like Nova Launcher but that's an app almost everyone is aware of. Thus, we are recommending you the Action Launcher 3. What makes this launcher a must have is its Pixel Launcher like icons, and features like swipe up to get app drawer and more. Also, Action Launcher 3 packs in a "quicktheme" feature that automatically themes your homescreen based on the colors in your wallpaper. There are some other intuitive features too, like "Shutters", which lets you swipe an app shortcut to reveal its widget.
Then, there's "Covers", which is a unique take on folders. When you tap on a cover, the app opens up and when you swipe a cover, a hidden folder that you have customized opens up. Other than that, the Action Launcher 3 packs in the usual features we have come to expect from a launcher app. Also, while the app is available in a free version, it is very limited and if you want to really enjoy it, get the full version of the app.
Install: (Free with in-app purchase of $2.99 for Plus version)
3. Next Lock Screen
Microsoft's Next Lock Screen app is one of my favorite lock screen apps and it's something I will definitely recommend to you. The app brings beautiful Bing wallpapers to your lockscreen, along with notifications and weather info. You can also swipe up from the bottom to reveal your most used apps based on the time & location along with handy toggles to camera, WiFi, Bluetooth, brightness slider and more. Moreover, the app supports the different screen locks like PIN, pattern and it supports fingerprint scanner as well. Over all, you can customize it and it works really well, unlike other bloated lock screen apps.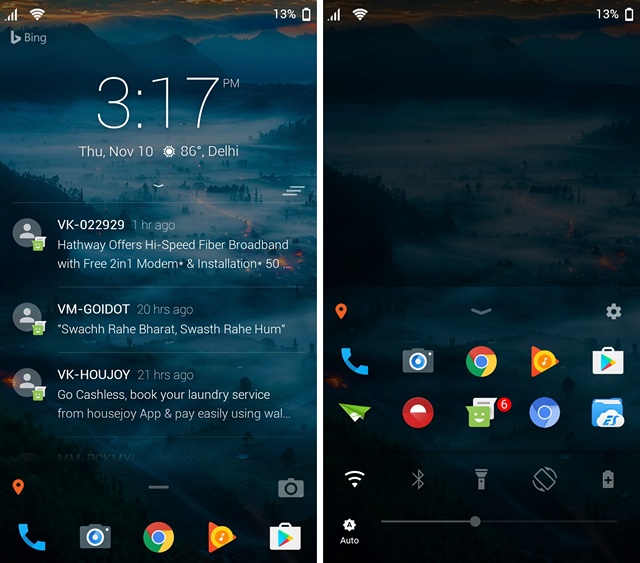 Install: (Free)
4. Chrooma Keyboard
The keyboard on most Android smartphones isn't always the best, except of course Google Keyboard, which is great. So, if you don't want to ruin your typing experience on your new Android device, you should install a third party keyboard. Chrooma is a highly customizable keyboard and it's based on Google Keyboard, so you get the best of both worlds. There are various themes for the keyboard including a color adaptive or chameleon theme, which is nothing but the keyboard featuring the same color as the app. Along with the themes, you can totally customize the keyboard. You can change its layout, style, font, keypress sound, vibration and more.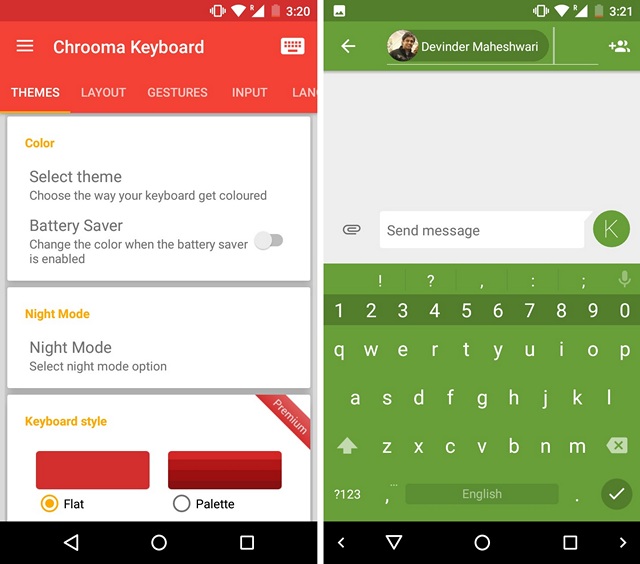 The app brings gesture aka swipe typing and also includes a lot of gestures. The multilingual keyboard also features a one-hand mode and you can even split the keyboard. We certainly love what Chrooma has to offer and while the app is available in a free version, some features are locked in the Premium version.
Install: (Free with in-app purchase for Premium version)
5. Betternet VPN App
It's always a great idea to have a VPN app installed, in case you want to access geo-locked content, browse the web anonymously or even install apps not available in your country. Well, Betternet is a simple VPN app that gets the job done. In its free version, the app lets you connect to a single virtual location and does not offer any limits, which should be good enough for most people.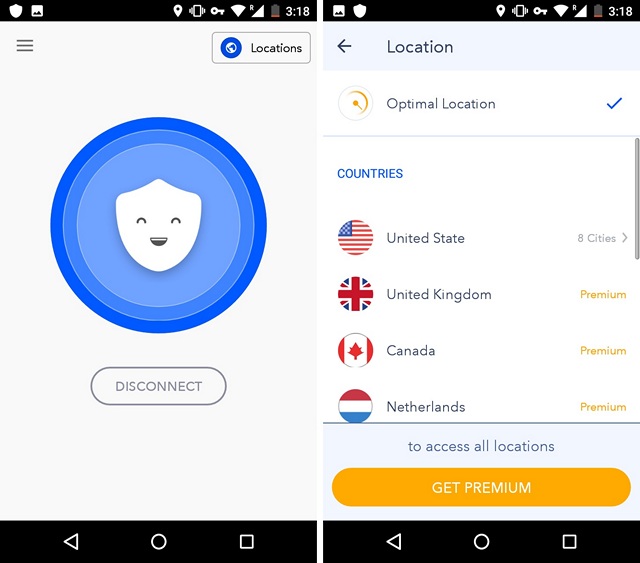 However, if you want more locations, better speed, support and widgets, you can get the Premium subscription starting at $4.99/month. If you are looking at paid VPN apps, you can also check out TunnelBear, which is a great VPN app.
Install: (Free with Premium subscription starting at $4.99/month)
6. Snapseed Photography App
Snapseed is the ultimate photo editing app on Android from Google. The app supports JPG and RAW DNG files, which is great since many modern smartphones support RAW. Along with the usual editing features, it brings some great professional tools like the ability to tune image, white balance, change perspective, add text, change details, healing, vignette and more. There are various cool filters too like lens blur, HDR scape, noir, vintage, frames, retrolux etc. All the styles and tools can be tweaked as per your usage, so you have total control on the photo you are editing.
Install: (Free)
7. BlackPlayer Music Player
There are a number of great music player apps available for Android but if you are looking for a modern-looking feature rich offering, BlackPlayer is your best bet. The music player features a gorgeous minimal UI with a tabbed layout that you can customize to meet your usage. Along with support for standard audio formats, the music player supports gapless playback, built-in equalizer, bassboost & 3D surround virtualizer, ID3 tag editor, music scrobbling, crossfading and sleep timer. It also lets you view or edit embedded lyrics for tracks, which is pretty cool. To sum things up, if you are looking for a music player with a customizable and beautiful UI along with all the features, BlackPlayer is the one to get.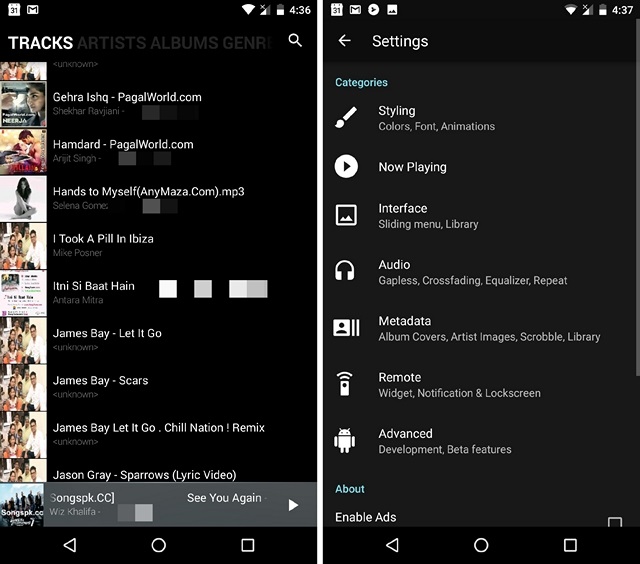 While BlackPlayer is available in a free version, it's limited when it comes to some options. However, you can get the BlackPlayer EX version, which unlocks all the features.
Install: (Free, Premium $2.49)
8. KeepSafe App Lock
Our privacy is of paramount importance and thus, it's always a good idea to install a good app locker on our Android device. Well, you can check out KeepSafe's App Lock app, which lets you lock apps via PIN, pattern or the fingerprint scanner, if your device does pack in the hardware, obviously. What I especially like about KeepSafe App Lock is that it lets you set the time after which the app re-locks apps. You can set the appto  immediately re-lock apps or set a delay. Also, you will need to enter the PIN, pattern or fingerprint to uninstall the app, so that nobody else can uninstall the app.
Unlike many app lockers, KeepSafe's offering looks beautiful, thanks to its usage of Material Design and lovely colors and it works amazingly well.
Install: (Free)
9. TickTock To-do List
TickTock is a fairly new yet very powerful to-do and task list manager, which should surely make you productive. The app lets you create tasks and lists and you can either enter your details or use voice commands with Google Now or Assistant. You can customize a to-do list with checklists, priority levels, tags, notes/comments, attachments, locations etc. All of your tasks and lists are synced across your devices, provided you create a TickTock account. It also brings you instant location & time reminders, integrates with your calendar app, lets you batch edit tasks and quickly search for a task.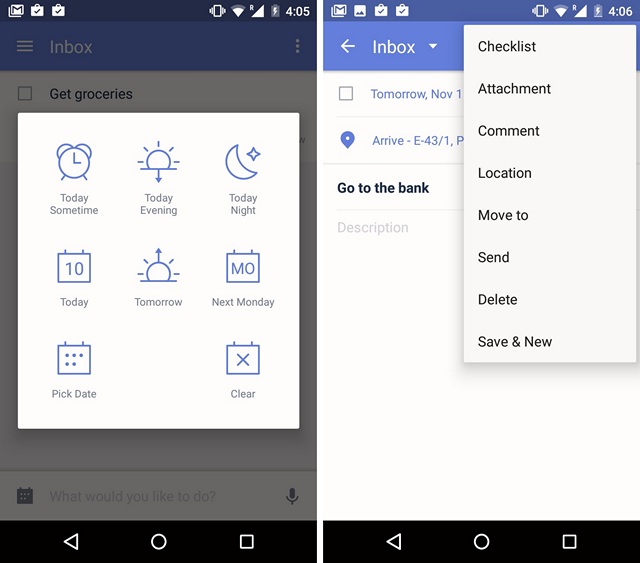 You can also share a task list to collaborate and there's also an option to add a task via email. How cool is that? While there's a free version of TickTock, it's limited, when it comes to number of members in a collaboration, tasks, lists, attachments etc. So, if you want to use it extensively, you'll be better off with the Pro version, which also brings features like custom smart lists, calendar view, list & task activity and more.
Install: (Free with Pro subscription starting at $2.79/month)
10. Solid Explorer
Solid Explorer is arguably the most user friendly file manager app out there. Sure, there are a number of great file manager apps you can choose from, but what makes the app unique is its beautiful simplistic UI and some really cool unique features. Along with the usual file management features, the app offers multiple window panels for easy drag & drop of files, support for FTP clients, compressed file formats, root explorer for rooted devices and more. Solid Explorer even lets you hide files and includes a media viewer that supports most of the popular media formats.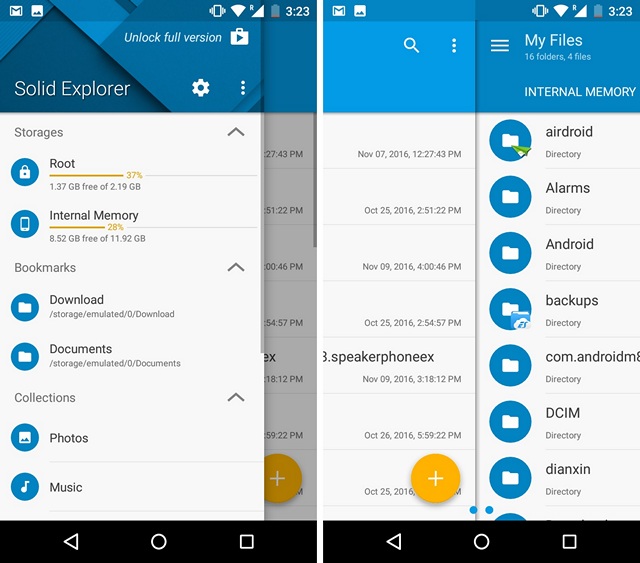 What makes Solid Explorer unique is the fact that it lets you protect files and folders with passwords and if you have a device with a fingerprint scanner, you can use it to easily unlock these files. You can even access your cloud storage files with your fingerprint. The app is available in a free trial for 14-days, after which you will have to pay for the full version.
Install: (Free trial with in-app purchase of $0.45 for Premium version)
11. Google Keep
While Evernote is considered as the best note taking app by many, Google Keep is a very underrated and a much simpler offering, which should please people who find Evernote overtly complex. The app lets you take notes, create checklists, add voice memos, draw stuff or add photos. To manage your notes better, you can add labels, color code notes and you can always search for notes easily, thanks to Google's powerful search features. Plus, the app lets you add location & time reminders to notes and you can share and collaborate on notes too.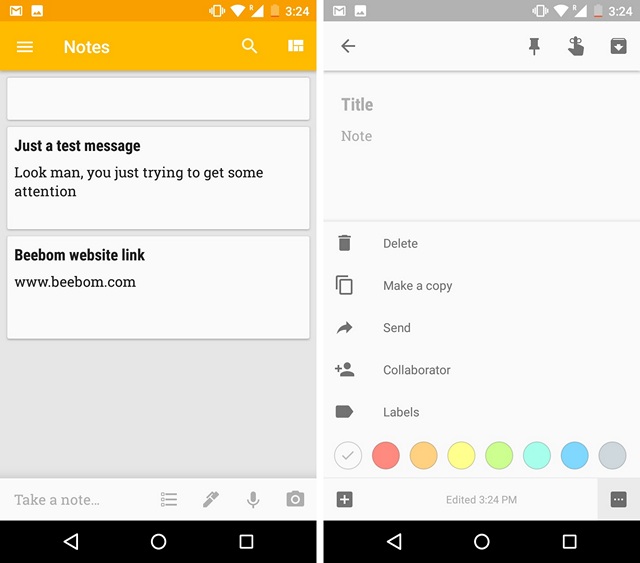 Other than that, not many people know that Keep features a cool built-in OCR feature, which you can use to easily extract text from images and trust me when I say, it works very well.
Install: (Free)
12. Piktures
Google Photos is a great Gallery app but not everyone is a fan and if you are one of those people, you can check out Piktures, which is a pretty slick photos app. First things first, I just love the Piktures' interface and the intuitive gestures it packs, which makes navigating the app a breeze. For instance, a swipe from the left edge brings up the albums sidebar, while a swipe from the right edge brings up the filters/tags. Piktures also features a cool location and calendar view and a Secure Drive for your personal pictures. Other features of the app include GIF & video support, Dropbox integration, ability to view EXIF data and more.
Install: (Free with in-app purchases)
13. Inbox by Gmail
A list of must have apps can never be complete without an email app, right? Well, that's what we thought and although the official Gmail app is a compelling offering, if you want to keep things organized, you should take a look at Inbox by Gmail. Thanks to its "Highlights" feature, you will be able to take a quick look at your emails and its "Bundles" feature groups similar emails, so you can choose to skip promotional emails. Other features that I like is the ability to add reminders, snooze emails and the great search capabilities.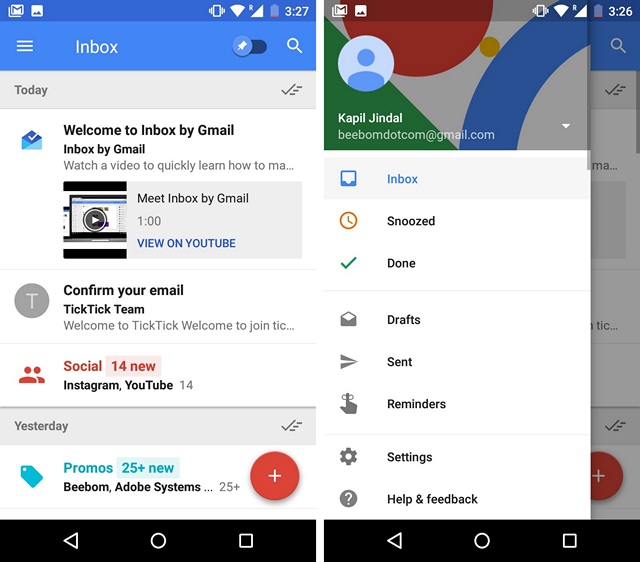 Install: (Free)
14. CamScanner
Scanner apps come in very handy in our daily lives and CamScanner is undoubtedly the best scanner app available. The app lets you scan almost anything, be it documents, receipts, business cards, certificates, ID cards etc. It also features a built-in OCR, which lets you extract text from images. The scans be enhanced and you can annotate on them, share them with others for collaboration and since the app is available on multiple platforms, the scans are synced across devices. While the aforementioned features are available for free, you can get the Premium subscription to edit OCR results, get 10 GB cloud storage space, add more collaborators, auto upload to cloud services and more.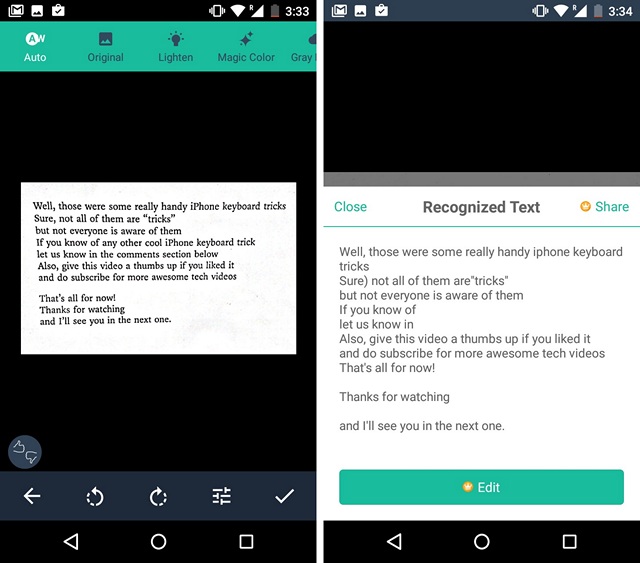 Install: (Free with Premium subscription starting at $4.99/month)
15. Today Calendar
There are a ton of great calendar apps available on the Play Store, so it's a little tough to choose the best one of the lot. However, we like Today Calendar because it hits the perfect balance between functionality and a good interface. It's based on Google Calendar, which in itself is a great app but Today Calendar enhances the experience offered by the Google app. The whole calendar UI features a clean themeable design, so you can customize it according to your needs. Also, along with all the usual calendar features, Today Calendar features a cool All-In-One view, which combines the month and agenda views, so that users can easily manage their agendas from a single view.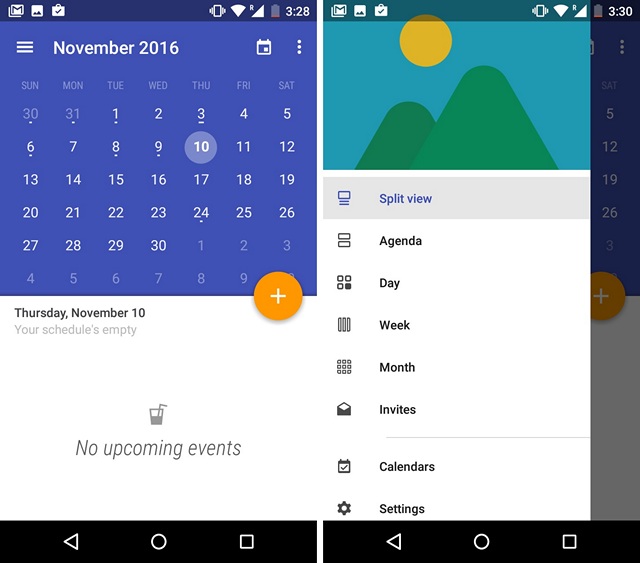 Other features of the app include quick event creation, agenda and month widgets, color coding support, Google Maps integration and more. The app is available in a free 7-day trial, after which you will have to shell $4.49 for the full version.
Install: (Free trial, Pro $4.49)
SEE ALSO: 10 Cool Android Apps You Do Not Know About
Essential Android Apps For Your New Device
Well, those were some must have Android apps you should be installing on your device. We have covered almost all the essential apps that you would need for your brand new Android smartphone. So, take a look and do let us know how you like them. Also, do let us know if there's an app that you think should be on this list. Sound off in the comments section below.