The default calendar app that comes pre-installed on many android devices does not have the most exciting features and while it can perform most simple tasks, why limit yourself when there is a plethora of wonderful third-party calendar apps on the Google Play Store? We have selected 10 of the best android calendar apps, all of which are available for free! Even if you don't like any of them, you can always go with Google's calendar app which features a much more beautiful design and offers more functionality than the stock android calendar app.
Choose the best Calendar App for your Android
1. Sunrise Calendar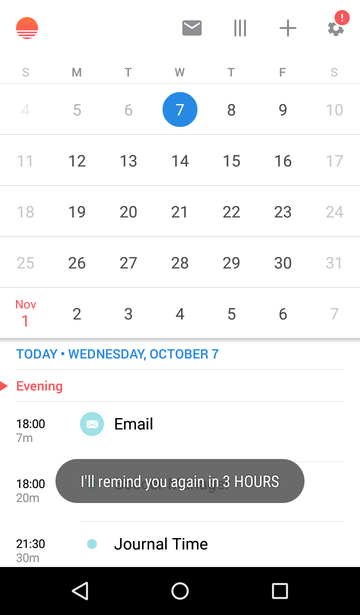 Sunrise calendar has been my go-to calendar app for a while now because of it's excellent features that I just can't do without. First, it syncs just fine with Google Calendar and Google Tasks, but you can also connect your Exchange or iCloud account with the app. In addition, Sunrise integrates with several apps and productivity tools such as Facebook, LinkedIn, Wunderlist, Todoist, Trello, Evernote and more so you can see all your important upcoming events from one place. Creating new events are a breeze and it's Meet keyboard also helps to speed up the process of scheduling meetings and such stuff. Sunrise is also available on iOS and as a Chrome app so you can access your calendar no matter the device you use.
Developer – Microsoft Corporation
Compatibility – Requires Android 4.0 and up
Availability – Sunrise Calendar (Free) – Google Play Store (Also available for iOS, Chrome, Apple Watch).
2. Google Calendar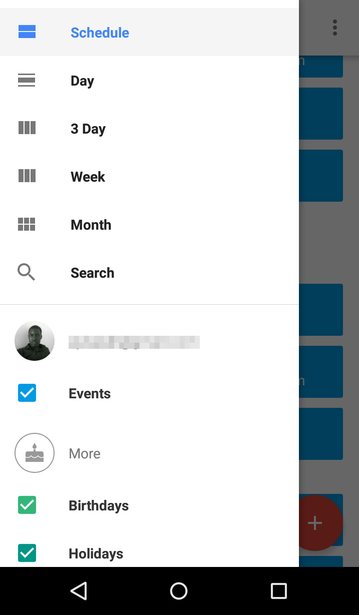 Google's own calendar app is a great example of how material design should be and will be a delight to use for people who synchronize with Google Calendar. There are as many as five different views to select from such as the regular Weekly, Monthly and Daily views but you also get a schedule view which simply removes the empty spaces in each day and allows you to focus on only scheduled events day by day. Creating new entries is as easy as it gets and you can send invites to people as well as add notes and attachments from Google Drive for each unique calendar entry.
Developer – Google
Compatibility – Varies with device
Availability – Google Calendar (Free) – Google Play Store
3. aCalendar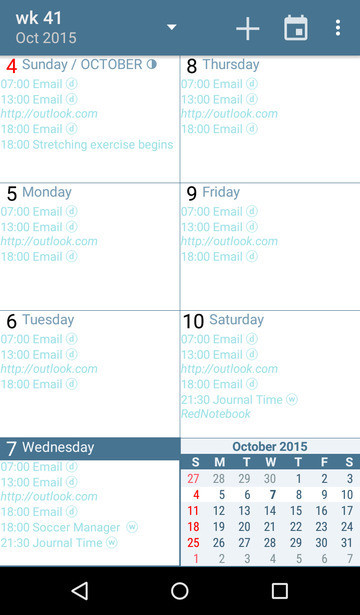 aCalendar is another terrific app you should try out especially if you like it fast and smooth. It's install size is only 1.8 Mb which makes it the lightest calendar app on this list but that doesn't mean it lacks quality features as you will see. It helps you organise your events by providing up to 48 different colours as well as flexible re-occurrences for your events. There is a fine selection of widgets for the day, week and month views plus it uses the native android calendar function to synchronize events between apps and devices. There is also a pro version called aCalendar+ which offers additional features for $1.99.
Developer – Tapir Apps GmbH
Compatibility – Requiers Android 2.1 and later
Availability – aCalendar – Android Calendar (Free) – Google Play Store
4. Jorte Calendar and Organiser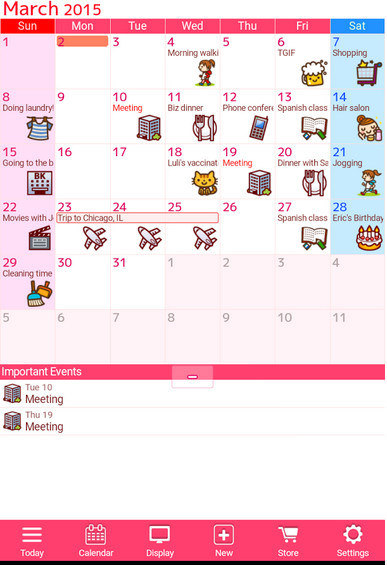 Jorte Calendar is an intuitive calendar app that can run on any device running android 2.1 and up. In addition to regular features that most calendar apps offer such as multiple views and widget support, Jorte Calendar allows you to set different themes to customise the look of your calendar and even add stickers for important occasions or highlight them in red. There is a count-down feature which allows you to count-down the days to a big event. Jorte syncs with Google Calendar, Exchange and Yahoo but you can also export your events to a CSV file if you prefer.
Developer – Jorte Inc.
Compatibility – Requires Android 2.1 and later
Availability – Jorte Calendar and Organiser (Free) – Google Play Store
5. Business Calendar 2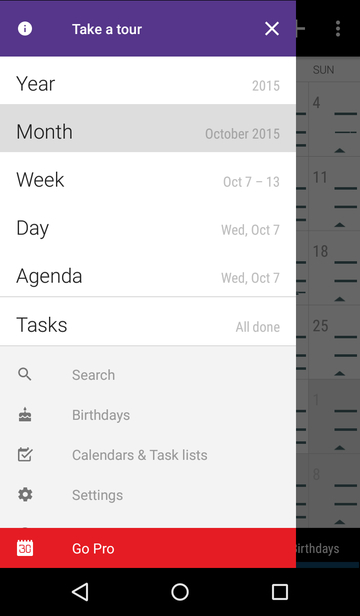 Business Calendar 2 was built to succeed the hugely successful Business Calendar app which has since been abandoned. It is a powerful and easy to use app that includes task management and event planner as well as integrated weather reports in the pro version. It is highly customisable and offers various settings you can tweak to your personal tastes. It also syncs with Google Calendar and Exchange and there are no ads. It's pro version (called Business calendar PRO) is available as an in-app purchase and costs $4.44.
Developer – Appgenix Software
Compatibiltiy – Requires android 4.1 and up
Avauilability – Business Calendar (Free) – Google Calendar
6. Cal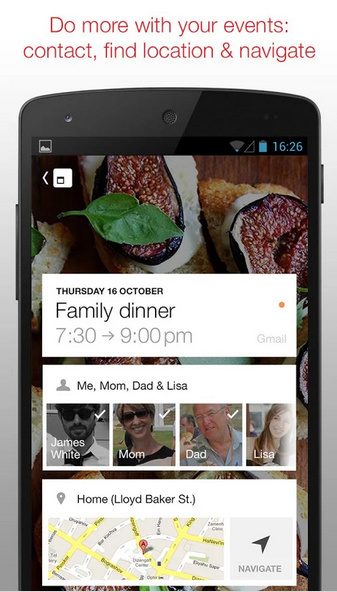 Cal is another app from the developers of the highly rated Any.do productivity app. If you're using Any.do (like I am), you should try this app as it's integration with Any.do is top notch so you can manage all your tasks and events in one place. Cal supports synchronization with Google Calendar and Microsoft Exchange so you can easily port your existing calendars here. It's excellent integration with Facebook will make sure you never forget a friend's birthday again and you can even purchase gifts for them from Amazon or Gift.com.
Developer – Any.do
Compatibility – Requires Android 4.0 and up
Availability – Cal – Calendar Google/Exchange (Free) – Google Play Store
7. Digical Calendar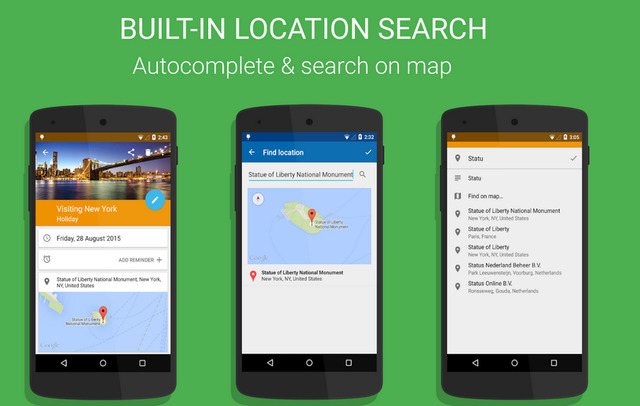 DigiCal calendar is one of the most beautifully designed calendar app on this list, and it's highly customisable too! It syncs with Outlook, Exchange and Google Calendar but you can also create a local calendar that is only accessible on your local device. There are 6 widgets with different views and styles and a night mode which allows for better visibility in low-light conditions. It's premium version, DigiCal+, offers extra customisation with up to 42 theme colours and a yearly view with heat maps for spotting free time.
Developer – Digbites
Compatibility – Varies with device
Availability – Digical Calendar (Free) / ($4.62) – Google Play Store
8. Sol Calendar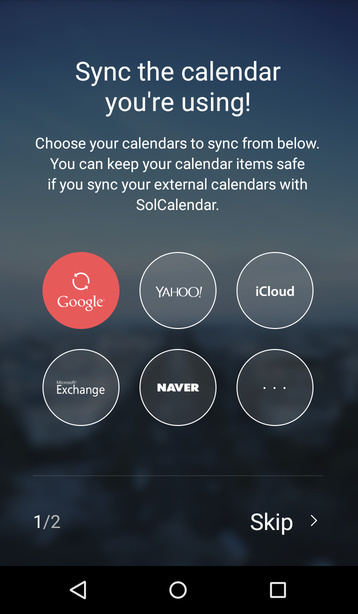 SolCalendar is another highly rated calendar app with a huge 4.5 average rating of over 1 million users. It synchronizes with Google Calendar, iCloud, Microsoft Exchange and Yahoo so you're pretty much covered if you use any of those services. It has a clean and unique interface and supports Month, Week, To-do and Agenda views. It helps manage special events in a unique way by offering stickers to mark memorable events and also offers various repeat options for your tasks. Also, you get location-based weather forecast information through this app and plenty of widgets for your homescreen. All in all, it's a solid calendar app worth checking out.
Developer – Kakao Corp.
Compatibility – Requires Android
Availability – SolCalendar – Calendar / To do (Free) – Google Play Store.
9. New Calendar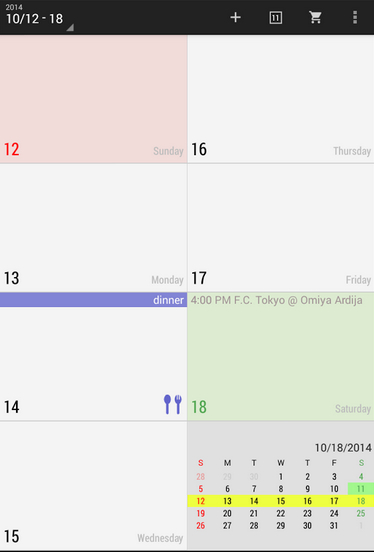 New Calendar is a decent app that works fine with Google Calendar. It supports most regular calendar functions and has support for daily, weekly, monthly and yearly views. There are up to 10 widgets to select from but perhaps it's most outstanding feature is the voice reminders (using Text To Speech) which works brilliantly.
Developer – KF Software House
Compatibility – Requires Android 4.0.3 and up
Availability – New Calendar (Free)
10. Coletto Calendar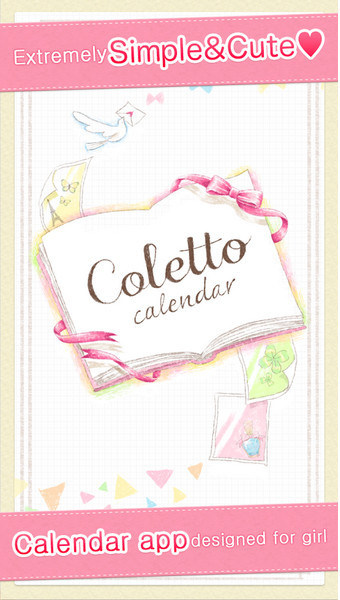 Now for something unique, Coletto Calendar is a colourful app that helps you manage your appointments, tasks, diaries and photos. Coletto appears to be targeted at girls and women only. You enter diary entries or memos from this app or even sensitive information such as the expected date of your next menstrual cycle and such stuff. It works with Google Calendar if you're keen on syncing your stuff across various devices.
Developer – Yahoo! Japan Corp.
Compatibility – Requires android 2.3.5 and later
Availability – Coletto Calendar ~ Cute Diary (Free) – Google Play Store
SEE ALSO: 9 Best Apps To Block Calls on Android
Conclusion
If your Android device's stock calendar app does not meet your needs, you can try out any of the above calendar apps for free and discover a worthy alternative that's perfect for you. If we missed out on your favourite app, do let us know in the comments section.
---
Load More