If you have bought a shiny new Moto 360 2nd Gen smartwatch, you might be a little skeptic about its features. Well, rightly so, considering we are new to smartwatches and it does take some time to get a hold of Android Wear. While we have already posted some basic Moto 360 tips to get you started, how about some advanced tricks now. Here are 12 best advanced Moto 360 tricks that should enhance your Moto 360 experience:
1. Block app notifications
Having all your notifications on your watch can be pretty useful but if there's a barrage of notifications coming, it can get cumbersome. That's the reason Google has included an option to block specific app notifications on the Moto 360.
To do it, go to the Android Wear app on your smartphone and tap the Settings cog on the top right. Then, go to "Block app notifications" and add apps that you want to block by pressing the plus floating button below. Once done, the notifications of those apps won't be send to your watch.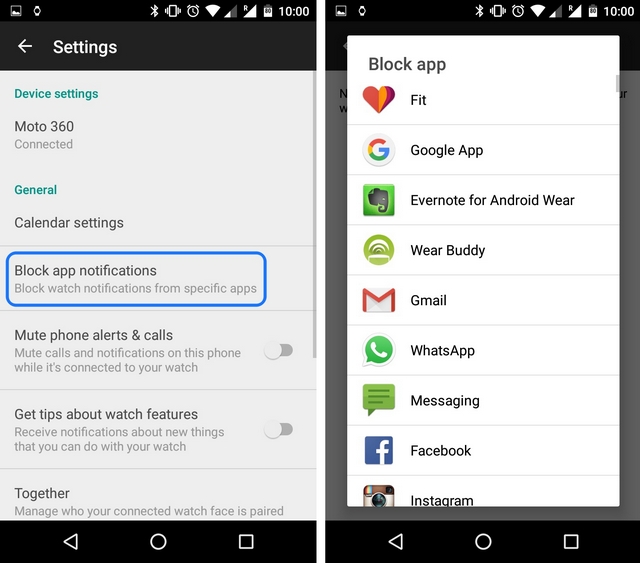 2. Use Wrist Gestures
Android Wear on the Moto 360 supports various wrist gestures to do things quickly. Firstly, you will have to make sure that the wrist gestures are turned on in the Moto 360's settings. You can then use these following wrist gestures on your Moto 360 smartwatch:
Scroll through notification cards: You can scroll from one notification card to another by quickly flicking your wrist away and then bringing it back slowly. To see a previous card, just move your wrist slowly away and then flick it back towards you.
Take action on a card: To go into details of a notification card or take action, hold your arm in front of you and push it down quickly and bring it back to its original position. The first push will take you to the actions and the second time you do it, the first action will be selected.
Open Apps menu from watch face: When on the watch face screen, hold your arm in front and quickly push it down and then bring it back.
Pull down settings from watch face: On the watch face, turn your wrist away slowly and quickly flick it back.
Go back to watch face: Shake your wrist to exit an app and go to the watch face.
3. Pair your Moto 360 with a friend's Moto 360
If you and your friend are both Moto 360 buddies, you can pair both the smartwatches to share a status, emoji, stickers, doodles and photos. At first, you will have to pair your Moto 360 with your friend's Moto 360. Go to the Android Wear app on your smartphone and tap the settings cog and then, go to "Together" to invite a friend to pair. Your friend will get an invitation request on his/her smartphone, open the invitation link in Android Wear and select "Accept". Once paired, you can even put the Together watch face on your Moto 360 for easy contact and sharing.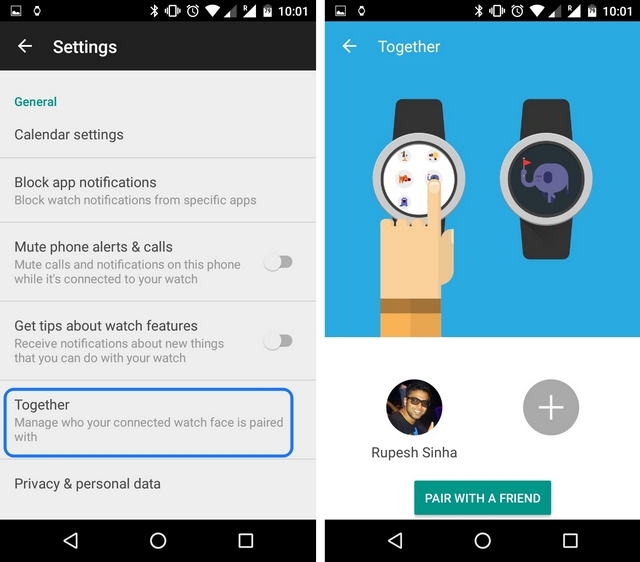 4. Assign apps for tasks
Android Wear has some apps set for default actions, for instance, if you ask the Moto 360 to navigate you somewhere, it will automatically open the Maps app but what if you want a different app as the default navigator. Well, you can do that in the Android Wear app's Settings->Moto 360->Actions. Here, you can select the default apps for different tasks.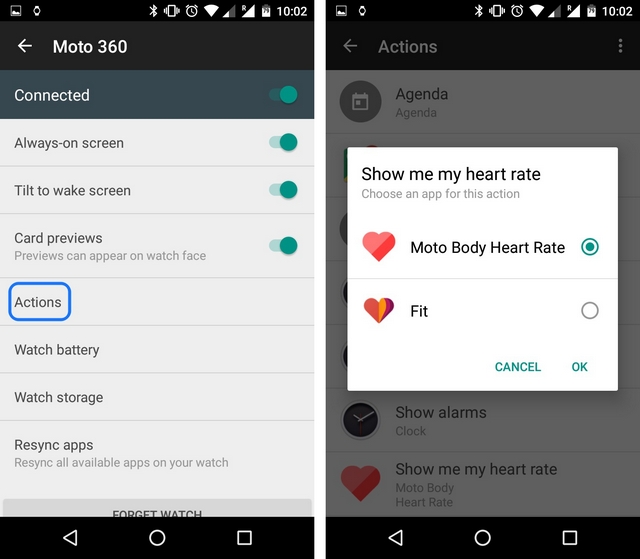 5. Mute phone sounds when watch is connected
Your phone and watch both vibrating at the same time can be quite annoying and that's why you can choose to silent your mobile phone when the Moto 360 is connected. To do it, go to the Android Wear app's settings on your smartphone and turn on "Mute phone alerts & calls".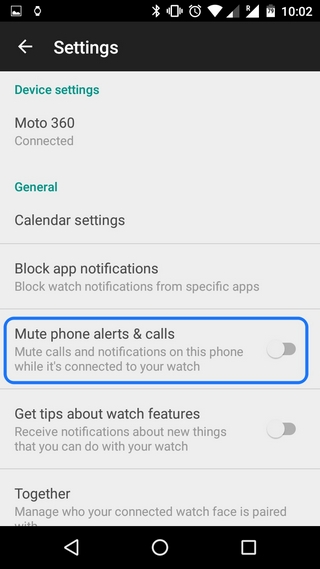 6. Keep phone unlocked when watch is connected
Not many people know about the cool Smart Lock feature in Android. To turn on Smart Lock, go to your smartphone's Settings->Security and set up a pattern or PIN as your screen lock. Then, you will see a Smart Lock option in the Security page. Go to Smart Lock->Trusted devices->Add Trusted Device and choose the Moto 360. Once done, you will notice that whenever your Moto 360 is connected to your smartphone, it will always be unlocked.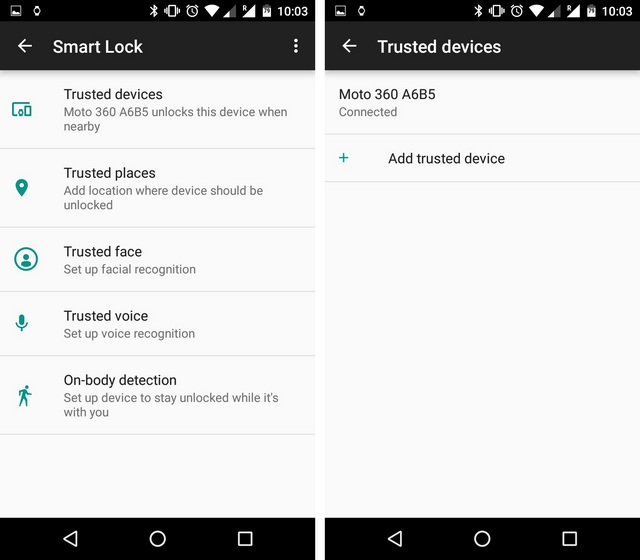 7. Lock Watch when disconnected from phone
You can enable automatic lock on the Moto 360 if it's not connected to your smartphone. All you need to do is go to Moto 360's Settings and select "Screen Lock" and then, add a pattern lock. Your Moto 360 will then get locked whenever it's not paired with the smartphone. You can also manually lock the Moto 360 by going to Settings and selecting "Lock screen now".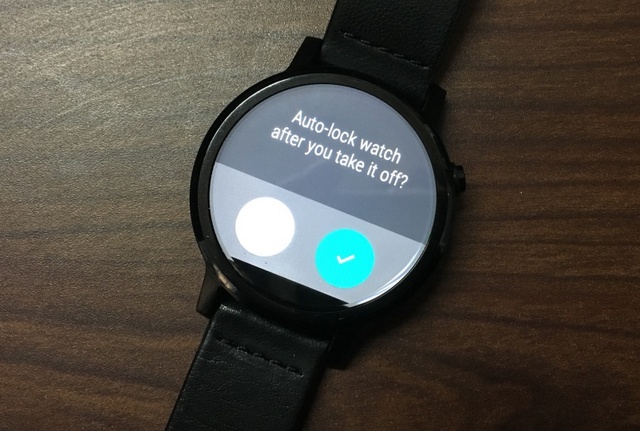 8. Enable Developer Options
Like any other Android device, the Moto 360 features the cool Developer Options that needs to be activated. To enable developer mode, go to Settings->About and keep tapping the "Build number" until it displays a message "You're now a developer". You will then find the "Developer Options" sitting right beneath About in the Settings page.
9. Listen to music on your watch
You can listen to music directly from your Moto 360 without the need of your smartphone. First, you will have to sync your smartphone's music to the watch. To do that, go to the Play Music app's Settings on your smartphone and enable "Download to Android Wear".
Then, go to the Play Music app on your Moto 360 and select "Play from Wear". Then, select the playlists you want to sync and touch the check mark. You will get cards to show when the sync is ongoing and when the sync is complete. Once done, you can pair up your Bluetooth headsets with the Moto 360 and start listening to tracks without your smartphone.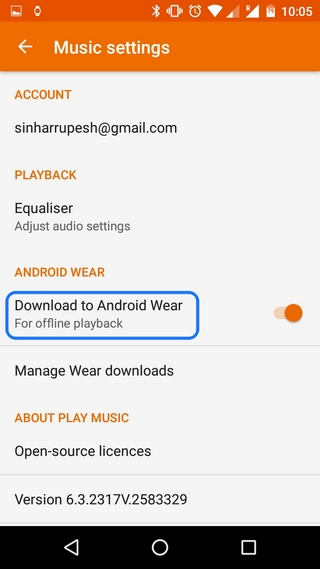 10. Control your smartphone camera
You can control your smartphone's camera with your Moto 360 smartwatch using the Wear Camera Remote app. Once the app is installed, open the remote camera app to fire up the camera on your smartphone automatically and then, mount the camera and use your Moto 360 to capture, turn flash on or off and activate timer.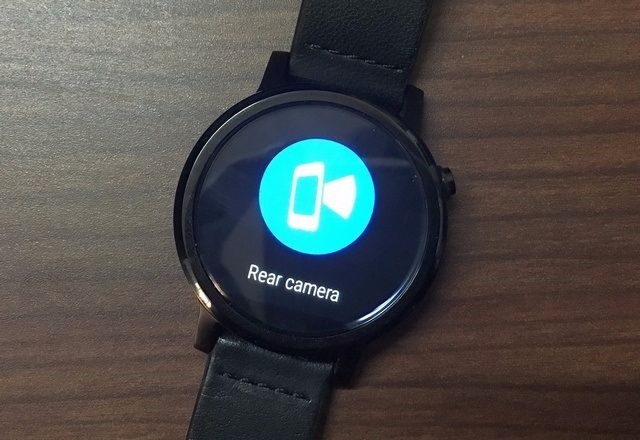 11. Browse the web on your smartwatch
While Android Wear is yet to feature a browser, a third party app dubbed Wear Internet Browser lets you do that. The app brings a full fledged web browser to the Moto 360 and you can visit a webpage by either typing the address on the in-built keyboard or through voice commands.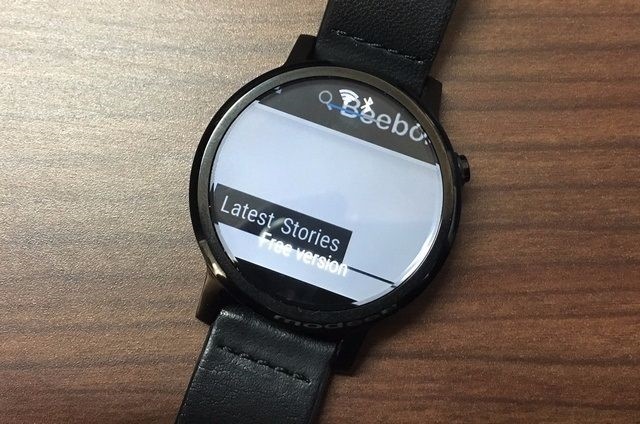 12. Play YouTube videos
There's a cool Video Player app that lets you watch YouTube videos on your smartwatch. The app lets you search among YouTube videos using voice commands and play them with ease. There's ability to pause, resume or seek in a video along with support for Bluetooth headsets as well as speakers.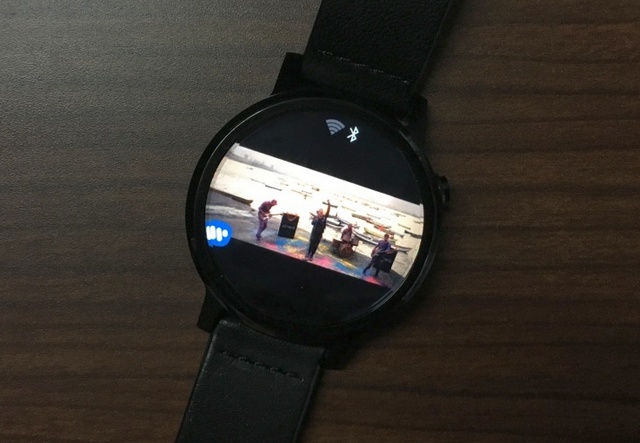 SEE ALSO: 20 Best Apps for Your Moto 360 Smartwatch
Enhance your Moto 360 experience with these tips and tricks
These advanced tips and tricks make sure that you make the most out of your Moto 360 smartwatch experience. These tricks unlock features that we had no idea about, so what are you waiting for? Try these tricks out on your Moto 360 smartwatch and let us know how you like them. Sound off in the comments section below.