Moto 360 2nd generation is a gorgeous looking smartwatch and Android Wear's ability to switch between different watch faces makes it look even more stylish. You can choose among the various pre-installed watch faces on Moto 360 or install one from the Play Store. We are here to help you out on the latter.
These various third party watch faces not only bring different looks or customization but they also let you see more glance-able info along with other features. So, without wasting any more time, check out the best Moto 360 Watch Faces you must install.
Best Watch Faces for your Moto 360
1. DressWatch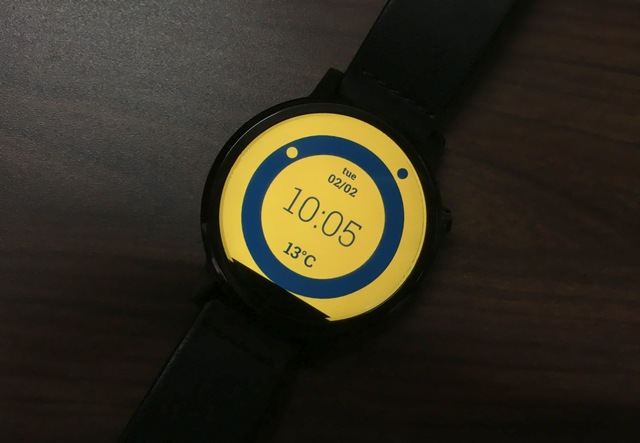 DressWatch enables you to set a watch face that matches the clothes you are wearing. The smartphone app lets you choose from various color combinations or you can add colors by taking a picture of what you are wearing. It also brings 6 cool watch face styles and shows you info like date and weather.
Install: (Free)
2. Ustwo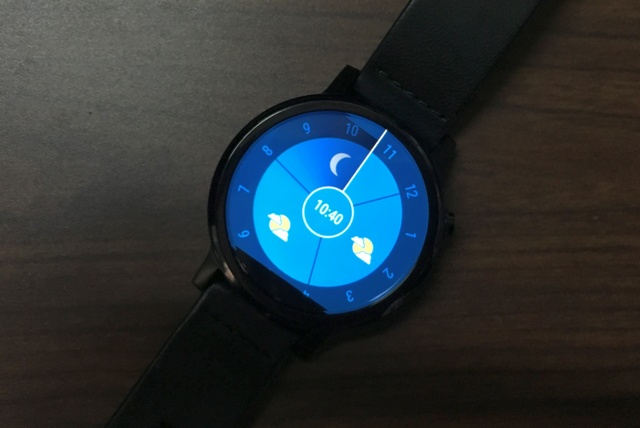 Ustwo brings a group of 6 watch faces to choose from and they all have a different style, so you can choose accordingly. The watch faces have the ability to show you weather, calendar and fitness info at a glance. The good thing is all the watch faces look great and they have their own inimitable style of showing information.
Install: (Free)
3. Pujie Black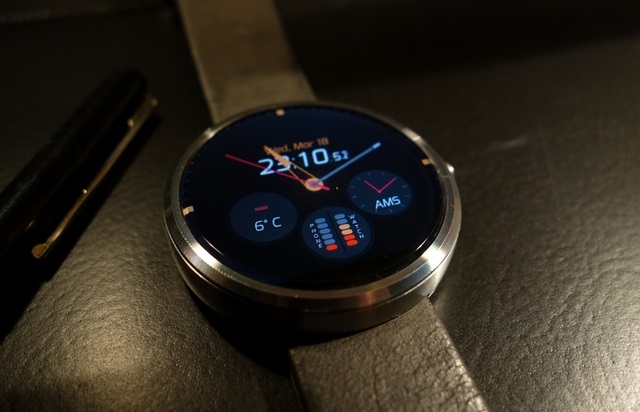 Pujie Black is one of the most popular watch faces available for Moto 360 and Android Wear in general, thanks to it being a watch face cum launcher. Firstly, it packs 11 beautiful presets including simple as well as interactive watch faces. The companion smartphone app lets you customize the watch face to show info like weather, fitness, battery status and calendar events. What makes it a launcher is the cool "Tap drawer", which lets you add shortcuts to tap targets on the watch face. Among various other features, you can even use the watch face on your Android device as a clock widget.
Install: (Paid $1.95)
4. Masque Simplicity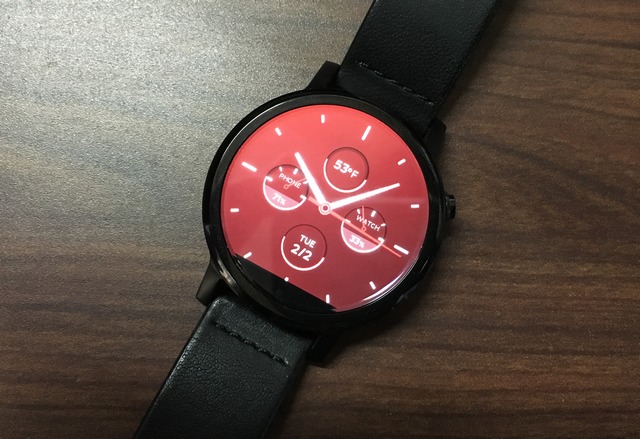 Masque simplicity brings minimalistic plain colored watch faces, which you can customize the way you like. The Android app lets you choose between various color kits, hand styles, tick marks and info circles. The info circles are nothing but differently styled watch faces, which aim at different information like calendar, battery, weather, alarms etc. The app is available for free but there's a Premium version, if you want custom color kits and more hand styles & tick marks.
Install: (Free with in-app purchase of $1.96 for Premium version)
5. InstaWeather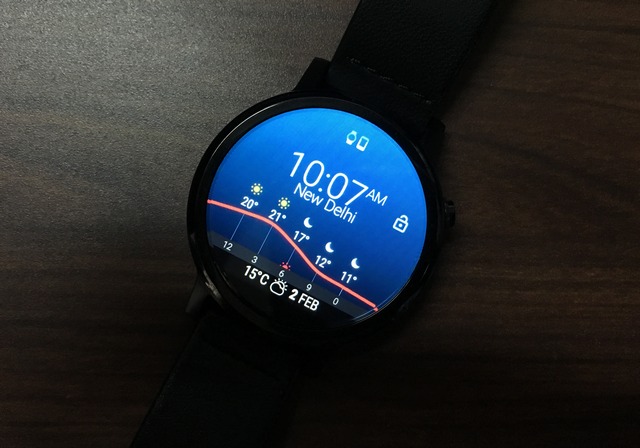 InstaWeather brings a total of 9 interactive watch faces with weather reports, forecasts, radar maps, battery indicator and Google fit integration on every watch face along with customization options. The watch face comes with a smartphone app, which lets you control all aspects of the watch face like active & ambient screen, location, weather stations etc. Basically, it's the best weather watch face you can get on Android Wear or Moto 360.
Install: (Free trial for a month with subscription of $0.87/month)
6. Minimal & Elegant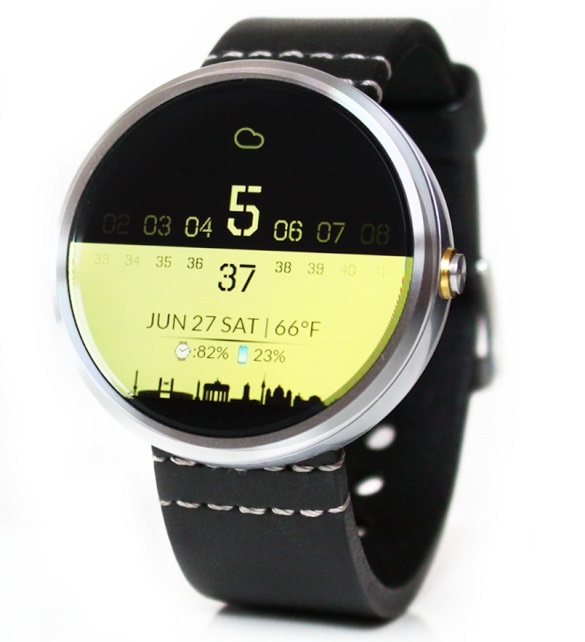 If you are looking for beautiful yet highly customizable watch faces, Minimal & Elegant is the app for you. It includes various presets and you can create presets or import from the active Google+ community. Moreover, you can customize everything through the companion app including font, background gradients, notification cards, system indicators etc. It also includes interactive watch faces with the ability to launch apps directly, music controls, brightness, apps and more. There are way more features available in the watch face, so it's definitely worth its price.
Install: (Paid $0.73)
7. Skymaster Pilot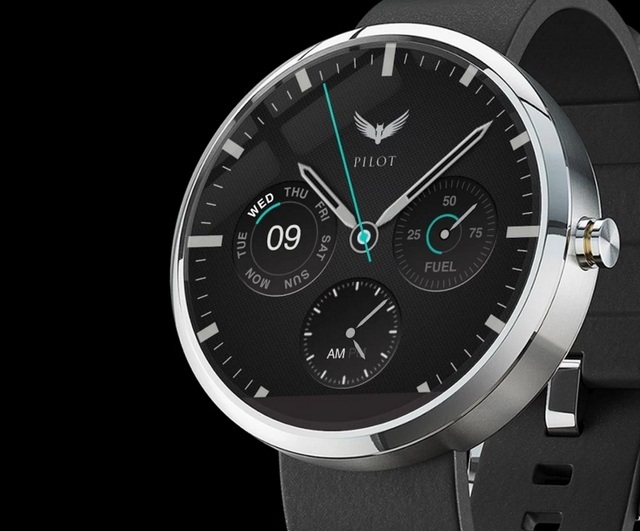 If aeronautic watches are your thing, you will love the Skymaster Pilot watch face. It features an Aviator watch face, which brings superb readability along with info like weather, date and battery indicator. Along with the ambient mode, it also features a cool interactive watch face, which lets you change dials of the watch face with a single tap.
Install: (Paid $1.08)
8. Cool Circle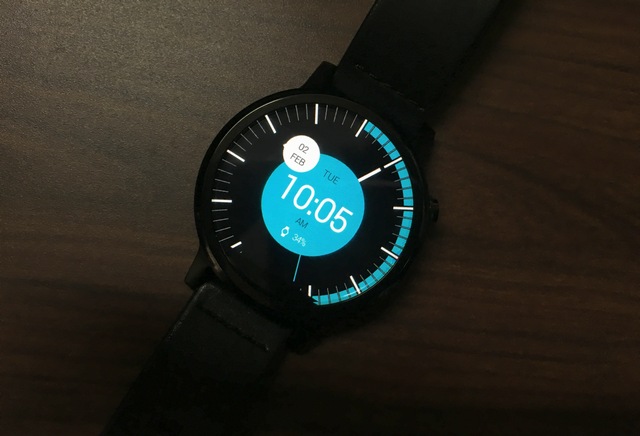 Cool Circle is a good looking yet productive watch face, as it shows you various info like weather forecast, alarms, indicators etc. at a glance. The smartphone app lets you customize the watch face's background color, peek cards, screen time and more. The free version is good enough but the Premium version brings handy features like app shortcuts, weather options and more.
Install: (Free with in-app purchase of $0.65 for Premium version)
9. Mustache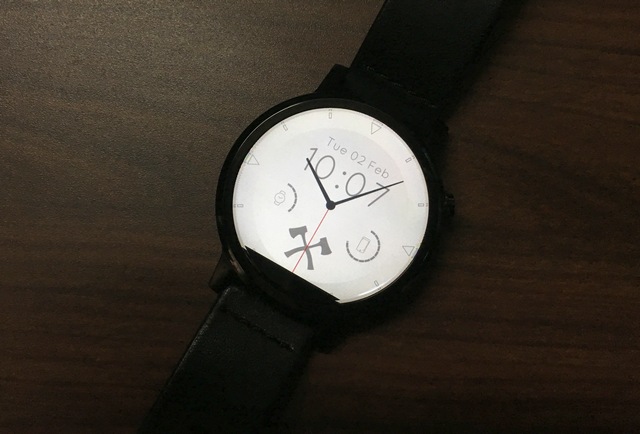 Mustache is a cool looking watch face with a number of options to tinker. You can customize the watch face through the smartphone companion app, which lets you choose from various themes and customize the night mode, active & ambient screen, notification cards etc. While the watch face is dubbed mustache for the cool badge, you can choose among various other cool looking badges that add a personal touch. Along with the free version, there's a Premium version as well, which brings 6 new themes, ability to choose colors of second hand, ambient and select active screen duration.
Install: (Free with in-app purchase of $0.80 for Premium version)
10. Willow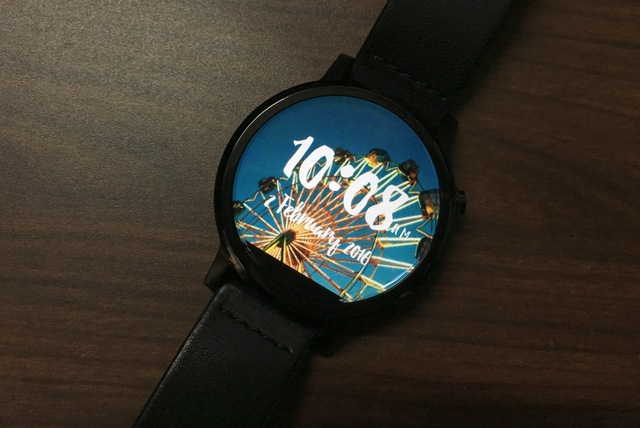 Willow watch face lets you use custom images as your smartwatch's background. You can choose from the companion app's online gallery or your own device's gallery. There aren't many features here but the ability to use a personal image as watch face surely makes for a personalized watch face. Plus, the fonts in this watch face are pretty cool.
Install: (Free)
11. Simple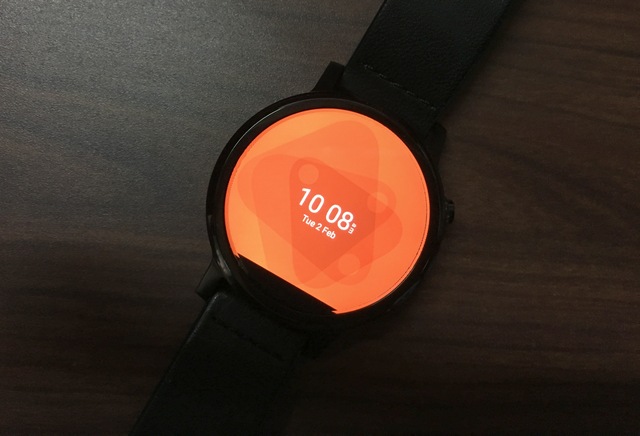 As the name suggests, Simple watch face is as simple as it gets. The watch face features the digital clock & calendar in between with a simple yet soothing transition in the background showing the seconds and minutes movements. You can select the background colors or you can set it to randomly change. There's no smartphone app, so you will have to control the watch face from your Android Wear smartwatch.
Install: (Free)
12. Street Art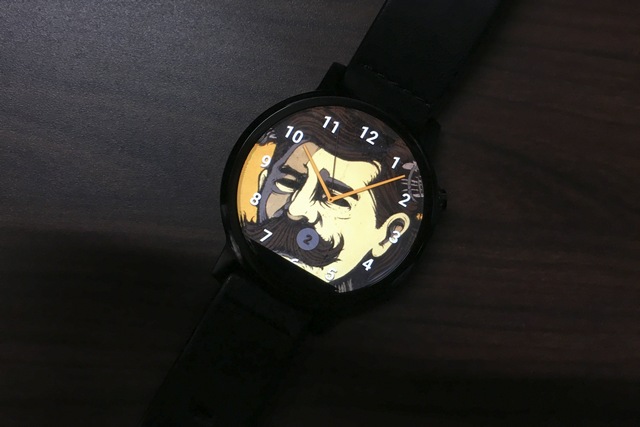 Street Art is a watch face developed by Google and it includes some amazing art work as the background. The watch face includes a great collection of beautiful street art images and you can choose between analog, digital or minimal clock. Get it if you are an art lover!
Install: (Free)
13. Runner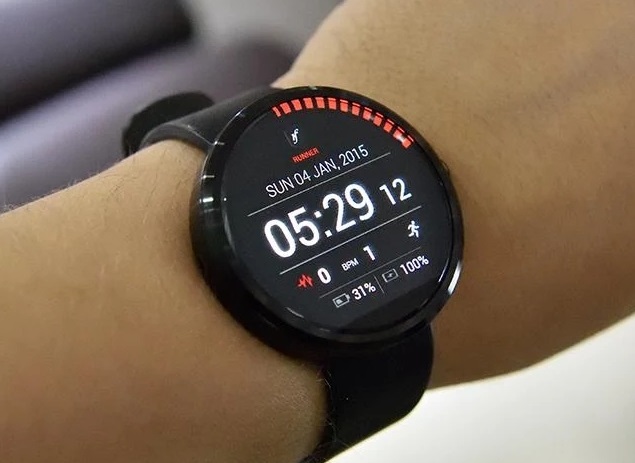 Runner watch face is a great watch face, if you are into fitness drills or running. Along with the usual date, phone & watch battery info, the watch face brings you fitness details like steps counter and heart rate indicator. There is ability to set custom color configurations and enable/disable sensors to save battery.
Install: (Paid $1.09)
14. Form
Form is a simple yet stylish looking watch face and we especially like its ambient screen. The watch face brings a digital clock along with a seconds counter, date and unread notifications count. On the customization front, you can only change the background and remove the date or unread counts. The watch face might not be very productive but looks pretty cool.
Install: (Free)
15. 70s Watch Face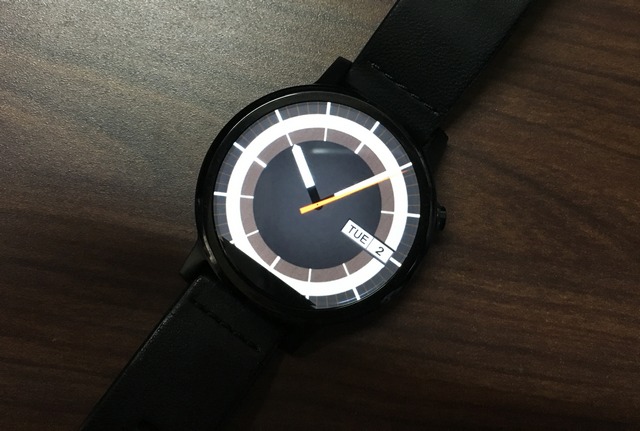 Love classic look of the 70s? This is the watch face for you! The watch face rocks the 70s look and brings info like date & week-day. It also includes a cool dimmed mode to save your smartwatch's battery.
SEE ALSO: 20 Best Apps for Your Moto 360 Smartwatch
Personalize your Moto 360 Smartwatch with these watch faces
Thanks to these beautiful yet functional watch faces, you can personalize the Moto 360 or any other Android Wear smartwatch the way you want. So, what are you waiting for? Check out these watch faces and let us know the one you like the most.