Xiaomi recently released the Mi 8, it's flagship contender for 2018, and it's one of the best affordable flagships that you can buy right now. One of the best things about the Mi 8 (starting at 2,699 Yuan in China, available for $569.99 on GearBest) is that it gets almost all the things right. That said, Xiaomi is not the only company doing this. In fact, OnePlus is the company which introduced this category of smartphone and has been winning the title of flagship killer since the past couple of years. That's why we thought of putting these two affordable beasts against each other to see which one actually deserves the title of flagship killer this year. So, if you were confused between the Mi 8 and OnePlus 6 (starts at ₹34,999), and didn't know which device you should get for yourself, stick around as we put the OnePlus 6 against the Xiaomi Mi 8 to find out which one takes the cake:
Mi 8 vs OnePlus 6: Specs
Before I get into the thick of things and share my personal experiences of these phones with you guys, let us just get the paper specs out of the way. You can find everything that you need to know about these phones in the table below:
Name
Mi 8
OnePlus 6
Dimensions
154.9 x 74.8 x 7.6 mm
155.7 x 75.4 x 7.8 mm
Weight
175 g
177 g
Display
6.21-inch, Super AMOLED, 1080 x 2248 pixels (~402 ppi density)
6.28-inch, Optic AMOLED , 1080 x 2280 pixels, (~402 ppi density)
Processor
Qualcomm Snapdragon 845
Qualcomm Snapdragon 845
GPU
Adreno 630
Adreno 630
RAM
6 GB
6 GB / 8 GB
Storage
64/128/256 GB
64/128/256 GB
Primary
Camera
12 MP (f/1.8) + 12 MP (f/2.4) with dual-LED flash
16 MP (f/1.7) + 20 MP (f/1.7) with dual-LED flash
Secondary
Camera
20 MP (f/2.0)
16 MP (f/2.0)
Battery
3400 mAh
3300 mAh
Operating
System
Android Oreo 8.1
Android Oreo 8.1
Sensors
Infrared face recognition, fingerprint,
accelerometer, gyrometer, proximity, barometer, compass
Fingerprint, accelerometer, gyrometer, proximity, barometer, compass
Connectivity
Wi-Fi 802.11 a/b/g/n/ac with Wi-Fi Direct, Bluetooth 5.0
Wi-Fi 802.11 a/b/g/n/ac with Wi-Fi Direct, Bluetooth 5.0
Price
~ Rs. 30,000
Rs. 34,999
It is apparent from the table that it is very difficult to proclaim any of these phones as a winner based on the specs alone, as they both pack quite similar specification. So let's check out how these two smartphones perform in the real life to find out which one has the figurative upper hand.
Mi 8 vs OnePlus 6: Design and Build Quality
When it comes to the design, there's no denying the fact that both of these phones are heavily inspired by the iPhone X, albeit, one a lot more than the other. I mean, while OnePlus has copied the notch and vertical camera placement found on the iPhone X, the Xiaomi Mi 8 has downright copied every single design element. If we remove all the branding and the fingerprint sensor at the back, the Mi 8 will be hard to distinguish from the iPhone X.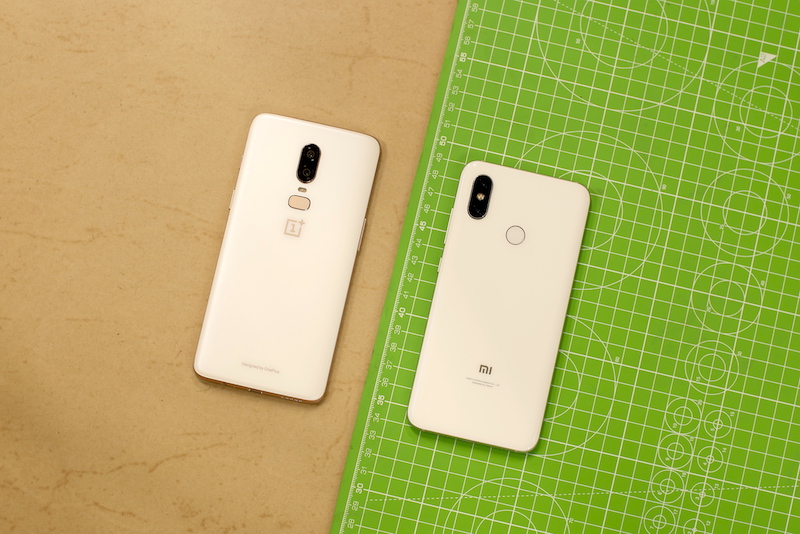 That said, if we let go of the design inspiration for a while and focus just on the build quality, both of these phones will please their prospective buyers. I Mean, both the phones feature a glass-sandwich design with metal frame, and they both look good and feel nice in hand. I am especially a fan of the silk white version of the OnePlus 6 as it feels really nice to touch and a lot different from your generic glass back smartphone. The OnePlus 6 also has the headphone jack which is always a big plus in my books.
That said, overall if you compare the normal versions of both the phones, I personally prefer Mi 8 as it feels more solid. I also prefer Mi 8 over the OnePlus 6, as its notch although bigger than the latter, has a purpose. The phone brings an infrared sensor at the front which it uses for its face unlock feature. I mean, if you are going to put a notch there's better be a reason for it, and the Mi 8 gives a better reason for the notch than the OnePlus 6. Don't get me wrong, the OnePlus 6 sports a great build quality and you won't be disappointed if you buy this phone, however, when you compare both of them side by side, the Xiaomi Mi 8 turns out to be a better phone.
Winner: Xiaomi Mi 8
Mi 8 vs OnePlus 6: Display
Both the OnePlus 6 and the Xiaomi Mi 8 pack almost similar display with the Xiaomi Mi 8 sporting a 6.21-inch Full-HD+ Super AMOLED screen and the OnePlus 6 bringing a slightly larger 6.28-inch Full-HD+ Optic AMOLED panel. The minute size differences aside, both these phones pack good quality AMOLED panels which show punchier colors and truer blacks than any IPS panel out there. I always prefer AMOLED panels over the IPS panels because of their color reproduction and battery saving qualities, and I love that both these phones bring the same experience.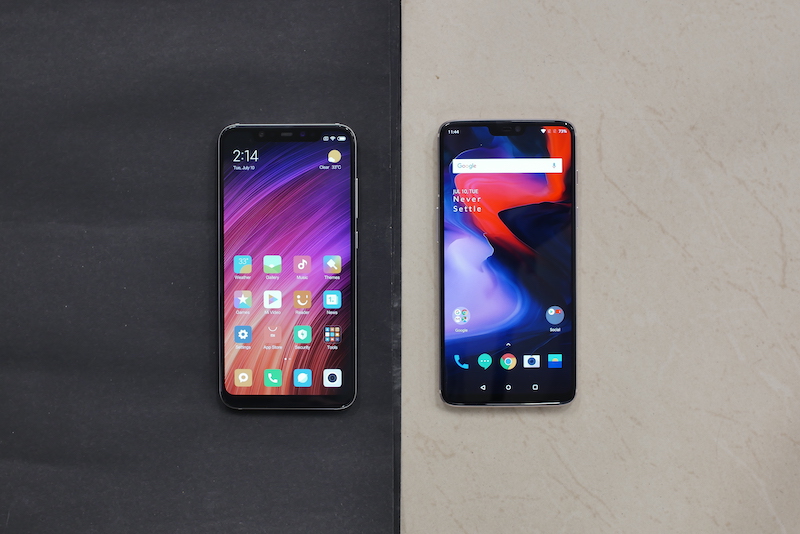 I have been using both these phones side by side for almost a week now and I still can't decide as to which one packs a better display. I mean, OnePlus does sports a smaller notch, but quite frankly the size of the notch is irrelevant. If you hate notches, the size difference is not going to change your mind. I will say that the colors on Mi 8 SE display are a bit punchier by default, however, depending on your preferences, that might not be a good thing. Anyways, you can always fiddle with the display settings to adjust the colors.
Winner: Tie
Mi 8 vs OnePlus 6: Performance
One of the best things about buying a OnePlus device is that you can be sure that you will get a top-notch performance, and OnePlus 6 is no different. In our testing, the OnePlus 6 performed like a champ, handling everything we threw at it with quite an ease. On the other, the Xiaomi Mi 8 was no slouch either as it tackled every performance test like a beast. It's no surprise as both of these phones pack the same hardware. Both these phones bring the top of the line Snapdragon 845 processor along with Adreno 630 GPU which is enough to handle all your needs.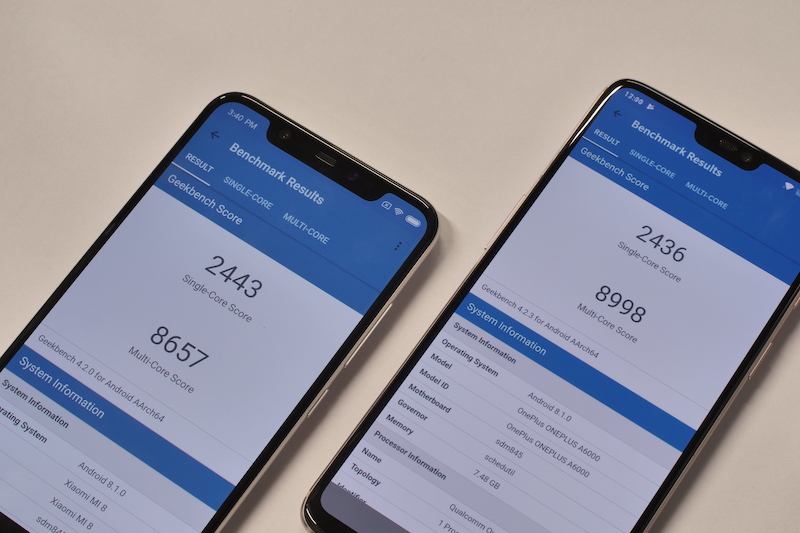 Although OnePlus 6 has an advantage as its Oxygen OS is quite nimble when compared to the MIUI 10 of the Xiaomi Mi 8, I could not find any discernible performance difference between the two devices. Day-to-day tasks including emails, web surfing, using multiple apps, and more are handled comfortably. Even playing AAA games like PUBG and Marvel Future Fight didn't phase these devices as they both could handle these games without any problem. As time passes, that might change as MIUI tends to bog down the devices with age, however, in their current state, both the phones go head to head with each other.
Winner: Tie
Mi 8 vs OnePlus 6: Cameras
When it comes to cameras, OnePlus 6 seems to have a distinct advantage on paper. While the OnePlus 6 brings a dual 16 MP (f/1.7) + 20 MP (f/1.7) primary camera sensor and pairs it with a 16 MP front-facing shooter, the Mi 8 brings a dual 12 MP (f/1.8) + 12 MP (f/2.4) camera at the back and a 20 MP (f/2.0) sensor at the front. As you can see, OnePlus 6 has a clear advantage when it comes to the primary camera of the smartphone. That said, if Google Pixel 2 has taught us anything, it's the fact that neither the number of sensors nor the megapixel count matter that much.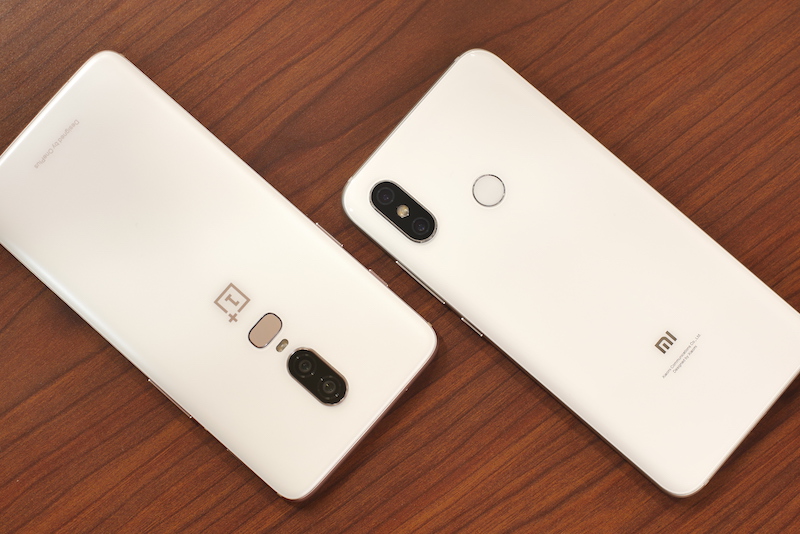 Since we have already published a full-camera review of the OnePlus 6, we are going to focus more on time on the Mi 8's camera quality in this section. As I captured more and more pictures with the Mi 8, I realized that it follows the same trend of mid-range flagship devices like the OnePlus 6. What I mean by that statement is that the smartphone takes really good pictures in good lighting conditions, however, it still falters when the ambient lighting is not good. Starting with the photos in good lighting conditions, as you can see in the pictures below, both the OnePlus 6 and the Mi 8 do a good job in taking pictures. Neither of them is so much better than the other that it can be crowned as the winner.



When it comes to the shots taken in the low-light situation, I found that the Mi 8 did a better job at brightening the background and the overall picture quality was a bit better than the ones taken on the OnePlus 6.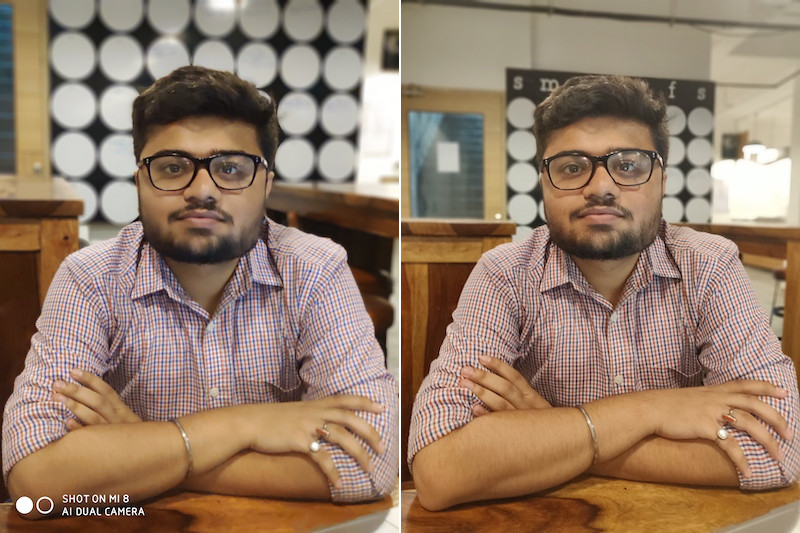 Coming to the portrait shots and selfies, again both of the phones performed almost equally. While the OnePlus 6 made subjects sharper, the Mi 8 was better at blurring the background. I mean, there's really not a clear winner here. In some instances, I like the Mi 8's camera performance more, while for others, I preferred the OnePlus 6.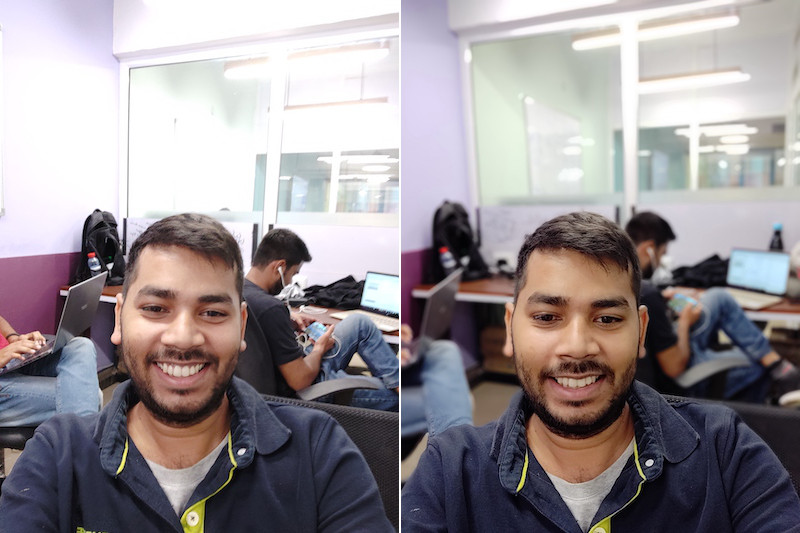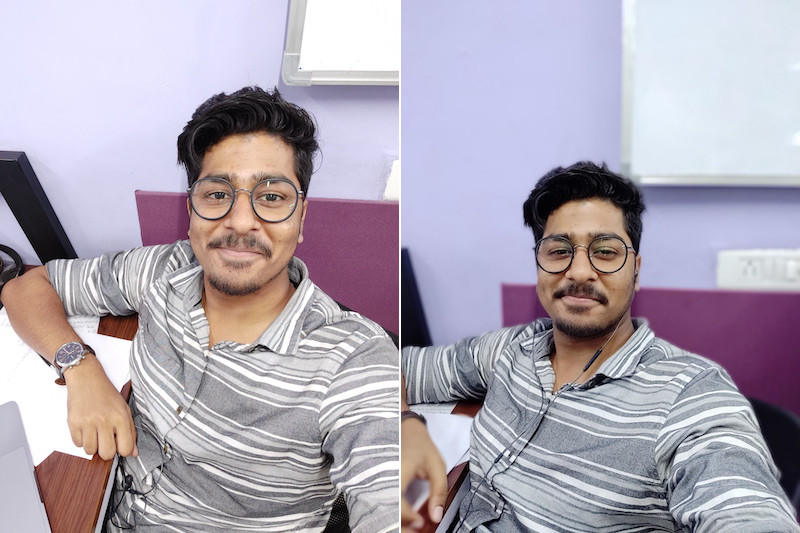 After deliberating for a long time as to which phone should be declared as a winner of this section, I finally came to a conclusion that Mi 8's camera performance is better, even if just by an inch. I also think that the Mi 8 is the winner because its cameras can achieve the same feat as the OnePlus 6's camera, while the former costing a lot less than the latter. Overall, there's not a big difference between the camera quality of both the smartphones, but if I had to pick a winner, it would be the Mi 8.
Winner: Mi 8
Mi 8 vs OnePlus 6: Software
When it comes to the software, the Xiaomi Mi 8 and OnePlus 6 are poles apart from each other. While both of these phones feature their own custom take on Android, Oxygen OS on the OnePlus is far closer to stock Android than the MIUI 10 which has an almost iOS-esque appearance. I have made it quite clear in the past that I prefer stock Android experience over everything, however, this is a purely subject choice and if someone is happy with the MIUI 10, I won't bash them for doing so. That said if you are confused as to which software experience you should use, I can give you more context to help you decide. Let us first start with the MIUI 10 as the Mi 8 is the new kid on the block.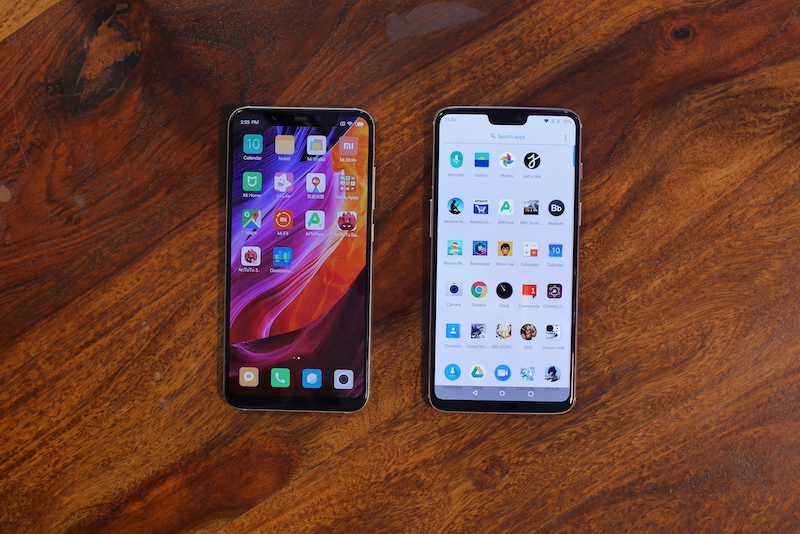 MIUI 10 is best for someone who likes extreme control over each and every part of the software experience and loves to theme their device. I am saying this as MIUI 10 provides a ton of customizability and brings its own theme store which houses hundreds if not thousands of themes to help users customize the look and feel of the device to make it exactly how you like it. That said, it has its own share of problems. First and the biggest problem with using a device running on MIUI is that you will be getting a painfully slow update experience. Secondly, the MIUI 10 is a heavy custom skin and it comes with its own set of apps. So if you want to use stock Android apps for camera, messages, browsers, and more, you will have to live with multiple apps which do the same thing.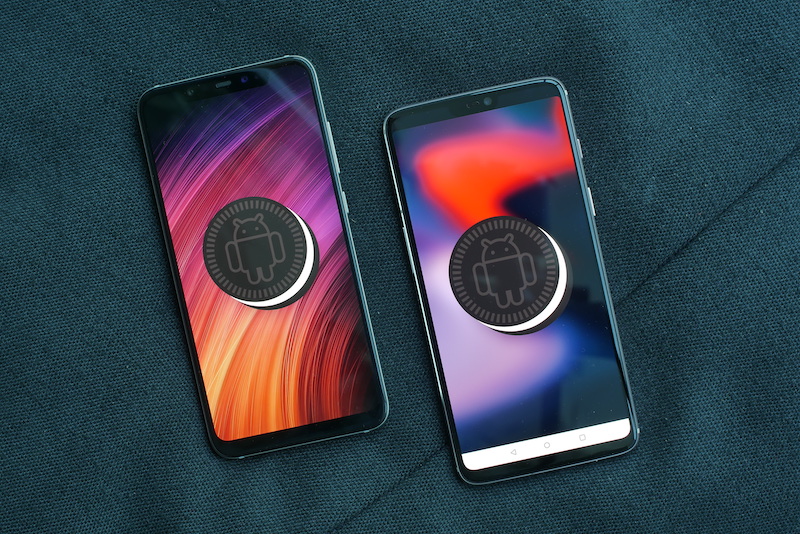 On the other hand, Oxygen OS on OnePlus is very light and brings almost all the features of the stock Android along with some handy features of its own. While the update cycle on OnePlus devices is slower when compared to stock Android, they do tend to get the updates pretty quickly, especially when compared to MIUI. I mean, my two years old, OnePlus 3 is running on Android Oreo which it got in the November of last year. That said, with Oxygen OS, you will lose all the customizability and themes support that you would have gotten if you bought the Xiaomi Mi 8. Having said that, if you ask me, I prefer OxygenOS due to its stock Androd looks and handy features.
Winner: OnePlus 6

Mi 8 vs OnePlus 6: Battery
Both the Xiaomi Mi 8 and OnePlus 6 bring an all-day battery life and you won't be needing a charger before the end of a day with either of them. While the Mi 8 brings a slightly larger battery at 3400 mAh against the 3300 mAh on the OnePlus 6, that small increment is not realized in real life as both of these smartphones offer an almost similar battery life. I also love that both of them support fast charging. While the OnePlus brings its critically acclaimed Dash Charging to the table, the MI 8 brings Qualcomm's Quick Charge 4.0 standard which is almost as good as the Dash Charging. Needless to say, with both of these phones, the battery life will never be an issue for you.
Winner: Tie
SEE ALSO: Mi 8 SE vs Nokia 7 Plus: The Best Mid Range Smartphone?
Mi 8 vs OnePlus 6: And the Winner Is?
Of all the versus article that I have written, this was probably the hardest to write. That's a good thing for consumers ,as no matter which device they decide to buy, they will get a good smartphone. That said, considering how Mi 8 makes good use of notch, costs a hell of lot cheaper, and has slightly better cameras, I consider Xiaomi Mi 8 as the winner here.
However, that win comes with a big caveat. The fact that Xiaomi has released the Mi 8 as a China exclusive device, it will be very hard for you to get your hands on it without paying extra. In fact, the link to buy the smartphone from GearBest (given below), prices it almost equal to the OnePlus 6. In that scenario, it will be hard to crown the Mi 8 as the winner. So, if you have a way to get the Mi 8 at its original price, it will be a better buy than the OnePlus 6 and you should go for it. However, if that's not the case, it will be hard to justify the pain that comes with importing a smartphone when you can get the OnePlus 6 without any problem.
Buy OnePlus 6:₹39,999
Buy Xiaomi Mi 8: $569.99