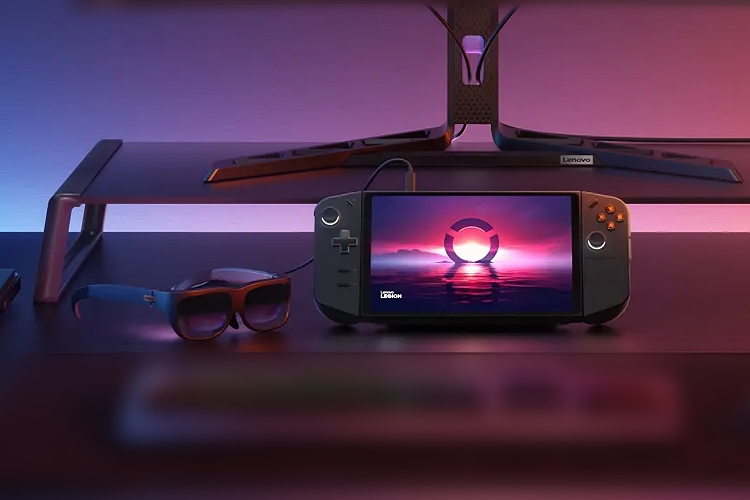 Lenovo is also entering the handheld gaming console market with their Legion Go handheld, which was announced today at IFA 2023. This device is in direct competition with other mainstream handhelds like the Nintendo Switch, Steam Deck, and Asus ROG Ally. So, let's check out all the details for Lenovo Legion Go, including its specs, price, and availability.
Lenovo Legion Go Gaming Console Launched
Lenovo has officially unveiled its Legion Go handheld console. So, how is it different from other handhelds, and does it support any unique features? Absolutely – the Legion Go is one of the most unique handheld gaming consoles to come out in 2023.
Lenovo has clearly taken notes from the Steam Deck & Nintendo Switch consoles while implementing powerful hardware that makes this particular Legion Go handheld a very compelling option in the sea of powerful gaming handhelds.
Let's first discuss the internal hardware powering the Lenovo Legion Go. It is powered by the AMD Ryzen Z1 Extreme chip. This is an APU supercharged with 16GB of DDR5 7500MHz memory, and you can read this article to understand the differences between APU, CPU, and GPU.
The Ryzen Z1 Extreme boasts an 8-core, 16-threaded configuration, and its architecture is based on the new Ryzen 7000 series mobile processors. The CPU goes up to 5.1GHz, but in a handheld console, it entirely depends on the cooling potential. For graphics, this chipset includes onboard RDNA 3 graphics with 12 compute units. The TDP of this chip (as per AMD) is between 9-30W, but we've already seen manufacturers implement higher wattage modes on this chip for even better performance.
The console supports up to a 1TB NVMe Gen 4 SSD and offers expandable storage with a microSD slot supporting 2TB capacity. Talking about the battery, it has a 49.2Wh capacity and supports Lenovo's Super Rapid Charge to take the battery to 70% under half an hour.
It will be interesting to see the performance options offered by Lenovo on their Legion Go handheld. This handheld runs Windows 11, so it will run all your games from Steam, Epic Games, or Xbox Game Pass. Talking about the controller, it has several impressive features that we discuss below. Lenovo is calling them Legion TrueStrike Controllers.
Hall effect joysticks – these are more durable than the traditional implementation
Detachable controllers for additional versatility
Integrated trackpad
D-Pad & angled mouse wheel
10 mappable shoulder buttons, including triggers and grip buttons
'FPS Mode' powered by an optical eye that allows for precise aiming similar to a mouse
Lastly, the handheld features a huge 8.8-inch QHD+ Display with an advertised 500 nits of brightness. It also has 97% DCI-P3 color gamut coverage and supports up to a 144Hz refresh rate at 2560×1600 resolution. These are all strong display specifications, and clearly one of the best on a handheld! The display is also a 10-point touchscreen, and given the larger size, I can see the usage experience becoming better.
Did you notice certain features like the integrated trackpad and detachable controllers? Clearly, Valve's Steam Deck and Nintendo Switch inspired these. But Lenovo's implementation along with the powerful set of internal hardware specs makes its Legion Go the first handheld with this awesome combination of features!
Lenovo Legion AR Glasses & E510 Headphones: Details
Lenovo also unveiled the Legion AR Glasses. These offer a massive, micro-OLED display to the one who wears it. The Legion AR glasses can be paired with the Legion Go, but it also supports most Windows, Android, and even macOS devices thanks to the USB-C port that can be universally used across many devices.
It delivers content at 1080p resolution, at a 60Hz refresh rate. Lenovo's Legion Glasses also have built-in speakers that supposedly deliver high-fidelity audio. With these AR glasses, gamers or anyone else has access to a colorful, micro-OLED large-size screen that is completely portable and offers the most comfortable viewing angles. The company also released its Legion E510 7.1 headphones, with 10mm armature drivers. It also has RGB and connects with USB Type-C.
Lenovo Legion Go: Pricing & Release Date
The new hardware from Lenovo is definitely very exciting. Speaking of the pricing and release date, the Legion Go handheld is expected to become available in stores starting November 2023. The price is 799 euros (including VAT), which converts to $866, so it's clearly one of the pricier handhelds. Still, when the device comes out, it will be intriguing to experience everything and judge whether it is worth it or not.
Lenovo expects the Legion Glasses with its AR screen to become available starting October 2023. The price for these is 499 euros, so these are definitely expensive! Let's see if it's worth getting, considering it can work with many devices and might offer a super immersive gaming & multimedia experience.
What are your thoughts on these new announcements by Lenovo? Do you like their Legion Go handheld? Let us know your thoughts in the comments.
---