As the world tides over the ongoing pandemic, tech companies are doing their best to bring new and affordable tools to users. The latest entrant to video conferencing solution is JioMeet which is hailed as a free and competitive alternative to Zoom. For starters, JioMeet is offering many premium features for free and brings all the essential tools to get started with web meetings. In fact, JioMeet is not just limiting itself to consumers but also projecting its services to enterprises. And that puts JioMeet in a tight race against Zoom. So in this article, we make an in-depth comparison between JioMeet vs Zoom and find out who tops the list of best video conferencing solutions.
JioMeet vs Zoom: An In-depth Comparison
To make things easier for you, here we have enlisted all the topics of discussion between JioMeet vs Zoom. You can click on the link below and move to the corresponding topic seamlessly. With all that said, let's now go through the article.
Note: Before we begin, keep in mind, JioMeet is currently live in India only whereas Zoom is available across the globe.
User Interface
Jio has been launching several new apps and services for quite some time, but they didn't make the same buzz as JioMeet and we all know why. The user interface of JioMeet has been entirely copied from Zoom's UI. It has the same landing page, same menu placement, same interface for meetings, same desktop UI, and more. Simply put, Jio has unabashedly embraced Zoom's UI which can be termed as both good and bad.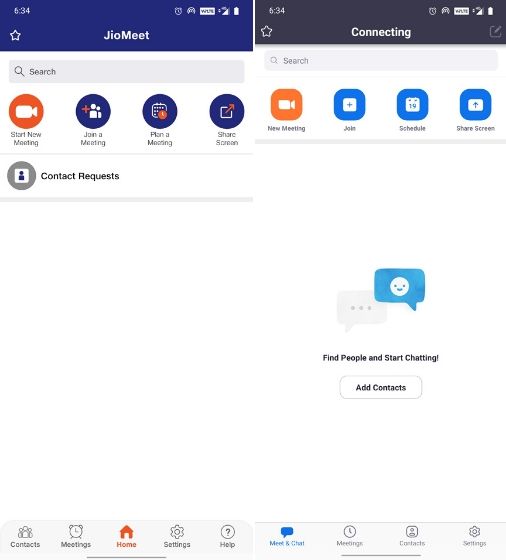 As a consumer, you get a clean user interface without any clunky design elements, thanks to Zoom again. But as a company that is set to bring a paradigm shift in video conferencing domain– for both enterprises and consumers– this is simply disappointing. We expect JioMeet to bring its own visual elements and derive a unique design language that goes hand in hand with the Indian aesthetics. To sum up, yes, you will have a good experience on JioMeet, but the credit for the slick user interface goes straight to Zoom.
Free Offerings
The headline feature of JioMeet is that it offers group meetings of up to 100 participants without any charge. On top of that, there is no time limit either which is just bonkers. On the other hand, Zoom allows you to have video conferencing of up to 100 participants but the calls are capped at 40 minutes, which is nowhere near JioMeet's unlimited offering. If you want to have unlimited calls on Zoom then you can only have 2 participants– basically, 1 to 1 meeting.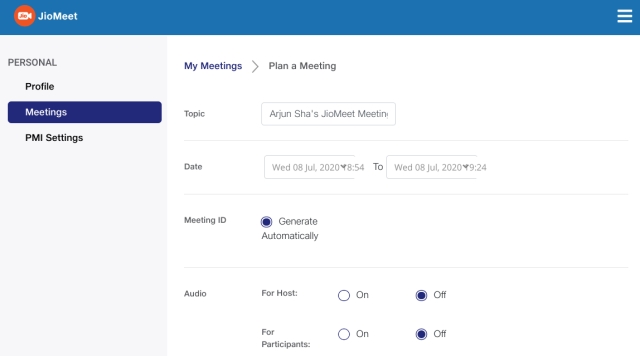 So in terms of free offerings, JioMeet has clearly hit the ball out of the park. In fact, it seems a much better proposition than Google Meet and Microsoft Teams as far as free offerings are concerned. Moving ahead, similar to Zoom, JioMeet also offers HD video quality and screen sharing under the free tier. But keep in mind, there is no annotation or whiteboard support on JioMeet. Apart from that, you can join video calls on JioMeet on any platform through a link and without the need to sign up. Overall, JioMeet comes with all the basics and offers far more perks than Zoom to entice free users under its fold.
Premium Features
When it comes to premium and advanced features, JioMeet does not stand a chance against Zoom. JioMeet does bring some of the premium features like Waiting Room, ability to schedule meetings, Personal Meeting ID, active speaker layout, but it stops just there. Unlike Zoom, you don't have Gallery View, virtual background support, Personal Meeting ID customization, call recording, subtitles, raise hand feature, transcription, and much more. The list could be endless. But again, we have to remember that JioMeet is in beta right now and new features might be added in the future.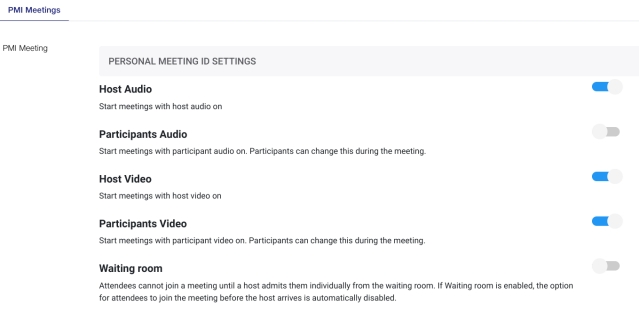 Coming to host-level controls, JioMeet lacks many of the essential features. For example, anyone in the meeting can start screen sharing and the host can't do anything. Other than that, you can't transfer host privileges to another participant or appoint someone as a moderator or presenter. Worst of all, there is no private messaging system on JioMeet which is really annoying. All in all, I would say JioMeet is not a full-fledged video conferencing tool as of now and certainly not in the league of Zoom. If you need advanced features to manage huge meetings then Zoom would be a far better pick than JioMeet.
Video Call Quality
In comparison to Zoom, I found JioMeet's video quality was not up to the mark. There were latency issues and delayed audio syncing. I tested the call quality at low internet speed and Zoom was able to relay the call, but JioMeet failed to establish a stable connection. Bear in mind, Zoom has been working on this domain for years so it has a great advantage on its side. The company has worked on latency issues and have found unique ways to minimize network jitters.
Why is this JioMeet URL mapped to a Vidyo admin page? https://t.co/P7mrHN25rh

(Vidyo is a 15-yo video conferencing company.) pic.twitter.com/7JcMQ3onss

— Rohin Dharmakumar (@r0h1n) July 4, 2020
Talking about JioMeet's technology, we do not have much information about its backend architecture. However, Rohin of The Ken discovered that a JioMeet URL redirects to Vidyo's webpage. It gives credence to the fact that JioMeet might be using Vidyo's architecture for video calling. To put things into perspective, the video call experience on JioMeet is not optimized right now and it will take some time before it can give a stiff competition to Zoom.
Security and Encryption
Coming to security, the good part is that JioMeet locks all video calls with a password, by default. You don't need to enable anything from the Settings page. This comes after Zoom was rocked with cases of Zoom Bombing where strangers could join web meetings without any authorization. Taking a cue, Zoom also password-protects all calls by default now. Talking about encryption, Zoom does not offer end-to-end encryption nor does JioMeet.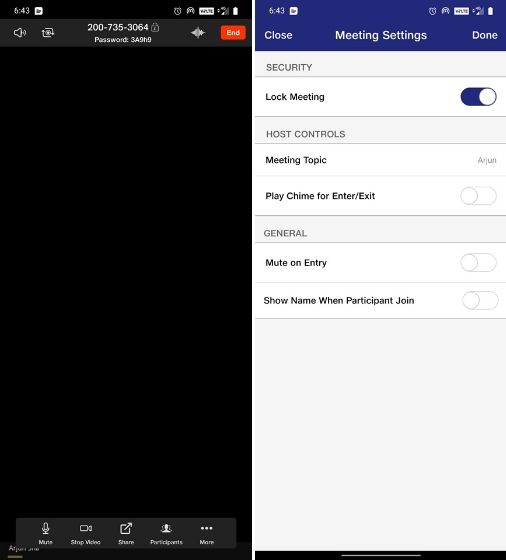 Both the tools encrypt the data in transit and at rest which means all data packets are encrypted from the application to the server. After that, the data is encrypted again on the server-side and finally decrypted on the receiver's end. It's a standard encryption protocol followed by many communication tools including Google Meet and Microsoft Teams. Having said that, the good news is that Zoom has announced that it will bring end-to-end encryption to both free and premium users in the coming months.
JioMeet vs Zoom: The Verdict
Considering all the points, it's clear that JioMeet is in its infancy and will take some time before it can stand head and shoulder above Zoom. As we all know, JioMeet is currently in beta so passing a conclusive judgment would be wrong at this point. But if you just want to make video calls without any time or participation limit then JioMeet a perfect pick over Zoom.
As for teachers, educators, and enterprises, I would not really recommend JioMeet, especially if you need all those advanced features. So to sum up, JioMeet is a new video conferencing platform and has the promise to be a decent alternative to Zoom, at least for the basic users.
If you liked this article then you can go through our next analysis on Google Meet vs Zoom vs Microsoft Teams to find the best video conferencing platform.
---
Load More