Intercom is one of the best live messaging platforms on the internet right now. It not only allows you to chat with your customers in real-time but also provides you marketing tools to help track user interaction and close a purchase. However, many entrepreneurs are scouting for alternatives to Intercom.io due to its expensive price tag, which is defined on the basis of total user conversations. If you are one of them, we have jotted down the top 15 Intercom alternatives which you can use to communicate and engage with your customers seamlessly.
Cheap and Best Intercom.io Alternatives in 2020
Before getting started with the roundup, let's figure out some of the viable reasons why it's worth exploring the noted Intercom substitutes! Whether you are hunting for a free variant or wish to significantly cut down the monthly price, they can fit into your needs.
A Few Viable Reasons Why You Should Check Intercom Alternatives
Without undermining a great suite of the essential tools and the integration with a wide range of apps/services, I would like to point out some of the areas where it still lacks precision or simply doesn't live up to the expectation.
First and foremost, it lacks a generous free tier that may provide you access to some basic features before you're ready to commit to the chat platform entirely. Due to the lack of a freemium model, it's not quite useful for the ones who're just setting out on a new entrepreneurial journey with plans to interact with customers to drive sales. Besides, the $39/month price tag is something that may not fit into everyone's budget.
The second, Intercom doesn't excel in terms of campaign creation. Besides, the automation doesn't always work spotlessly. If you are someone who is willing to bolster the campaign for better marketing or amp up automation, look no further than these 15 best Intercom alternatives.
1. Tawk.to
Our first recommendation is a completely free live messaging platform, for those who've been looking for the cheapest Intercom alternative. Tawk.to allows you to embed a chat widget on your website or app but lacks the sleek UI and marketing automation tools that may help you drive sales.
The primary focus of Tawk.to is providing brands with a multitude of features you find in common live messaging platforms for free. This means you can customize the chat widget, converse via mobile (even by using pre-defined shortcuts), analyze visitors in real-time, and trigger actions to proactively interact with them.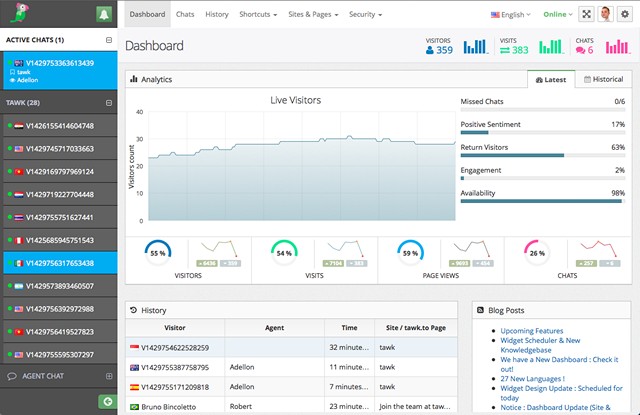 You may be thinking that there must be a catch because who provides you such a complex platform for free. Well, there is nothing – no cap on the number of visitors, agents, or even ad placement.
However, Tawk provides you customization options that allow you to remove the Tawk branding, add video+voice calling, and more. You can also hire agents for as low as $1/hour from your dashboard. Isn't it the tool you've been looking for?
Pros: 
Embed a chat widget on your website or app 
Customize the chat widget
Remove the Tawk branding
Video and voice calling
Provides a number of customization 
Cons: 
The interface doesn't look intuitive 
Platforms: Web, Android, and iOS
Visit: Website (Free Tier, Paid Plan start at $9)
2. Crisp.chat
Though Intercom may have ignited the flame for instant customer satisfaction, it is Crisp that's building the features that further enhance the support experience. The company's LiveChat platform is a simple and intuitive alternative to Intercom with features such as rich media (audio/video messages, link snippets, GIFs, and file attachments) messaging, chat handover to social platforms, and even an in-chat game.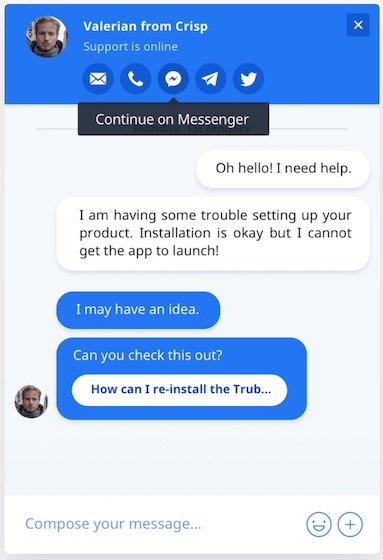 Crisp takes the lead on its competitors by offering you a free tier that provides access to necessary features, locking the analytics, and a few add-on stuff. You're required to shell out $25/month to support a team of 4 agents, unlimited chat history, automated triggers, user location map, and integrations such as Facebook Messenger.
And that's not all. You can further increase the chances of sales by selecting the Unlimited $95 subscription tier. It unlocks features such as real-time video calls and Magic Browse, which allows agents to track a customer's actions. Agents can also temporarily access their customer's screens to help them complete the purchase using the Live Assist feature.
Pros: 
Unlimited chat history
Automated triggers
User location map
Integrations such as Facebook Messenger
Live Assist feature
Cons: 
Platforms: Web, macOS, Windows, iOS, Android, and Slack Plugin
Visit: Website (Free Tier, Paid Plans start at $25/month per 4-agent team)
3. Freshchat
The latest addition to CRM service provider FreshWorks' arsenal, Freshchat, now plans to take on Intercom with its proactive messaging and sales platform. They are offering a minimalist and clean experience with unlimited contacts, ten agents, 30-day chat history, and other basic functionality for free.
Freshchat provides you 30 days to take the fully-featured messaging solution for a spin before you are willing to pay for the same. This means you'll not only have access to the familiar messaging experience but add-on user engagement tools as well.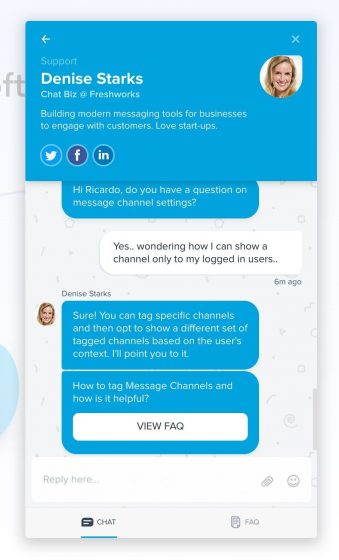 You can then access user properties, analyze the data, and launch in-app or email campaigns to score more on the customer satisfaction meter. The back-end UI of the service has also been designed quite intricately. Not only that, you can also integrate popular messaging services like WhatsApp, Facebook Messenger, and more to directly reach your customer.
This shows that Freshchat has taken cues and built upon the ideologies of the leader of this already crowded segment. Though it lacks many features due to its fairly recent debut, the company will update them in upcoming releases. It currently also lacks an Android mobile app but FreshWorks' platforms are known to mature quite quickly.
Pros: 
Proactive messaging and sales platform
Fully-featured messaging solution
In-depth data analysis 
Option to launch a comprehensive email campaign 
Cons: 
Email campaign management could be better 
Platforms: Web, iOS, and Android 
Visit: Website (Free Tier, Paid Plans start at $15/agent per month)
4. Zoho Desk
Zoho Desk has always been a noted rival of Intercom. So, there is no question of missing out on this one. What makes it a worthy alternative is a wide range of tools that enable you to offer timely help to your customers.
By automating frequent tasks, the software saves plenty of your valuable time and also lets you get them done efficiently. In terms of integration with other apps, Zoho Desk is in the same league as Intercom.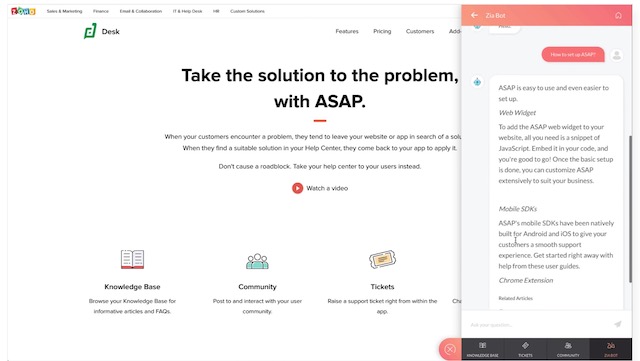 The inclusion of all the essential tools like email, phone, live chat, and social media offers you the flexibility to communicate quickly with the right medium. Thus, you can carry out several essential tasks right from one spot.
Another feature that makes Zoho Desk a great asset for businesses is an in-depth analysis that allows you to figure out the right trends and patterns. With a better analysis, you can spot the shortcomings that need to be addressed and figure out the areas that warrant more attention.
Pros: 
A wide range of tools
Integrated with many productivity apps
In-depth analysis
Live chat
Social media tools 
Cons: 
Requires steep learning curve 
Platforms: Web
Visit: Website (Free Tier, Paid Plans start at $18/agent/month)
5. HelpCrunch
To compete against an established giant, even HelpCrunch has adopted the oh-so-common omni-channel, unlimited contacts, and chats functionality for a fixed price tag. It is offering a sleek, fast, and interactive chat widget UI similar to Intercom.
HelpCrunch supports multi-channel messaging and combines all messages from a single user under one roof – be it email, the chat widget, or social media. This is possible because the platform automatically gathers all personal or behavioral customer data, coupled with their chat history until date, to provide actionable insight into them. You can then follow up on their queries with emails or instant solutions.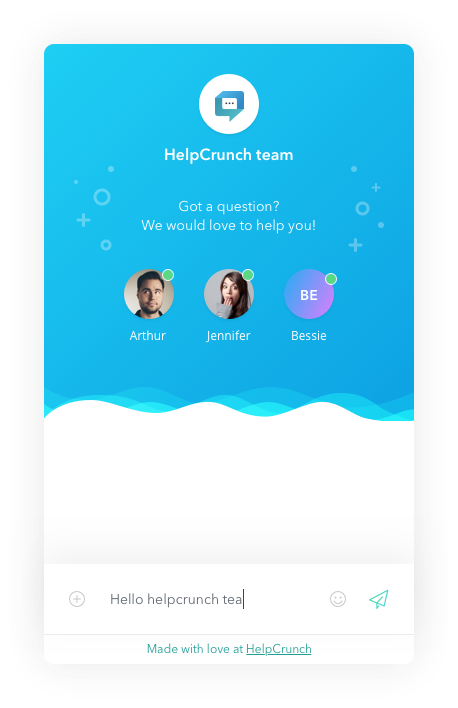 The only drawback of HelpCrunch is its limitation to add the chat widget to one platform per agent. It means you'll have to add multiple agent accounts to make this messaging service reach a wider audience via your web, Android, or iOS platform.
It offers customers 14-day trials (without credit card details) to try out the whole experience before asking to pay $12/agent per month for the live chat feature and $25/agent per month to also include email automation in the mix.
Pros: 
Supports multi-channel messaging
Interactive chat widget UI
Unlimited contacts
Automatically gathers all personal or behavioral customer data
Provides actionable data 
Cons: 
Limitation to add the chat widget to one platform per agent
Platforms: Web
Visit: Website (14-day Free Trial, Paid Plans start at $12/agent per month)
6. Live Chat
Though not available for free, Live Chat (previously known as chat.io) is a smarter and cheaper alternative for Intercom users. It does include most of the features already available within Intercom but then tops it with message sneak peeks, agent ratings, chat routing, and integrations for the chat widget.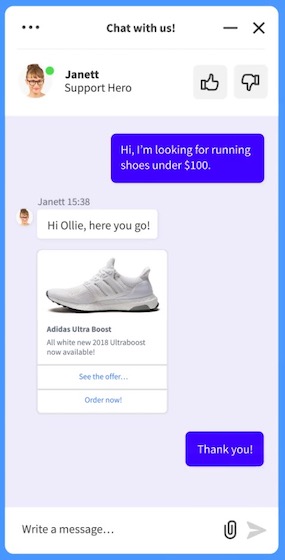 Live Chat is not only suitable for beginners who want to utilize a customizable and ready-to-use chat widget but will also please developers who'd like to introduce changes as per their needs. The platform provides APIs to allow developers to tinker and build features atop the current offering.
It is available on all major desktop and mobile platforms, which is surely a plus, but the platform lacks analytics or customer data management support. You can try out this minimalistic chat widget for 14-days, followed by a modest fee of $10/agent per month.
Pros: 
Provides APIs to allow developers to tinker and build features
Message sneak peeks
Agent ratings
Chat routing, and integrations for the chat widget
Cons: 
Lacks analytics or customer data management support
Platforms: Web, macOS, Windows, iOS, and Android
Visit: Website (14-day Free Trial, Paid Plans start at $16/account per month)
7. Mailjet
If you are looking for a lightweight and faster alternative to Intercom, give a chance to Mailjet. Though it doesn't have the high-end tools that Intercom.io offers, it's way more customizable and provides a fully personalized experience.
With an intuitive interface, Mailjet hardly requires any learning curve. So, you won't have to spend much time to get a good hang of the tools required to communicate efficiently with clients and offer the needed help promptly.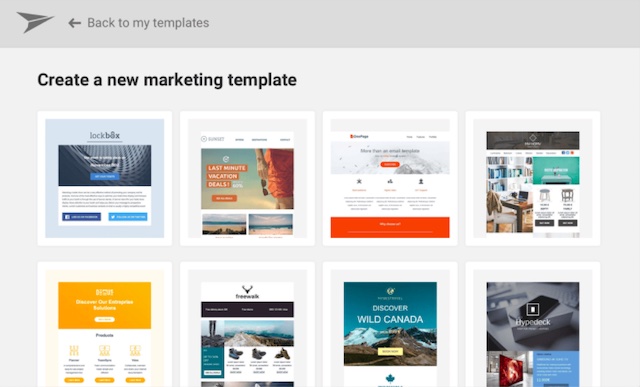 When it comes to streamlining emails, Mailjet has a clear edge over Intercom. The proficient transactional email and transaction SMS features offer you the desired flexibility to communicate with the right medium.
As for the integration with third-party tools, Mailjet lacks versatility. However, it does provide integration with notable tools like Zapier to let you get your work done right from one spot. Depending on your workflow, you can combine the productivity tools with the chat feature for a more simplified experience.
Taking everything into account, Mailjet can be a reliable substitute for Intercom, if you are looking for ways to keep your emails streamlined.
Pros: 
Intuitive interface 
Offers more customization 
Monitor your results
Efficient contact management 
Zapier integration 
Cons: 
Lacks versatility 
Doesn't offer integration with a number of tools 
Platforms: Web
Visit: Website (Free, starts at $9.65/month)
8. LiveAgent
If you have been searching for a feature-intensive CRM service, then you should stop what you're doing and pay heed right away. LiveAgent not only offers you live chat functionality but also includes ticket management, social messages, and customer care support (phone calling functionality) all in one integrated platform. You may need to add a required account or phone number to activate some of these functionalities.
It also operates a little differently than Intercom, wherein you don't just shoot a message in the air and wait for a reply from the support people. The LiveAgent chatting widget first searches and then connects you to a live representative to initiate a two-way conversation.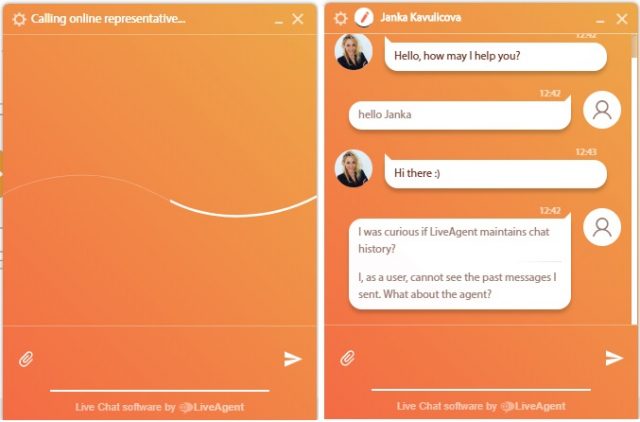 There are times when you're queued until one of the representatives becomes available to answer your query – a feature I haven't seen anywhere else.
The drawbacks of this platform are that the back-end UI is a bit complex and may take you some time getting used to. Also, there is no free tier to use the app, it requires you to shell out $29/agent per month after the free 14-day trial period ends.
Pros: 
Ticket management
Social messages
Chat widget 
Customer care support 
Cons: 
Doesn't offer a freemium model 
Platforms: Web, iOS, and Android
Visit Website (14-day Free Trial, Paid Plans start at $15/agent per month)
9. UseResponse
With most technology giant's trying to flood their messaging services with AI-enabled bots, UserResponse gives you the chance to use them as a customer interaction platform. It does not want to limit the visitors at embeddable chat widgets but is also providing them with an option to easily communicate using popular messaging platforms like Viber, Facebook Messenger, Skype, and more.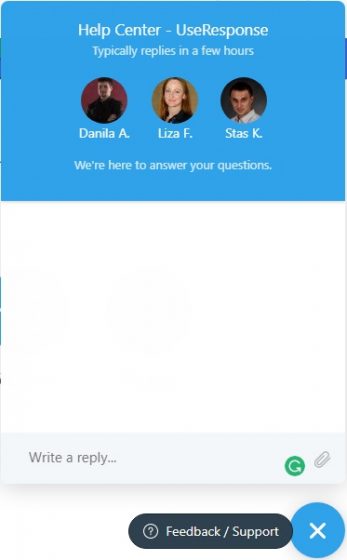 This Intercom alternative also packs most of the basic functionalities a brand is looking for in a CRM messaging platform. You get single sign-on, email automation, and also analytics to help your brand better understand the userbase and set up lead-generation campaigns.
In addition to live chats, users of UseResponse can also opt-in to choose from a collection of three additional modules namely Feedback, Help Desk, and Knowledge Base. The subscription plans for each module are the same and you'll be given a 14-day free trial period, post which each module will cost $49/ 2 support agents/month.
Pros: 
Powerful CRM
Communicate using popular messaging platforms
Single sign-on
Email automation
Detailed reports 
Cons:
Lacks a free tier 
Way too expensive
Platforms: Web
Visit: Website (14-day Free Trial, Paid Plans start at $49/ 2 support agents/month
10. ZenDesk Chat
Adding to their existing and trusted CRM platform, Zendesk has also stepped foot into the crowded live messaging widget ecosystem with Zendesk Chat. While this may have become repetitive but this platform also includes common features like pre-chat forms, visitor lists, offline lead generation forms, and chat badges to improve the visibility of your widget.
Zendesk has also added chatbots to take over the conversation from agents, jump between older messages in the conversation history, and user profile linking. It packs cross-platform support, making Zendesk Chat accessible on most popular platforms.
Also, the platform even offers you features like automated message triggers, agent reports, chat routing, real-time monitoring, and conversion tracking for your leads.
Zendesk Chat is not suitable for burgeoning businesses because the free tier allows you to chat with only one concurrent user while retaining a 14-day chat history. However, you can extend the functionality of your chat widgets by picking a paid plan for as low as $15/agent per month.
Everything considered; Zendesk is a great free and cheap Intercom alternative in the market right now.
Pros: 
Pretty easy-to-use
Pre-chat forms
Handy visitor lists
Helpful offline lead generation forms
Chat badges to improve the visibility of your widget
Cons: 
The automation doesn't always work as expected 
Platforms: Web, Android, and iOS
Visit: Website (Free Tier, Paid Plans start at $5/agent/month)
11. SendinBlue
SendinBlue is another highly-rated Intercom alternative in the market. The software puts your entire suite of digital marketing tools in one place so that you can take prompt actions without needing to take roundabout ways.
With tools like email, SMS, ads, and landing pages, the software ensures you have quick access to the pivotal tools. As a result, you can communicate with your clients without any hassle and also offer up the needed help when it matters. In terms of enhancing productivity, SendinBlue is fully equipped to make a solid match with the prowess of Intercom.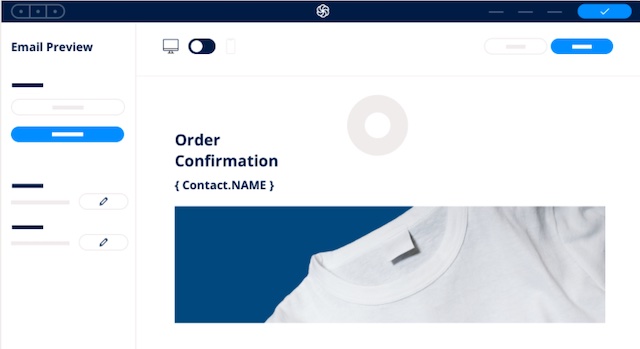 SendinBlue takes advantage of automation to help you focus on the more important tasks and put the less important ones away. Thus, you are able to get your work done on time. Be it email marketing, SMS marketing, or instant communication with customers, it has ticked off all the boxes to help you stay ahead of the curve.
One of my favorite features of SendinBlue is a powerful CRM that lets you keep a tab on your customer details, which plays a vital role in building a stronger relationship with customers. Based on your convenience, you can fine-tune the design, engagement, and deliverability of your transactional emails.
If you wish to put more emphasis on CRM and transactional emails,  SendinBlue is a better alternative to Intercom.
Pros: 
Robust CRM
Offers a powerful suite of digital marketing tools 
Excels in email and SMS marketing
Transactional emails
Deliver a more personalized experience 
Cons: 
Requires some learning curve initially 
Platforms: Web
Visit: Website (Free Tier, Paid Plans start at $25/month)
12. Drift
One look at Drift's chat widget or the backend and you're reminded of Intercom's UI itself. The resemblance in aesthetics and functionality is uncanny and it also transcends to the responsive UI and intuitiveness of the chat widget. This live chat platform is the closest alternative to Intercom but not the cheapest of the lot here.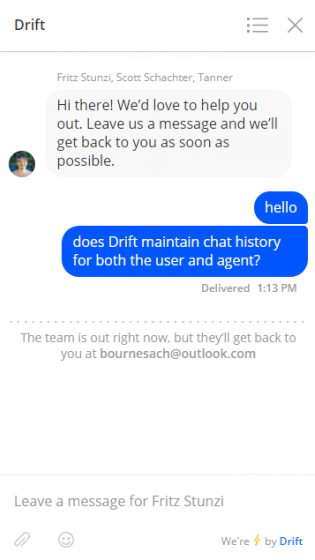 The highlight of Drift is the inclusion of an AI virtual assistant to the live conversation. It replaces your forms and helps you collect the best leads in real-time using the assistant. It'll also help you personalize messages for visitors based on their information to pro-actively target important personnel.
In terms of pricing, Drift is not the best alternative because its free tier allows one agent to reach only 100 active contacts. It also provides you features such as email fallback (when you're not using Drift's backend), scheduled hours, profiles, and slack integration. But, you'll have to shell out $50/agent per month for unlocking other features, with an additional $15 per agent.
Pros: 
The AI virtual assistant
Ability to personalize messages for visitors
One agent to reach only 100 active contacts
Email fallback
Slack integration
Cons: 
Integration with apps doesn't work efficiently on mobile devices
Top-tier pricing 
Platforms: Web, iOS, and Android
Visit: Website (Free Tier, Paid Plans start at $50)
13. Olark
Much like Intercom, Olark is a live messaging platform that lays focus on the functionality, as well as aesthetics, of the embeddable chat widget. It lays great emphasis on real-time reporting for chat volumes, automated replies, searchable transcripts, and integration of some of the most common tools like Google Analytics, Salesforce, and Mailchimp among others to the platform.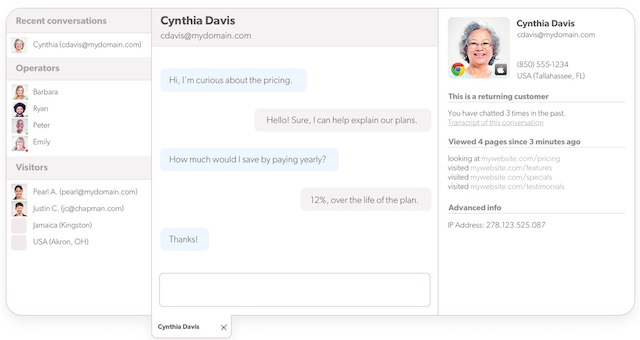 Olark's chat widget customization can easily be done according to the needs of a brand. It provides you with options to choose the background type (light or dark), chat widget position/shape, and the corner type to match your brand. It also includes an option to localize the chatbox for the language of your region.
As for the pricing, the free plan is extremely limited and allows agents to have a sum total of 20 conversations a month, which is way low than some of the apps mentioned above. You can, however, unlock the complete feature set for as low as $17/agent per month after the completion of your 14-day free trial.
Pros: 
Chat widget customization
Automated replies
Great emphasis on real-time reporting
Searchable transcripts
Integration with Google Analytics and Salesforce
Cons: 
Automation needs improvements
Platforms: Web
Visit: Website (14-day Free Trial, Paid Plans start at $17/agent per month)
14. User.com
If a more simplified experience is what you are after, User.com (aka user engage) is the one I would recommend you try out. The software is pretty easy to set up and offers a range of customizations. So, irrespective of where your priority lies, you can fine-tune each aspect to get your work done with the needed proficiency.
Like Intercom, the software provides integrations with several services like Facebook, Tumblr, Weebly, PrestaShop, Magento, Zapier, Trello, Google Analytics, and more. Therefore, you will be able to communicate with your clients and also keep a track of each important aspect right from one spot.
In terms of automation, User.com may not be as efficient as Intercom, but you can bank on it to cut the slack. Featuring a good set of modules, it allows you to engage your visitors and customers at your own pace.
When it comes to campaign creation, User.com looks more proficient than Intercom. Depending on your goal, you can create a variety of campaigns using built-in tools for effective communication.
Pros:
Quite easy to set up  
Top-notch campaign creation
Integrated with a number of noted apps/services including Google Analytics and Trello
Offers a range of customizations
Cons: 
The free version is rather limited 
Automation lacks precision 
Platforms: Web 
Visit: Website (Free, premium plan starts at $49/month)
15. Skype Web Control
As the name suggests, Skype Web Control allows you to integrate a Skype chat widget on your platform to enable free visitor interaction. Navigate to this link to customize your Skype chat widget and copy the 2-line code to get started. Yes, it is as simple as it sounds.
This developer tool extends the basic functionalities of Microsoft's chat platform, such as text messages, file attachments, and stickers, to any website. Further, it will allow you to quickly solve visitor problems using voice or video call features. It is currently in developer preview mode but suitable for beginners looking to interact with their visitors.
Pros: 
Incredibly easy-to-use 
Option to enable free visitor interaction
Neat chat platform 
Voice or video call features
Cons: 
Platforms: Web, macOS, Windows, iOS, and Android
Visit: Website (Free)
Frequently Asked Questions
What are some good Intercom alternatives?
Tawk.to, Crisp.chat, and Freshchat are some of the pretty good Intercom alternatives which you can try.
Which is a better Live Chat software intercom or ZenDesk?
If you are looking for a tool that can let you amp your communication with customers with features like message sneak peeks and chat routing, then Live Chat is the way to go. However, if you want to put more emphasis on CRM, ZenDesk is the better bet.
How much does Intercom cost?
Intercom's paid plan starts from $39/month. The top-tier variant is available for a whopping $999/month.
Is Freshchat free?
Yes. Freshchat offers a generous free tier.
Which is a cheaper Intercom or User Engage?
Though both Intercom and User Engage are better, the latter has an edge over the former when it comes to offering simplified experience and campaign creation.
Use the Best Intercom Alternative for Your Needs
If you ask most entrepreneurs, there is no doubt their first recommendation for a live chat messenger will always be Intercom. It is because the platform enables you to handle lead-generation, sales prospects, and email automation from a single dashboard. The platform has amassed 100,000 monthly active users and 17,000+ paying customers, thanks to this powerful feature set.
But as we've already mentioned before, the platform is heavy on the pocket and budding businesses may not be quite comfortable with spending lavishly on live customer support. Thus, you can manage your consumer interaction by picking any one of these alternatives and make a switch to Intercom when you feel the time is right — the business is booming.
Which live CRM platform according to you is simple, reliable, and worth the money? Share your thoughts in the comments down below.