Facebook introduced chat heads in Messenger a long time back and it remains one of our favorite features of the messaging app to date. The instant prompt on the screen for new conversations, the option to read and reply to them, even when you're using another app offers you a handy user experience. If you love Facebook chat heads and the convenience it brings, you must have thought of enabling it for rest of the communication apps like WhatsApp, Discord, Skype or Gmail among others as well.
Fortunately, the good news is, you can pretty easily get chat heads for all of the popular communication apps. The DirectChat app enables you to use chat heads not only for the texting apps on your device but the mailing apps too, which is an added benefit. So, let's get started with getting those chat heads flying across your screen.
Get Facebook Chat Heads for Android Apps with DirectChat
1. First, head to the Play Store and install the DirectChat app (Free) on your Android smartphone.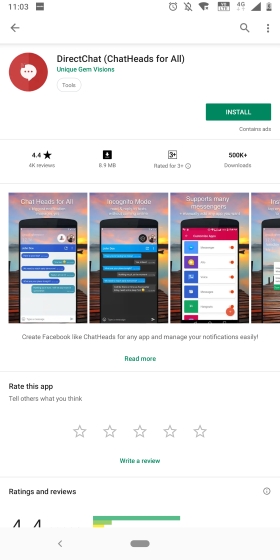 2. To get started with DirectChat, you need to provide the app the permission to draw over other apps and access the notification content. Just turn on the toggle on the permissions screen and dole out the necessary permissions to hit the ground running.
3. On the welcome screen, you can hit the 'Test ChatHead' option to see a message pop-up on your screen. Tap on the chat head to see a complete Messenger-like texting interface.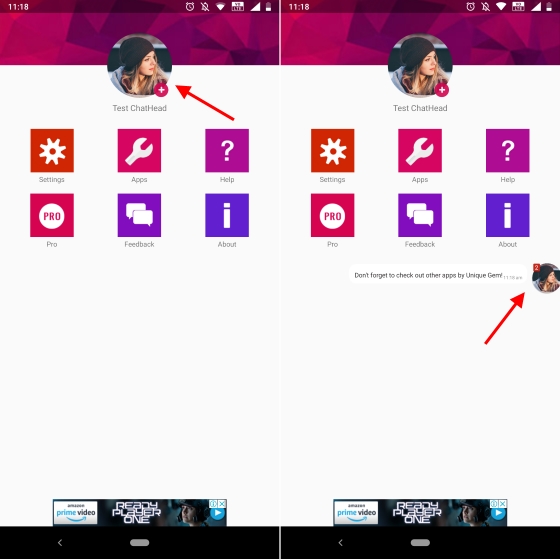 4. You also find the 'Apps' option here, where you can see a list of apps compatible with DirectChat and add new apps to the same. You can select the app for which you want to enable or disable chat heads using the toggle next to it. You can customize the chat heads, everything from its theme, read status, and filters, by tapping on the app's name.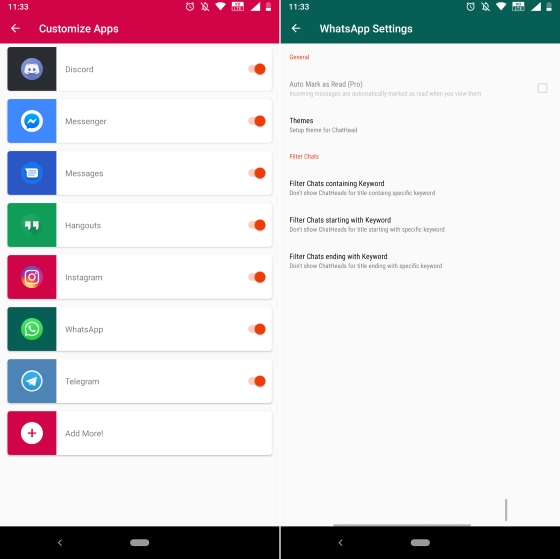 Features Offered By DirectChat
Messenger-like UI: One of the main reasons you'll prefer DirectChat over other similar alternatives on the Play Store is how well the developer has replicated the core interface, as well as the functionality of Messenger. Chat bubble, pop-up messages, unread badges, and the whole messaging UI right off the bat caught my eye here. I have been using this app on the regular recently and it's truly been a great experience.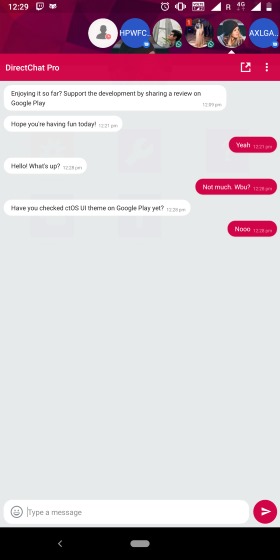 Chat Head Features: DirectChat offers you a ton of features right from the chat head. When a new message arrives, you can either tap ton he pop-up message to reply right away or tap on chat heads to open the conversation view. The latter offers you a lot of features including the option to block/ unblock a specific user's chat heads or set up 'Do Not Disturb' to temporarily stop receiving notifications, and a shortcut to open the app.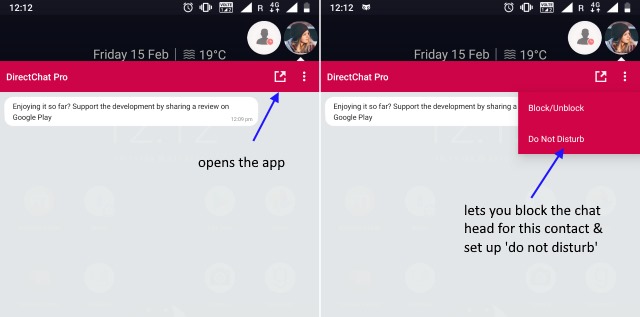 Note: If you have blocked chat heads for a specific contact, you can unblock it through DirectChat's settings. You'll find the 'Blocked Users' option at the bottom of the settings pane, which is from where you can toggle the users you want to unblock and see chat heads for once again.
DirectChat offers you the option to customize the look and feel of your chat heads and conversation view, however, that comes at a cost. You will need to get the $1.98 Pro version of the app before you can proceed with tweaking the theme. You can head to 'Apps' section in DirectChat and tap on the app's name to access its settings. Here you could change the following things:
Profile: The app already has a color palette defined for some of the popular chat apps such as Discord or WhatsApp, which come pre-applied but you are free to tweak them. You'll also see an option to save custom themes you create as a profile, which is surely another plus.
Colors: By default, the colors are selected from the app profile but you can change the color of almost everything including the title bar, background, incoming/ outgoing texts, and even the send button itself.
Conversation Bubble Style: It lets you choose how the shape of the message bubble would look like in the conversation view. You can pick iMessage-like speech bubbles or Messenger-like rounded corners.
Mark as Read: When messages are read via the chat head made accessible using this app, then they are not marked as 'seen' within the app. So, you could use it to remain silent and not let others know that you've read their messages or choose to toggle the 'Mark as Read' Pro feature that automatically does the job for you. Transparency, you know?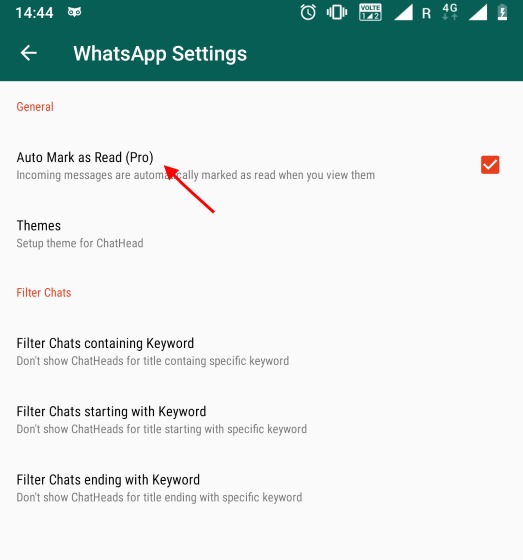 Notification: DirectChat lets you set a number of notification preferences too. You can choose for the notifications in the status bar to disappear if the chat head appears or is removed. The app can also reset the unread counter too.
Chat Bubbles: You can select to see an app icon at the bottom of a chat head to better understand the app for which a chat head has popped up. DirectChat lets you adjust the chat bubble size, transparency, border color, and conversation pane transparency as well.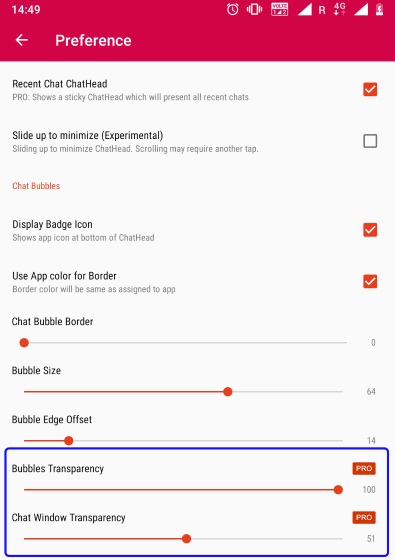 Lock Screen: The app makes it possible for you to continue conversations directly from the lock screen via chat heads, which can be really handy but does come with its privacy concerns. I won't suggest you have chat heads enabled on the lock screen.
Recent ChatHead: This is one of my favorite features of DirectChat as it tracks all the recent chat heads that were closed. You can head to the 'Recent Chat Head' to view the same if you mistakenly terminate a chat head, for example, a WhatsApp chat or want to reopen a conversation.
Clear History on Closed: This feature, when enabled, clears the conversation window when you drag down to close the chat head and a clean window appears the next time a notification is received.
Blacklist Apps: It's as simple as it sounds. This feature enables you to select apps for which you don't want chat bubble notifications to pop-up on your screen.
Apart from DirectChat, which offers a stellar chat head experience for all the messenger and e-mail apps on your device, you can also check out its popular alternatives, such as Notifly (Free, with in-app purchases) and Flychat (Free, with in-app purchases). Both of these apps are from the same developer and bring similar functionalities to the table as seen above.
SEE ALSO: 12 Facebook Messenger Bots That You Should Subscribe To
Get Chat Heads For a Better Chatting Experience
Facebook's devised the most intuitive and nifty to catch up and stay informed of all your messages with chat heads. Well, I can't deny that chat heads are super handy and with DirectChat making the same available for all of my social media apps and email apps, it does make communication a lot simpler. It even makes catching up with notifications an effortless affair. So, go ahead, try out DirectChat and let us know if you too enjoy using chat heads or not.