Intel and AMD are at it again. Intel recently released its flagship desktop processor Intel i9-11900K, which is said to unseat AMD Ryzen 9 5950X (or 5900X) from the top spot. Over the last few years, the chip race between Intel and AMD has gotten pretty intense, especially after AMD made a stellar comeback with its Zen architecture. The two behemoths are still pretty much in the race, trying to outperform each other. So without further ado, let's find out how the recently announced Intel i9-11900K vs AMD Ryzen 9 5950X desktop processors compare.
Intel i9-11900K vs AMD Ryzen 9 5950X: An In-depth Comparison (2021)
Here, we have enlisted all the sections that we have covered in this article. You can directly jump to the desired section by clicking on the links below.
Specs Comparison
| | Intel i9-11900K | AMD Ryzen 9 5950X |
| --- | --- | --- |
| Release Date | March 2021 | October 2020 |
| Price | $539 | $799 (5900X costs $549) |
| Generation | 11th-Gen Rocket Lake-S | Ryzen 5000 series |
| Fabrication Process | 14nm | 7nm |
| Cores / Threads | 8 / 16 | 16 / 32 (5900X has 12 / 24) |
| Frequency (Base) | 3.5GHz | 3.4GHz |
| Frequency (Max) | 5.3GHz | 4.9GHz |
| Microarchitecture Design | Cypress Cove | Zen 3 |
| TDP | 125W | 104W |
| Integrated Graphics | Intel UHD Graphics 750 | N/A |
Intel i9-11900K: Detailed
While the specs comparison gives you a good overview of the chip, we will discuss a bit more about Intel's new microarchitecture here. First of all, the Intel i9-11900K chip is built on the 14nm process node, which is quite disappointing. Consumers were hoping to see Intel finally move to a 7nm or at least 10nm fabrication process for desktop chips this year. But it did not happen, and we are still stuck with an aging 14nm process node. Intel's new microarchitecture, Cypress Cove, might capture your interest, but it's not as revolutionary as AMD's Zen 3 architecture.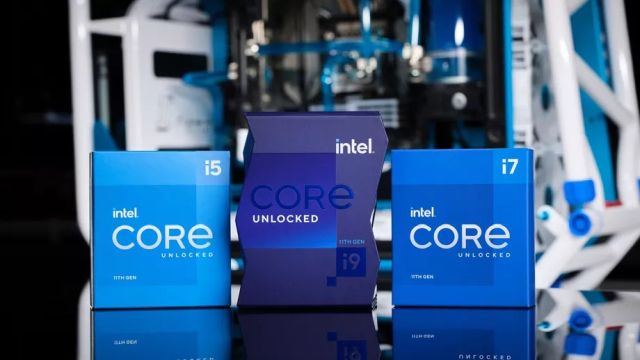 The Cypress Cove architecture replaces Skylake microarchitecture, which was has been in use since 2015. Intel did introduce a new Willow Lake architecture, designed on a 10nm process, in 2020. But it was limited to their mobile processor lineup, popularly known as 11th-Gen Tiger Lake processors. For the Rocket Lake-S desktop processor, the company has taken that 10nm Willow Cove microarchitecture and scaled it to 14nm dye. Intel calls this technique backporting, where it uses the new design but builds the chips on the older fabrication process.
That is why Intel i9-11900K has a lower core count (8 cores, 16 threads) than last year's Intel i9-10900K (10 cores, 20 threads) because of their design limitation. Having said that, Intel still boasts a 19% IPC (instructions per cycle) improvement from last year's chip. In summation, the Cypress Cove microarchitecture is not a new design built from scratch. Intel continues to rely on existing technologies to churn out powerful new desktop chips in 2021 instead of moving to a more efficient process node.
AMD Ryzen 9 5950X: Detailed
Coming to AMD Ryzen 9 5950X, it has 16 cores and 32 threads, which is double the number of cores and threads that the Intel i9-11900K has to offer. Ryzen 9 5950X was released in October 2020 with AMD's brand new Zen 3 architecture built on the 7nm process node. AMD also saw a 19% jump in IPC from its last-gen flagship processor. In terms of maximum frequency, it seems Intel is still beating AMD. While Intel i9-11900K can go up to 5.3GHz, AMD Ryzen 9 5950X can muster up to 4.9GHz maximum clock speed. But keep in mind, to attain the max boost frequency of 5.3GHz on Intel's processor, you need to overclock the processor using the Extreme Tuning Utility (XTU) tool.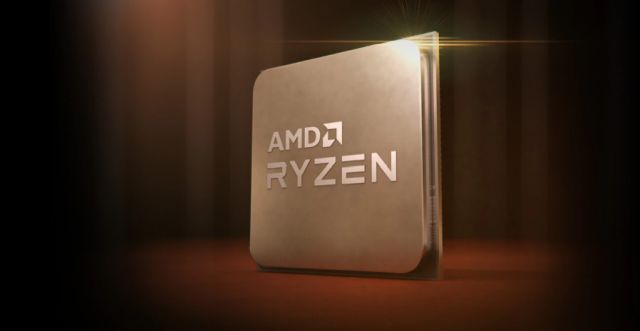 Apart from that, AMD Ryzen 9 5950X has a TDP of 104W, thanks to the 7nm process that makes it a more power-efficient chip, unlike Intel's i9-11900K processor, which has a TDP of 125W. As for now, on paper, the AMD chip looks better than the Intel counterpart. From the fabrication process to energy-efficiency and core count, AMD has the upper hand over Intel.
Let's move on to benchmark tests to get a closer look at the performance difference between Ryzen 9 5950X and Intel i9-11900K.
Benchmark Tests: Intel i9-11900K vs AMD Ryzen 9 5950X
Since the Intel i9-11900K is was announced a few days ago, reviewers and enthusiasts have not got their hands on the processor just yet. Until some users run various intensive tests, we won't know which is a better processor among the two. However, Intel claimed that the 11th-Gen Core i9-11900K processor is better than AMD's Ryzen 9 5900X (12 cores, 24 threads). The American chipmaker shared some comparison numbers in public, and you can check them out right here:
It showed that Intel i9-11900K offers 10% better performance than AMD Ryzen 9 5900X while playing Total War: Three Kingdoms; Microsoft Flight Simulator showed 11% improvement; Grid 2019 and Gears 5 showed close to 6% and 3% jump respectively.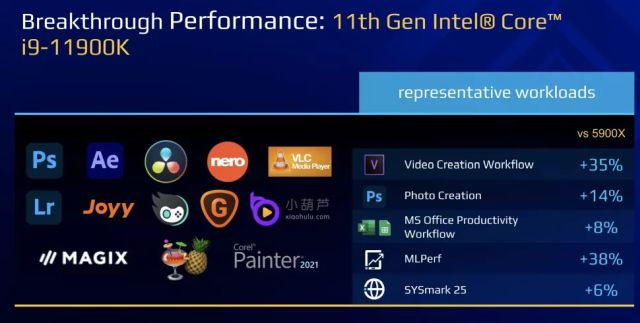 In terms of creative and office applications, Intel i9-11900K again took the lead over AMD Ryzen 9 5900X. Video creation workflow saw a massive jump of 35%, 14% in photo-related work, and 8% in office workflow. What is heartening to see is that MLPerf saw an improvement of 38%, which is just great.
Looking at these numbers, it seems Intel i9-11900K outperformed AMD Ryzen 9 5900X. But, I would ask you to take these figures with a pinch of salt. Companies tend to show selective numbers, so we cannot pass any judgment before reviewers run some extensive third-party benchmark tests. Also, keep in mind, Intel has pitted its flagship desktop processor against AMD Ryzen 9 5900X, which has lower cores and threads than the Ryzen 9 5950X. Perhaps, it's because of the similar pricing bracket that both the processors share.
Intel i9-11900K vs AMD Ryzen 9 5950X: Which Is the Fastest Gaming CPU in 2021?
Well, looking solely at the spec sheet, AMD Ryzen 9 5950X seems like a better desktop processor than the latest 11th-Gen Intel Core i9-11900K. However, if you consider the benchmark numbers shared by Intel, the i9-11900K seems to be leading the race here. Well, we can't come to a conclusive judgment at this point. But there is something that begs our attention.
While it is right to deride Intel for not innovating and adopting an efficient process node, you cannot overlook that its 14nm processors still offer stiff competition to AMD's 7nm processors. It shows that Intel's 14nm process is pretty matured, and the company can derive performance from every last bit.
In the months to come, it will be interesting to see how long Intel tackles the competition with its aging fabrication process. AMD will adopt a more efficient 5nm process with the launch of Zen 4 processors in late 2021 or early 2022. And Apple has already broken up with Intel after 15 years, launching its own power-efficient ARM-based Apple M1 silicon. So, will Intel be able to take a generational leap, or will it crumble? No one has an answer just yet. Anyway, that is all from us. What do you think about this battle of flagship desktop processors? Do let us know in the comment section below.
---
Load More