Huawei was the first phone maker to include a trio of rear cameras on its flagship P20 Pro smartphone earlier this year. Its emphasis on cameras is also pretty evident with the Mate 20 Pro, which we have reviewed recently, and is only expected to continue with upcoming smartphones.
As per a report in MySmartPrice, the company's forthcoming Huawei P30 Pro flagship could sport the Sony IMX607 sensor, that is expected to be unveiled in the next few weeks. A Weibo user has been found to be leaking information on this sensor, with a 38-megapixel resolution, and it looks to be an upgrade over the primary IMX600 sensor on Huawei P20 Pro.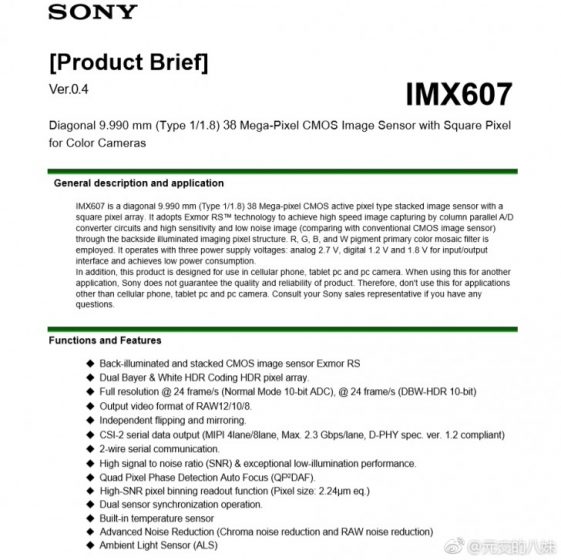 The white paper for Sony IMX607, part of which is seen above, has revealed that it has a 1/1.8″ sensor size and will now incorporate a Dual Bayer technology over the Quad Bayer which helped with crisp photography on Huawei P20 Pro. Sony is not just relying upon RGB pixels this time around and has now also added a white pixel array, which is shown below.
The Quad Bayer technology saw the P20 Pro use two pixels for short exposure and two other for long exposure, providing the cameras with an enhanced dynamic range. Dual Bayer won't be much different, where the white pixels would now be used for the same purpose but allow the sensor to capture more light and detail – even in low-light.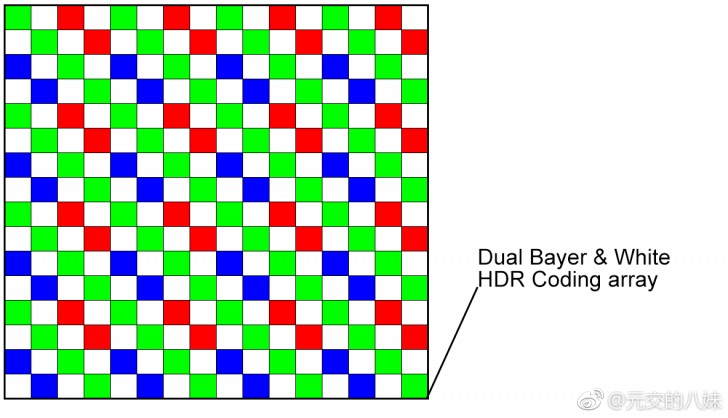 The Sony IMX607 is also expected to sport quad-pixel phase detection auto-focus (PDAF) for improved auto-focus, high SNR pixel binning function to capture more details, and an in-built temperature sensor as well. All these features, in conjunction with the AI aboard Huawei P30 Pro, will only work in the company's favor.
As you can surely see, the specifications of the Sony IMX607 are well-suited to be used as a primary sensor on the Huawei P30 Pro. We will, however, suggest you take this leak with a grain of salt and wait for an official announcement from Huawei or Sony before jumping to any conclusions.