Having launched the excellent P20 Pro earlier this year, Huawei has returned with a new flagship to end 2018 on a high note. The new Mate 20 Pro is a flagship phone in every respect. It's got a super-attractive design, a powerful SoC, triple cameras, and a laundry list of features which I'll try to explain to my fullest abilities in this review.
As I mentioned in my first impressions of the Mate 20 Pro, I wasn't expecting any good phones to come out in the remaining days of 2018. I thought I'd be recommending the Pixel 3 XL or the Galaxy Note 9 as my Android smartphones of choice for this year. But the Mate 20 Pro, though it arrived a little late to the party, has made me reconsider my stance.
With a price tag of ₹69,990, the Mate 20 Pro sits in the high-end smartphone category and rightfully so. It's as desirable as anything we've seen from the likes of Samsung, Google, and LG at their best. In fact, in my opinion, it's the most compelling phone Huawei has ever released, and what you are about to read are my final thoughts on the phone after using it for the past few days.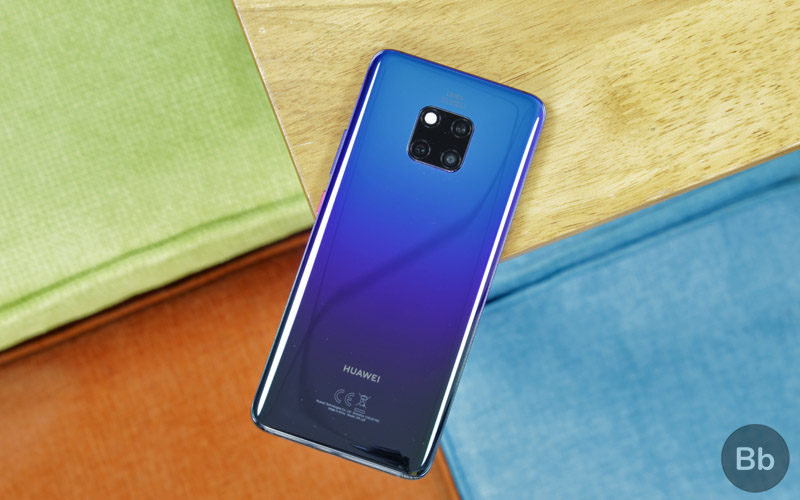 So, where do I begin? The specifications, perhaps?
Huawei Mate 20 Pro Specifications
The Mate 20 Pro is aiming to outdo the top phones of 2018, and I think it has enough power to lock horns with the best phones out there. Here, take a look:
Display
Huawei FullView Display; 6.39-inch curved OLED panel; 3120 x 1440 pixels; 19.5:9 aspect ratio,
DCI-P3 HDR support
SoC
Kirin 980 SoC (4 x Cortex-A76 at 2.6 GHz + 4 x Cortex-A55 at 1.8 GHz)
GPU
Mali-G76 GPU
RAM
6 GB
Storage
128 GB + Nano Memory Card support
Primary Camera
Triple Rear Cameras (40MP f/1.8+ 20MP f/2.2 + 8MP f/2.4)
Rear Camera
24MP Front Camera
Battery
4,200 mAh with 40W Huawei SuperCharge support
Connectivity
USB Type-C, NFC, No headphone jack
Software
Android 9 Pie,
EMUI 9

Looks pretty promising, right? Well, before I get into the technical mumbo jumbo, let me show you the goodies that come with the phone in the box:
What's Inside the Box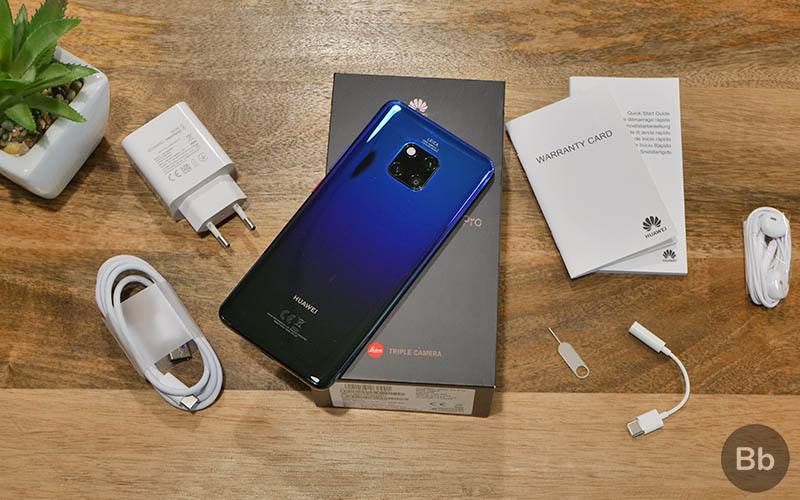 Mate 20 Pro smartphone
Type-A to Type-C Charging cable
SuperCharge supported 40W Power Adapter
SIM ejector tool
In-ear earphones
USB-C to headphone jack dongle
Manuals and leaflets
Clear case
The Mate 20 Pro, as you can see, comes with everything that we expect from a flagship phone. In fact, I am glad that it comes with a fast charge supported power adapter unlike Apple, which is rightfully being criticized for not bundling it with the latest iPhones. More on the SuperCharge capable power adapter later, but for now, I'd like to point out that the included earphones in the box, though they look like Apple Earpods, sound really nice.
Note: The review unit sent to us by Huawei didn't come with a clear case for some reason. However, I've been told that the retail box will carry a case.
Huawei Mate 20 Pro Design and Build Quality
The Mate 20 Pro is easily the best looking phone among the recent group of big-name Android releases. I tried, but it's hard to find flaws with its design. So, I am inclined to say that it's a well crafted phone. I've been using the Twilight variant of the Mate 20 Pro, and thought it lacks the 'Hyper Optical Pattern' on the back like the Emerald Green variant, it's distinctive in its own way.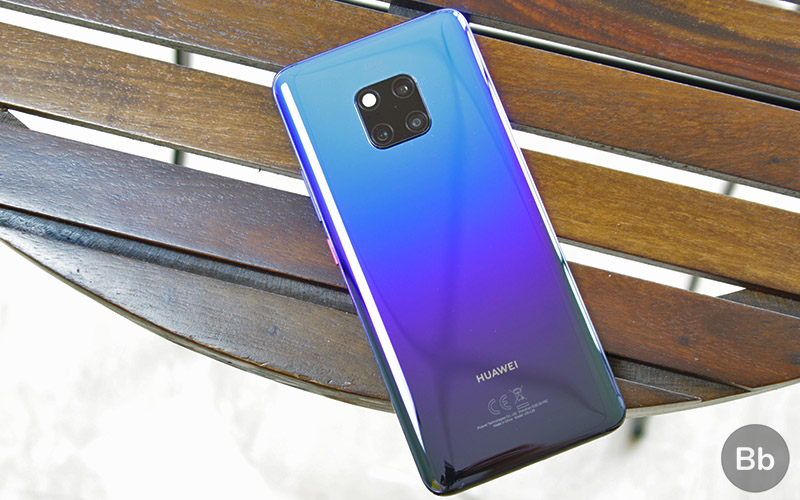 The Mate 20 Pro is a well-crafted phone
The Mate 20 Pro is the only smartphone in India with a camera module that looks like Porsche Spyder's Matrix headlights. It gives the phone a unique identity that instantly makes it more appealing, which explains why Huawei is very open and proud about its partnership with the automobile manufacturer.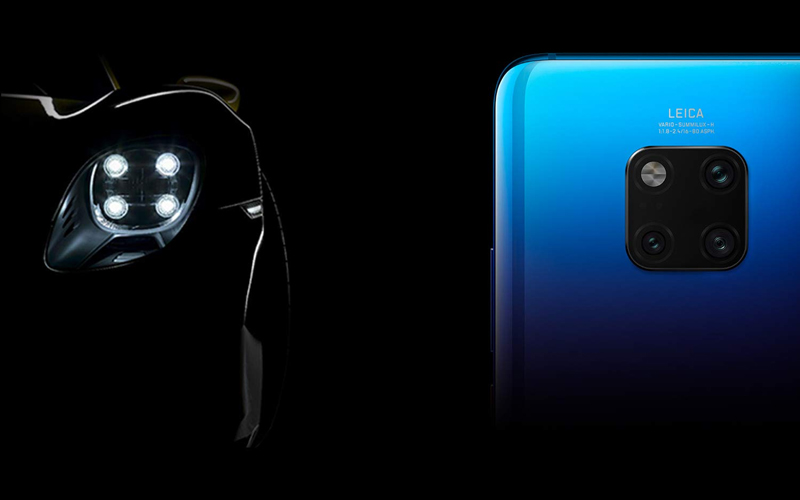 That being said, there's a huge talking point about the Mate 20 Pro's design, which is the fact that it looks identical to the Galaxy S9+. I know, there's really no getting around it. If you hide the notch from EMUI settings, it looks exactly like a Galaxy S9. But honestly, that's not necessarily a bad thing, in my opinion.
The Galaxy S9+ is still one of the most beautiful smartphones around. So, if the Mate 20 Pro looks like one of the most beautiful smartphones, then that's a win in my books. Of course, you can sit and complain about the fact that Huawei copied Samsung, but that's not what we are here for, is it?
Once you hide the notch, the Mate 20 Pro looks exactly like the Galaxy S9+
Huawei used to go for a utilitarian design for its Mate series in the past. However, I am glad that it managed to step up a level, with this impressive external design. The Mate 20 Pro has a glass sandwich design with aluminum on the sides. That, as we all know, is a recipe for a flagship smartphone design, and Huawei has absolutely nailed it. Heck, you don't even have to hold the device in hand to know that it's a premium phone. The design speaks for itself.
It is light enough to be effortless, but not so light that it feels like a cheap poly-carbonate phone. I'll have say, though, the Mate 20 Pro is a tall device. On the front, you get a massive 6.39-inch curved OLED display with, of course, a notch and a small chin. So you might have to shimmy it to reach the top corners.
The display also houses the fingerprint scanner, which seems to be the new trend. But unlike the notch trend, this is a good one and I want more manufacturers to get on-board (I am looking at you, Apple!). Unlike other smartphones with an in-display fingerprint scanner, you have to apply some pressure and press the sensor to trigger it. I found it to be decently fast and fairly accurate. The 3D laser depth sensing secure face unlock, on the other hand, is arguably better, as it is both fast and accurate at reading my face and unlocking the device.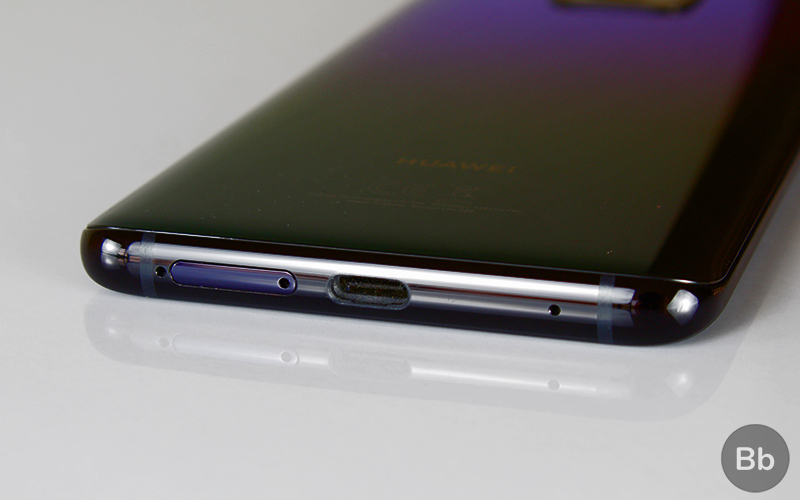 There's a bright red power button on the right side below the volume rockers, whereas there's nothing on the left side of the phone. The USB Type-C port at the bottom also doubles up as one of the speaker, pumping out audio along with the earpiece on the front. These are stereo speakers, and they sound alright. I won't say they're extraordinary. And in case you're wondering, the sound don't get blocked when you connect a Type-C cable.
Yes, the Mate 20 Pro doesn't have a 3.5mm headphone jack, but as a compensation you'll get a dongle inside the box. Not happy? Well, what if I tell you there's an IR blaster on the top. Yes, the long-lost IR blaster with which you can control your home appliances. Honestly, we are living in an era where smart home speakers are taking control over our electronic gadgets and appliances (and your life, in general), so I won't be surprised to see this being removed from the next phone.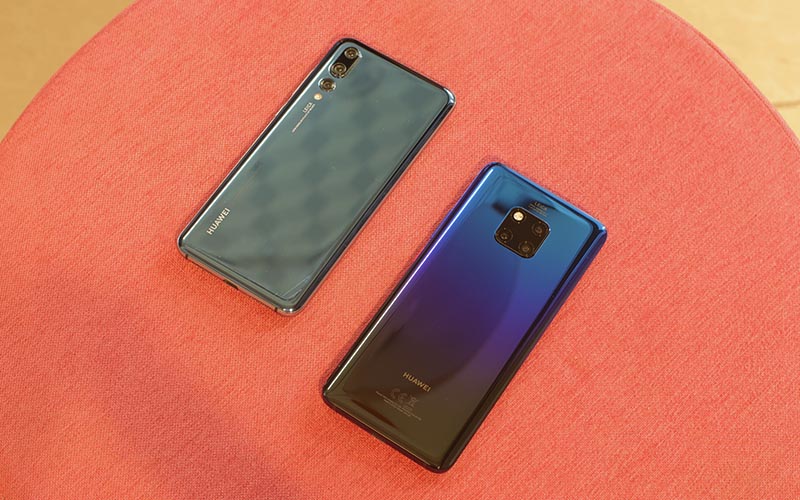 I would also like to point out that the Mate 20 Pro is one of the world's first smartphone to use a Nano Memory card. So, the SIM card tray that's placed at the bottom of the phone right next to the USB Type-C port, only accepts a Nano card. I'll talk more about the Nano memory card later in the review.
the Mate 20 Pro is one of the world's first smartphones to use a Nano Memory card
The IP68 certification for water and dust resistance was a notable omission from the P20 Pro earlier this year, and I am glad that the you don't have  to make that sacrifice here with the Mate 20 Pro.
Overall, you get what you pay for with the Mate 20 Pro's design. It's definitely a looker, and an attractive one at that. If you ask me, I'll say it's one of those eye-catching phones that'll keep attracting eyeballs no matter where you are. It's both visually appealing and ergonomically handy. Props to Huawei for making such an elegant phone.
Huawei Mate 20 Pro Display
The display is another aspect of the Mate 20 Pro which I have absolutely have no complaints about. As I mentioned earlier, it's a 6.39-inch curved OLED panel with curved edges on both the sides. Yes, it has both a notch and a small chin, but they go well with the fit and finish of the device, so I didn't even bother hiding the notch.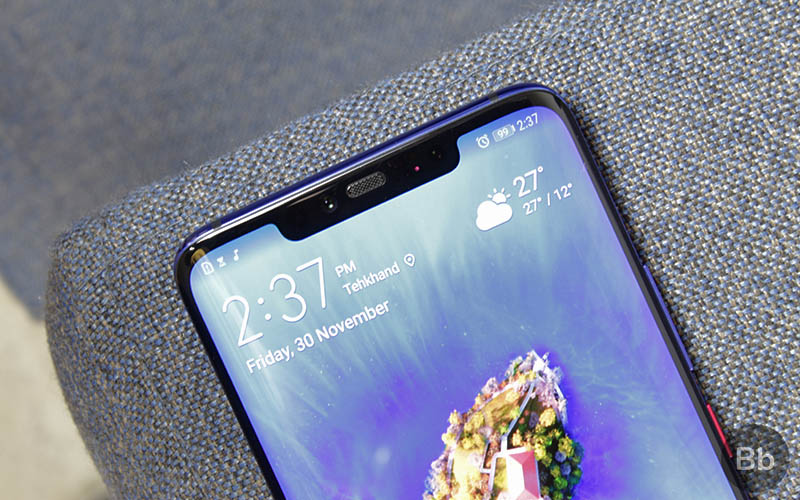 The Mate 20 Pro is also one of the few devices that actually justifies the presence of a notch. Much like Apple's FaceID tech found on the iPhone X and above, the Mate 20 Pro's notch houses a dedicated hardware for 3D face unlock, complete with a Dot Projector, Flood Illuminator, etc. It's fast, secure and accurate, so what's there to complain about?
The display itself has a resolution of 3120 x 1440 pixels, and has an aspect ratio of 19.5:9. You can complain about the device being tall, but not about the display being sub-par. It's just as good as the displays found on any other flagship phone, if not better. I wish the curved edges had some functionality like the 'Edge display' on Samsung phones, but Huawei tells me that people don't really use them, so they didn't bother adding those extra features.
Depending on which device you are coming from, the display on the Mate 20 Pro might wow you. It's sharp, and like many other OLED panels, the blacks are deep and color are punchy. But comparing it side-by-side with a Galaxy Note 9, I did notice that the Mate 20 Pro's display doesn't get all that bright. Not that I was struggling to use it outdoor, but it wasn't as bright as I wanted it to be.
The mate 20 pro has a solid display for content consumption
Other than that, I personally had no issues with the display, whatsoever. It's a solid panel for content consumption, be it scrolling through your Instagram feed drooling over your friend's photos or watching videos on YouTube, Netflix, etc. And yes, the Mate 20 Pro's display is certified with Widevine L1 license for HD and Full HD content via paid video services. You can even watch HDR content on supported platforms like Netflix, YouTube, Amazon Prime and more, which is just awesome!
Huawei Mate 20 Pro Camera
This is usually the part where I talk about a phone's performance before jumping into the camera. But I decided to switch things up a bit because the cameras are such a huge part of this phone.
The Mate 20 Pro's camera system includes a 40MP Wide Angle 27mm, f/1.8 shooter, a 20MP Ultra Wide Angle 16mm, f/2.2 lens, and an 8MP 80mm 3x Telephoto f/2.4 lens with OIS. There's also a dual-tone flash thrown into the mix. I know, that's a lot. Here's a photo to help you understand the placement of each sensor.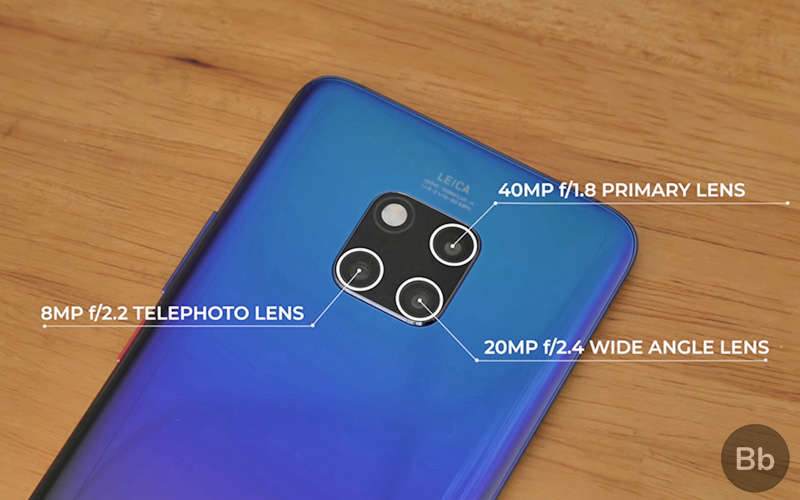 Unlike the P20 Pro, the Mate 20 Pro doesn't carry a monochrome sensor. Instead, you get a wide-angle lens to capture more of everything in the shot. The monochrome sensor on the P20 Pro, in case you are wondering, used to work with the color sensor to provide sharp images with less noise. But Huawei says that its new sensors are capable enough to handle tough situations, thereby eliminating the need for a dedicated monochrome sensor. That's brave!
Huawei Mate 20 Pro Camera Samples: Daylight
You can choose to shoot 40MP pictures if you want, but I'd suggest you go with the 10MP shots for the highest quality and smaller file sizes. The primary f/1.8 lens can capture a lot of light in the scene and helps you take some stunning photos. Here's are some samples that I took in broad daylight:
Huawei Mate 20 Pro Camera Samples: Selfies
The 24 MP, f/2.0 selfie camera, however, is not something that impressed me. No, it's not bad by any means, but it's not the best selfie camera that I've used on a flagship phone. The selfies turned out a little too soft for my liking. That's really not the kind of selfies I am into. It also fails to capture details on the person's face:
Huawei Mate 20 Pro Camera Samples: Wide-Angle Lens
The Mate 20 Pro also has a wide-angle lens with which you can capture some really nice landscape photos. I sadly didn't find the time to visit a good location to showcase the phone's prowess, but here are a couple of photos that I tried shooting with the wide-angle lens:
This slideshow requires JavaScript.
This slideshow requires JavaScript.
Huawei Mate 20 Pro Camera Samples: Telephoto Lens
There's also a telephoto lens which lets you zoom into a shot without losing too much detail. This, in my opinion, works really well on the Mate 20 Pro. The stabilization automatically kicks in to compensate for my caffeine induced shaky hands. Here, check out these awesome shots:
This slideshow requires JavaScript.
Huawei Mate 20 Pro Camera Samples: Night Mode
Now, let's talk about the Night Mode. The Mate 20 Pro's Night mode lets you take photos with long exposure time (up to 5 seconds) to compensate for the lack of light. The phone does have OIS, but you might want to use a tripod or some kind of a stabilizer to eliminate hand shake while taking these photos. Because who wants a blurry image, right?
Does it work? Yes, the Mate 20 Pro's Night Mode can take some stunning photos. However, it failed more often than it managed to give me a commendable photo, which makes me want to stick to a Pixel 3 for taking low-light photos.
Here's the thing, though: the Mate 20 Pro's AI can produce some really good photos in low-light without making me switch to the Night Mode. Here's an example for that –
The first image was taken using the Auto mode, whereas the second image was shot using the phone's Night Mode. As you can see, the difference is almost negligible for me to point out. But here are a couple of examples of what the Mate 20 Pro's Night Mode can do when it wants to work:
This slideshow requires JavaScript.
See the difference? That's almost as good as what the Pixel 3's Night Sight would produce, which is something that not a lot of phones can match up to.
So, yes, the Night mode on the Mate 20 Pro is a hit or miss. However, that doesn't necessarily mean that you can't take good photos in low-light conditions. The phone is very much capable of taking some good photos, be it using the auto or Night mode. Also, we are working on a Night mode comparison video, so be sure to keep an eye on your YouTube channel. You don't want to miss that video.
Lastly, here's a mix of photos that includes macro shots, portrait photos and more. Check it out:
Huawei Mate 20 Pro Camera Samples: Video
The Mate 20 Pro let's you record videos at up to 4K resolution at 30 FPS. 4K videos are not supported by OIS, but you'll get EIS (electronic image stabilization), so the footage is very much usable. You can also shoot 1080p videos at either 30 or 60 FPS. With 1080p at 30 FPS, you'll get both EIS & AIS (AI Stabilization), while 1080p at 60 FPS has no stabilization whatsoever, which is definitely a bummer considering the kind of videos you an record with other flagship phones.
Thanks to the Kirin 980 SoC, you can get real-time effects such as selective coloring, background blur, etc. on videos. We managed to showcase these features in a video titled "5 Amazing Mate 20 Pro Features in Action!", which you can watch right here:
Huawei Mate 20 Pro Camera: Final Words
After taking some time to capture a lot of photos, I can confidently say that the Mate 20 Pro is a 'cameraphone' in its true sense. It manages to do a lot of things that most flagship smartphones struggle with. Yes, it misses the mark sometimes, but you'll manage to capture presentable photos in most cases, which is truly awesome.
You can capture crisp and clear photos, get more people or landscape into a shot, zoom in on your subject without loosing details, take decent selfies, and record some crisp 4K footage. I almost forgot about the 3D Live Emojis! Yes, that's also a thing which you can do with the Mate 20 Pro. What else can you possible expect from a smartphone camera?
the mate 20 pro is a 'cameraphone' in its true sense
Huawei Mate 20 Pro Performance
The Mate 20 Pro is powered by the HiSilicon Kirin 980, manufactured by Huawei's in-house chip team. It has 2 cores that runs at 2.6 GHz, 2 cores at 1.92 GHz, and 4 cores running at 1.8 Ghz, making up for a total of 8 cores. It's a 64-bit high-performance SoC, fabricated on a 7nm process. So, it's lightning fast, and also very power efficient at the same time.
In India, you can pick up a Mate 20 Pro with 6GB RAM and 128GB storage. It would have been nice to have an option to buy the 8GB RAM variant, but at least the current variant has more RAM than what you would get with the Pixel 3.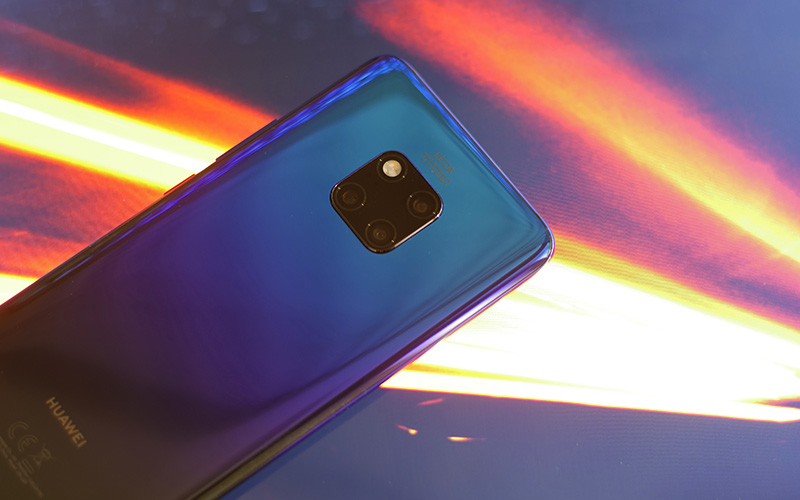 Huawei Mate 20 Pro Geekbench, Antutu Benchmarks
As always, it's customary to add benchmark results, so here are some raw numbers. On Geekbench, the Mate 20 Pro produced an impressive 3,339 on the single core score, and 9,880 on the multi-core score.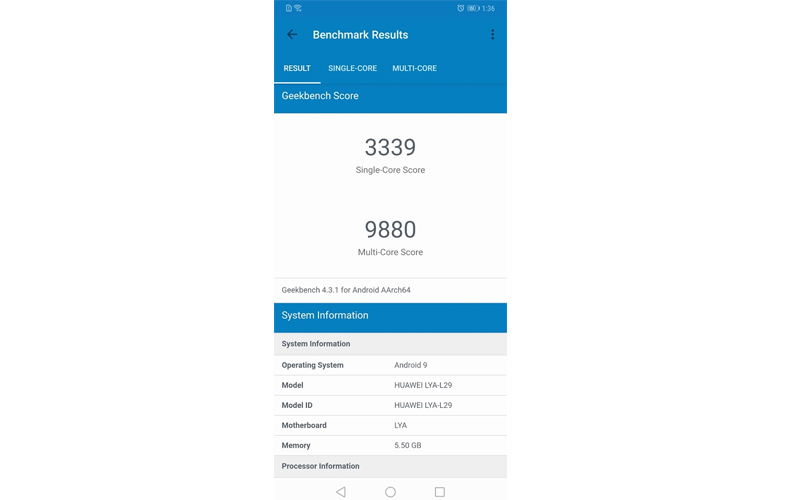 These numbers are better than what Pixel 3's Snapdragon 845 managed to produce during our testing. The Pixel 3 XL only got 2,352 on single-core score and 8,167 on multi-core score. Of course, the Kirin 980 is not as fast as Apple's A12 Bionic chip, but no other chipsets are winning that race against Apple anyway, so let's not consider that as defeat.
Note: Antutu benchmark app seems to be having some trouble working on the Mate 20 Pro during my testing, so I'll update this review with appropriate screenshots and numbers as and when I get it to work properly.
The bottom line when it comes to the performance is that Kirin 980 is a beast of a chipset. Don't let the world tell you otherwise. From browsing through super boring day-to-day apps like Twitter, Instagram, Facebook, to hitting hard on games like the PUBG Mobile and Asphalt 9, the Mate 20 Pro excels at everything.
the mate 20 pro is really a solid performer
At no point did I find the Mate 20 Pro lagging or struggling to load something during my review period. This obviously may change overtime. But for now, I'd like to say that the Kirin 980 is truly a flagship-level chip, and the Mate 20 Pro is really a solid performer.
Also, huge kudos to Huawei for its continued efforts of trying to compete with Apple's pure power with its own chipset. I wish more OEMs would show some progress in this space, but I also understand how complex and difficult it is to do.
Huawei Mate 20 Pro Battery
The Mate 20 Pro packs a 4,200 mAh battery, and it has a preposterously long life. There have been instances when I've ended by day with more than 40 percent juice left in the tank. That's really impressive. I mean, ending my days with barely anything left in the tank in one thing, and having enough battery life to keep the phone powered for normal usage for even the next day is another.
And for the times I need to charge this phone, I don't find it annoying because it supports what Huawei calls SuperCharge technology, which can take the Mate 20 Pro from a dead state to 70 percent in just 30 minutes. In fact, you can charge this phone entirely from empty to full within an hour while using the included 40W charger inside the box. That's really impressive considering the fact that we're talking about fully charging a 4,200 mAh battery here.
The Mate 20 Pro, unlike the P20 Pro, also supports wireless charging. Huawei will also be selling a 15W fast wireless charger to help you fill the tank quickly. And there's reverse wireless charging too. Here's a GIF image of me charging an iPhone with the Mate 20 Pro's reverse wireless charging feature instead: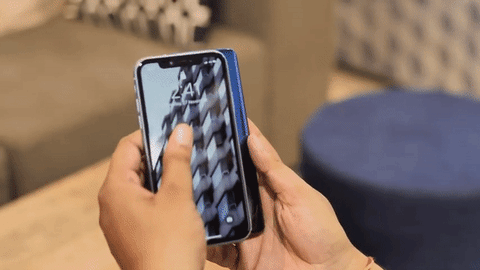 Yes, the reverse wireless charging is a gimmick, but it's a damn good one at that. This one time, while reviewing the Mate 20 Pro, I used it to charge my iPhone when it was about to die. My personal SIM card was in the phone, so it was a desperate move. However, the Mate 20 Pro's reverse wireless charging feature worked exactly as advertised and I didn't even have to reach out for my power bank or deal with cables.
reverse wireless charging is a gimmick, but it's a damn good one at that
Of course, you'll have to be in a position to own another phone that supports wireless charging or have friends with such phones, in order to use the Mate 20 Pro as a charger. But, hey, it's always nice to have such a handy feature.
Huawei Mate 20 Pro Software
The EMUI software on the Mate 20 Pro, in my opinion, hasn't really changed much since the last time I used it while checking out the P20 Pro. That being said, though, it's definitely better than the EMUI that I remember from a couple of years ago, when it was merely an iOS rip-off. Really, the EMUI 9, based on Android 9 Pie, is really the best version of EMUI till date. But there's definitely room for a lot of room for improvements.
For starters, it is nowhere close to the stock version of Android found on the Pixel phones. However, it looks like Huawei is not really focused on keeping it pure and unaltered in the first place. When I was briefed about the Mate 20 Pro before its official announcement here in India, we spent a lot of time checking out all the features that EMUI has to offer. So, clearly Huawei wants to distinguish itself when it comes to its Android skin.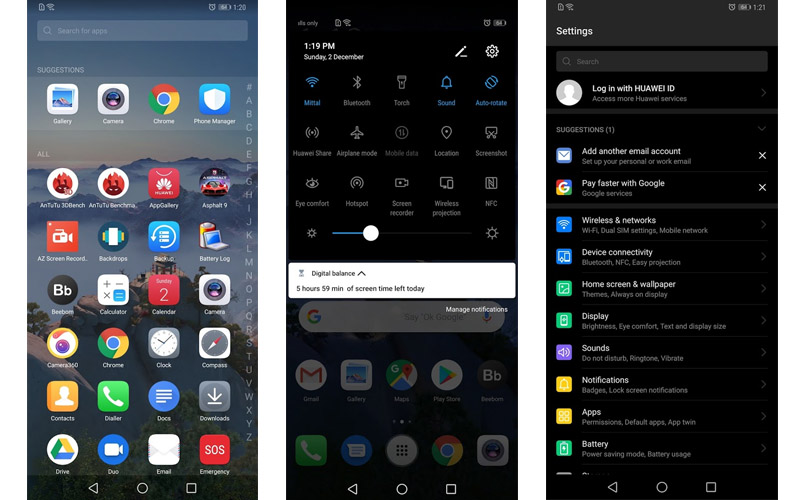 As with most phones these days, the EMUI 9 also has an option to enable gesture navigation. It works well, so I found myself using it over the navigation buttons. Huawei has also baked in Digital Balance feature, akin to Google's Digital Wellbeing, to help you keep a track of your smartphone usage.
Yes, there's plenty to like about EMUI 9, but I do have my fair share of peeves. I can't do anything with the notifications on the lock screen other than just clearing them. The settings page, although Huawei says it's less cluttered, is still a huge mess. I find myself spending more time finding a particular settings rather than using it. These annoyances, though they're not deal breakers, leaves a lot to be desired from Huawei's software.
Huawei Mate 20 Pro Connectivity
In terms of connectivity, the Mate 20 Pro has 802.11 a/b/g/n/ac dual-band MIMO Wi-Fi (2.4 GHz and 5 GHz) as well as Bluetooth 5.0. The phone has a USB Type-C port for charging and data syncing. And since there's no 3.5 mm headphone jack, you have to use the same USB Type-C port for listening to music as well. Don't worry, you get a dongle inside the box as we saw earlier.
The highlight feature of the Mate 20 Pro when it comes to connectivity is the Nano Memory card slot. Yes, the Mate 20 Pro has a hybrid SIM card slot which accepts a Nano SIM and either another Nano SIM or a Nano memory card.
Recently when I spoke to Huawei's Senior Marketing Director Wally Yang, during a closed door meeting, I was told that Huawei decided to go with NM cards instead of standard microSD card to save some space to fit in the massive 4,200 mAh battery. I was also told that the company is making rapid advancement in the Nano memory card space, but he decided to remain tight-lipped about the progress in terms of the partnerships with third-party vendors.
Huawei Mate 20 Pro: Pros and Cons
Well, if you manage to sit through the entire review, then you'll realize that I have covered pretty much everything about the Mate 20 Pro. If not, then here's a list of pros and cons to help you get a better understanding of the phone: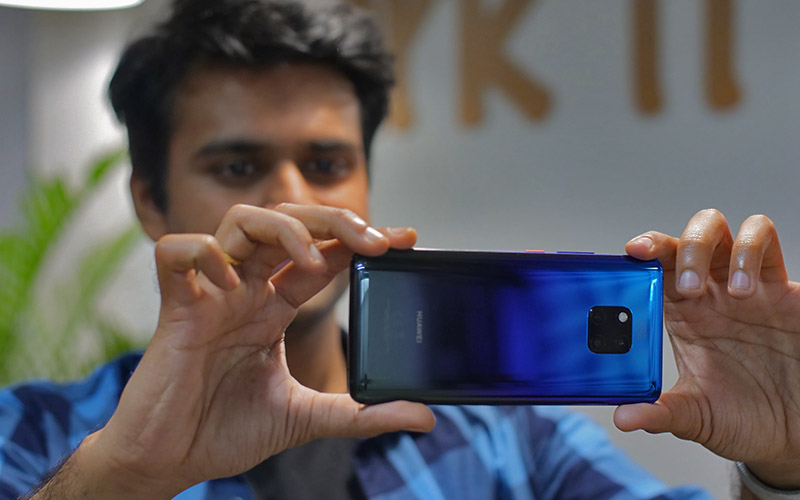 Pros
Impeccable design & build quality
Beautiful OLED display
Great set of cameras
IP68 rating
Epic battery life
Lightning fast 40W charging
Cons
4K video capped to 30fps
Minor EMUI annoyances
No headphone jack
Huawei Mate 20 Pro: An Elite Phone For Elite Users
From being barely a blip on the radar to launching some highly successful phones across the globe, Huawei is currently enjoying its hottest run in the market. It's truly a testament of how far the company has come. They have launched some amazing phones over the past couple of years including the P20 Pro. And if there's a flagship that's truly capable of showing what the company can do in the future, then it's got to be the Mate 20 Pro.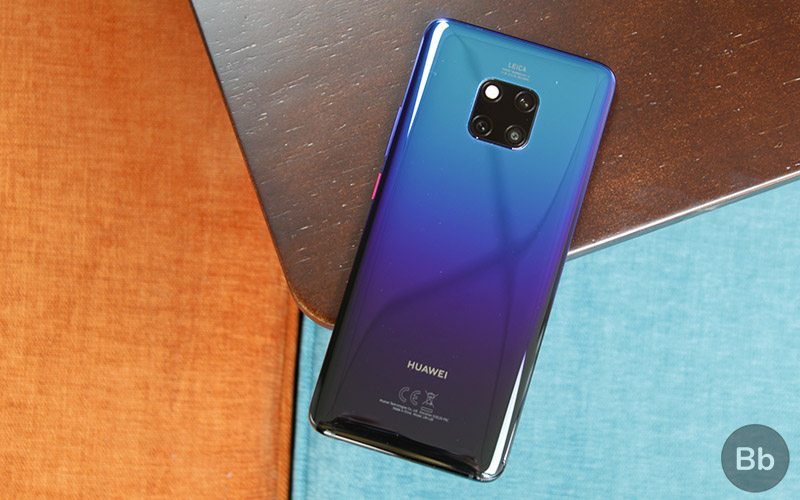 With a price tag of ₹69,990, the Mate 20 Pro is taking on the likes of the Pixel 3 and the Galaxy Note 9. Yes, there are phones that may beat Huawei's latest flagship in some aspect like the software, for instance. However, the Mate 20 Pro delivers a refined experience as a finished product, which is what we want from more OEMs in the smartphone space in coming years.
The Mate 20 Pro has a fit and finish of a premium flagship device. It has a potent camera setup, impeccable build quality and powerful internals, all of which makes up for a device that's truly unique and delightful to hold. No other phone that's launched this year has attracted me the way Mate 20 Pro does. It truly is Huawei's most compelling phone yet.
Buy the Mate 20 Pro from Amazon India (₹69,990)