Huawei recently launched the Huawei Nova 3i (Rs. 20,990), which is the company's first phone to pack in their latest in-house developed Kirin 710 chipset. While the company has stated that the new SoC should offer great performance along with decent battery backup, I wanted to test it out for myself. While we've already tested out battery performance of the device, I wanted to share with you my experience of the device's new Kirin chipset's performance, and whether it genuinely offers a decent level of performance for its price or not.
Huawei Nova 3i Benchmarks
Sure, I don't really buy a device based on its benchmarks score. That being said, for some of you out there, benchmarks might mean a lot, and so, I decided to begin this review by stress testing the device using 3DMark, Geekbench, and Antutu.

As you can see, the scores suggest that the device is obviously not a match for the flagship offerings out there, but isn't bad either. The Nova 3i was able to score 137855 in AnTuTu and in Geekbench 4 it was able to manage 1592 in single-core and 5575 in multi-core tests. Apart from that, in the 3DMark test results, the Nova 3i was able to score 954 in the OpenGL ES 3.1 Test, which is good enough.
In comparison, the Honor Play had achieved a score of 206206 in Antutu Benchmark, while the Mi A2 managed to score 141257. Clearly, the Nova 3i lags behind the Honor Play and falls just a little short up against the Mi A2. But then again, that's just the benchmark scores. What about real-world performance?
Huawei Nova 3i Gaming Performance
Synthetic Benchmarks are one side of the story, but I prefer the real-time testing of the device to understand how would it fare for a consumer. In order to test out the Nova 3i's actual performance, we used the device extensively and played a number of graphics intensive games, including PUBG Mobile and Asphalt 9: Legends and the Nova 3i ran the games at the medium/high graphical settings with relative ease, with no signs of any stutters or lags.
On PUBG Mobile, the game was rendering at Medium settings by default. I was even able to push it to High framerates while keeping the graphical fidelity at Medium, and I noticed absolutely no issues. However, just out of curiosity, I tried rendering the game at High graphics settings, at which the game crippled.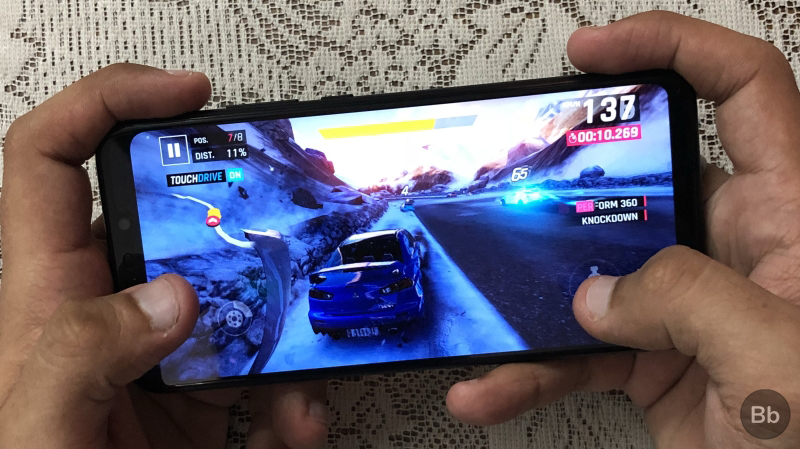 Up next, I powered up Asphalt 9: Legends on the device. If you're unaware, Asphalt 9, despite looking good, is not as graphics intensive as PUBG Mobile. As such, the Nova 3i had absolutely no issues running the game at max graphical settings. The game loaded up quickly and I played a couple of races, pulling off stunts, takedowns, and shockwaves, without the device stuttering for even a moment.
SEE ALSO: Huawei Nova 3i Battery Test: If Only It Charged Faster!
Huawei Nova 3i Gaming Review: Kirin 710 Works Quite Well
Sure, the Nova 3i is no performance beast like the Honor Play, but it isn't meant to be. The Kirin 710 is said to be the perfect balance between performance and battery life, and I've got to admit, Huawei is spot on with that statement. The device delivers decent performance, and quite better than most of its counterparts at this price point, which is always a plus point. However, if you're really looking for a top-notch performance device that is perfect for gaming, the Honor Play is what you should be considering, since the Nova 3i won't be able to fulfill your expectations.
Buy Huawei Nova 3i from Amazon: (Rs. 20,990)
---
Load More