Huawei recently launched the Nova 3i in the country, which packs in the company's latest in-house chipset, the Kirin 710 SoC. The device comes with pretty good features, and priced at Rs. 20,990, offers some great cameras and a premium build quality. The device is, however, backed by a battery capacity of just 3,340mAh. The company claims that the provided capacity coupled with EMUI should ensure great battery backup, but I'd like to test things out myself. Well then, here's my battery test of the Huawei Nova 3i:
Battery Life
While the Nova 3 packs in a 3,340mAh battery, it lasts quite a bit, thanks to Huawei's software optimizations which play a major role in increasing the battery life of the device, as the device barely loses any charge when it's not in use. In fact, it is, in most ways, better than AOSP's Doze mode.
Battery Life with Light Usage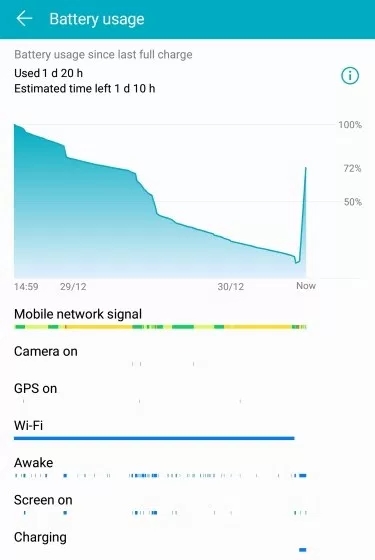 While testing the battery life of the Huawei Nova 3 with light usage, I started off the day with a full 100 percent charge and throughout the day I just used the phone some light web browsing, casual gaming, calls, social media and a bit of photography. What's amazing is that the Nova 3i managed to last me about 1.5 days on a single charge, and then later, I managed to push the device through till the night on EMUI's battery saving mode.
Battery Life With Heavy Usage
However, on heavy usage, things were a bit different, but nothing unusual. My heavy usage mostly means capturing tons of photographs and posting them regularly on Instagram, playing a lot of PUBG Mobile while chatting with my friends over on Discord, watching YouTube videos, and using a lot of WhatsApp and Telegram. The device just about managed to last until the end of the day, while offering a screen on time of 5 hours and 43 minutes.
Charging Test
Packing in a 3,340mAh battery, the Huawei Nova 3i has just the right amount of battery to make your device last an entire day. However, the device comes with a microUSB charging port with no quick charging of any sort. And honestly, that is a major let down, especially when you consider the fact that the Honor Play, which is in the same price range, comes with a great fast charger. What makes things worse is the 9V/2A charging brick that is pretty much standard, and should already give you an idea that this test is headed south.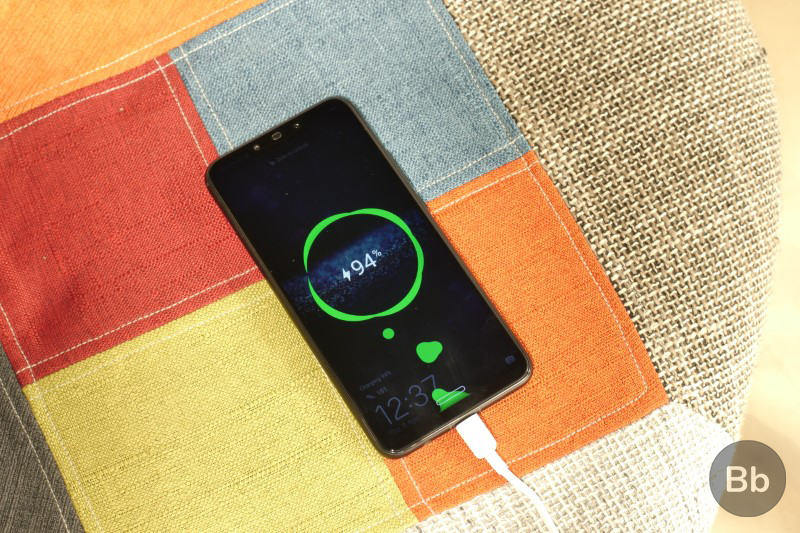 In my normal testing, the Huawei Nova 3i took about 1 hour and 40 minutes to charge from 10 percent to 60 percent, which is pretty darn slow. What's worse is that it took me well over 2 hours to completely juice up this thing, which is just not good. Also, just like the Nova 3, the Nova 3i charges rather uniformly, unlike other fast charging solutions which charge up the device pretty quickly up to 50 percent and then slow down a bit before reaching 100 percent. As such, you'd have to leave the device to charge for at least 40-45 minutes before taking it out for the day. That too, if you know your day is going to be less smartphone dependent.
SEE ALSO: Huawei Nova 3 Review: Affordable Flagship With Remarkable Cameras
Huawei Nova 3i: Good Battery Life, Bad Charging Speed
All things considered, the Huawei Nova 3i offers a pretty good battery life, thanks to the decent capacity along with EMUI's modifications. However, the sluggish charging speed of the device is a major let down and really spoils the overall experience. In the end, if you can afford to leave your phone to charge, the Nova 3i can pretty much offer everything you'd need from a daily driver.
Buy Nova 3i on Amazon: (Rs. 20,990)
---
Load More