Instagram has brought a ton of new features in the past few months and well, as you might have guessed, a brand new feature dubbed "Superzoom" has made its way to Instagram. The Superzoom features is integrated within the in-app camera and it's one of the most fun Instagram features I have used. It lets you record crisp videos of the camera zooming in on someone's face or any other object with suspenseful music playing in the background by default. You can use this new feature to supplement your daily nuances on Instagram Stories with some casual fun and creative videos.
Use Instagram Superzoom Feature on Android or iOS
Note: I tried the Superzoom feature on Instagram v 20.0.0.29.75 (stable) on my Xiaomi Redmi Note 3 running Android 6.0 and it worked perfectly. The feature is also available for iOS devices.
If you're in the mood for some fun and want to make your friends laugh at stuttering zoom videos, here are the steps you need to follow to make a Superzoom video and share it with your friends:
1. Open the Instagram app and tap on the "camera" icon at the top left. Under the shutter button, you can now swipe the recording options available at the bottom to find the new "Superzoom" feature sitting between the Boomerang and Rewind.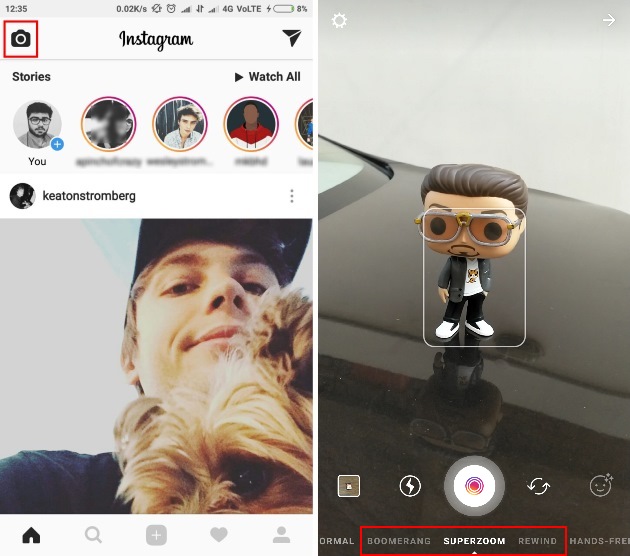 3. Now, you need to tap on the circular 'shutter' button to automatically record a 3-second Superzoom video to post to your Instagram story. You can, however, hold down the shutter button to record a 15-second Superzoom with an extended and slow final zoom on the object. Here's a quick close-up shot of our bobble-head Tony Stark: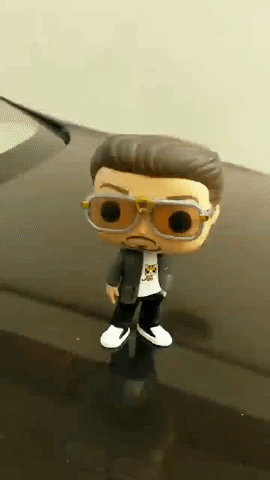 4. You can now select between two options, either share the Superzoom video with your followers by adding it to your Story or send it as a Direct Message to your friends. You're also free to save the same to upload it elsewhere, maybe as a GIF.
While it is welcoming to see Instagram debut a new creative format, you can also still create zooming videos without the Superzoom feature. All you need to do is hold down the shutter button and drag your finger, in a vertical motion, across the screen to zoom. This video will be zoomed in but the stutter effect and suspenseful music may be missing from it.
SEE ALSO: How to Easily Add Music to Instagram Videos
Instagram Superzoom: Extremely up-close But Fun
This new dramatized feature, which further adds fuel to the meme culture, now joins the ranks of popular Instagram features such as Boomerang GIFs, Hyperlapse, and Layout for making collages. Superzoom lets you get up-close and personal with your subject, be it a friend, soda can or anything random in your vicinity. You can even make a crow sitting on your porch look scary with the zooming and suspenseful music in the video's background.
Superzoom is really fun to mess around and we should see "Instagram Stories" sprawling with such close-ups. Excited to share random Superzooms with your followers? Comment your thoughts on this creative feature down below.