If there's anything we learned from the controversial Twitter timeline update, it's that most of us are not huge fans of algorithmic feeds. Addressing user criticism, Twitter rolled back its decision to force algorithmic Home feed to its users. Soon after this happened, Instagram started rolling out the much-awaited chronological feed globally on its Android and iOS apps. In this article, we have explained everything you need to know about Instagram's new chronological feed.
Use Instagram's Chronological Feed (2022)
What's New in the Instagram Feed?
Instagram's chronological feed update consists of two new sections — Favorites and Following. The former lets you pick specific users and view their posts separately and in priority in your home feed. Whereas the latter allows you to browse Instagram posts of people you follow in chronological order.
The catch here is that you can't set either of these new tabs as the default feed. Instead, you will have to separately go to Instagram Favorites and Following tabs from the feed switcher at the top-left corner of the app.
Difference Between Instagram Favorites and Following Feed
As mentioned above, the new Instagram update introduces the Following and Favorites tabs. With the Following tab, you can browse Instagram posts from people you choose to follow. In other words, you won't see suggested posts in the Following tab, unlike the default Home page.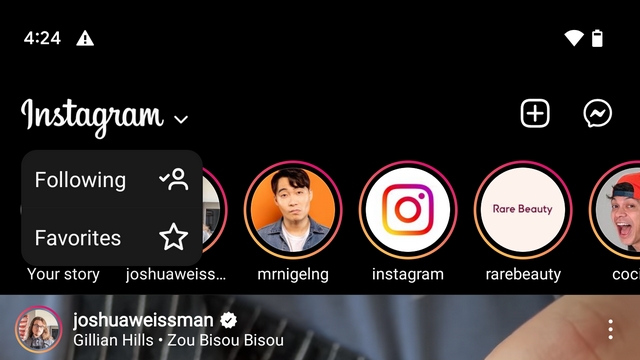 On the other hand, the Favorites tab lets you pick certain Instagram accounts you follow and see their posts in a separate chronological feed. It's worth noting that you should be following the person to add them to your Favorites list. You can add a total of 50 accounts to your Instagram Favorites list.
Posts from accounts on your Favorites list have a star icon at the right corner (shown below) and are shown first in your Home feed. Moreover, Instagram won't notify users when you add them to or remove them from a Favorites list. We have included a dedicated section below with instructions to add someone to your Favorites list on Instagram.
How to Browse Instagram Posts in Chronological Order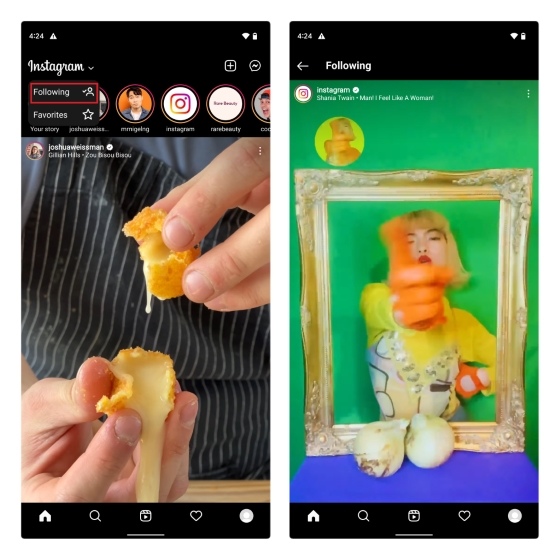 To browse posts from accounts you follow in chronological order, you should tap on the Instagram logo at the top-left corner of the app's home screen. Then, choose "Following" from the dropdown list. Instagram will now take you to a separate "Following" feed filled with posts from accounts you have chosen to follow over the years.
Note: The method to use the new chronological feed on Instagram remains the same on Android and iOS. We have included screenshots from an Android smartphone in this tutorial.
Unfortunately, Instagram doesn't let you set the chronological Following tab as the default feed at the moment. We hope Instagram follows Twitter's lead and rolls out this option in a future update.
Add People to Instagram Favorites List
1. You should add people to your Favorites list to see their posts first. To get started, tap the Instagram logo and choose "Favorites" from the dropdown menu. From the next page, tap "Add favorites" to pick the accounts you want in your Favorites list.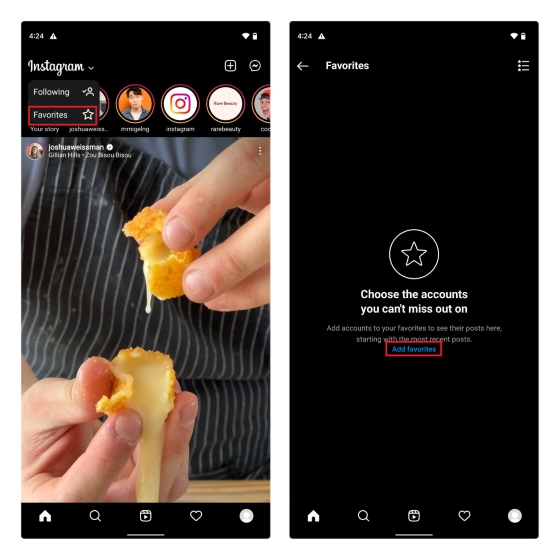 2. Though Instagram will present you with a list of suggested accounts, you can search the username of the account you wish to add to your Favorites list. Just tap the blue "Add" icon next to the account's name. After choosing all the accounts, press "Confirm favorites" to add them to your list.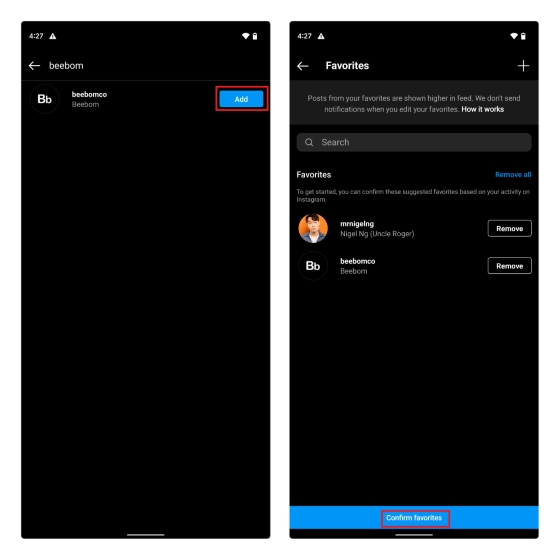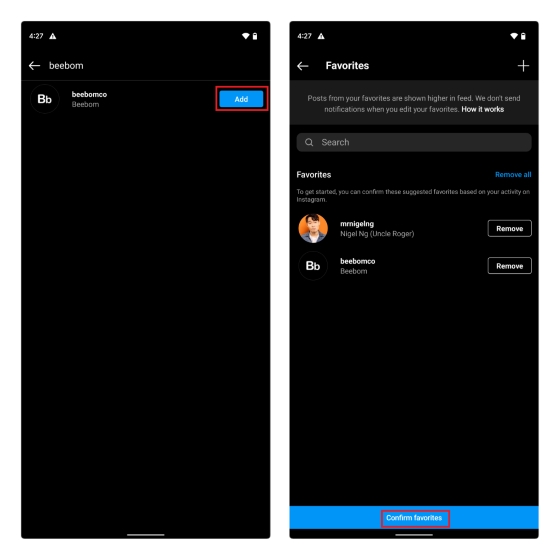 3. You can now browse posts from accounts in your Favorites list in the Favorites tab and in the Home tab. As you can see below, a star icon in the post header denotes that the post is from someone in your Favorites list.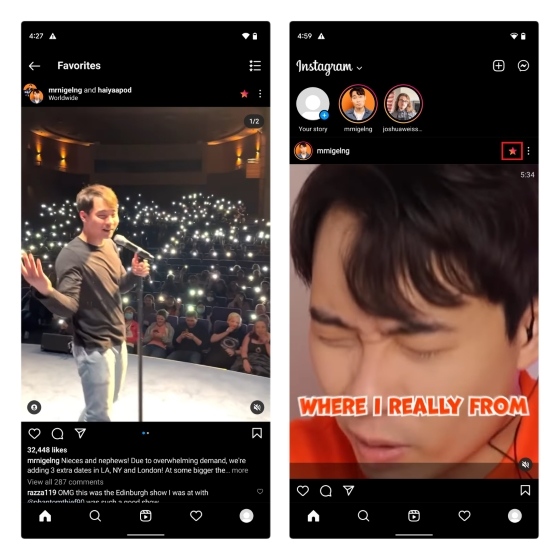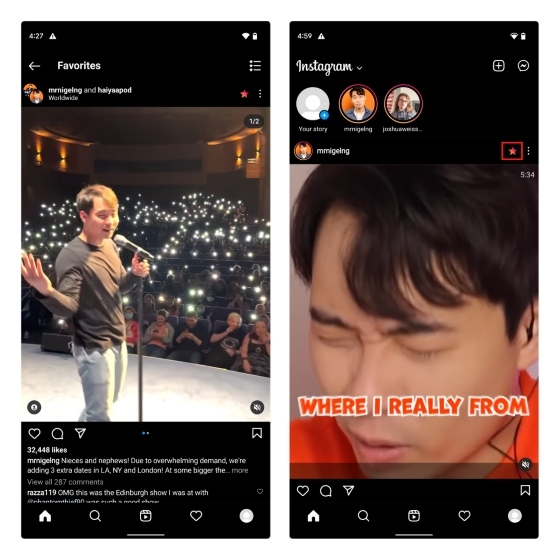 Frequently Asked Questions
Q: Can I set Instagram Favorites as the default feed?
No, Instagram currently doesn't let you set Favorites (chronological) and Following tabs as the default feed. The default feed will continue to be "Home" with algorithmically picked posts and suggested posts when you run out of posts from accounts you follow.
Q: Are Instagram Favorites and Close Friends the same?
No, Instagram Favorites refers to the new feature where you can pick your favorite accounts and see their posts in a separate list. Close Friends are for private Stories on Instagram.
Q: How do I manage my Favorites on Instagram?
You can manage accounts you have added to the Favorites list from the Favorites tab on Instagram.
See Posts from Friends in Chronological Order on Instagram
Although it would have been great to see an option to set the new "Following" tab as the default feed, we do think that this is a step in the right direction for users to catch up with friends on Instagram. What are your thoughts on the new Instagram chronological feeds? Let us know in the comments below.
---
Load More